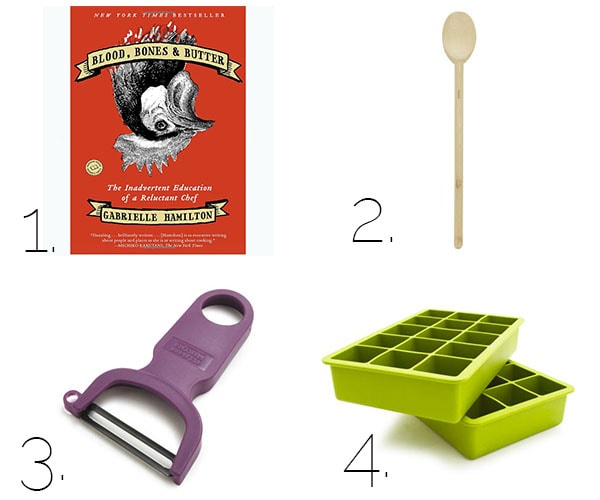 I moved! Phew! Stuff is spewed everywhere in my current apt, and I'm trying my hardest to get organized and set-up. In lieu of my recent move, I haven't been in the kitchen much, obvi. So, while I get sorted and organized, I have a giveaway for you of all of my current fav stuff.
1. Blood, Bones & Butter! Such a good read. I liked it a lot. I'm sure you will, too.
2. French wooden spoons! Not particularly expensive. Not really fancy, but necessary in every kitchen.
3. A vegetable peeler. Are vegetable peelers exciting? Nah. They're about a million times less exciting than a new pair of shoes. But I like this one. And vegetables are everywhere nowadays, right?
4. A set of The Perfect Ice Cube trays. These will change your life. You'll wonder why plastic ice cube trays even exist. They make the pretties ice cubes, too. Awesome for summer.
To enter, leave a comment answering the following question:
"What's your favorite summer meal?"
(I need food inspiration–can you tell?)
I'll choose a random winner at noon (PST) on Thursday, July 5th. Have a Happy 4th of July! xo

Update! The winner is:
Stef
Her comment:
ELOTES!!!! I live in Chicago and nothing feels more like summer to me than this! I would LOVE LOVE to see a healthy version! yumm!!