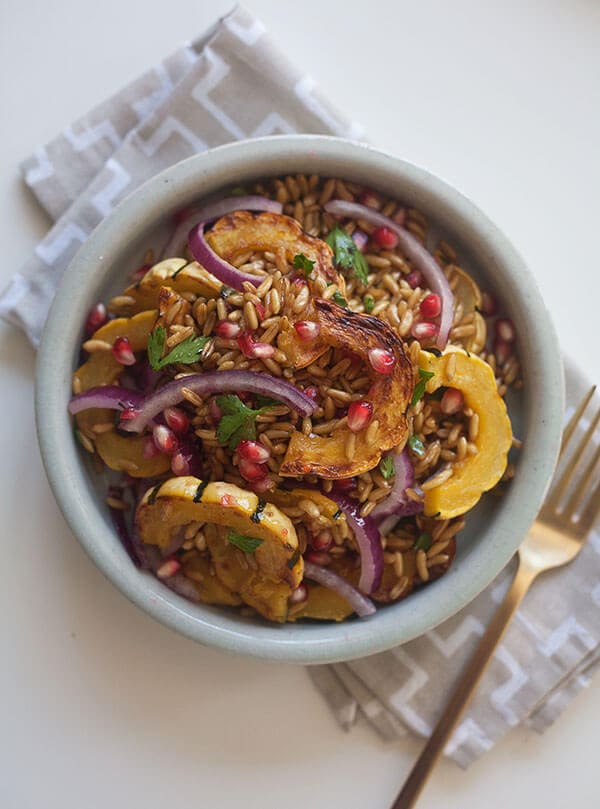 In the last three days I've had one:
One delicious bowl of ramen.
Three slices of pie.
A quarter of a Mast Brothers chocolate bar.
Three slices of pizza.
Two chocolate croissants.
And probably more that I'm forgetting about.
I've been craving something healthy and light but still food that'll make me feel full. I cracked open Claire's new book, The Kitchy Kitchen, and found the perfect fit. The farro is nutty and delicious and works beautifully with the squash and sweet pomegranate. This dish is a breeze in preparation and the vinagrette gives a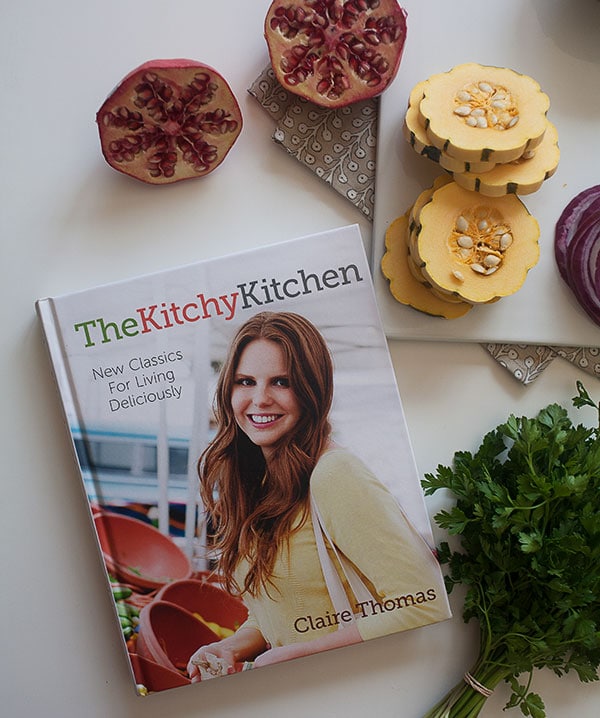 I've been cooking a lot from my friends' cookbooks lately and I've really loved it. Claire's book is and full of fun foods like Thai-Style Chicken Wings, Chocolate Sable Caramel Bites and Coconut-Sriracha Fried Chicken. And it doesn't hurt that she has some of the prettiest hair I've ever seen. Seriously! I'm not kidding. Beautiful red waves.
If you're looking to start your week with a bit of a reset button, something that'll make you feel good, this is it. Take a break, prepare, because at the end of the week we'll be back on pie land.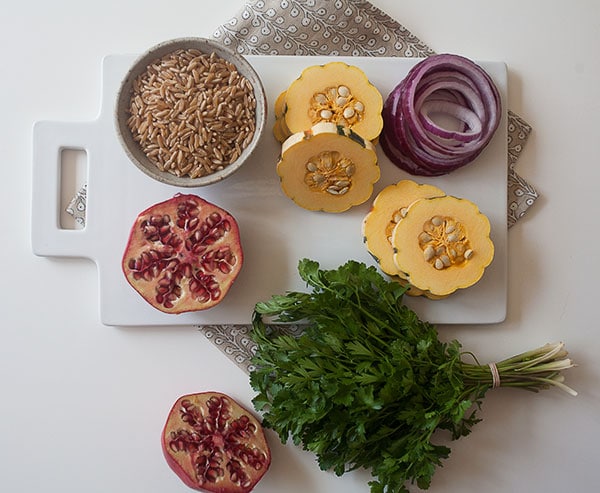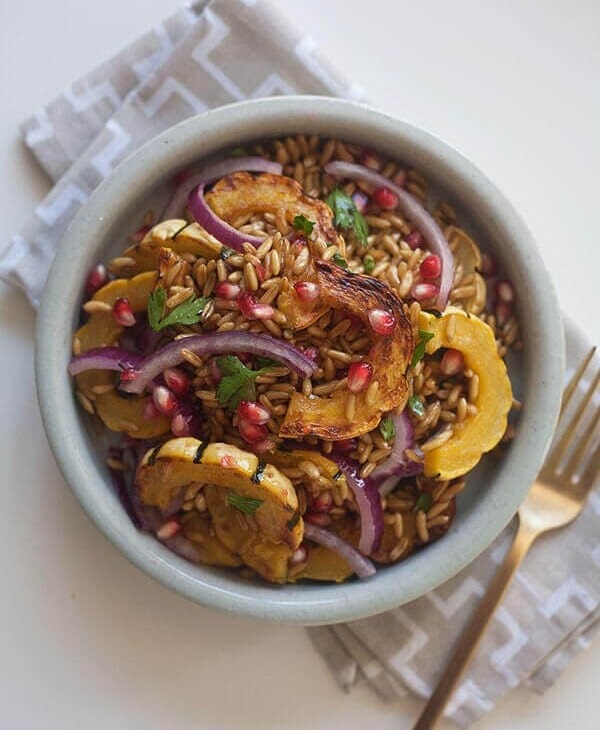 Print Recipe
Farro Salad w/Delicata Salad & Pomegranate
Ingredients
1

delicata squash

cut into 1-inch slices

Extra virgin olive oil

Kosher salt and freshly ground black pepper

1

cup

farro

cooked as per package instructions to make 3 cups and cooled

3/4

cup

pomegranate seeds

1/4

cup

finely chopped fresh flat-leaf parsley

1/4

red onion

thinly sliced

1

tablespoon

red wine vinegar

3

tablespoons

extra virgin olive oil

plus more for drizzling

Kosher salt and freshly ground black pepper
Instructions
Preheat the oven to 425 degrees F.

On a rimmed baking sheet, drizzle the squash with olive oil and season with salt and pepper. Roast for about 15-20 minutes, until golden brown at the edges.

Combine the cooked farro, squash, pomegranate seeds, parsley, and onion in a large bowl.

In a small bowl, combine the vinagrette ingredients: red wine vinegar, olive oil and a few pinches of salt and pepper. Whisk until combine. Top the farro mixture with the vinaigrette and season to taste.