Today we're talking about fall dinner party inspo. I'm exploring the world of plates and linens and flowers and color schemes. This weekend I teamed up with Bertolli to throw a dinner party, as a larger part of their #Bertolli Gold Label Progressive Italian Dinner Party with a few other food bloggers (like Tracy, Beth, Carrian and Kristen).
While the virtual dinner party plays out with fantastic recipes (see menu below), I'm also taking this opportunity to get my friends together in a backyard and eat fancy cheese, stuff our faces with a persimmon galette (recipe coming soon!) and delicious porchini mushroom lasagna featuring a new Bertolli Gold Label sauce. But more on the food next week! When people think of Italy, the first thing they think of is food, but details are in the table setting, too. So today is all about the pretty images I've been hoarding on Pinterest as inspiration for a fall table.
I love the idea of having a fall table with absolutely zero orange. I personally adore the color orange, but isn't it refreshing to see fall tables with other color schemes? For this particular table I wanted the color palette to be a cool blue, baby green and beige. It's a lil' bit California meets Italy, a little cozy and a whole lot of cute.
1. I'm obsessed with these really simple and beautiful plates from Heath.
2. I adore these linens from Libeco, though I'll probably find an alternative since the price is a bit steep, especially when I need to buy six.
3. These very simple and modern Marta glasses from CB2 are my favorite. They're inexpensive so if a friend breaks one I won't get super weird about it. No one likes a weird host.
4. I'm in love with this marble and wooden board for charcuterie and cheeses from Shop Terrain. One word: Epoisses.
5. And lastly, I want it to feel casual so that's why I'm loving this white flatware set.
As for flowers and centerpieces, I really into the idea of combining ornamental kale and squashes of all varieties and sizes. And again, no orange!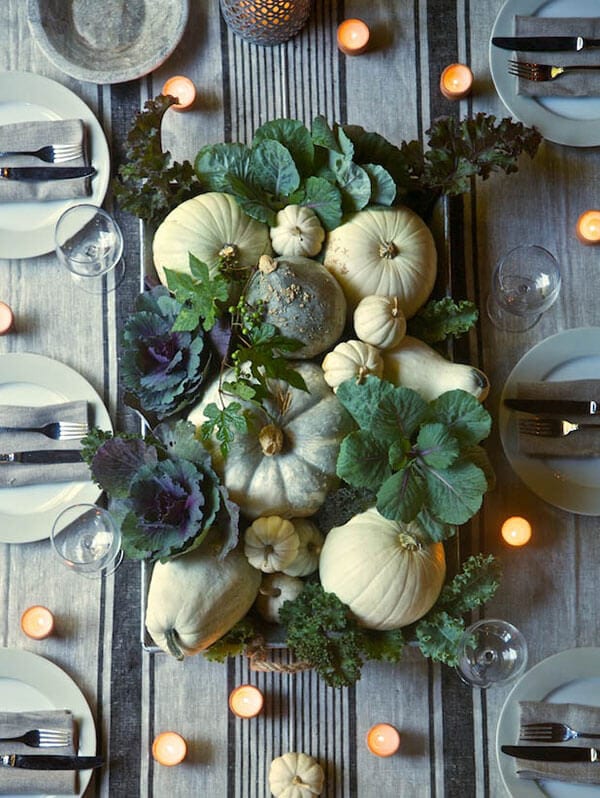 I'm having a bit of a moment with eucalyptus leaves. They're SO beautiful. And big bonus is that I know where a few wild bushes of the stuff grows in my neighborhood so this means F-R-E-E!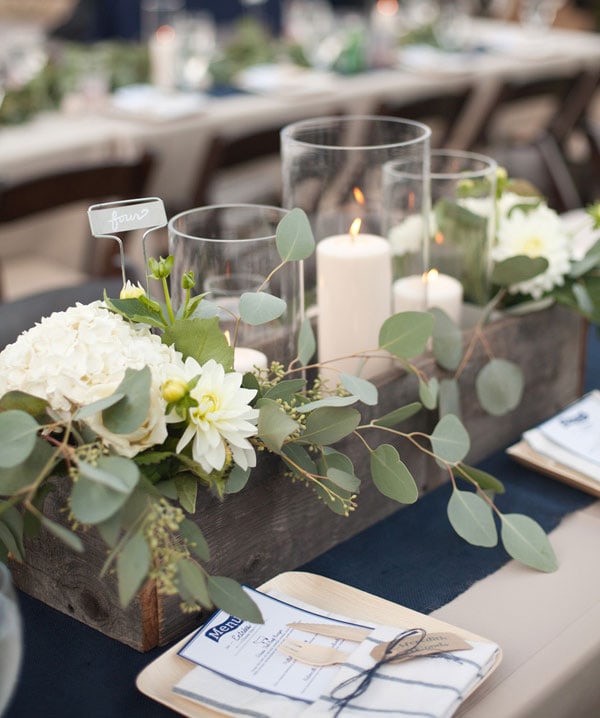 I've also been playing with the idea of making the arrangements so high that people can see each other under them, versus over them. A combo of eucalyptus leaves and branches might be the way to go!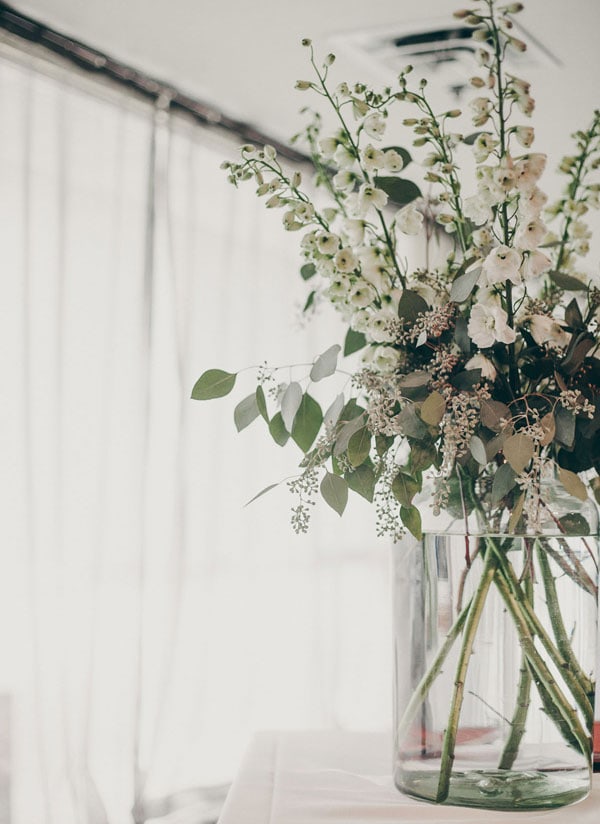 Next week I'll be sharing with you a look at the final table and recipes for a persimmon galette and the mushroom lasagna that I'll serve at my dinner party. In the meantime, check out the following Italian dinner menu for party inspiration.
Bertolli Gold Label Italian Dinner Menu
• Tracy's Mushroom Polenta Bites and Anitpastai Platter
• Kristen's Caramelized Onion Stuffed Portobello Mushrooms
• Beth's Homemade Spaghetti & Bison Fennel Meatballs with Porcini Truffle Sauce
• Carrian's Balsamic and Caramelized Onion Chicken Parmesan.
• My Persimmon Galette – coming soon!
For more Italian inspiration, head over to Pinterest and check in with Bertolli on Facebook and follow #BertolliGoldLabel to keep up with the Bertolli Gold Label Dinner Party to see how the other bloggers' dinner parties turned out!
{This post was sponsored by Bertolli. Thank you for supporting the sponsors that keep A Cozy Kitchen cozy.}