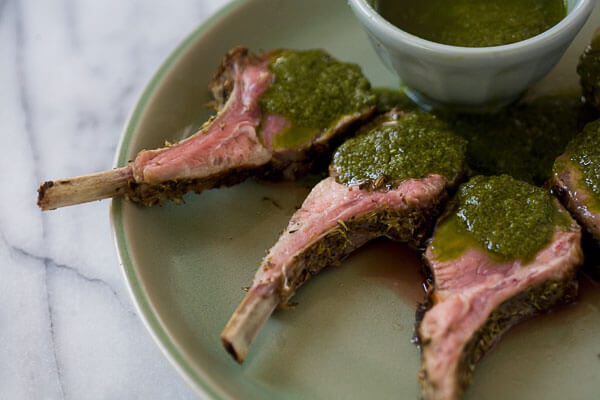 Happy Easter, my fwiendz. I grew up very Catholic, so Easter in my house was a big deal. It was the day when we got to eat whatever it was we gave up for Lent. Most years I gave up sugar. Except for that one year when I tried to "give up" vegetables–that totally didn't fly.
So, since I was coming off of a serious sugar deprivation, Easter always meant stuffing my face with Peeps and Cadbury Eggs, which is weird because I don't even think I liked them very much. I just needed a lil' sugar fix.
Now, as a grown-up who isn't religious, I still love Easter. It's nice to gather some friends, eat outside, have brunch, talk and enjoy each other's company.
Whether you're celebrating the holiday or just chilling with friends, lamb is always the move. I went through a phase when I refused to eat cute animals. This included bacon. This phase did not last long. At all.
This lamb is rubbed with herbes de Provence, lemon zest and a good amount of salt. It's seared and then roasted. The mint pesto is bright, tart and so super Spring-like. I just love it. Hop over to Etsy's blog for the recipe.
And if you're looking for more Easter recipe inspo, I love these Avocado Deviled Eggs I made last September, oh and these Egg and Cheese Hash Brown Nests (I mean, how cute are they!) or even this Rasberry Vanilla Smash Lemonade would be a winner.
Spring is here and I'm pumped.