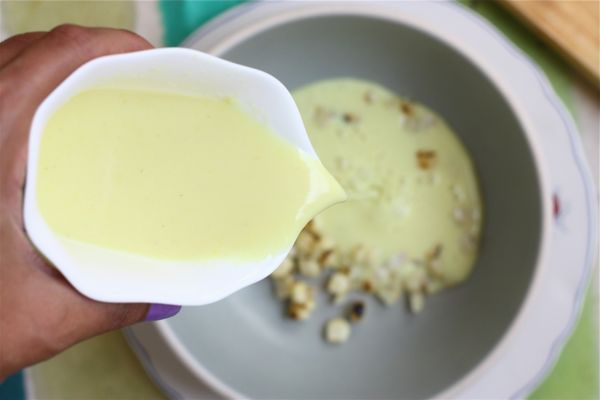 Summer, you aight.
I'm usually not a summer-lover, but this one has been pretty chill. I'm digging all the fish tacos around, the balsamic vinegar/watermelon salads popping up everywhere…and cold beer. Officially INTO IT. I'm also pretty obsessed with eating outside past 7pm, when the sun is no longer burning me and giving me wrinkles that I can't see yet.
So lovely!
One of my fav street/summer foods is eloté, the Mexican grilled corn you can usually find on the side of the street here in Los Angeles (and in Mexico).
I've had this idea of turning it into a soup for a long time and finally got the big push yesterday when I was at the store and saw a sign that read, "20 cents for corn!" I mean, that's it. Alright…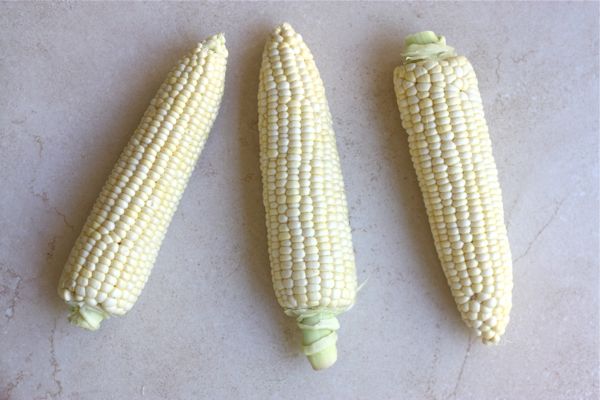 Typically eloté is grilled until lightly charred on all sides. It's then smothered with either mayonnaise, Mexican crema or sour cream. Then a few dashes of ancho chile powder, some cotija or queso fresco crumbles and a squeeze of fresh lime juice. YUM! So simple and amazing.
This recipe took me a few tries. My first go involved me charring the corn as the base of the soup, but OMG did it result in some scary looking soup. Tasted awesome, but a green/yellow soup is never cute.
We're trying to achieve cute soup! CUTE SOUP!
So I re-grouped and used fresh corn instead. Promblemo solved!
The soup begins with fresh corn being de-corned. The cobs are cut into thirds because we're using those too!
A little olive oil is poured into a pot and shallots sauteed until translucent.
I even added a pinch of tumeric to give it an extra little yellow color. This is obviously optional. No biggie!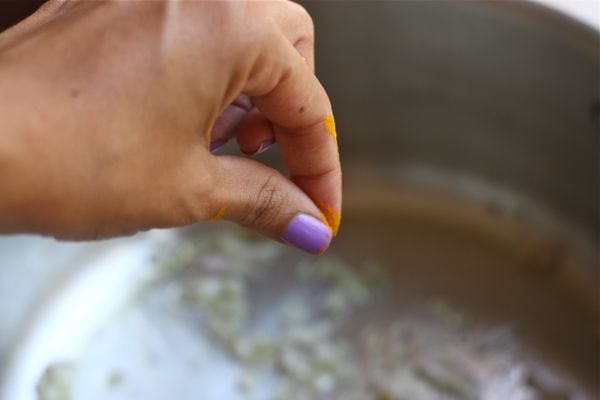 The corn and corn cobs are added, along a few cups of chicken broth. You can use veggie broth, if you like.
Simmer action for 25 minutes, cobs discarded and then the whole soup takes a careful, delicate trip to the blender IN BATCHES.
A few dollops of sour cream are whisked in and that's it.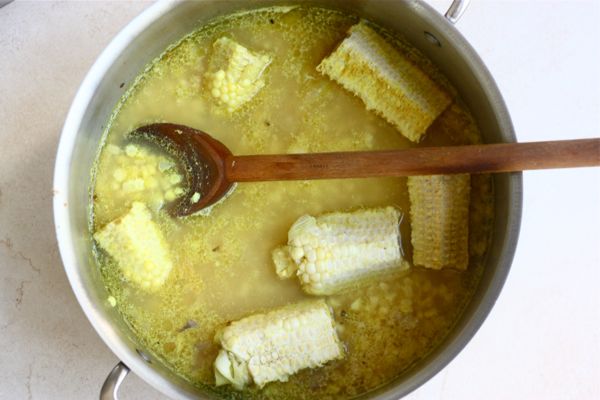 You can eat this soup warm. It's lovely warm. But I transferred it to the fridge to chill for 3 hours. I looove this soup cold. It was born to be a crisp cool soup.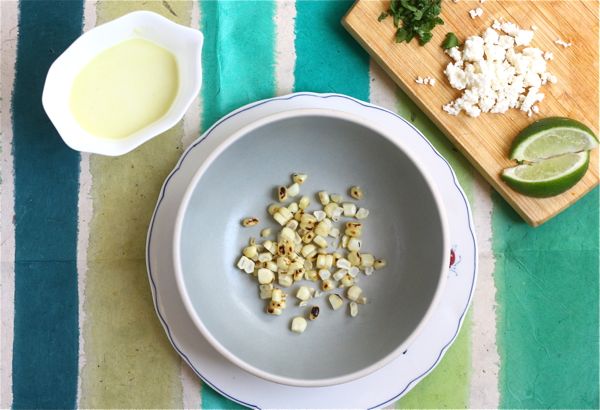 At the last moment, I decided to char some corn, add it to the bottom of the soup bowl and pour the cold soup on top. The hot/cold element of this soup is my favorite. SO GOOD.
A few dashes of chile powder, some crumbles of cotija and a sprinkle of cilantro. My favorite summer soup to eat in the shade.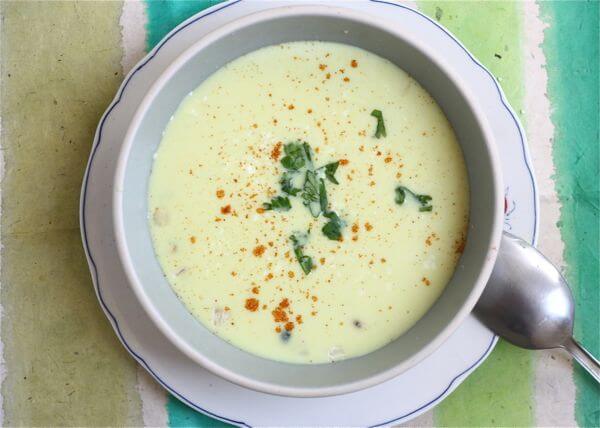 Eloté (Mexican Corn) Soup
4 ears fresh sweet corn, husked and cleaned, divided
1 tablespoons of olive oil
1 shallot, diced
1 teaspoon cumin
2 pinches ground turmeric
4 cups low-salt chicken broth
3 tablespoons sour cream or cremé fraîche
1 handful of fresh cilantro, minced
1 ounce of cotija cheese
Ancho chile powder (or cayenne)
1 lime, cut into wedges
1. Using a sharp knife, slice the kernels off 3 pieces of corn. Slice the cobs in thirds; set both aside.
2. In a large-ish pot, add 2 tablespoons of olive oil. When the oil is hot, add the diced shallot and cook until translucent, about 2-3 minutes. Add the turmeric and mix. Pour in the chicken broth, corn and cobs. Turn the heat up to high and once mixture reaches a boil, lower the heat to medium and simmer until corn is tender, about 25 minutes. Remove the cobs and discard.
3. Working in batches, carefully puree soup in the blender until very smooth. Heads up: Blending hot liquid can be a little dangerous, so just be sure to allow hot air to escape the blender as it's running. Pour the soup through a sieve, pressing the solids with the back of a spoon; discard the remnants.
4. Transfer back to the pot and add the sour cream or cremé fraîche. Mix until cream is totally incorporated and the soup's consistency is thick and coats the back of a spoon. Season to taste with salt. Cover and refrigerate soup (I just put the pot in the fridge–no need to dirty another bowl) to chill, about 3 hours.
5. When you're ready to serve, get all of your toppings ready: cilantro, cotija cheese, chile powder and limes. Place the remaining corn over the flame of a gas range (or corn over the flame of a gas range (or grill) and cook on all sides until lightly charred. Remove immediately and cut corn off the cob. Place a small handful of soup in each bowl and ladle cold soup over. Top with cilantro, cotija cheese, a dash of chile powder and a squeeze of lime.
Serves 4