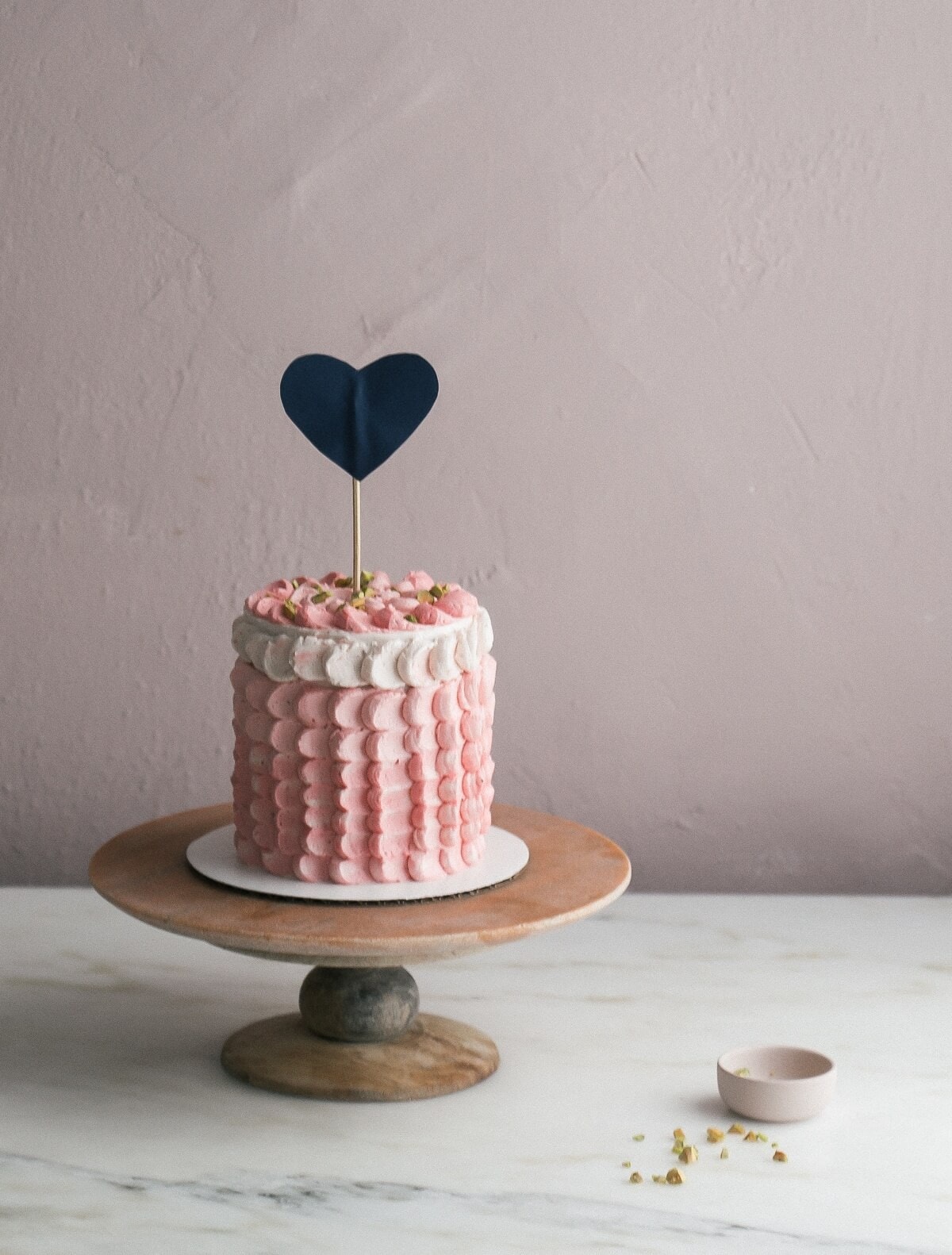 A month ago or so I got a friend from my old friend Chris who was like, "Hey I'm getting married, will you make a cake for us."
Of course, I responded with OMG YES!
Not only was I excited because making stuff for friends is fun--especially for such a super cute and special occasion--but because it liked the challenge of doing something I'd never done before: making an important cake and then driving up and down the hills of Echo Park with it in tow. SO STRESSFUL!
Josh's mom was a pastry chef and early in her career she made a lot of wedding cakes. He told me that one time she delivered the cake, decorated on the wedding site and then it fell over when they wanted it moved to another table! LIKE STRAIGHT UP ON THE FLOOR.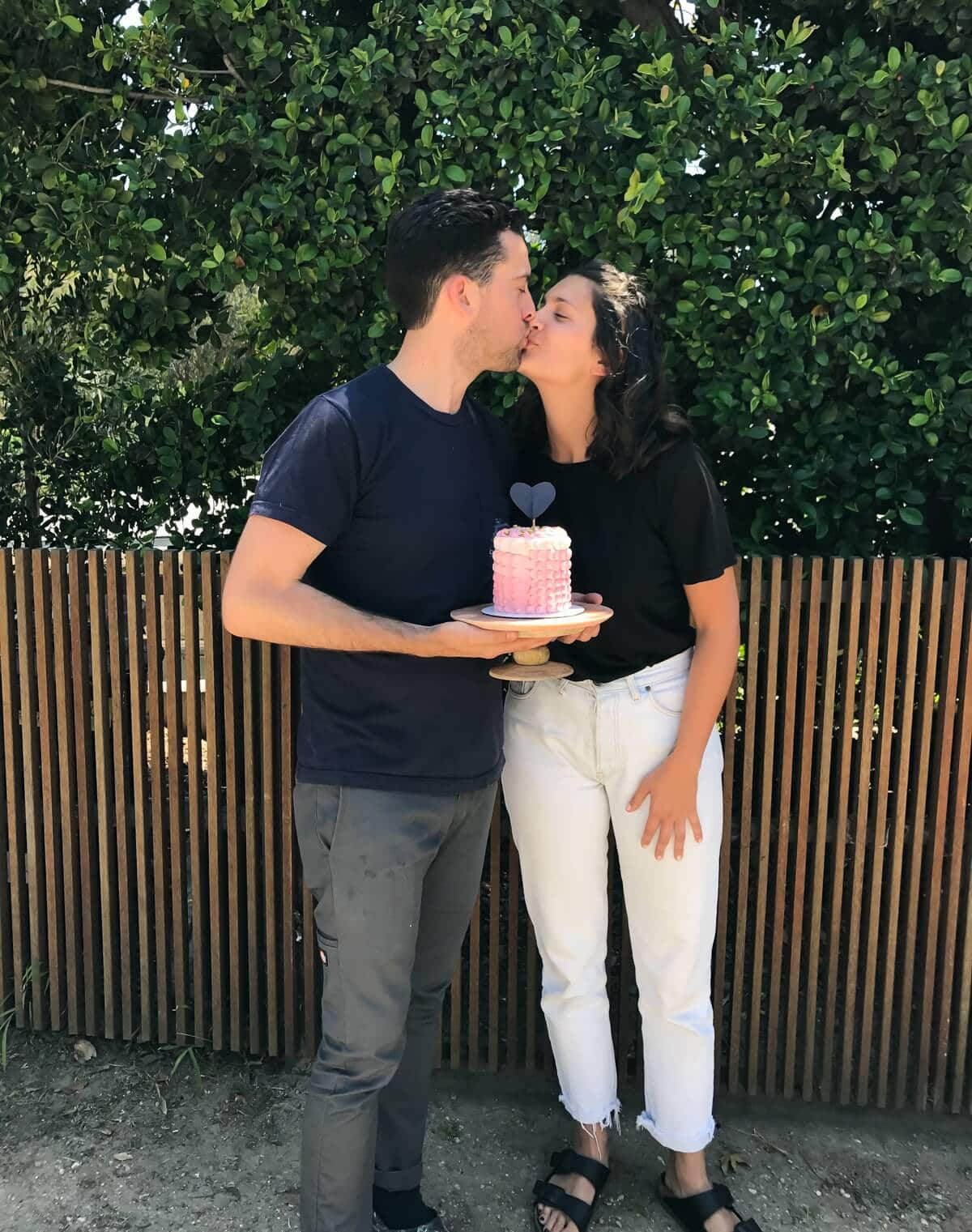 I would cry. I'm sure she did. Josh told me she eventually had to stop because the stress of transporting the cakes just didn't end up being worth it and I completely understand now—it's a lot. Luckily this was a small lil' cake so transporting it wasn't that hard.
I've known Chris for a long time and as of last year, he's kind of become Amelia's babysitter when we go out of town. He is so very patient when she wakes him up at 6am for breakfast and he takes her on long walks and last year, when we went to Seattle, they packed her up and took her to Malibu to eat oysters.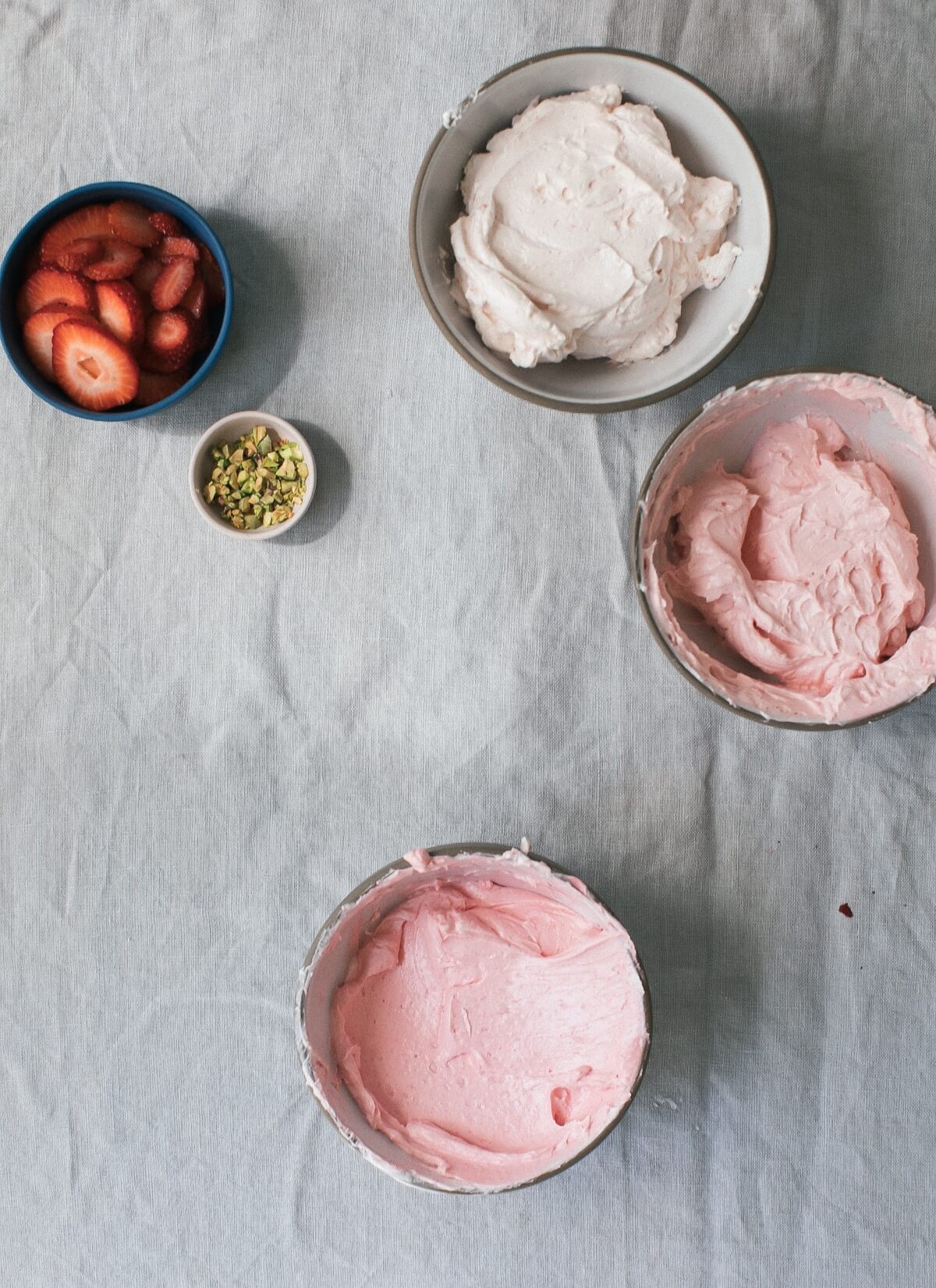 She loves them so much and they're both so sweet that I wanted to make something cute. Camille, his wife, said she wanted something ombre but spring-y. I turned to one of my favorite cakes, this pistachio cake and decided to pair it with sweet strawberries.
The frosting is strawberry frosting that I tinted in an ombre effect. I divided it into three bowls and no food coloring to the first bowl (it had strawberry puree in it tho!), like 3 drops to the second and 4 to the last one.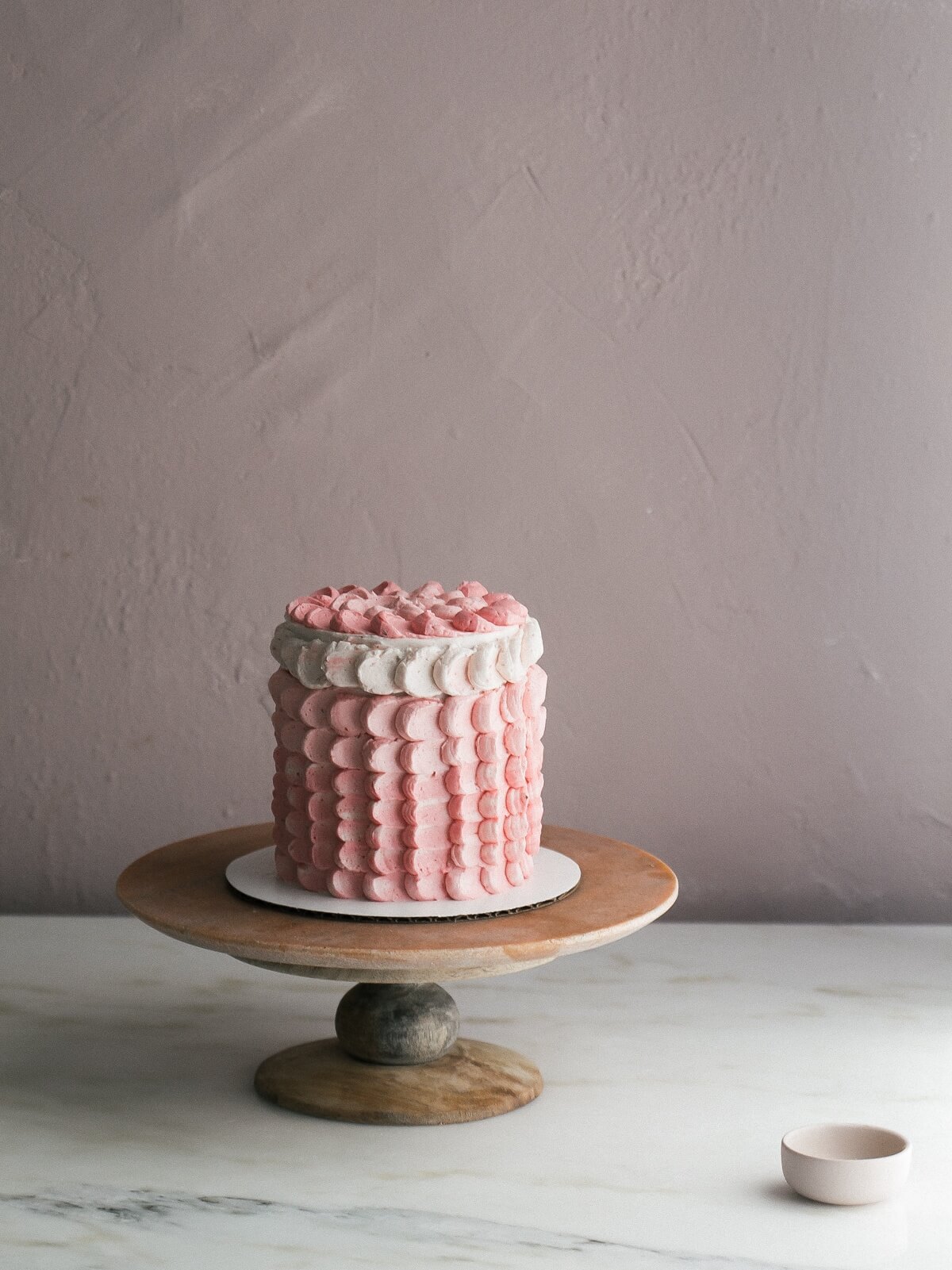 I decorated it in that dollop, swoop way. It's actually kind of simple to do but it just takes a bit of patience.
I ended up putting on The Great British Bake-Off and decorating away. It took me about an hour but was actually super relaxing.
I put a little heart (that I glued to a skewer) right on top and it was ready to go!
And then came the car ride.
Luckily, LUCKILY it wasn't too far away. I live in Echo Park and the party was happening in Silver Lake but if you've ever been to my neighborhood, you know that it has incredibly steep hills.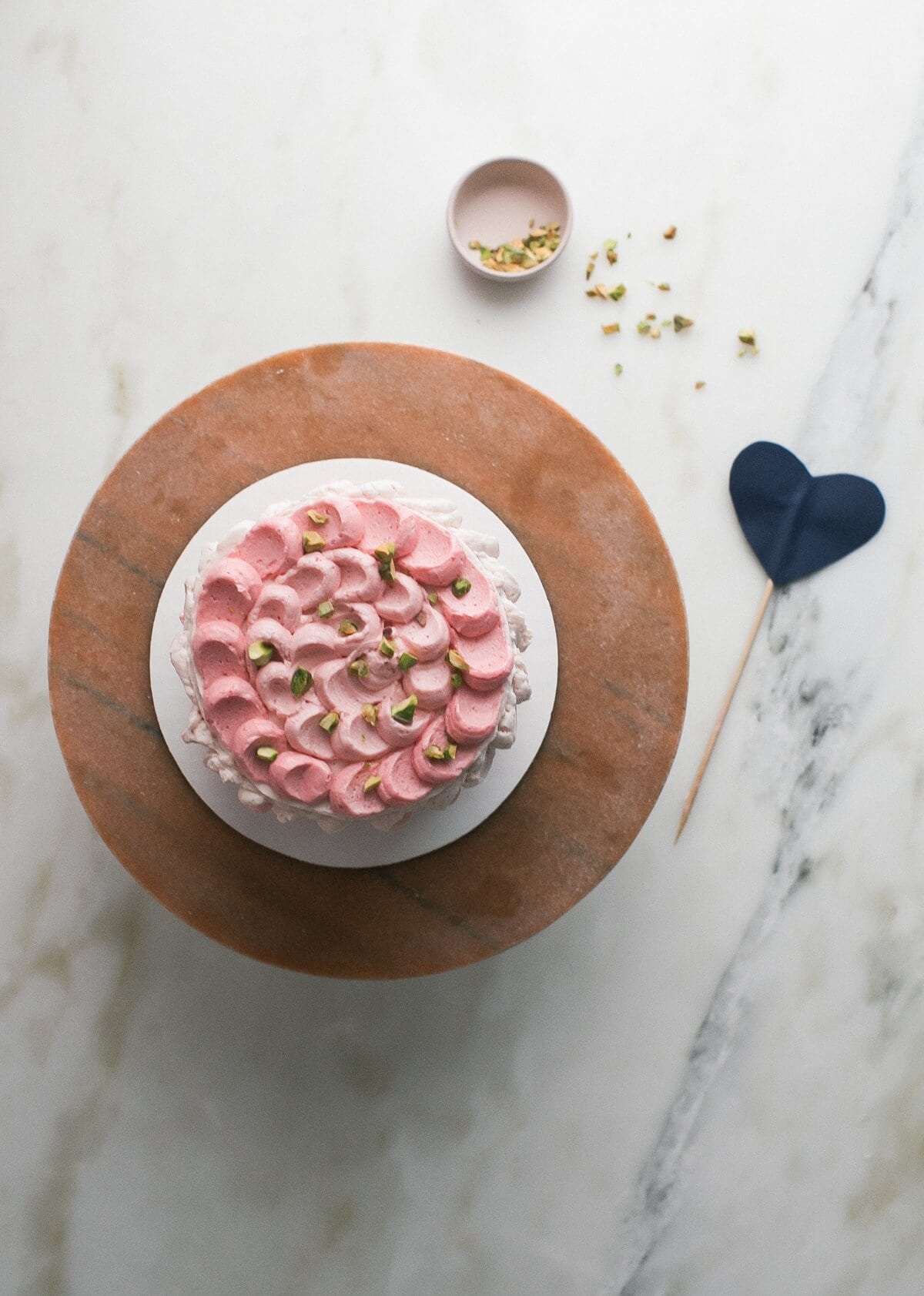 I live on a super steep hill so I parked my car at the bottom of the hill and carefully walked the cake down the hill. I brought a cutting board to put in my front seat so it had something stable to be one. AND, I took it off the cake stand (it was just on a cake board). I blasted the AC so the buttercream wouldn't melt off.
And then, I drove…slowly. Like, 5 to 10 mph the entire way. The poor people behind me.
But it ended up being so worth it because they are the cutest couple!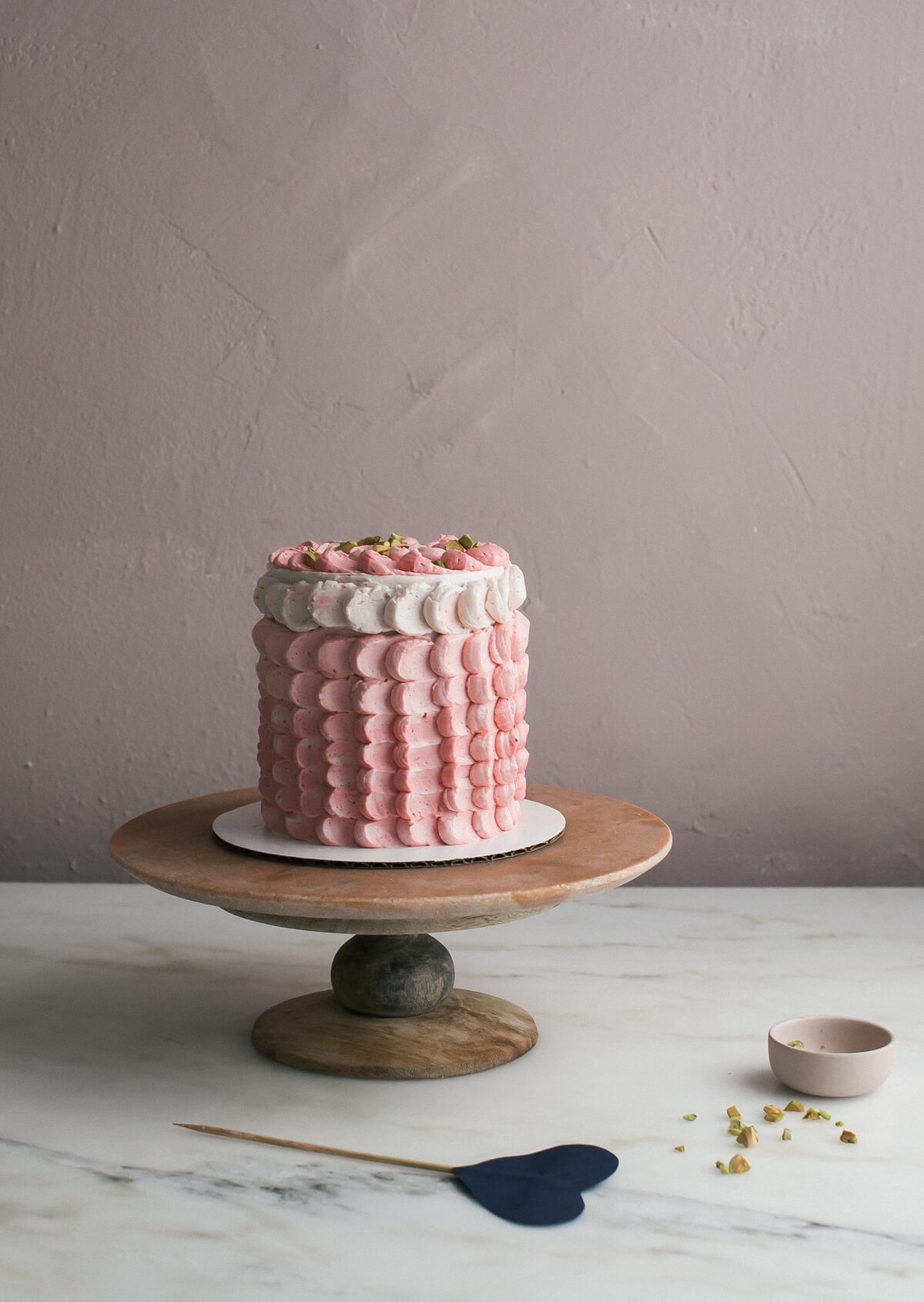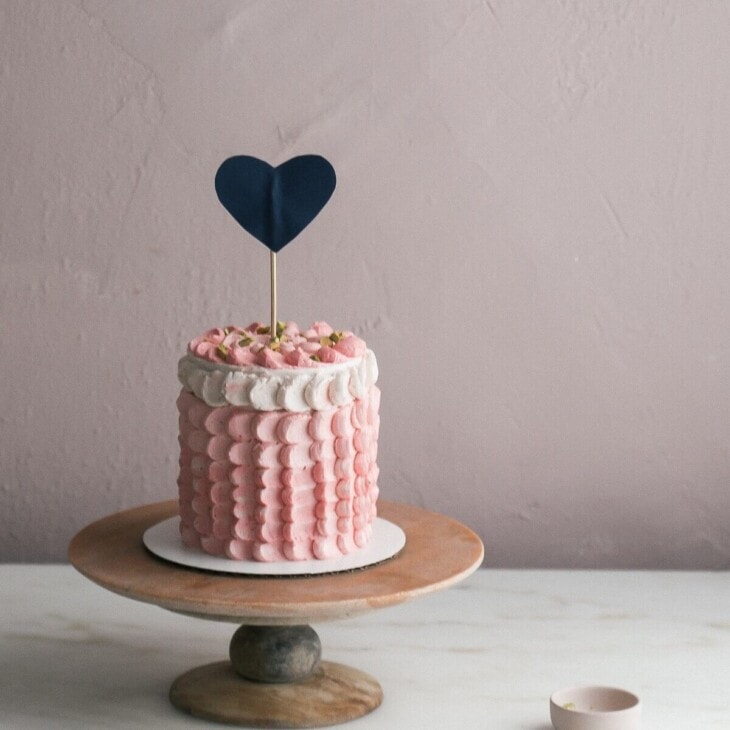 Print Recipe
Pistachio Strawberry Elopement Cake
Serving Size:
(4-inch) cake
Ingredients
Pistachio Paste:
½

cup

pistachios + more as garnish

for the cake

2

tablespoons

sugar

2

teaspoons

water

1

tablespoon

+1 teaspoon melted coconut oil

3

tablespoons

almond meal
Strawberry Swiss Buttercream:
½

pint

strawberries

hulled and diced

2

tablespoons

1

tablespoon

water

1

teaspoon

vanilla extract

4

large egg whites

1

cup

white granulated sugar

1 ½

cups

unsalted butter

at room temperature
Pistachio Cake Layers:
1 ¼

cups

cake flour

1 ½

teaspoons

baking powder

½

teaspoon

salt

½

cup

unsalted butter

at room temperature

¾

cups

white granulated sugar

¼

teaspoon

lemon zest

2

large eggs

½

teaspoon

vanilla bean paste

½

cup

Greek yogurt

¼

cup

homemade pistachio paste
Instructions
To make the pistachio paste:
To a high-powered blender or food processor, add the pistachios. Pulse until roughly ground. Transfer to a small bowl. In a small saucepan, combine the water and sugar. Cook over high heat until it reaches 220 degrees and is bubbling. Pour over the pistachios and mix immediately. Transfer to the blender or food processor and pulse until finely ground. While the machine is running, pour in the oil. Blend until it resembles a soft peanut butter, about 2 minutes. Transfer to a bowl, mix in the almond meal. At this point it should go from soupy to firm. Measure out ¼ cup of the paste and store the rest in the fridge. Set aside.
To make the frosting:
In a small saucepan, set over medium heat, add the strawberries, sugar, water and vanilla extract. Cook for about 5 to 7 minutes until softened. Smash with the back of a spoon. Transfer to a food processor or blender and puree. Pour through a sieve, into a bowl and set aside. You should end up with about 2 to 3 tablespoons of puree.

In the bowl of a stand-up mixer with the whisk attachment, add the egg whites and sugar; beat just until combined. Add a few inches of water to a saucepan and bring to a simmer. Place the stand-up mixer bowl atop the saucepan, creating a double-boiler.

Heat until the mixture reads 160 degrees on a thermometer and/or until it's very hot to the touch. Transfer the bowl back to the stand-up mixer and beat, on high, for 8 to 10 minutes until medium to stiff peaks form. The sides of the bowl should be cool to the touch. Remove the whisk attachment and in place of it, add the paddle attachment.

While the mixer is on low, add the butter, a tablespoon at a time, until it's light and smooth and fluffy. Lastly, add the 2 tablespoons of strawberry puree and mix until combined. If the frosting is soupy (mine was because it was really hot), add the bowl to the fridge to chill for 5 to 10 minutes. This will work like a charm. Divide the frosting into 3 (adding a tablespoon or two more to the first bowl). Keep the first bowl (with the most frosting) free of coloring. To the second bowl, add 2 drops of red food coloring and mix until thoroughly combined. To the third bowl, add 4 drops of food coloring and mix until thoroughly combined. You should end up with three bowls that have an ombre effect. Set aside.
To make the cakes:
Preheat oven to 350 degrees F. Butter and flour two 4x2-inch cake pans. Line the bottoms with a round of parchment (this isn't totally necessary but I always do this because my biggest fear is cake sticking to the bottom of pans). Set aside.

In a medium bowl, whisk together the flour, baking powder and salt. In the bowl of a stand-up mixer add the butter and sugar; cream together until light and fluffy, about 2 minutes. Add the zest and then crack in one egg at a time, adding the next egg only when the one before it has combined. Almost lastly, add in the vanilla extract. Turn the mixer down to low speed and add the yogurt and flour mixture in a few batches, alternating between the two. Lastly, add the reserved pistachio paste and mix until properly combined.

We're going to bake three layers (but I only own two 4-inch cake pans) so add some cake batter to two of the cake pans (the batter will be a little thick so it'll need some help smoothing out). Transfer to the oven and bake for 30 to 35 minutes, or until a a skewer inserted into the center comes out clean. Cool the cakes in their pan for 10 minutes before removing them to cool completely on a wire rack. Wash one cake pan, dry thoroughly and then re-grease and flour. Bake the last cake layer and allow to cool completely.
To assemble:
Place the first layer of cake on a cake board or a cake stand. Add about 2 tablespoons of frosting the top of the cake layer and smooth it out, pushing it out to the sides. Repeat with the last two layers. Smooth the sides of the cake and then decorate how you wish!