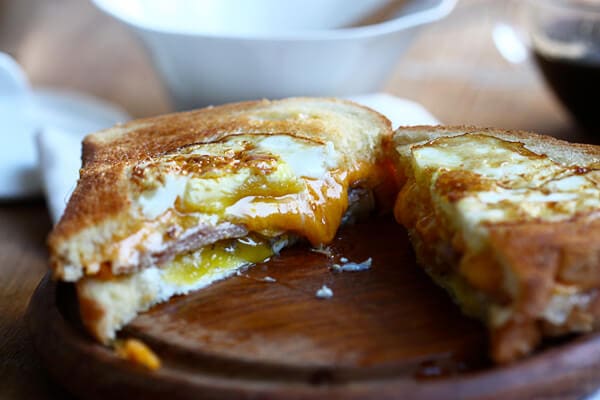 Sometimes I'm attracted to food because of its motion. Let me explain.
I love pulling a slice of pizza from the pie and seeing all the cheese strings flail in the air; only to then sword the cheese with my finger, breaking it off for good. That's rad.
I love imagining (and watching) a kernel of popcorn exploding and transforming into a buttery, movie snack. Popcorn is the butterfly of the food world. Think about it.
I like when I pour a beer and flirt with the idea of it overflowing…and then it does. I always give a bratty smirk when that happens.
I like watching the little craters sporadically show up on the surface of a pancake.
I really dig bubbling, simmering tomato sauce. Lots of things simmer…tomato sauce, hands down, is the prettiest.
And then there's the stream of a bright yellow yolk that gently flows out of a fried egg.
Food motion makes me hungry. Wait, does this mean I wanna eat motion? Is food motion even a thing?
Moving on…
This sandwich has two motions going on: a runny yolk and oozing cheese.
Pause…can we just take a moment and all agree that Egg-in-a-Hole is the cutest dish ever brained up.
"Yo, egg-in-a-hole, who brained you up?!"
Oh, you're a piece of food and can't talk back…cool.
Moving on…again…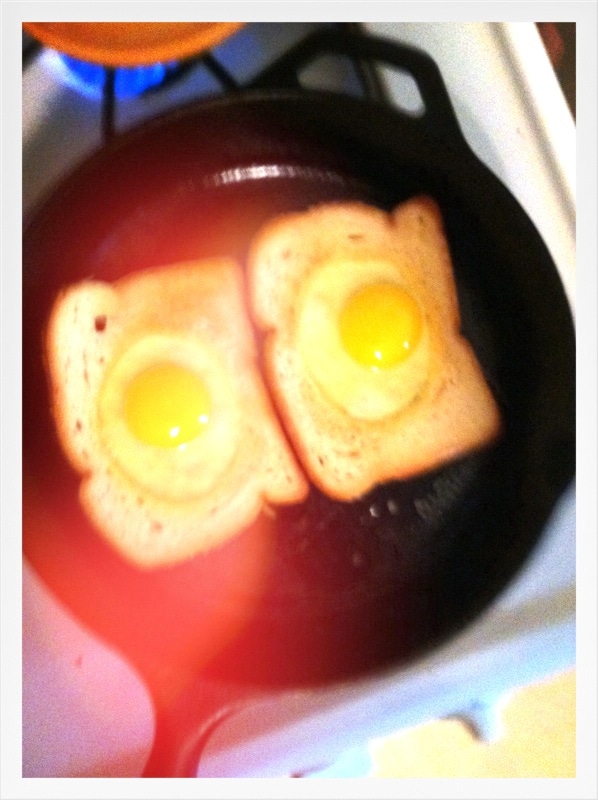 I added a little prosciutto for some heft. I wanted dinner.
If you don't have any or are trying to go veggie, leave it out. It's totally delicious without it.
And please…grate yo' cheese. It melts faster, which is important in this case.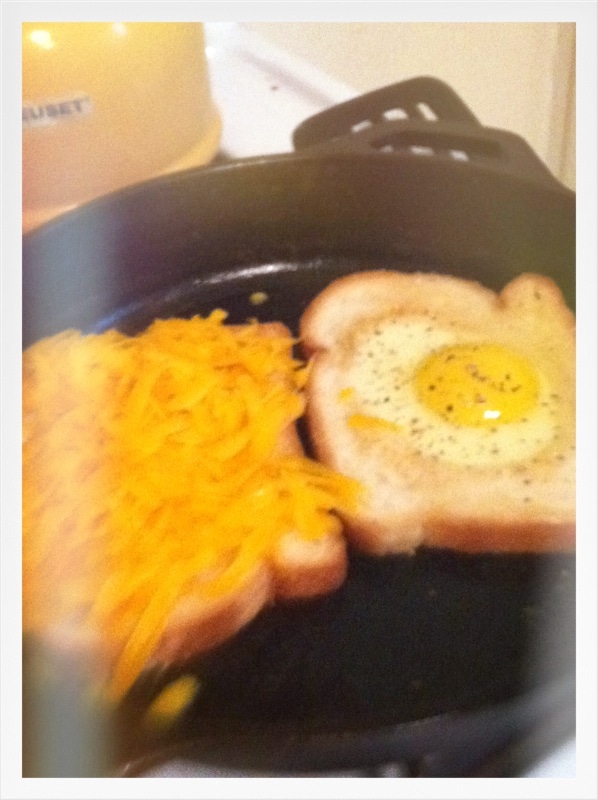 Now, go make this for breakfast, lunch or dinner…and eat some food motion. It's the right thing to do.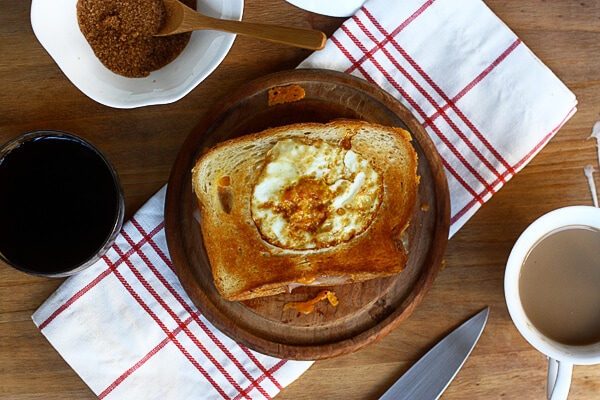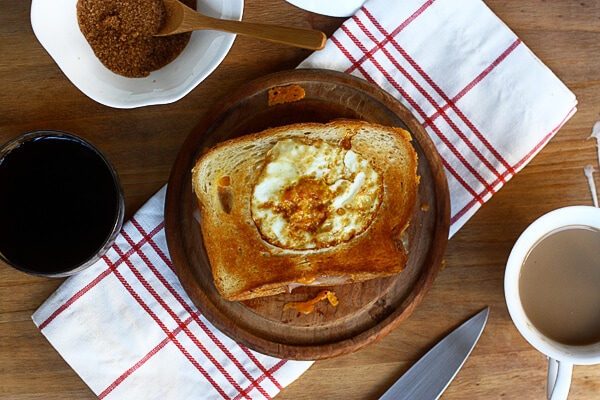 Print Recipe
Egg-In-A-Hole Grilled Cheese
Egg-In-A-Hole Grilled Cheese is the perfect after-school snack. A grilled cheese filled with gooey cheese and a hole cut in the center and an egg cooked in the center. It's the best of both worlds.
Ingredients
2

slices

bread of choice

I used white; I think 7-grain would be lovely

1

tablespoon

unsalted butter

2

large

eggs

1/3

cup

shredded cheddar cheese

Kosher salt & Black Pepper

3

slices

prosciutto
Instructions
Using a biscuit or cookie cutter, cut a 2-inch hole from the center of both slices of bread. Melt 1/2 tablespoon of butter in a medium nonstick skillet over medium-low heat. When it's melted, add the two slices of bread. Let the bread lightly toast for a minute, or until lightly golden brown, and then flip the two slices over. Dab the remaining butter in the middle of the bread circles. We want to ensure the egg doesn't stick.

Crack the eggs into the holes and season with salt and pepper. If you're using prosciutto, chill with the salt. Just add a little.

Cover the pan for a minute, just until the egg whites are sorta set. Next, add the grated cheese to one half and cover for another minute, or until the cheese is practically melted.

Using a spatula, gently top the cheese slice with the egg slice. Cook for one more minute, or until the cheese is melted.