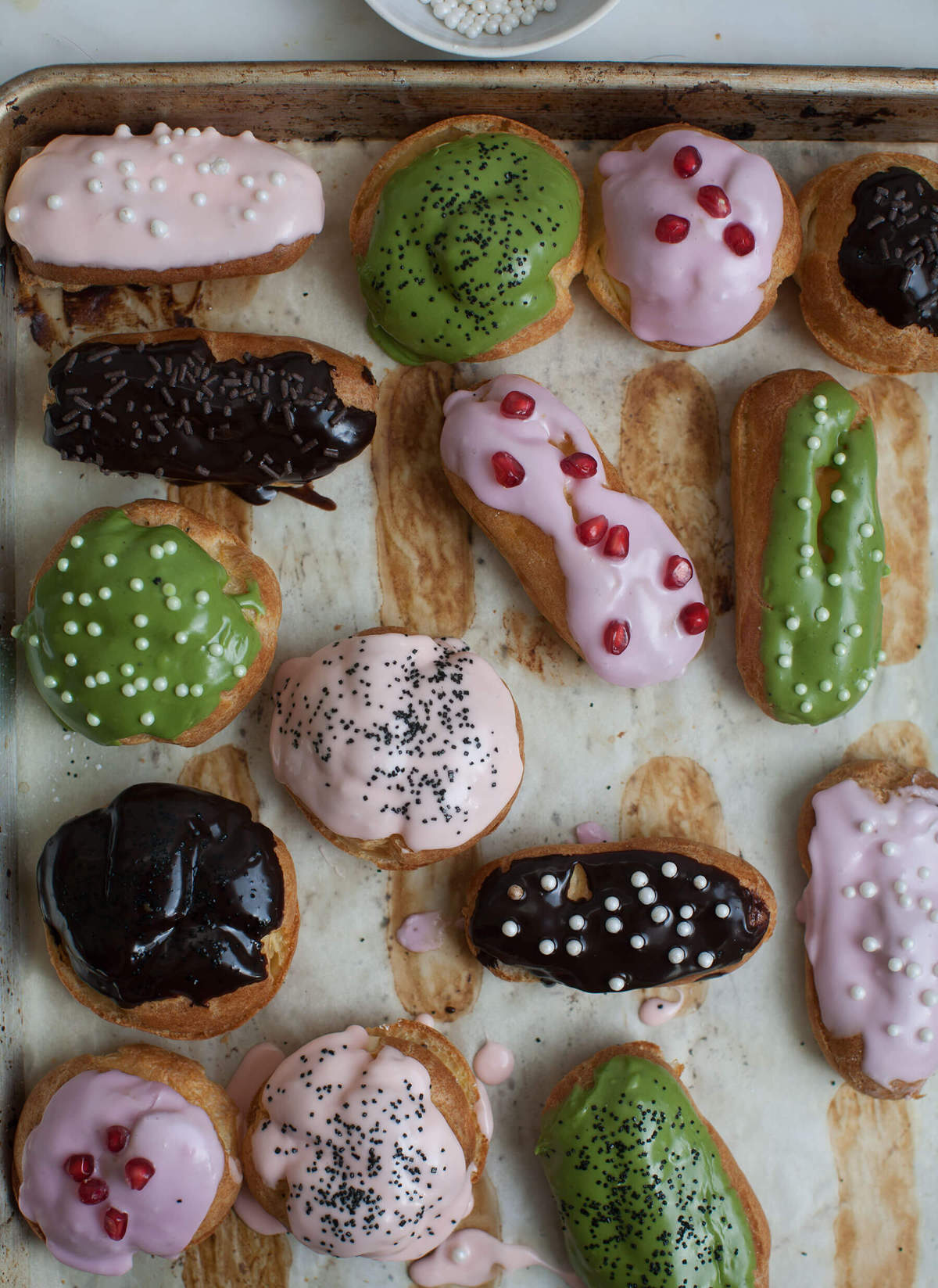 I can feel the "busy cloud" starting to creep in on us. Or maybe it's because I've been planning my little heart out the past couple of days. I'm plotting Thanksgiving recipes and cookie recipes and healthy recipes for when you've eaten too many cookies.
One thing I've wanted to make for a very long time are pretty eclairs and cream puffs. These are relatively simple. I know, I know. The relatively part is relative.
If you've never made pate a choux before, I will tell you…it's weird. It feels very very wrong and incorrect and like you've read some sort of mistake.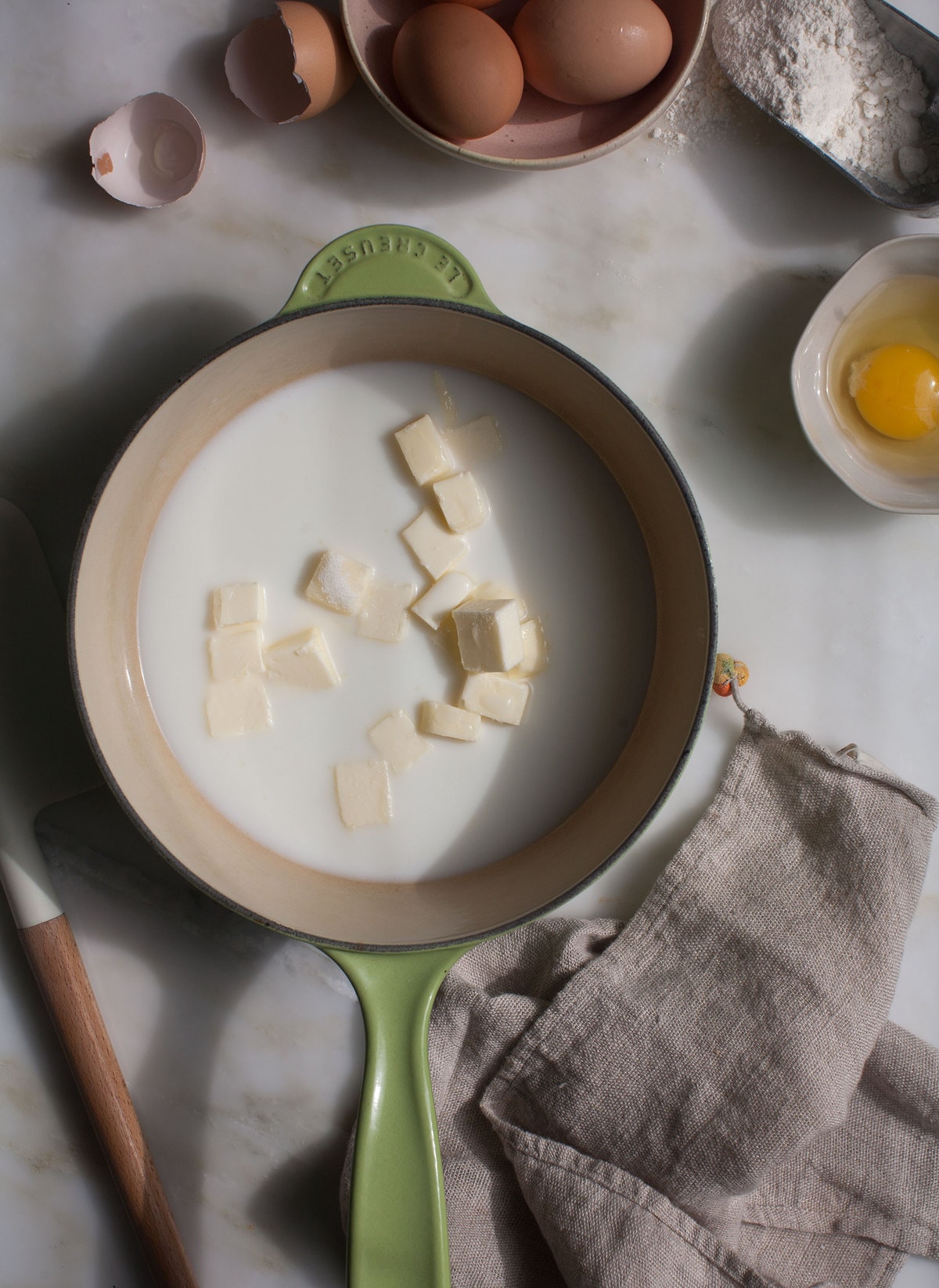 But it's not. In a saucepan, you combine butter and water and milk and sugar and salt. When the butter melts, you add the flour.
And stir and stir until it forms a mass. Then you cook it some more until it dries out a bit more.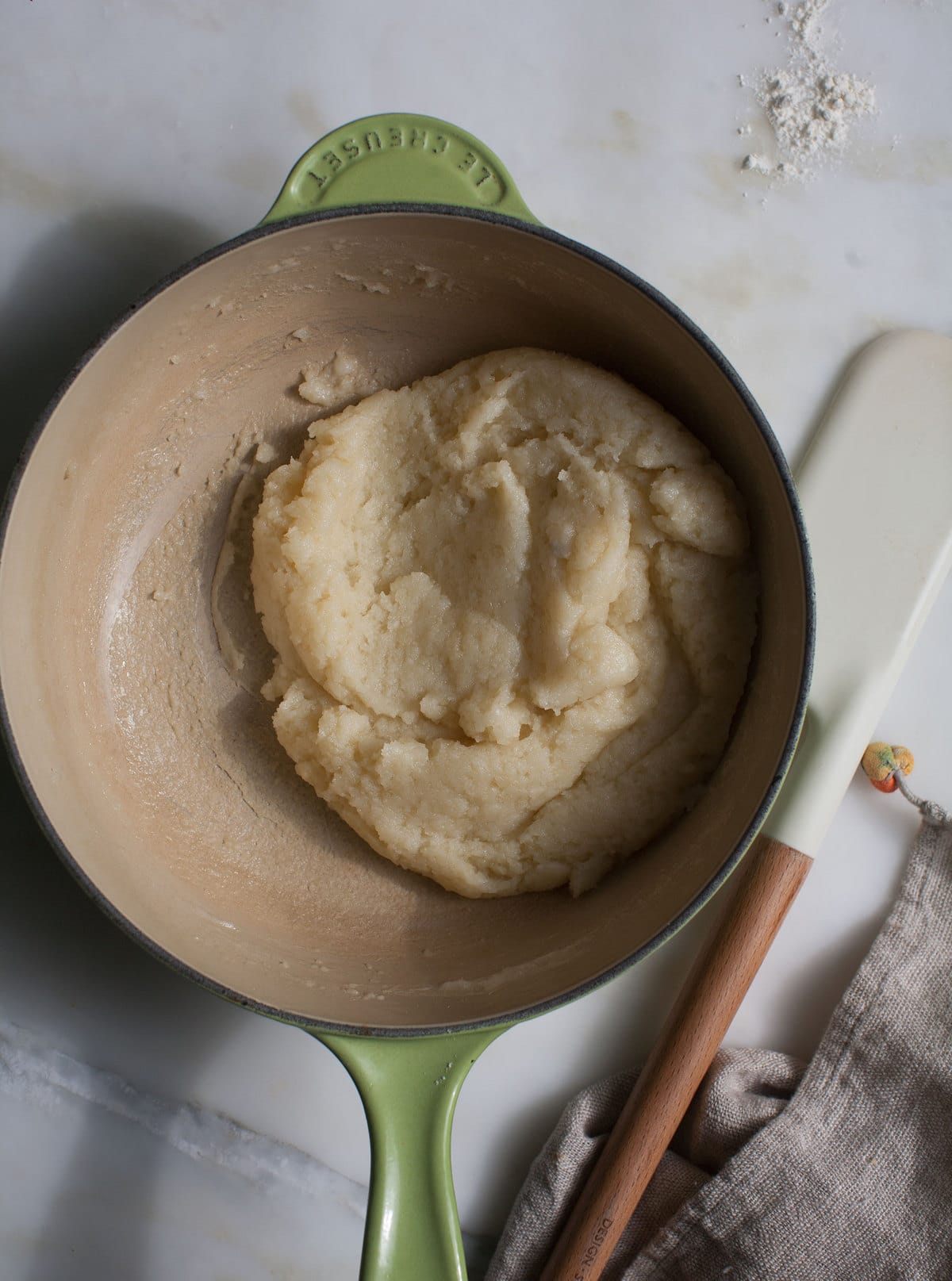 Then the whole thing is transferred to a bowl or stand-up mixer. A bit of mixing goes on to cool the dough off. And then eggs…a lot of them. One by one they're added.
After that you pipe out the dough onto a baking sheet in either eclair shapes or cream puff shapes.
Then you bake 'em!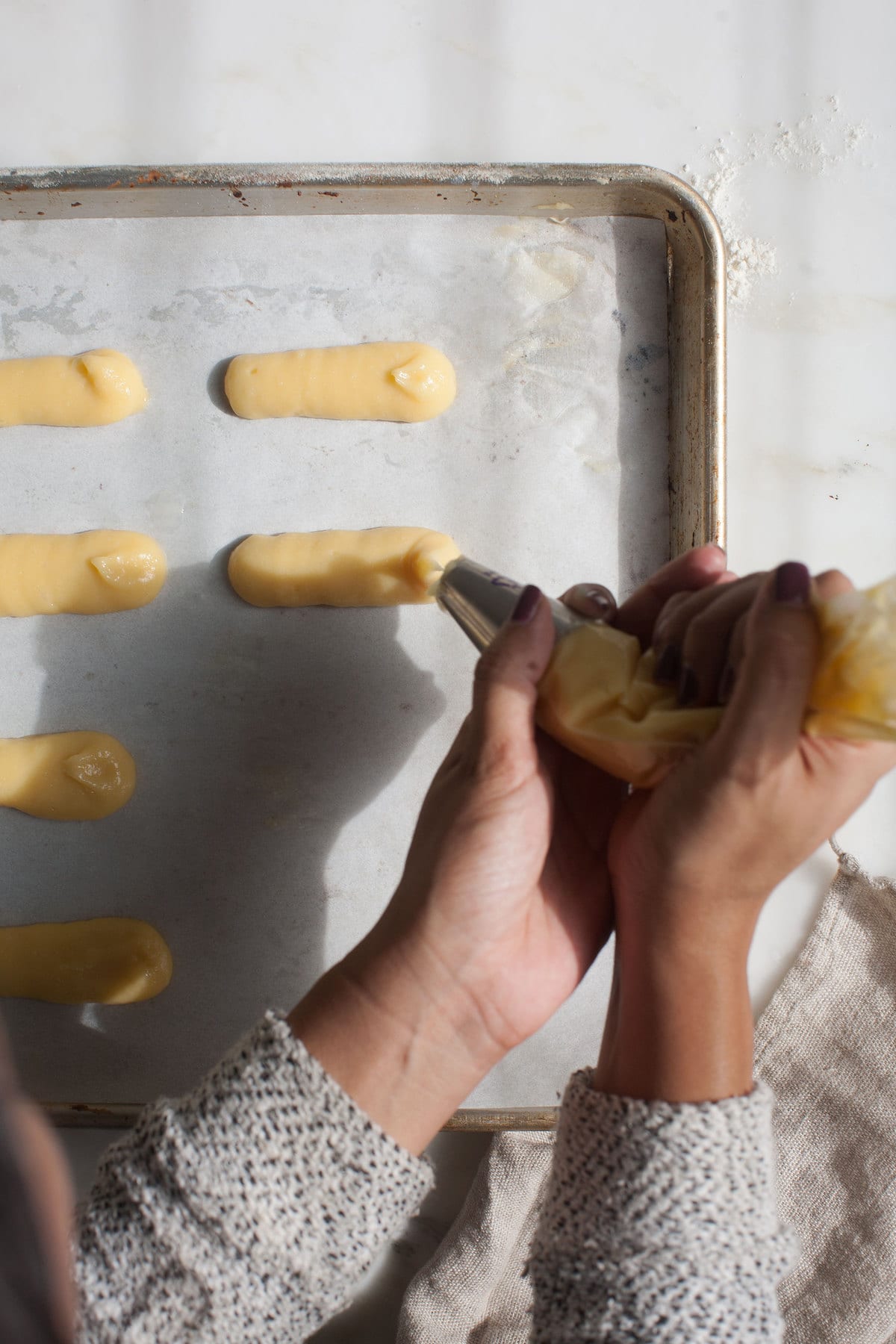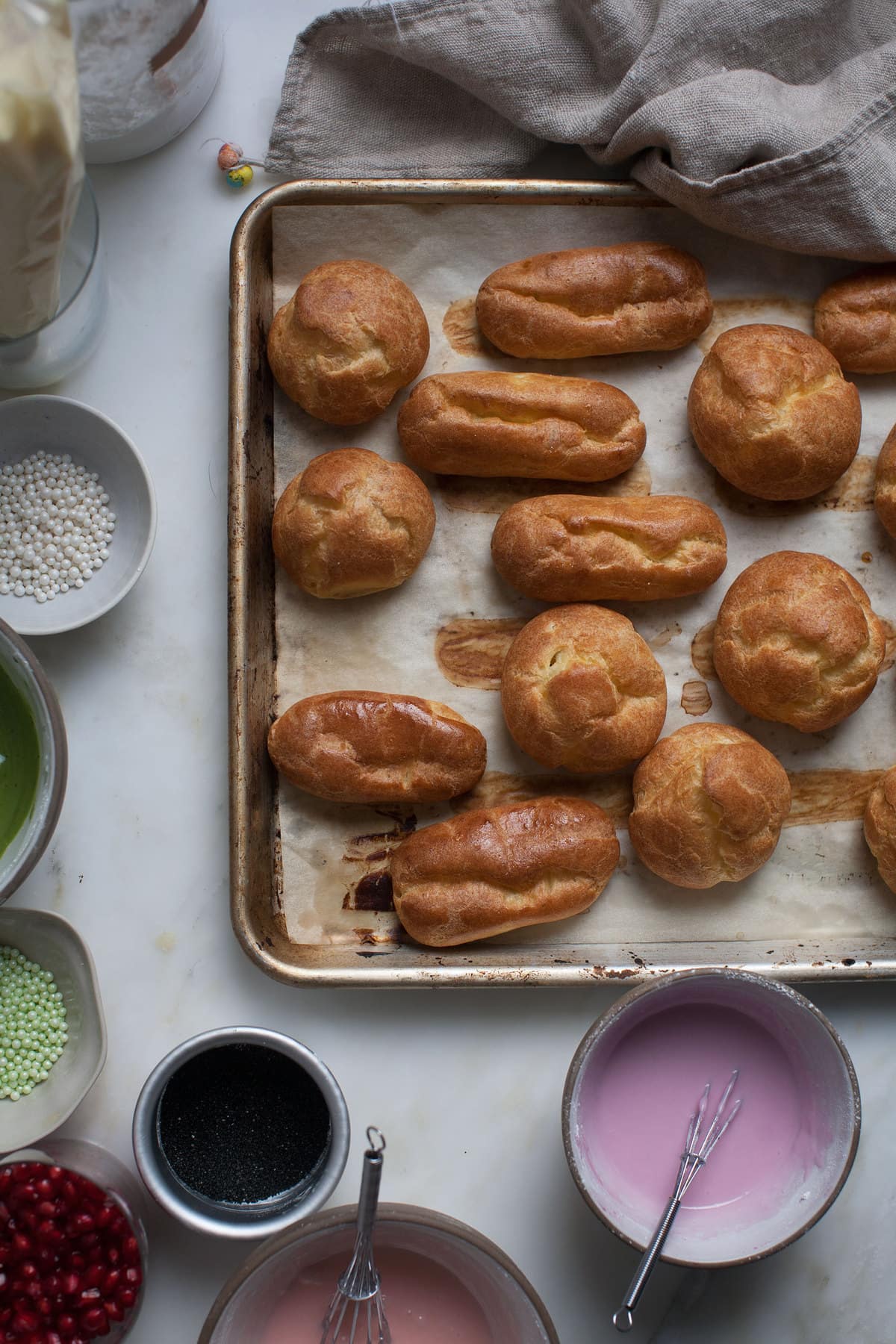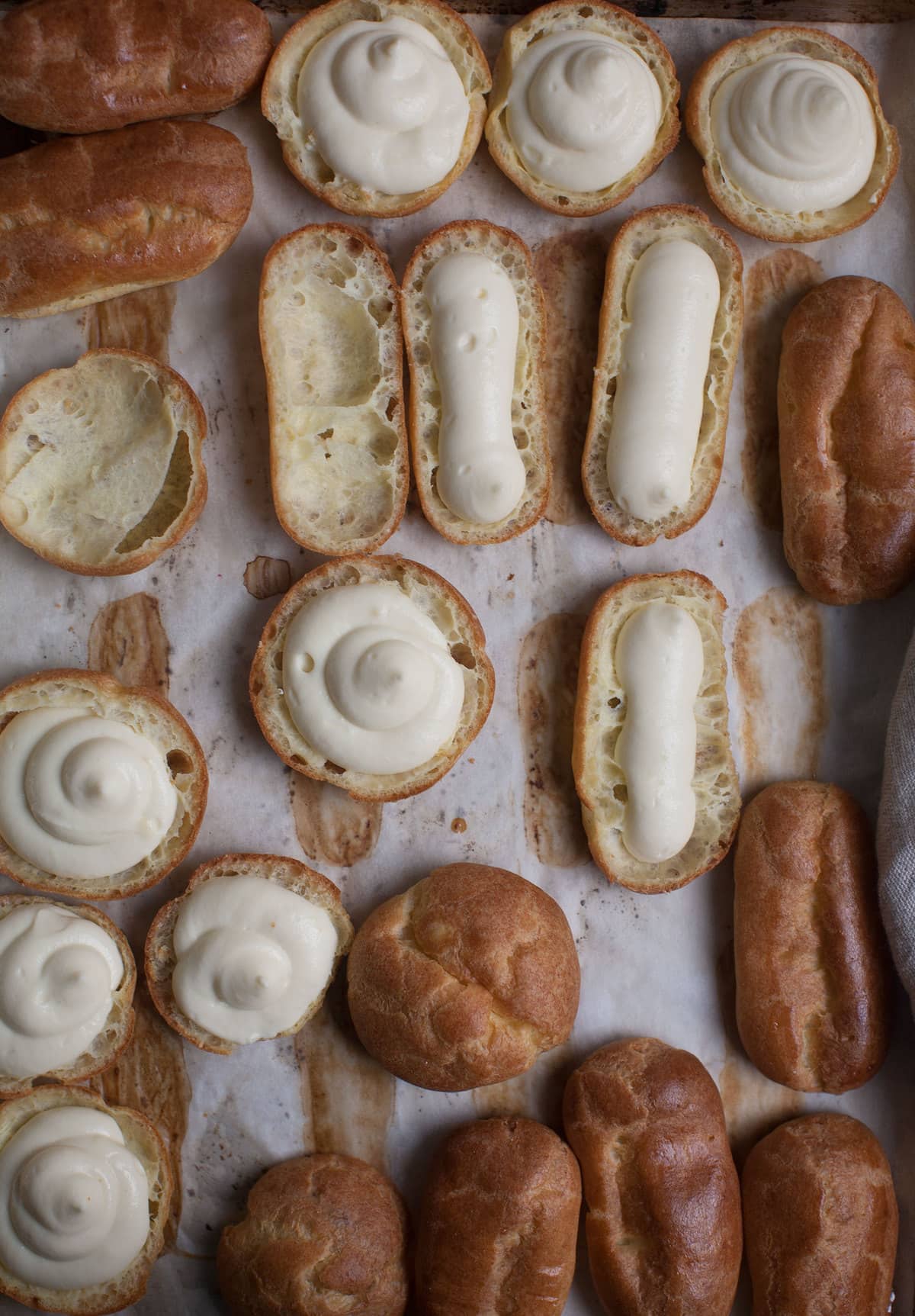 And fill them with diplomat cream, which is pastry cream with whipped cream folded in. I like it a million times more than regular pastry cream.
And then the tops are dipped and decorated.
Here I have:
1. Matcha Glaze
2. Chocolate Ganache
3. Pomegranate Glaze
4. And plain glaze but with a peach coloring gel added.
I topped them with green pearl sugar, white pearl sugar, black sanding sugar and a few pomegranate seeds.
Pretty and cute and fun!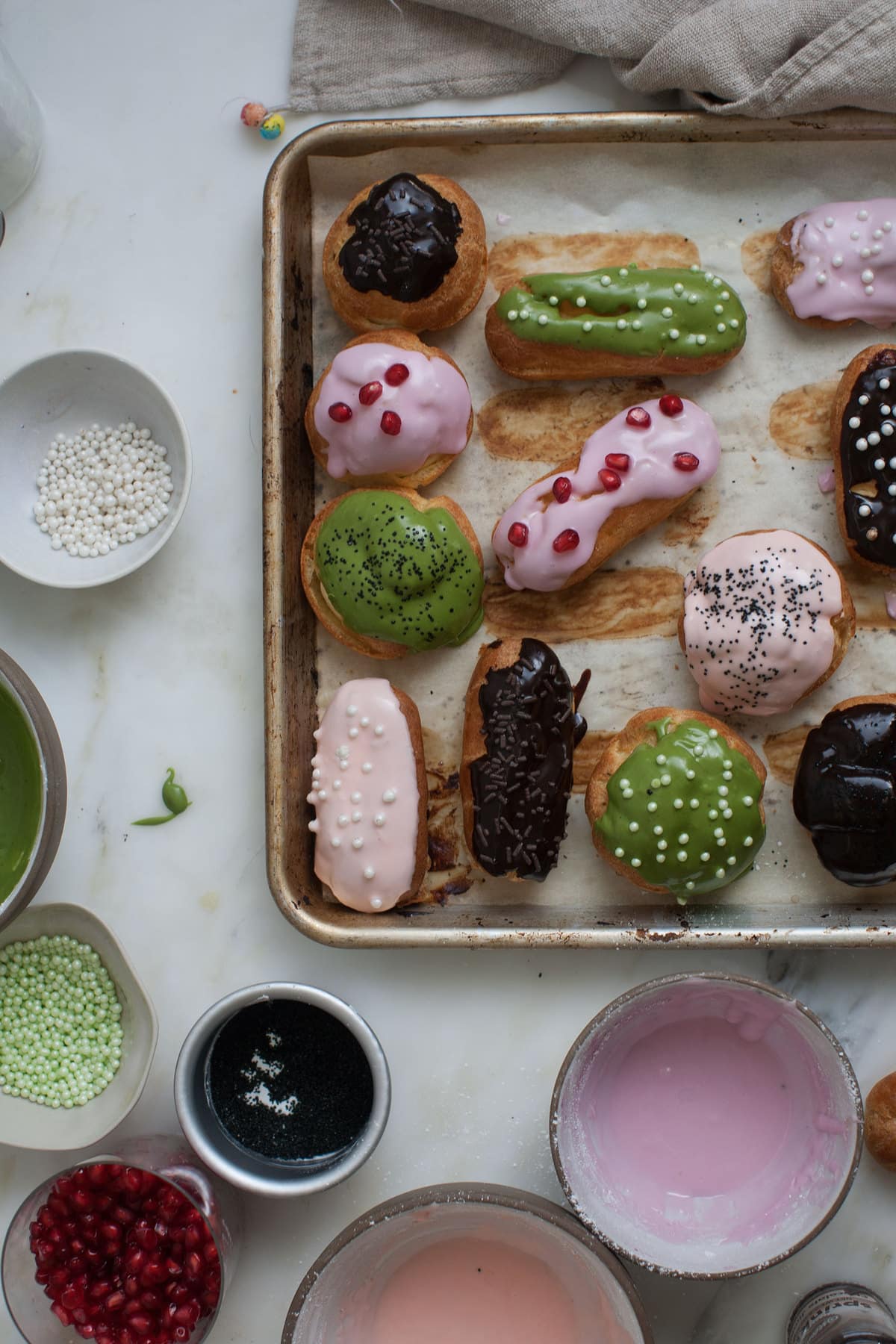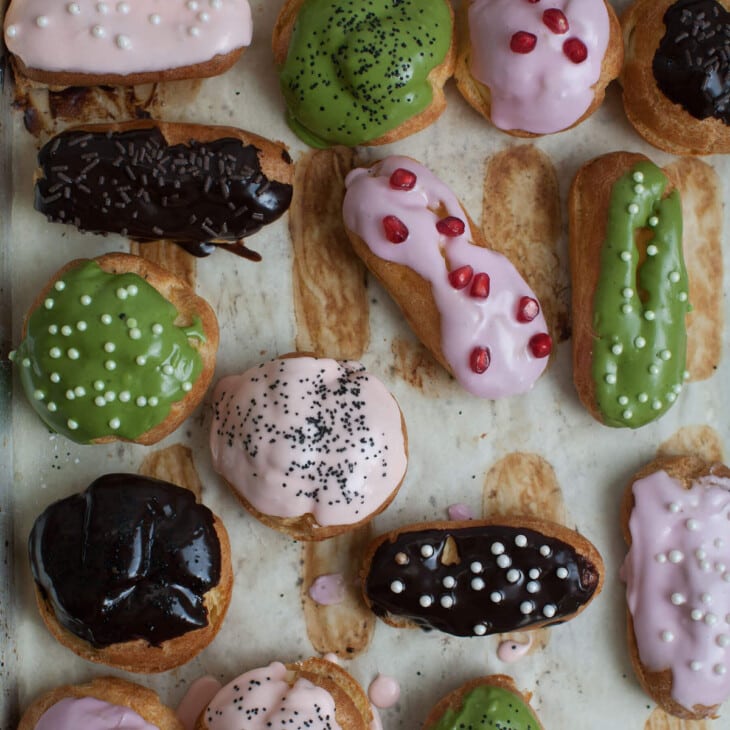 Print Recipe
Eclairs, With All Sorts of Glazes
Serving Size:
cream puffs and eclairs
Ingredients
Diplomat Cream:
1

tablespoon

all-purpose flour

1

tablespoon

cornstarch

1

cup

whole milk

1

teaspoon

pure vanilla extract

2

large egg yolks

3

tablespoons

granulated sugar

⅓

cup

heavy cream

1

tablespoon

powdered sugar
Pate a Choux:
½

cup

whole milk

½

cup

water

6

tablespoons

unsalted butter

cubed

1

tablespoon

sugar

½

teaspoon

salt

1

cup

all-purpose flour

5

large eggs

room temperature
Pomegranate Glaze:
½

cup

sifted powdered sugar

2

teaspoons

pomegranate juice
Matcha Glaze:
½

cup

sifted powdered sugar

2

teaspoons

sifted matcha powder

1

tablespoon

heavy cream or 2 teaspoons milk
Peach Glaze:
½

cup

sifted powdered sugar

1

tablespoon

heavy cream or milk

1

teeny drop of creamy peach gel coloring
Chocolate Ganache:
6

ounces

dark chocolate chips

½

cup

heavy cream

heated to very hot
Toppings:
Pomegranate seeds

White pearl sugar

Pale green pearl sugar

Black sanding sugar

Chocolate jimmies
Instructions
To make the Diplomat Cream: In a small bowl, sift together the flour and cornstarch. In a small saucepan set over medium heat, combine the milk and vanilla and bring to a simmer, then immediately remove from the heat. In a medium bowl, whisk the egg yolks and granulated sugar until the mixture is a pale yellow. Add the flour mixture and whisk until completely smooth. While whisking the egg mixture, simultaneously add about half of the milk mixture to the bowl. Slowly adding the hot milk to the egg mixture will prevent the eggs from scrambling.

Transfer the egg/milk mixture back to the saucepan and place over medium-high heat. Bring to as simmer, whisking the entire time, being sure to scrape the bottom and the sides of the pan. Lower the heat and cook until the cream has thickened and hits 175 degrees F, 2 to 3 minutes.

Remove custard from the heat and pour it through a sieve into a bowl. This will eliminate any lumps. Press a piece of plastic wrap directly onto the custard's surface so it doesn't form a skin, and transfer it to the refrigerator to chill for 1 hour.

Combine the heavy cream and powdered sugar in a medium bowl. Using a hand mixer, beat until medium peaks for. Remove the chilled custard from the fridge and gently fold in the whipped cream. Transfer the diplomat cream to the fridge until you're ready to use it.

To make the pate a choux: To a medium saucepan, set over medium heat, combine the milk, water, cubed butter, sugar and salt. When the butter has completely melted, give it a mix and then continue stirring in the flour until a large mass forms and it begins to pull away from the sides of the pan. Continue cooking the ball of about 1 minute, drying out the flour mixture a bit.

Transfer the flour mixture to a large bowl or to the bowl of a stand-up mixer with the paddle attachment. Stir the dough with a wooden spoon or mix on low speed to slightly cool and allow the steam to escape. Add each egg, 1 at a time, being sure the egg is combined before adding the next. The dough will be a bit sloshy but keep stirring, it will eventually combine! When you're done adding the eggs, the dough should appear smooth and silky. Transfer to a piping bag with a large round tip attached.

Preheat the oven to 425 degrees F. On a parchment-lined baking sheet, pipe cigar-shaped eclairs, spacing them about 2 inches a part or round cream puffs. I did a bit of both! Transfer to the oven to bake for 15 minutes, rotating the tray at the 7-minute mark, until lightly golden brown. Turn the heat down to 350 degrees F and bake for an additional 12 to 15 minutes, until evenly golden brown and puffed up. Repeat the piping process until you've worked your way through all the dough. Allow to cool completely before filling and glazing.

Mix up the glazes: Add each of the ingredients to a variety of bowls. For the chocolate ganache, add the chocolate to a bowl and pour the very hot heavy cream on top. Allow to sit for a minute and then mix vigorously.

To assemble: Transfer the diplomat cream to a piping bag with a round piping tip. Slice the cream puffs and eclairs in half and fill them with the diplomat cream. Dip each of the tops in the glazes, cleaning up the sides if needed (mine were a little messy--it's all good); immediately garnish with the toppings of your choice.