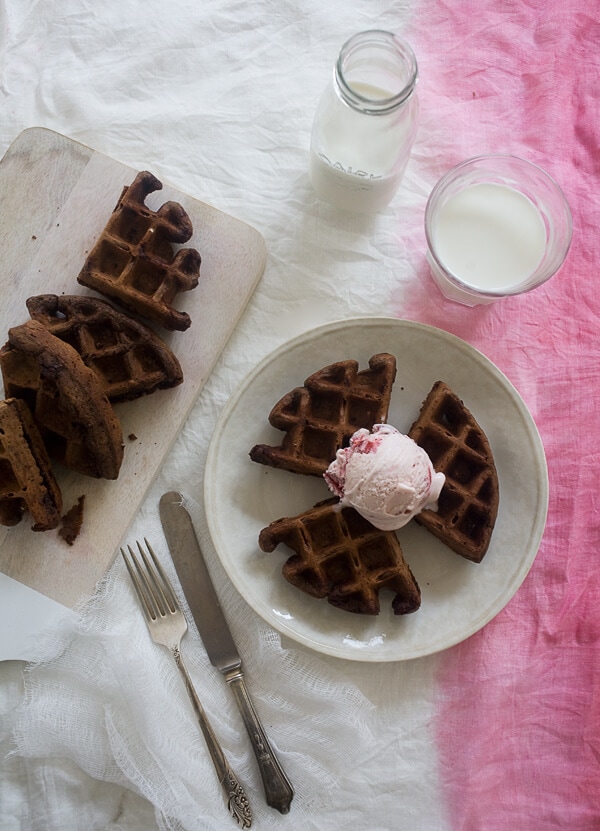 Every year Valentine's Day approaches and I'm like, oh please make it stop. The other day I was reading Anne's post, which reminded me how much I loved Valentine's Day as a kid. All those school parties! All the treats, candies and glittery, handmade valentines I'd send my friends—why am I so meh about it now?! Oh yeh…there was that one time…
I was in third grade and had convinced my mom that it was very necessary to go to the grocery store and buy a few dozen of those shitty cupcakes with tons of sprinkles and stuff on 'em. I was pumped. So stoked. I went to class, I had my cute outfit on, had my Valentine's day pocket-thingys…you know, the big heart with the front pocket so friends could put V-Day cards in 'em.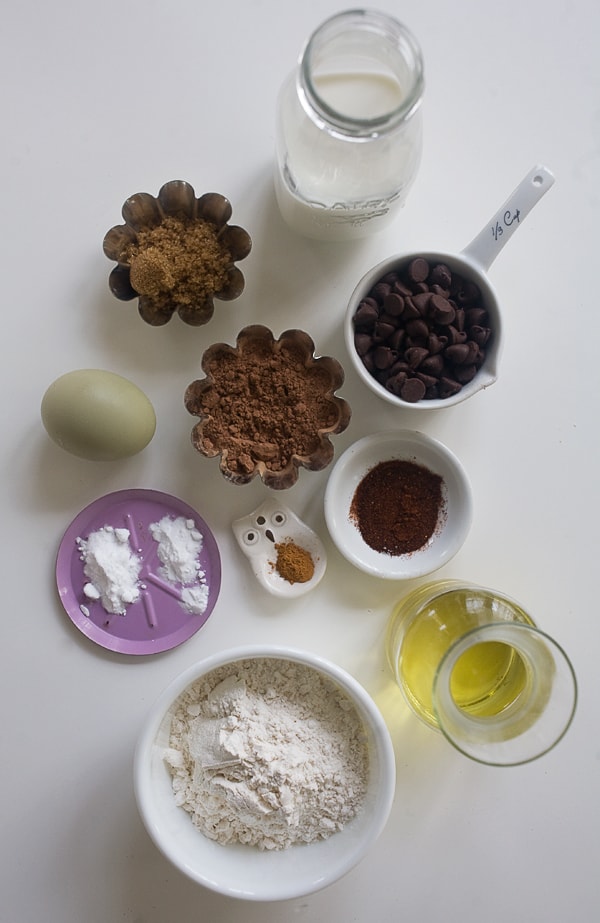 Right before the party we had recess so the adults could set up and get everything ready. This is when things took a turn for the worst.
I remember walking past the swing set, not paying attention at all because my mind was on the party, and then boom! Seemingly out of nowhere a gigantic foot hit my face. I fell to the ground and all I could hear is one kid yelling, "Ew! Gross! She's bleeding." I remember saying, "No I'm noooot!" Because, if I was bleeding I knew what that meant; it meant no party. And that was totally unacceptable.
Soon enough an adult headed over and I was carried to the school doctor. I remember looking in the mirror, as the nurse attempted to console me, taking note of my gigantic lip and bloody shirt. Pretty sure I still asked if I could go to the party. I knew the answer but I had to give it one last shot. My dad came rushing from work and took me to Chili's. We sat at the bar area and I drank a milkshake and had the fajitas. It was my favorite, but nothing could top the party.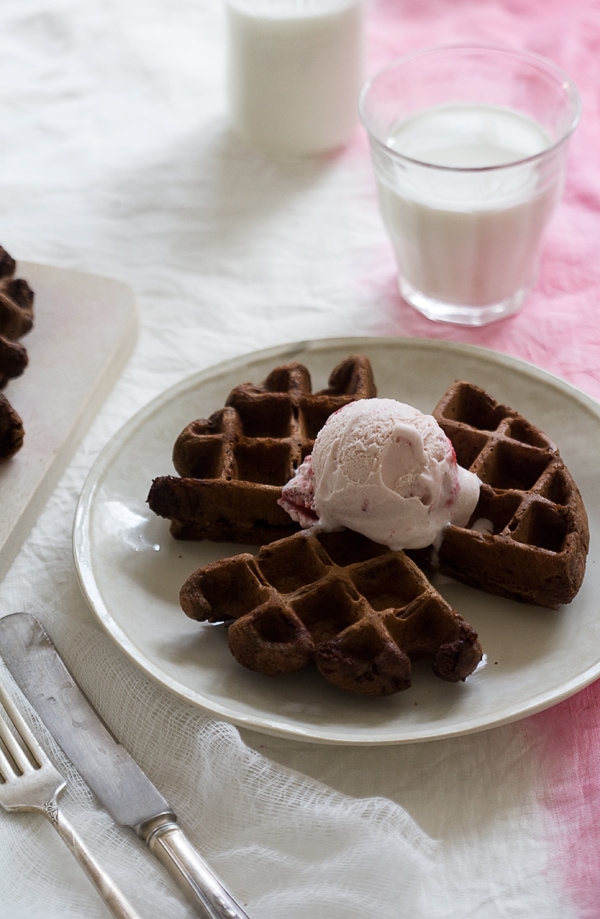 So that's why I think I'm very meh about Valentine's Day. A fat lip and no party will damage a kid forever!
Also, if we ever meet in person, take note of my lip. There's still a little bump on my lip and a small scar right underneath it. I was scarred literally and figuratively!
Now, let's talk about dessert waffles. I feel like I have breakfast for dinner all the time, so why not breakfast for dessert.
I say add a scoop of ice cream. The warm and cold juxtaposition is my favorite.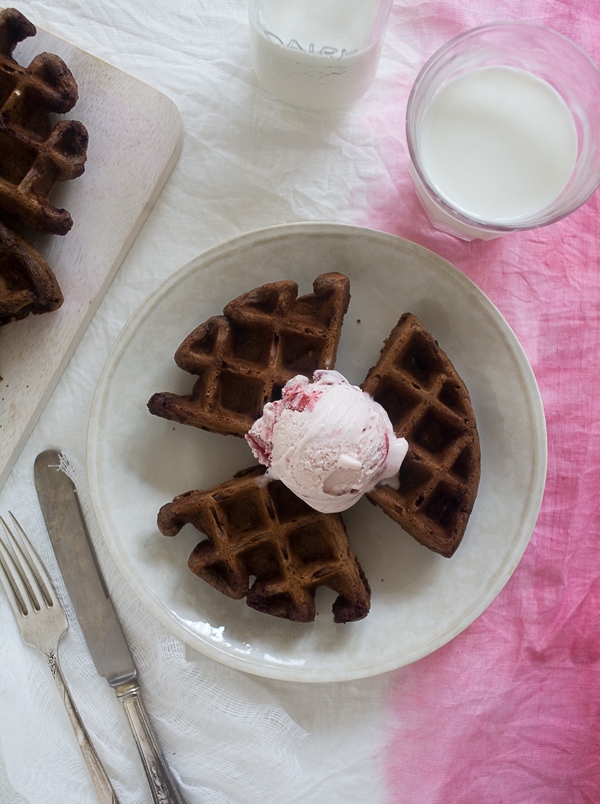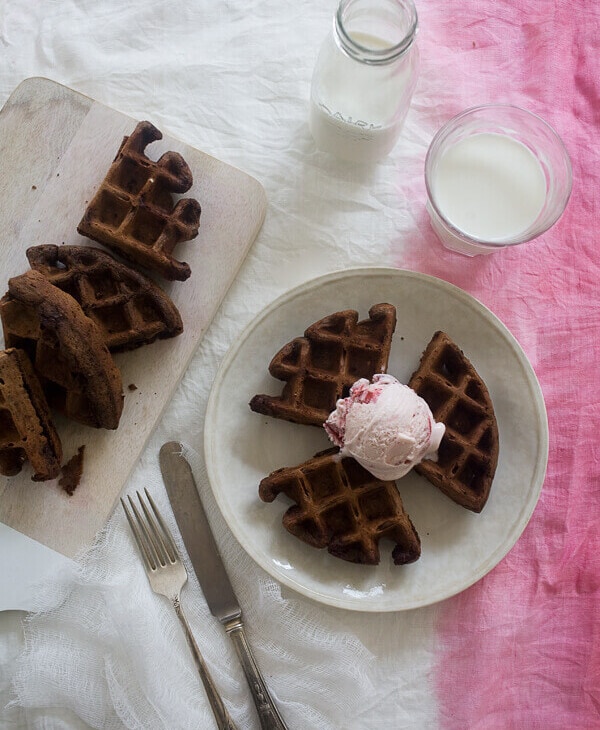 Print Recipe
Double Chocolate Dessert Waffles
Ingredients
Dry Mix:
1

cup

all-purpose flour

1/4

cup

cocoa powder

2

tablespoons

light or dark brown sugar

1

teaspoon

baking powder

1/2

teaspoon

baking soda

Heaping 1/2 teaspoon salt

1/4

teaspoon

ancho chile powder

optional

1/4

teaspoon

ground cinnamon
Wet Mix:
3/4

cup

whole milk

1

large egg

2

tablespoons

olive oil

1

teaspoon

vanilla

3

ounces

semi-sweet chocolate chips

2

tablespoons

room temperature unsalted butter
Instructions
In a large bowl, mix together dry ingredients: all-purpose flour, cocoa powder, brown sugar, baking powder, baking soda, salt, ancho chile powder and cinnamon.

In a measuring cup or medium bowl, measure out milk, crack in the egg and pour in the olive oil and vanilla extract; whisk until smooth.

Make a make-shift double-boiler by setting a glass or stainless-steel bowl over a pot of simmering water. Add the chocolate and butter to the bowl; when melted, stir the two together until smooth. Pour the melted chocolate into the milk mixture and whisk. The chocolate will be striated throughout the milk - not to worry!

Create a well in the dry ingredients and pour in the liquid ingredients. Combine until just mixed, being sure not to over mix.

Coat both sides of your waffle iron with cooking spray or rub it with olive oil. Fill each cavity with about 1/2 cup of batter and cook until golden brown, about 2 to 3 minutes (or according to the waffle maker's instructions - each one seems to be slightly different).

Serve with a generous scoop of your favorite ice cream. I think strawberry ice cream works pretty well.