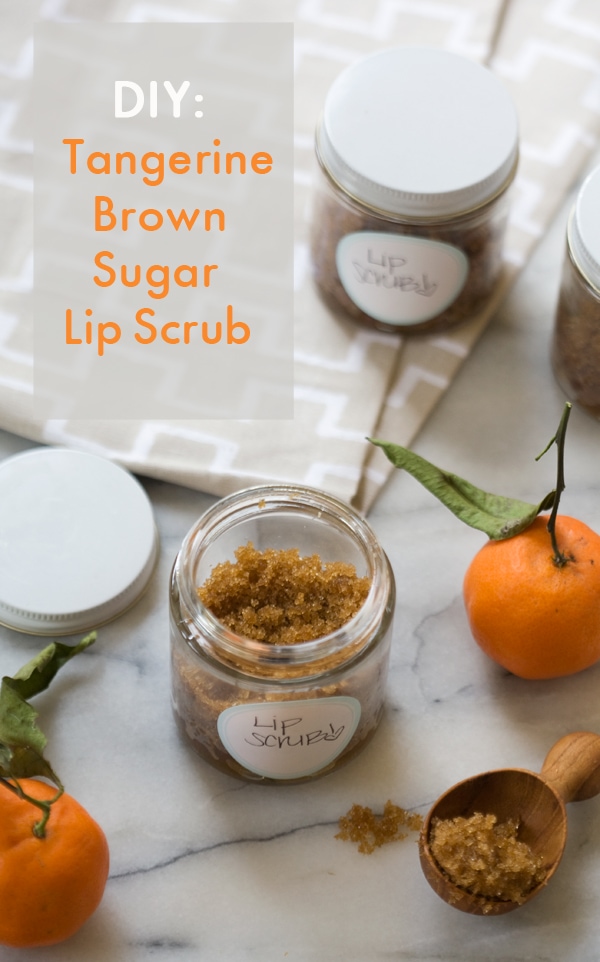 When I first moved to L.A. I was on a crazy strict budget. I'm talking the kind of budget where I was eating once a day and that meal consisted of, like, a few dollar tacos. It was kinda sucky, but honestly I'm really thankful for that time in my life; it gave me drive and made me more conscious as to how I spend my money. Before this, I strictly bought beauty products at department stores and Sephora. My little broke period forced me to start buying beauty products from the drug store; and you know what, I still buy A LOT of my beauty products from Walgreens. I find that many of them are just as good as fancy products.
One of the things I stopped buying during this period was Fresh's Lip Polish; not because it wasn't effective—it's my absolute favorite—but because I found that it was SO easy to make at home. I made a big batch the other day when my lips looked cracked and gross and really needed some refreshing. While Los Angeles has had an oddly warm winter, it has been super dry, leaving my lips not looking their cutest.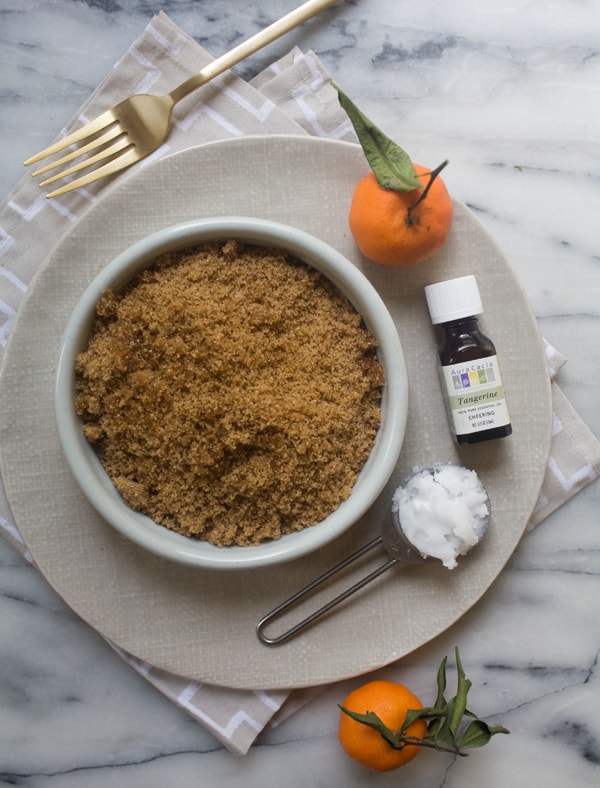 My thing with DIYing stuff is this: the supplies/ingredients have to cost less than what I'd pay for at the store, cuz' then I'd just save the time and buy it. Duh.
I had all of these ingredients on hand (minus the tangerine oil), so hopefully you do, too. If you don't, then I recommend skipping the peppermint extract. Even if you bought everything, it should still cost you no more than $15. And you'll have a lot of it. I say give a few jars to your friends and keep one for yourself!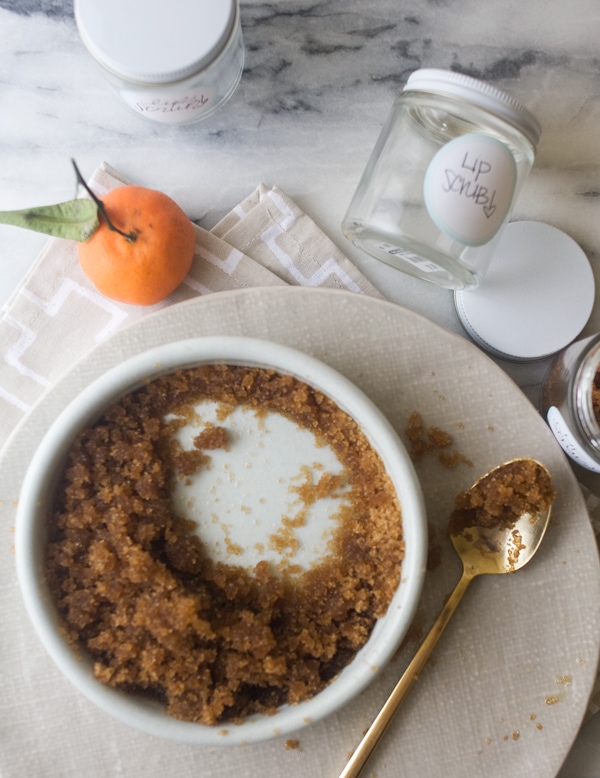 Here's the low-down on the supplies:
-The (4 oz.) jars are from The Container Store
-Coconut oil is always a Trader Joe's purchase (only $6!!!)
-Tangerine Oil was found at Whole Foods; you can also buy it off Amazon
-Peppermint extract, also a Whole Foods purchase years ago (goes for about $4)
-Brown sugar, you know, anywhere
-Labels are from Martha Stewart, Avery Collection, but a strip of masking tape would do the trick too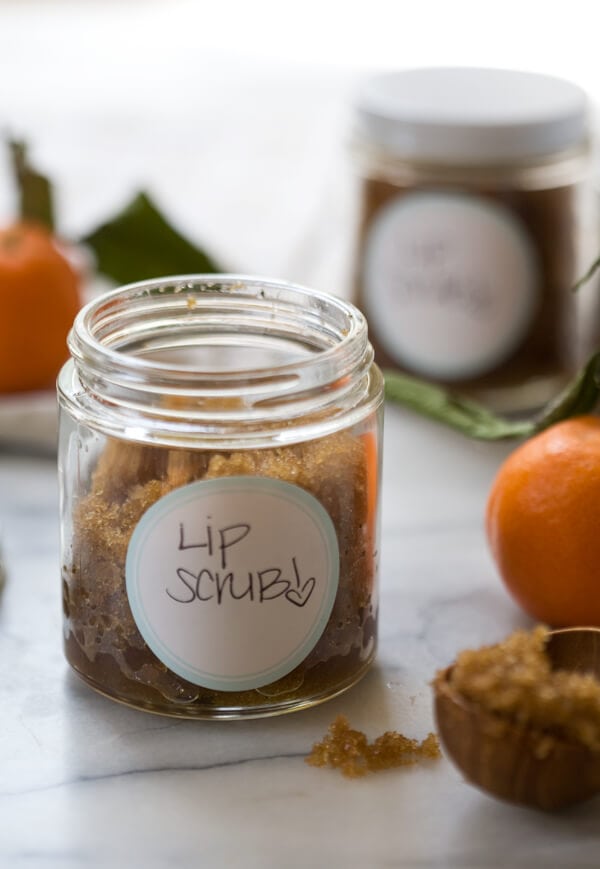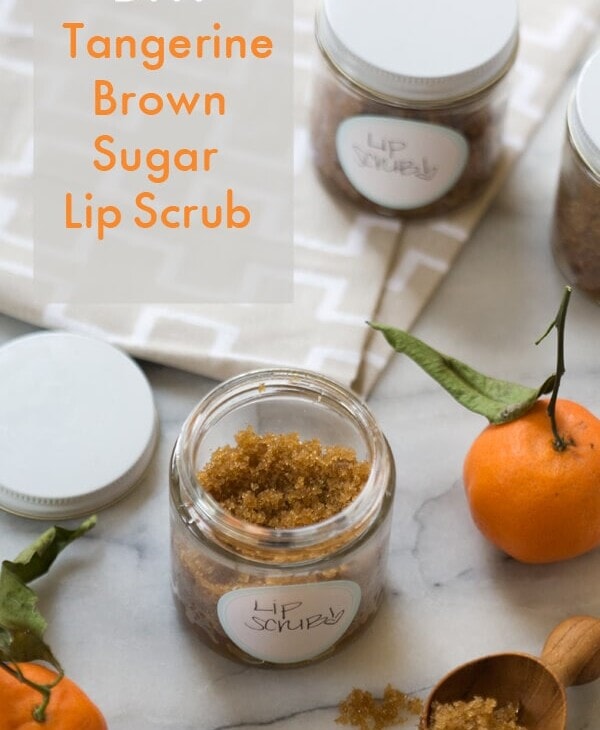 Print Recipe
DIY: Tangerine Brown Sugar Lip Scrub
Ingredients
4

tablespoons

coconut oil

1

teaspoon

tangerine oil

1/2

teaspoon

peppermint extract

optional

1 1/2

cup

light or brown sugar
Instructions
Place the brown sugar in a medium bowl. In a small sauté pan, set over medium-low heat, add the coconut oil and warm until just melted. Turn off the heat and mix in the tangerine oil and peppermint extract (if using). Pour the oil onto the brown sugar and mix using a fork or spoon until thoroughly combined. Divide the scrub between the jars and cover with airtight lid. Mixture will last up to 6 months.

To apply the scrub, take about a scant teaspoon and rub it on your lips for about 1 minute, using your index finger. Take a warm, damp cloth and wipe the scrub away, leaving smooth, refreshed lips.