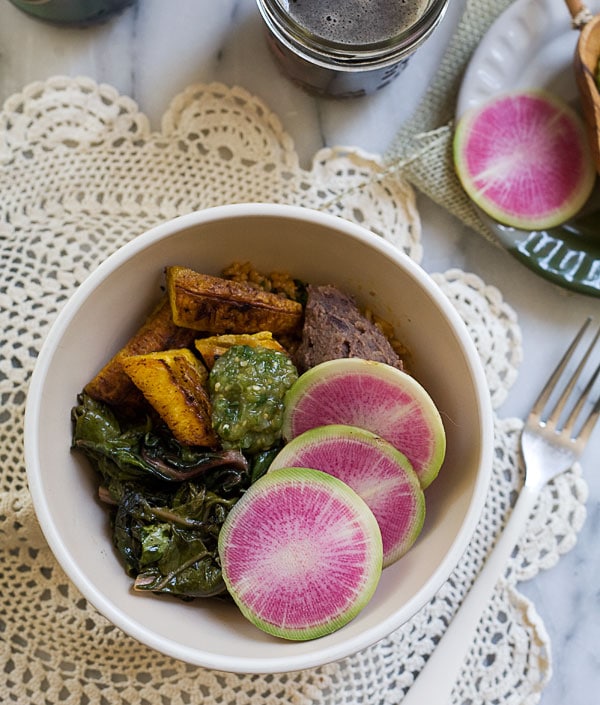 I love my friends and my family and my dude, but sometimes it's really nice to have no one talk to me for a few hours, you know? It's nice to just be in silence with some beer and paint my nails.
Non sucky dinners for one are good examples on how to date yourself. Yes, yourself. Date nights with yourself. Do you have them? You totally should, they're the best. For me they usually involve a pair of pjs, an episode or two (or three) of Nashville (currently obsessed), cold cereal, sometimes takeout, but more recently? This bowl.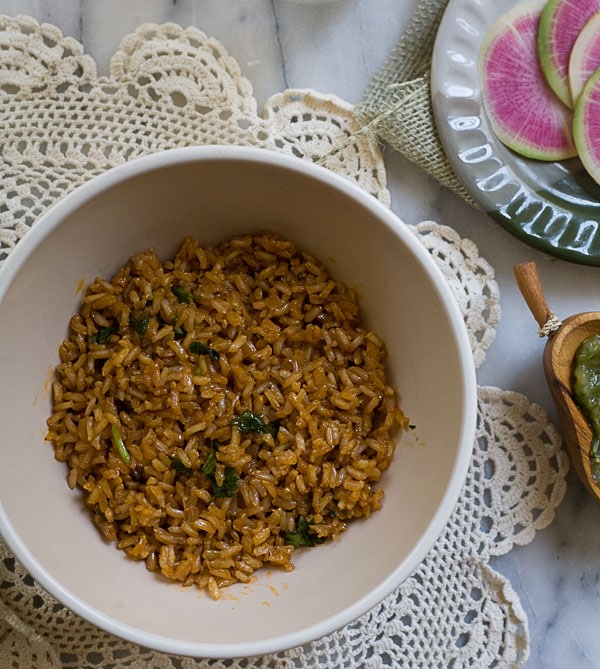 I've posted about Dinner for One before (here and here) and can't really should do more. I love 'em.
This bowl is inspired by a dish I get at my local vegan restaurant. They call it the Brazilian bowl but there's really nothing Brazilian about it so I renamed it. It's a little bit less inaccurate now.
My favorite part is the brown rice made like Mexican rice. It's flavorful and tomato-ey and oh just so awesome.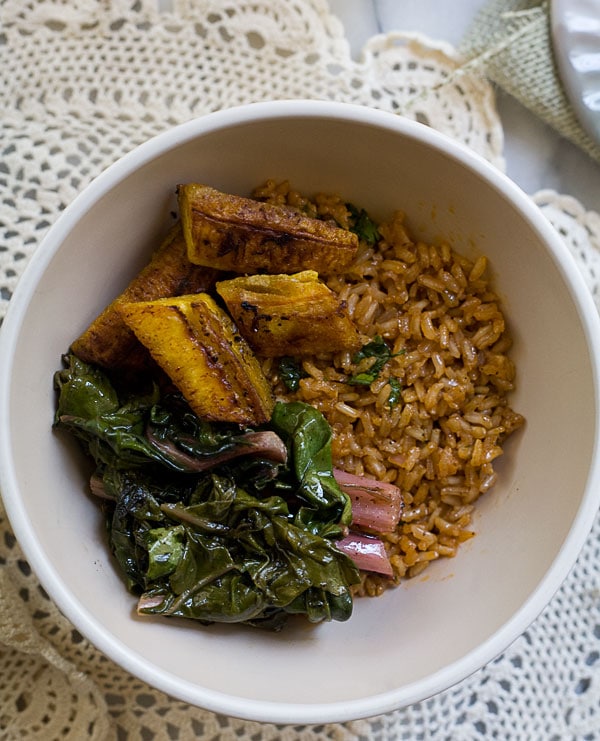 There's sweet plantains that work lovely with the tart, wilted Swiss chard.
The warm tomatillo salsa adds another sort of big step to this recipe so if you're in the mood for something that's under 20 minutes, then you can just trade it out for another salsa that's living in your fridge. The ugly (but delicious) scoop of black beans is offset by drop dead gorgeous slices of watermelon radishes. #balance
What's your "date for one" routine? Do you have one? Do you dream of having one?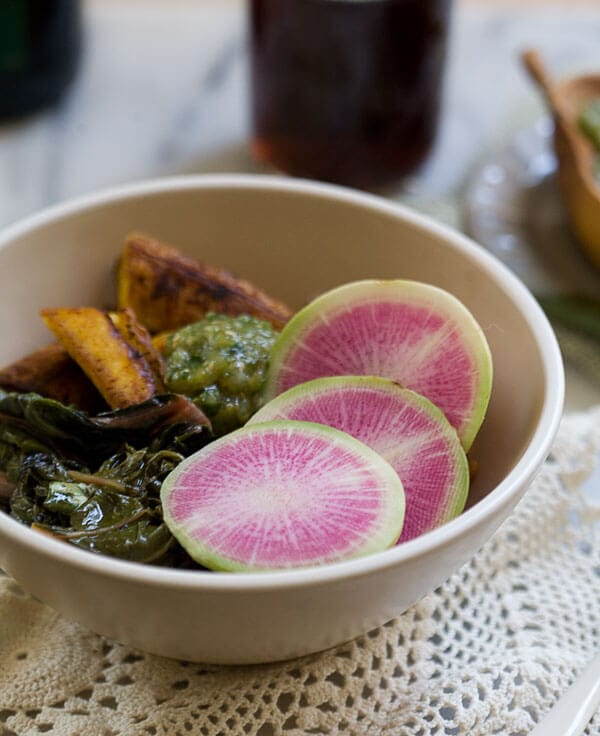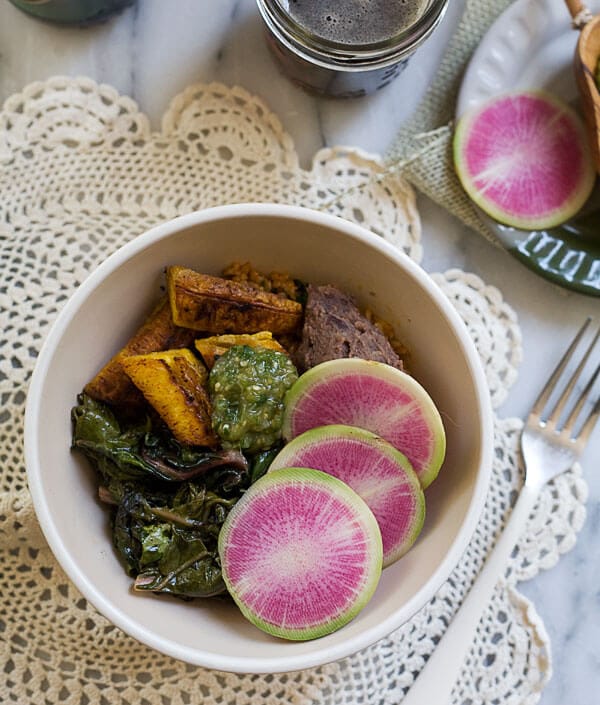 Print Recipe
Dinner for One: Vegan Latin Bowl
Ingredients
Warm Tomatillo Salsa:
3 to

matillos

husks removed and tops trimmed

¼

yellow onion

diced

1

lime

½

serrano pepper

membrane and seeds removed

Handful cilantro

Pinch

of salt
Spanish Brown Rice:
Olive oil

¼

yellow onion

diced

½

garlic clove

minced

¼

cup

brown rice

¾

vegetable stock

1

teaspoon

tomato paste

Pinch

ground cumin

Pinch

salt
Rest of the bowl:
½

brown plantain

sliced into 1 ½-inch pieces

Salt

Two leaves of swiss chard

stems trimmed and discarded

1

teaspoon

red wine vinegar

Scoop of black beans

warmed
Instructions
Preheat the oven to 350 degrees F. Add a tablespoon of olive oil to a cast iron skillet. Place the tomatillos trimmed side down. Roast for 10-15 minutes, until slightly sizzling and lightly golden brown. Transfer to the jar of a food processor, along with yellow onion, juice from 1 lime, serrano pepper, handful of cilantro and a few pinches of salt. Blend until pureed and set aside.

To a small pot, heat a few teaspoons of olive oil over medium heat. Add the onion and cook until translucent, about 2-3 minutes. Place the garlic atop and cook until fragrant, an additional minute. Pour in the rice, vegetable stock, tomato paste, cumin and salt; mix until completely combined. Cover and cook for 10 minutes, or until the liquid is dissolved and the rice is completely cooked.

In the cast iron you used to roast the tomatillos (we're about minimal clean-up in these parts), heat a few teaspoons of olive oil over medium heat. Add the slices of plantain, a pinch of salt and cook on both sides for about 1-2 minutes, until slightly golden brown. Remove and set aside. Add the swiss chard, red wine vinegar and a pinch of salt. Cook for about 1-2 minutes, until wilted.

To assemble the bowl, add the rice to the bottom of a bowl, top with the slices of plantains, wilted swiss chard, scoop of black beans, few slices of radishes and a spoonful of tomatillo salsa.