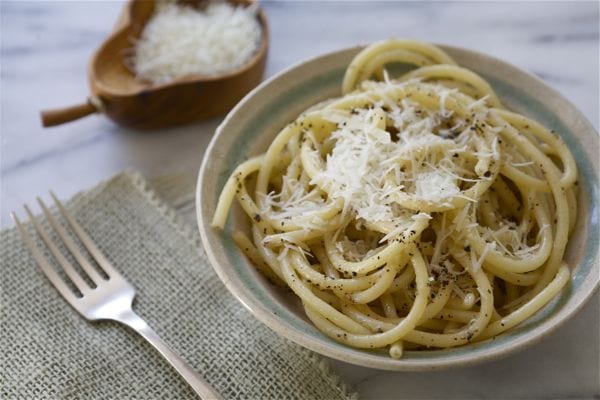 One year ago, on Valentine's Day, I could've sworn I was going to die alone. And I might die alone, who knows, but right now it feels like I might be OK, which feels great! and hopeful!
Two years ago, on Valentine's Day, I went to dinner with my best friend, Teri, and the server thought we were a lesbian couple. It kind of made us chuckle.
Here's the thing about Valentine's Day: I get that it's about love, cupid and chocolate or whatever, but it's kind of an exclusive holiday.
It's like, if you're psyched to be in a relationship, married, etc., then it's awesome. And if you're single and excited to be single, then it's sort of just an ignored holiday. But, if you're single and you don't want to be single, then Valentine's Day is an annoying holiday.
Since I think exclusivity is just stupid, I've made you a dish for you to make for yourself.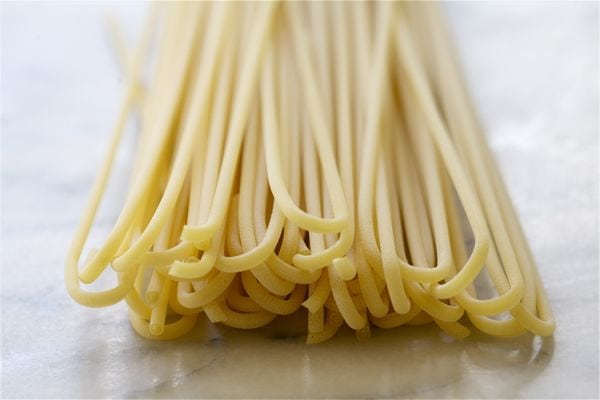 Dinner for one is my absolute favorite. I eat alone often and honestly, I kind of love it. Terrible TV, my couch and a bowl of food makes me so, SO happy.
But eating for one can be kind of tricky. Here are a few thoughts:
1. When eating for one, you never want to make anything with too many ingredients. Too many ingredients equals dropping lots of money at the grocery store. There have been times where I went in to buy dinner for myself and left spending $30. I mean, I can just go out to dinner for that much, you know?
2. Dinner for one shouldn't take a ton of time. I don't mind spending a little time, or being careful with how I'm preparing something but I just don't want to be in the kitchen for like 2 hours. No.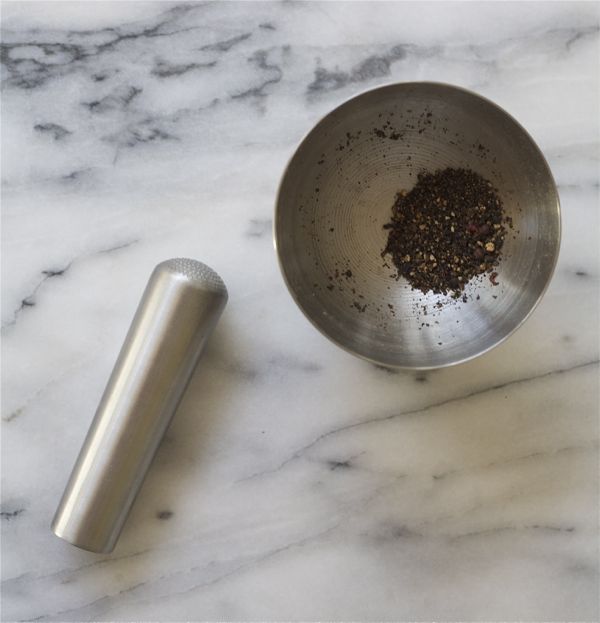 Cacio e Pepe is the most idyllic dinner for one.
There are only four (main) ingredients: butter, lots of black pepper, cheese and pasta.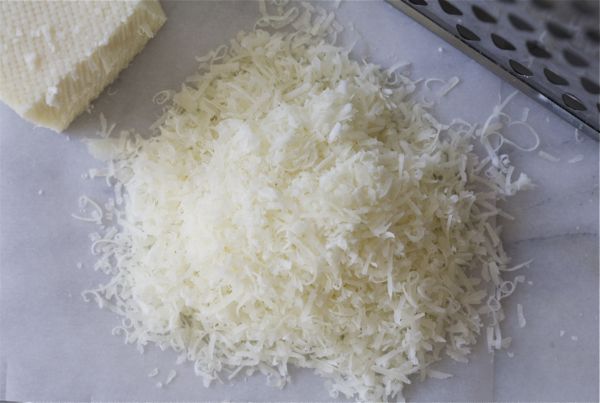 Most super simple dishes are simple and perfect because each ingredient is carefully chosen and the dish is made to a T.
This dish definitely isn't inexpensive, but good-quality pasta (in my case I used bucatini) and nice Pecorino cheese go a long way. They're worth a little splurge.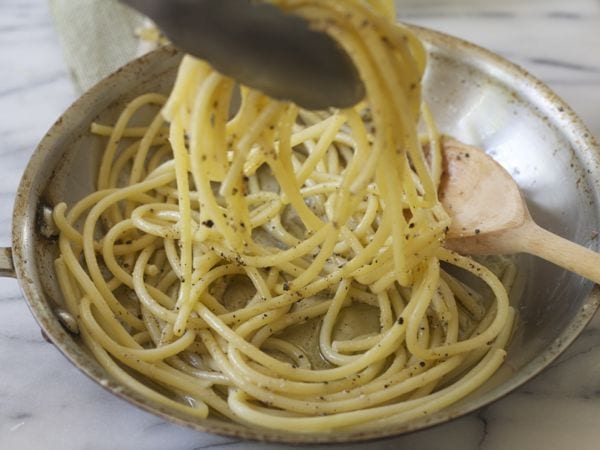 As for making this dish, it only takes about 15-20 minutes. But in those 15 minutes or so, you gotta pay close attention. Good Cacio e Pepe is clump-free, has a smooth butter/cheese sauce that coasts the pasta and is super, super peppery.
This is almost like a grown-up, Italian version of the butter/cheese pasta we ate as kids.
Treat yo' self!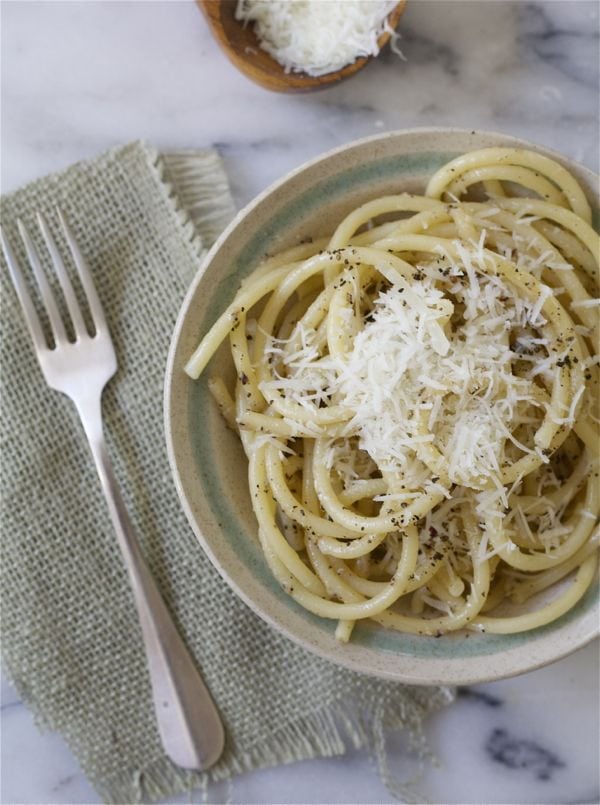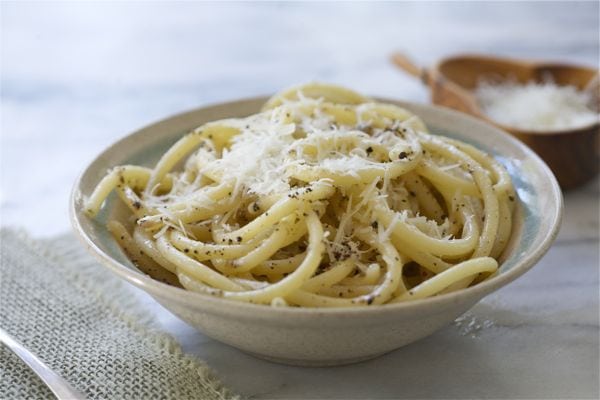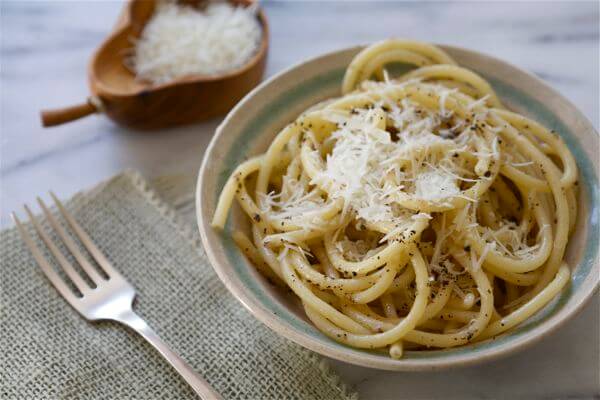 Print Recipe
Dinner for One: Cacio e Pepe
Ingredients
3

ounces

pasta of choice

spaghetti or bucatini

12-14

black peppercorns

4

tablespoons

unsalted butter

1

tablespoon

extra-virgin olive oil

¼

cup

reserved pasta water

¼

cup

finely grated Pecorino

plus more for garnish
Instructions
Bring a medium pot of salted water to a boil. Add the pasta and cook just shy of al dente. (We're going to cook the pasta for 1-2 minutes later.) Reserving ¼ cup pasta water, drain the pasta in a colander and set both aside.

To a medium skillet, toast the peppercorns until they become fragrant, about 2 to 3 minutes. Transfer them to a mortar and pestle and crush until coarse. Alternatively, you could transfer the peppercorns to a pepper grinder, OR you could wrap the peppercorns in plastic wrap and crush the heck out of them with the back of a skillet (that isn't hot!).

To the same medium skillet, melt the butter with the olive oil over medium heat. Add a few pinches of pepper, 2 tablespoons pasta water and cheese; stir continuously until the cheese is melted and the sauce starts to come together, about 2 minutes. Decrease the heat to medium-low, add the pasta to the skillet and toss gently in the sauce until evenly coated. The cheese will be slightly clumpy; using a fork, stir the pasta vigorously for an additional minute or so, until the clumsiness disappears. If the pasta is slightly dry, add a teaspoon or two of pasta water until it's the consistency of your liking. Serve immediately and top with a sprinkle more of pepper and a few small (or large!) pinches of cheese.