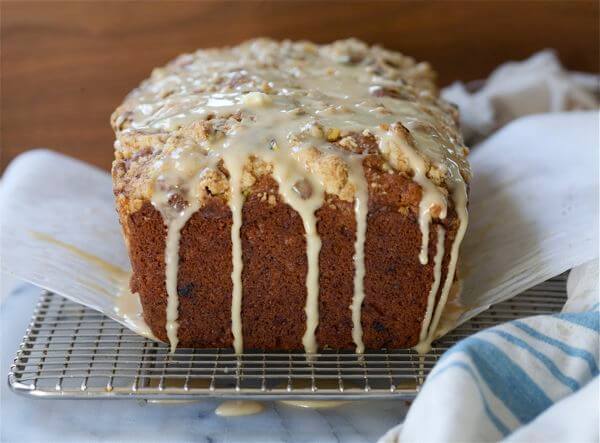 Whenever I thumb through a Martha Stewart Living Magazine or take a trip to the Container Store, it makes me feel like there might be a really crazy, OCD housewife living in me. It excites me. Scares me a little.
But mostly makes me pumped about getting organized, menu planning, labeling everything (with a label maker, of course) and making sure my kids have awesome afternoon snacks post-school day.
This coffee cake situation is what I'd make for those late mornings/early afternoons when I want to invite other ladies (and dudes, too!) over to talk parenting, pro-tips and just talk to another adult for once.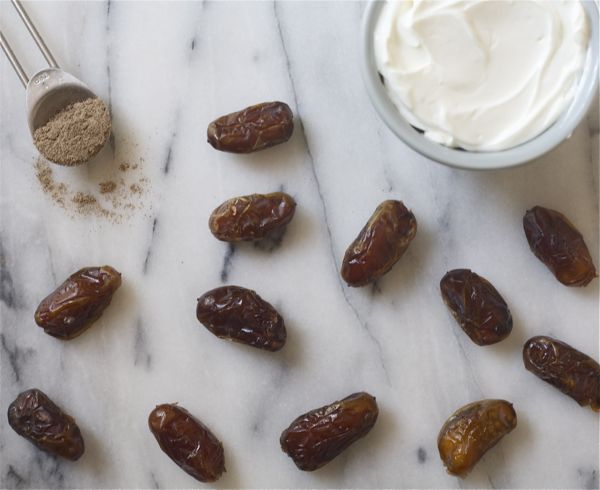 Medjhool dates right now are super dreamy.
If you've never had one, I will admit that they can run a little pricey (about $5 a container) but they go A LONG way. I bought a container three days ago and have already used it three ways.
Dates are amber (duh) in color, soft in texture, have almost a caramel-like flavor to them and are loaded with fiber and energy.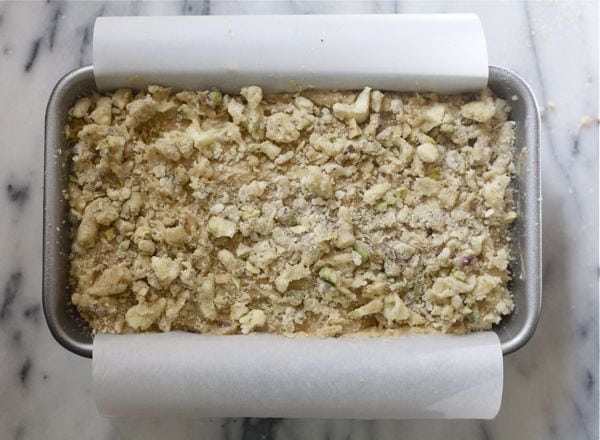 There's a lot going on this coffee cake situation, but it all works nicely, I think.
The cardamom really shines through. The dates add nice sweetness and texture throughout. The streusel is my absolute favorite. It's loaded with crumbles of butter, flour, brown sugar and pistachios!!! I love pistachios.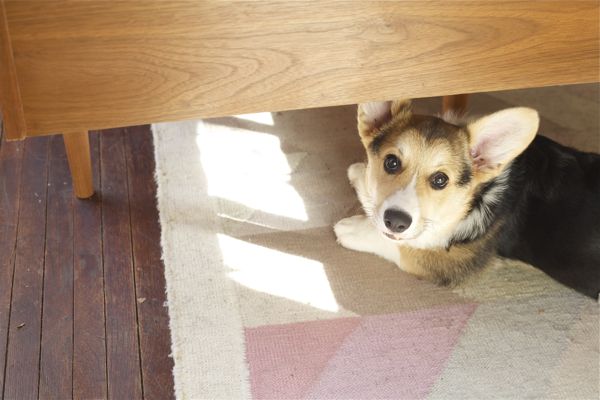 While you're waiting for the coffee cake to be made, yell at your dog to stop biting furniture, paint your nails, check the mail…
…and make some coffee, please!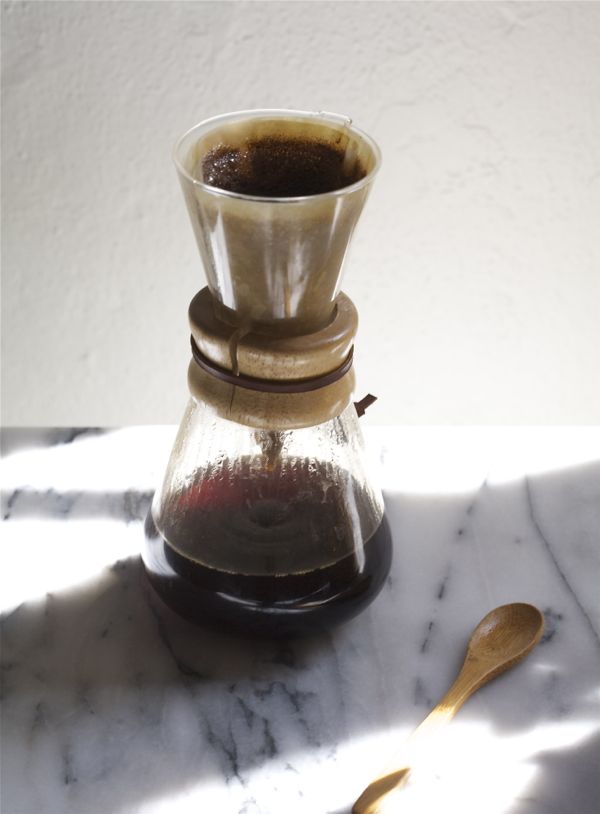 Coffee cake needs coffee. It's the reason why it exists. Can we imagine a world without coffee? How sad. I don't wanna live in that world, man. I just don't.
I want to live in a world with corgis, coffee cake and lots and lots of coffee.
When the coffee cake comes out of the oven, I poured a coffee glaze all over it. Amazingly delicious. If you like, feel free to cut this step out. I think it tastes amazing without the glaze and sweeter and more like dessert with the glaze.
You decide.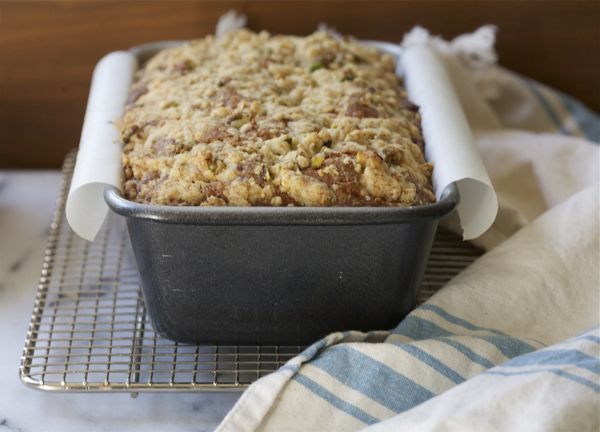 This Date Cardamom Coffee Cake makes me excited to get grown!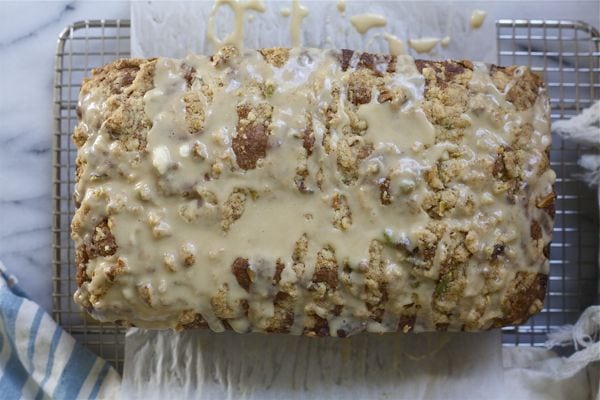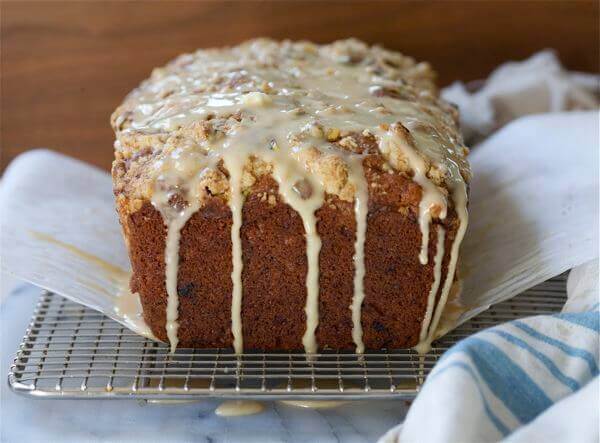 Print Recipe
Date Cardamom Coffee Cake with Pistachio Streusel
Ingredients
Cake:
1/2

pound

2 sticks unsalted butter, room temperature

1/2

cup

white granulated sugar

1/2

cup

light brown sugar

3

large eggs

2 1/2

cups

all-purpose flour

2

teaspoons

baking powder

1

teaspoon

baking soda

1

teaspoon

ground cardamom

1/2

teaspoon

ground cinnamon

3/4

cup

chopped medjool dates

about 8-9 dates

1

teaspoon

salt

1

cup

sour cream
Streusel:
1/2

cup

all-purpose flour

1/4

cup

light brown sugar

1/2

stick unsalted butter

cold

1/4

cup

chopped pistachios

Pinch

of salt
Glaze:
1 1/4

cup

sifted powdered sugar

2

tablespoons

strongly brewed coffee
Instructions
Preheat the oven to 350 degrees F. Grease and line a 9x5-inch loaf pan with parchment paper.

Put the butter in a large mixing bowl and beat for several seconds. Add the sugar and beat until smooth. Add the eggs, and beat for 2 minutes, or until light and creamy. Put the flour, baking powder, baking soda, cardamom, cinnamon and salt in a bowl and stir with a fork to blend well. Add the sticky dates to the flour mixture and break them up with your hands until they're evenly distributed throughout. Add the flour mixture to the butter mixture and beat until nearly smooth. Next, add the sour cream and mix well.

Spoon the batter into the pan. To make the streusel topping, add all of the ingredients to a small bowl and using your hands, mix, breaking the butter into little bits. Sprinkle atop the cake evenly and transfer it to the oven. Bake for about 45 minutes, or until a skewer comes out clean when inserted into the center.

Remove from the oven and let rest for 5 minutes in the pan. Lift the sides of the parchment paper and transfer the cake to a cooling rack. While you're waiting for it to cool slightly, mix together the powdered sugar and coffee until smooth. Drizzle atop the cake and slice. I highly recommend eating this warm with a cup of strong coffee.
Adapted from Marion Cunningham