This Arroz con Pollo recipe is a comforting, one-pot meal from Latin America. This version comes straight from my Abuelito's repertoire. Chicken is seared and then cooked with rice, spices, chicken broth and olives, until it's fragrant and delicious. This arroz con pollo recipe is perfect for leftovers!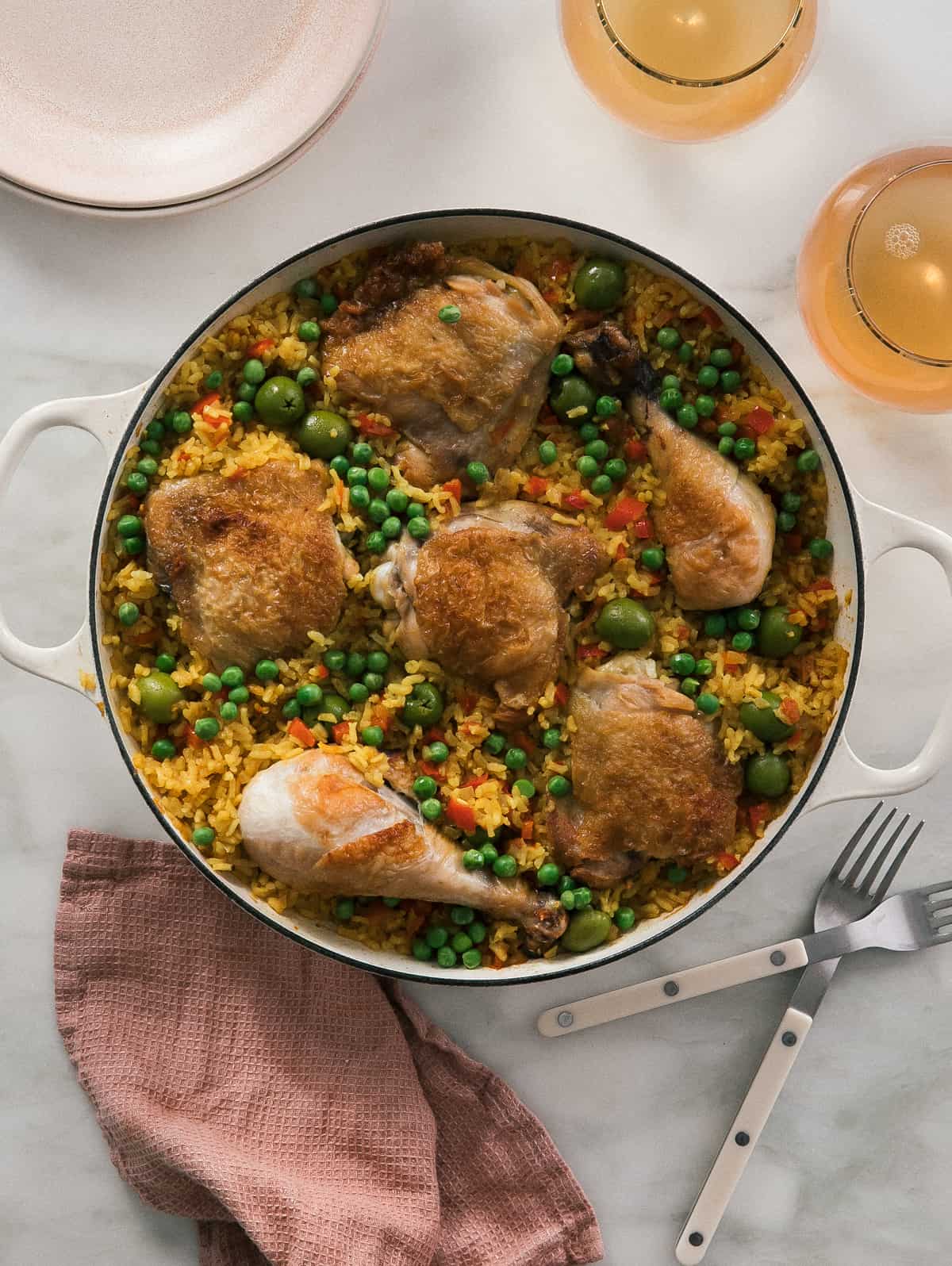 I guess you could say that this recipe was one of the first recipes I ever learned how to make. My dad taught me this dish. And my mom's father taught it to him. There's nothing complicated about it: just rice and chicken. Nearly every culture has a rendition of this dish. It's because it's so comforting and easy to throw together.
This is Latin comfort food, you know. It tastes like home.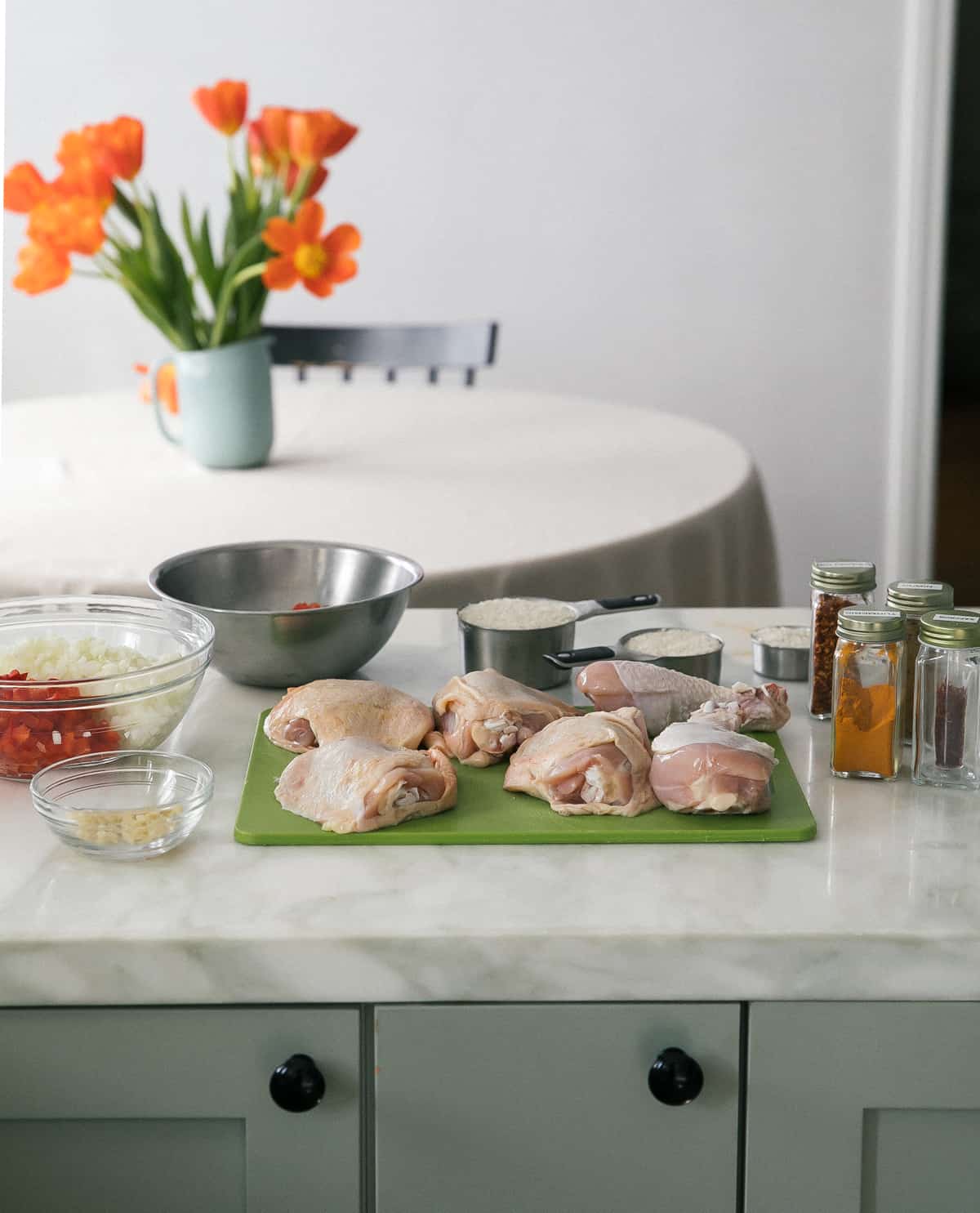 What is Arroz con Pollo
Let's start with the basics! Arroz con Pollo is a one-pot dish from Spain and Latin America. It's made all across South American and the Caribbean. Puerto Ricans have their own way to make arroz con pollo, as does Dominican Republic and Cuba.
This recipe is not really a Arroz con Pollo Peruano per se, even though, I got this recipe from my Peruvian grandfather. It was just his way of making it, which makes a lot of sense given his culinary tastes. It's a cross between paella and arroz con pollo. It's a bit more wet then other arroz con pollos. And it's the way I prefer it, too.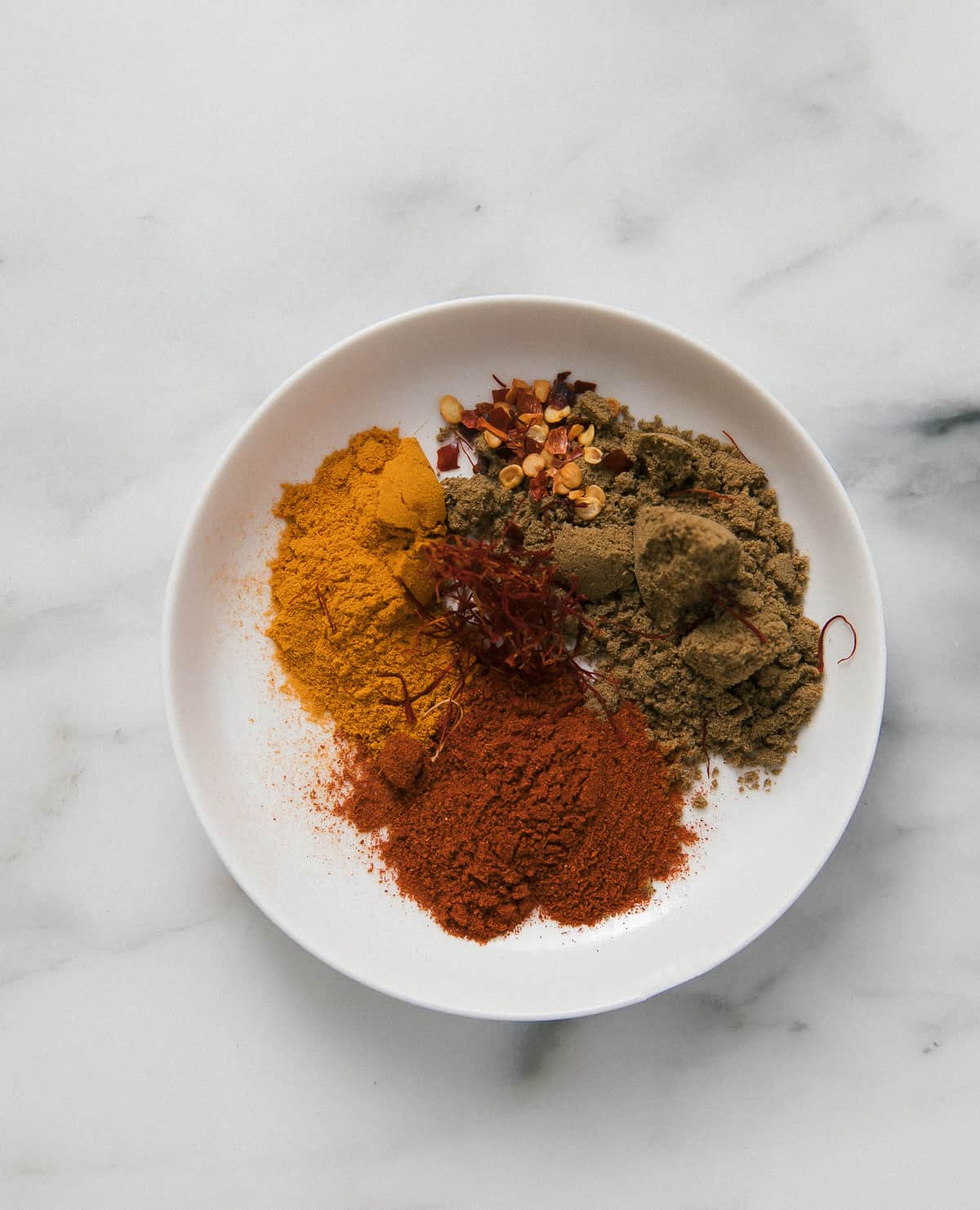 Ingredients for Arroz con Pollo
Chicken. I like to use bone-in and skin-on chicken pieces. Thighs and drumsticks are preferred because they can handle braising. I also like bone-in because that's where a lot of flavor lives.
Sofrito combination: yellow onion, red bell pepper and garlic. This equals GOOD flavor.
Spices. This recipe uses ground cumin, salt, turmeric, crushed red pepper and saffron.
Medium-grain rice. Such as calrose. I love it for this recipe. You can use other types of rice, too. See below for my substitutions section.
Chicken stock.
Pitted green olives. This is optional and the dish tastes amazing without it.
Frozen peas. I like to add them at the very, very end so they don't overcook.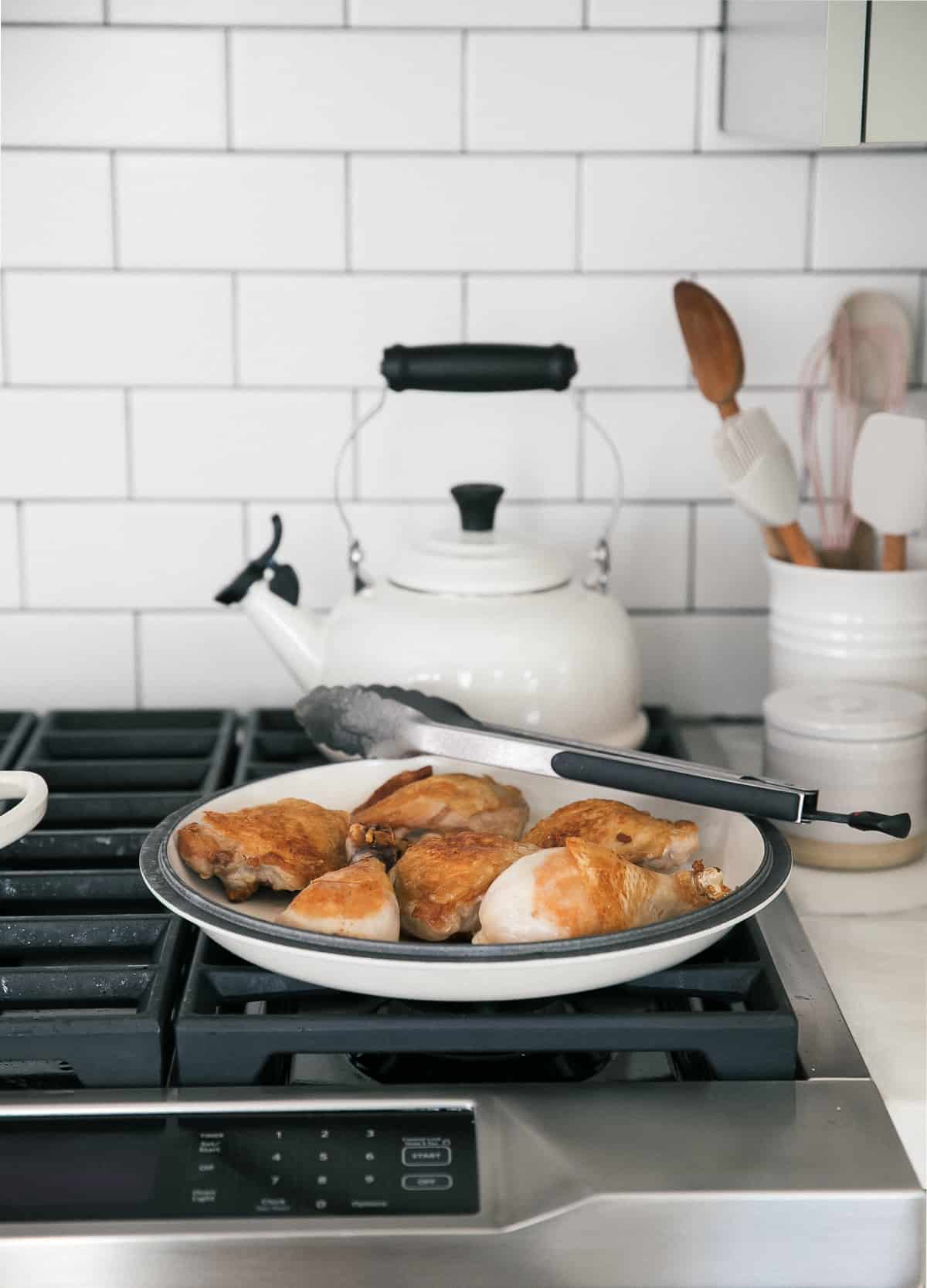 How to Make Arroz Con Pollo
Prep your chicken. I like to salt both sides generously with kosher salt.
Cook the chicken. Cook the chicken skin-side down for about 5 to 7 minutes. You want the skin crispy and rendered. Flip it and cook for an additional 5 minutes.
Remove the chicken and set it aside.
Next up! Add the diced onion, red bell pepper. This is our sofrito (along with the garlic that's added in a second). The base of flavor building.
And then add the minced garlic and tomato. You also want to scrape up any bits in the pan–that's where the flavor is!
Mix in the spices. There's ground cumin, paprika, turmeric, crushed red pepper and saffron. If you don't have saffron–skip it!
And then, add the rice; give everything a thorough mix.
Nestle the chicken back atop the rice. And then add the green olives all around.
Add 3 1/2 cups of chicken stock.
Bring to a simmer and then cover the lid. The lid is important because we want to make sure the right amount of liquid evaporates while the rice cooks evenly.
Add more broth as needed. I added about 1/2 cup extra. Salt it halfway through. Try the rice and add a teeny bit extra if needed.
When it's done, turn off the heat. Add the peas and cover the lid once more.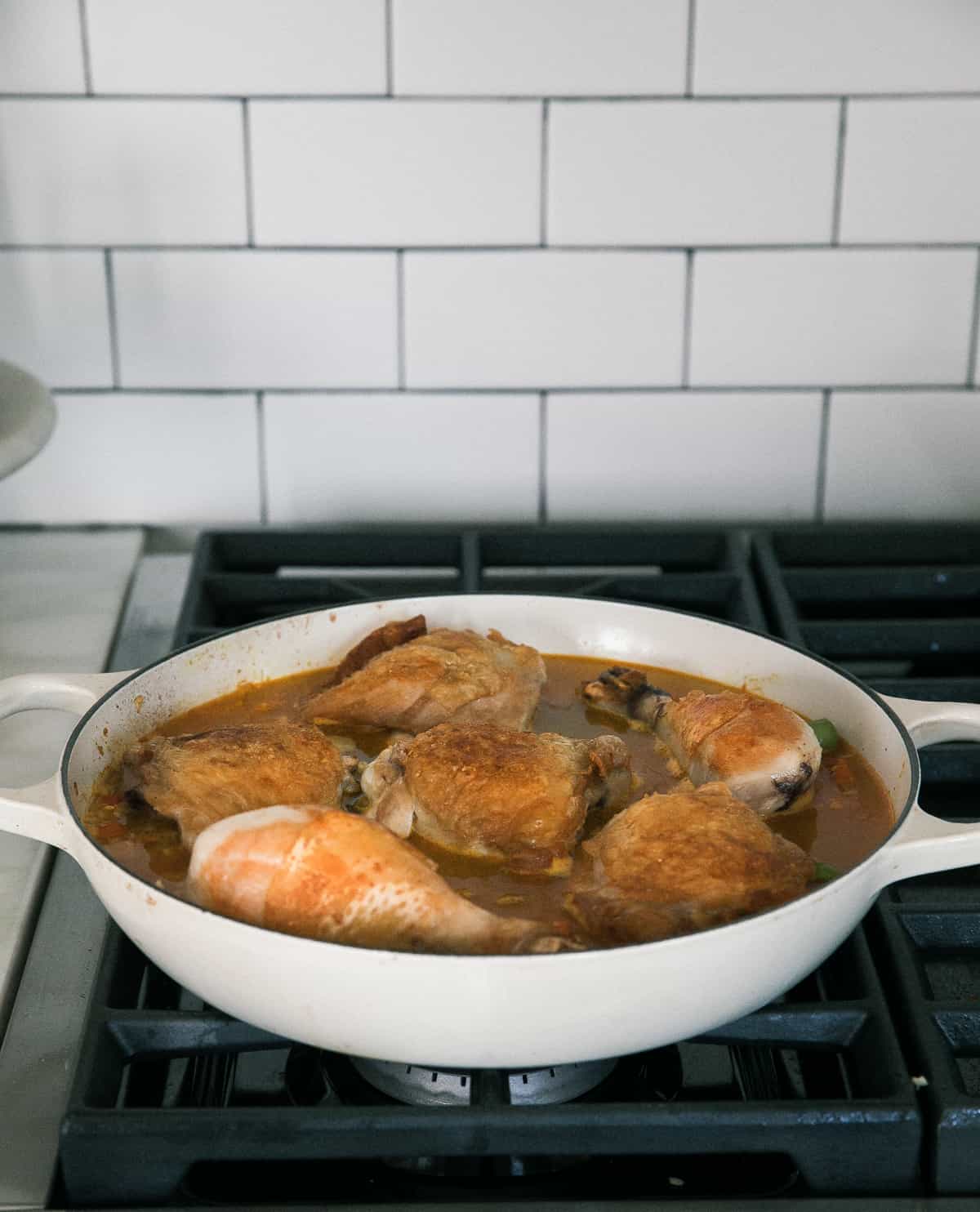 Substitutions
This recipe is quite flexible. You can use different types of rice: long-grain rice, medium-grain rice (my personal favorite) and short-grain rice like Arborio or Valencia. You may need to add more or less broth/liquid depending on the type.
Chicken cuts. You can use all bone-in chicken thighs or all bone-in drumsticks. I find they're the best when braised/cooked for a longer period of time, hence why I recommend them.
If you don't have saffron, you can of course, skip it. It adds a bit of extra but it's not totally necessary.
In case you don't have access to roma tomatoes, you can use 1 whole canned tomato (no sauce is necessary).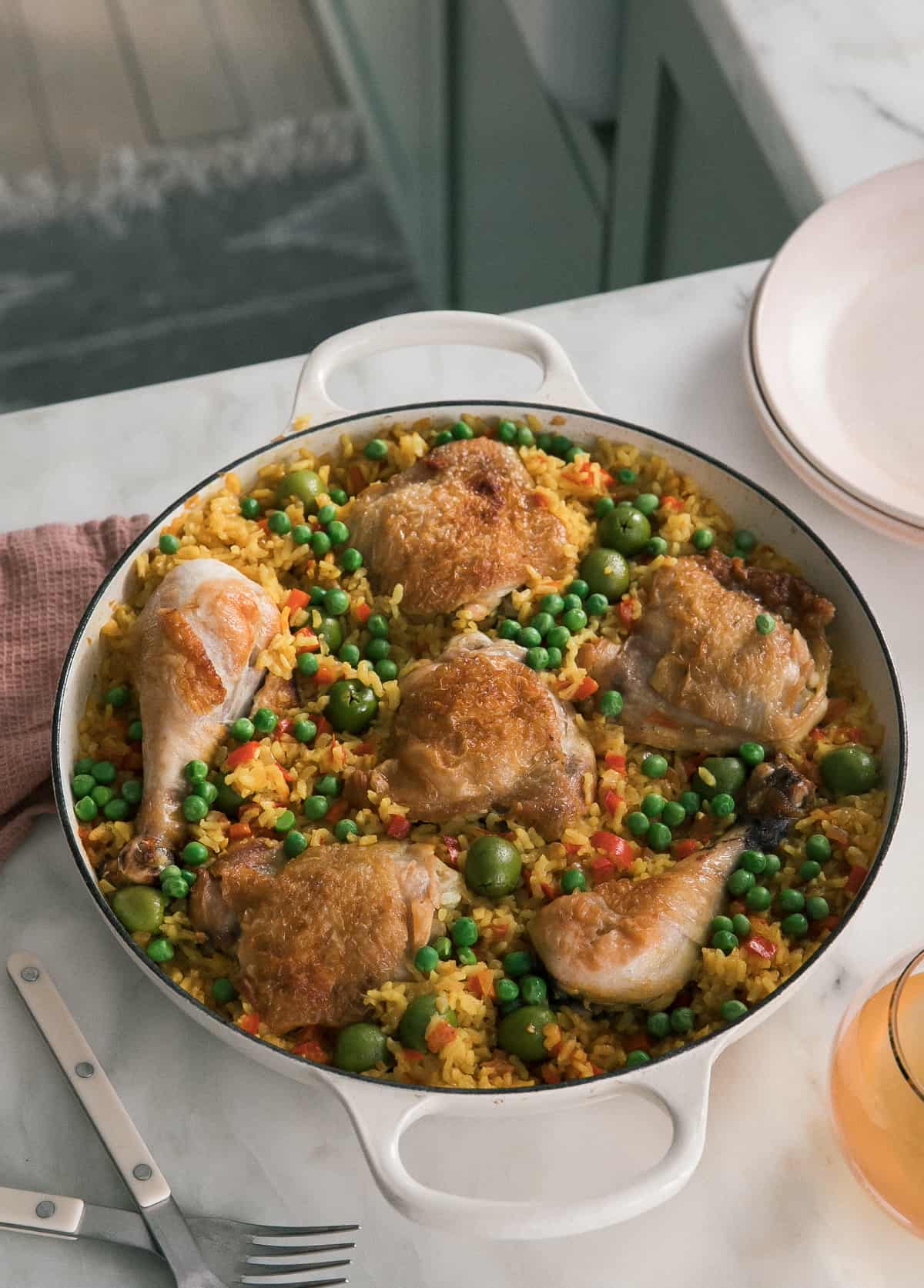 Tips and Tricks 
You might have other questions like: what to serve with arroz con pollo? Let me tell you, you don't need much–it's nearly a complete meal. But I like to serve a nice crisp salad with it.
Can you freeze arroz con pollo? You definitely can. But I'm pretty sure you'll finish it before you even get there. How to make arroz con pollo peruano? While my grandfather taught me this recipe and he was Peruvian, this definitely isn't Peruvian arroz con pollo. I have a recipe for that!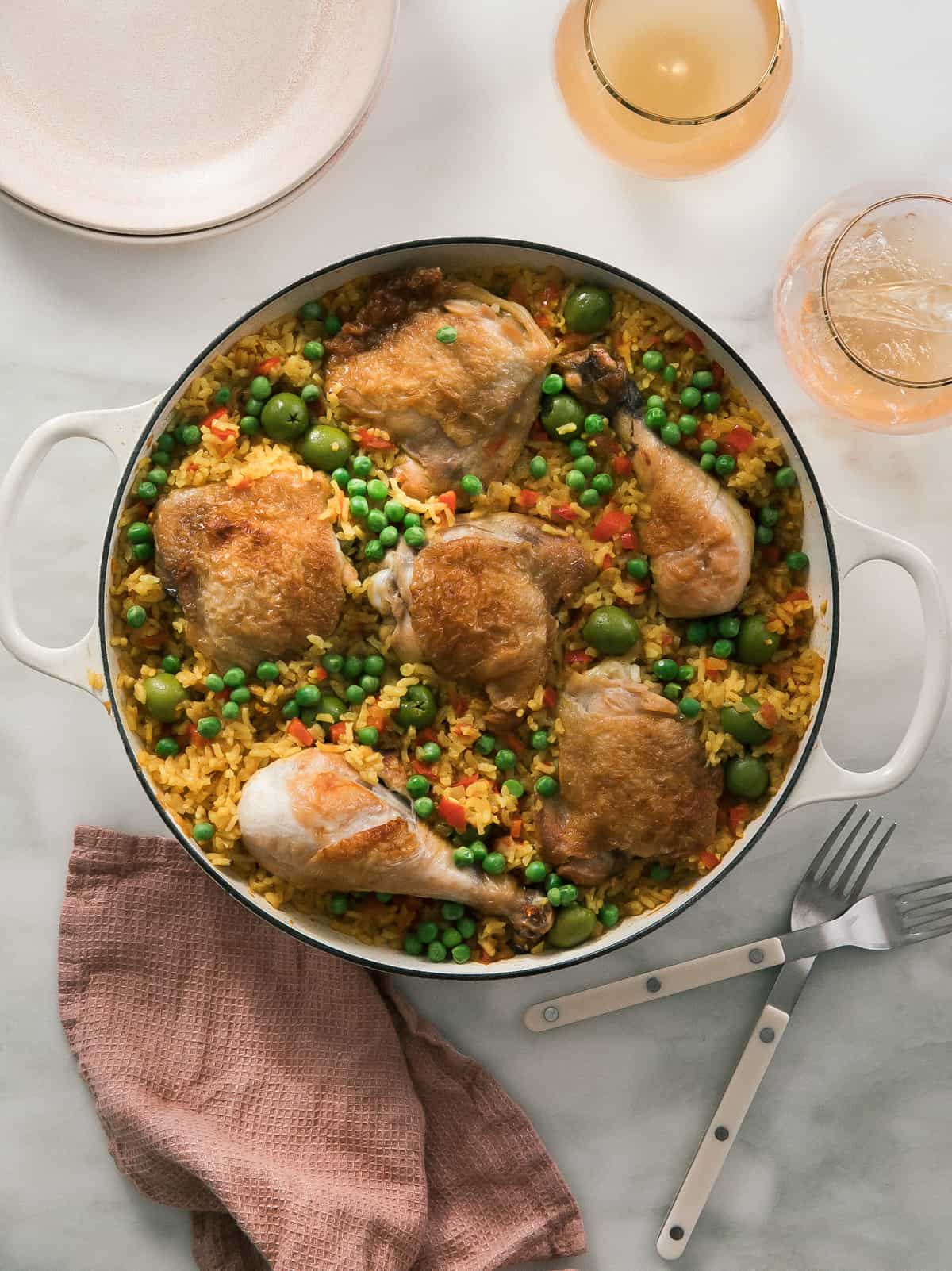 If you make this recipe, let me know on Instagram!
Looking for more Latin-inspired recipes? Here are some favorites: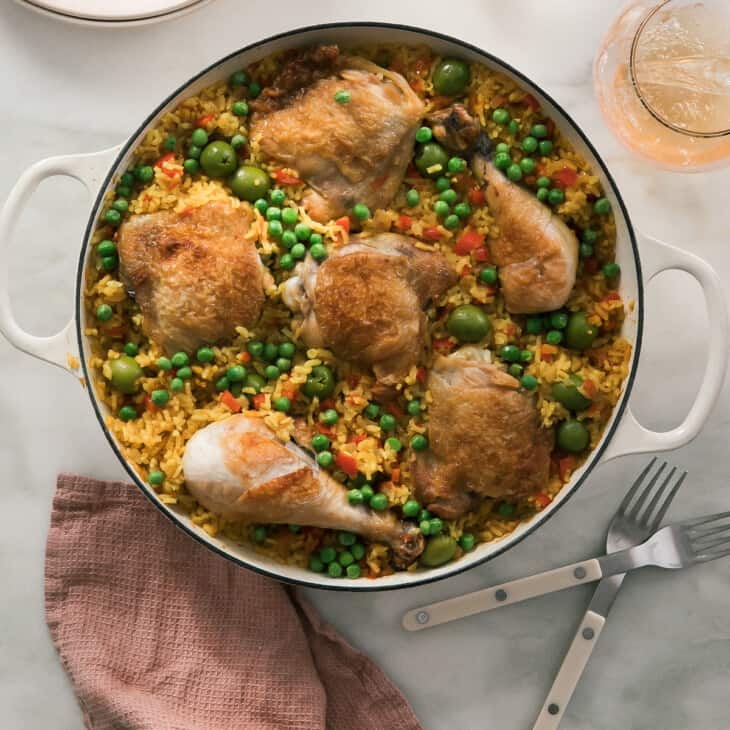 Print Recipe
Arroz con Pollo Recipe
Arroz con Pollo is a comforting, one-pot meal from Latin America. This version is a family favorite and is a cross between paella and arroz con pollo.
Ingredients
4

bone-in chicken thighs

(skin on)

2

bone-in drumsticks

(skin on)

Kosher salt

1

tablespoon

neutral oil

(I like to use avocado oil)

1

yellow onion

peeled and diced

1/2

red bell pepper

peeled and minced

5

garlic cloves

peeled and minced

3

roma tomatoes

minced

2

teaspoons

ground cumin

1

teaspoon

ground smoked paprika

3/4

teaspoon

turmeric powder

1

teaspoon

saffron

1/4

teaspoon

red pepper flakes

2

cups

medium grain rice

(see below for more options)

4

cups

chicken stock

1

cup

pitted green olives

1/3

cup

frozen peas
Instructions
Sprinkle both sides of the chicken with salt

In a Dutch oven, heat oil over medium-high heat. When oil is hot, add chicken, skin side down, until browned, about 5 to 7 minutes. Flip the chicken, using tongs, and cook on opposite side until golden brown, about 5 minutes. Transfer to plate and set aside.

Reduce heat to medium, add onion and red bell pepper, and cook until translucent, about 7 minutes. Add garlic to the top of the onions and cook until fragrant; 2 minutes or so. Add the tomato and scrape the bottom of the pot removing any of the chicken fat pieces (hello! flavor!!). Next, add spices: cumin, paprika, turmeric, saffron, crushed red pepper and 1 1/2 teaspoons of kosher salt and mix.

Pour in rice and give it a good mix, coating it with the tomato mixture. Cook for about a minute or so. Place chicken atop of rice mixture, and disperse the olives all around atop the rice.

Pour just enough chicken stock to cover the rice, about 3 1/2 cups. Bring the pot to a simmer and then reduce heat to low. Cook, covered, for about 30 to 34 minutes, and until rice is tender.

Note: Throughout the cooking process, I checked on it every 15 minutes or so and topped it off with about 1/4 cup of stock each time. In the end, I added 4 cups of chicken stock total. Also, in the last 15 minutes, I salted to taste, adding about 1/4 teaspoon more salt.

When it's ready, turn the heat off. Sprinkle the peas on top and cover with a lid for 2 minutes. Just until the peas are thawed and bright green. Serve immediately.

Leftovers: This stays good in the fridge for up to 3 days. It's great reheated in the microwave. You may need to add a splash of water to it to loosen it up right before the microwave!
Nutrition
Calories:
256
kcal
(13%)
|
Carbohydrates:
12
g
(4%)
|
Protein:
2
g
(4%)
|
Fat:
24
g
(37%)
|
Saturated Fat:
7
g
(44%)
|
Cholesterol:
21
mg
(7%)
|
Sodium:
56
mg
(2%)
|
Potassium:
34
mg
(1%)
|
Fiber:
3
g
(13%)
|
Sugar:
5
g
(6%)
|
Vitamin A:
56
IU
(1%)
|
Vitamin C:
2
mg
(2%)
|
Calcium:
3
mg
|
Iron:
3
mg
(17%)