This is the cookie version of a trust fall.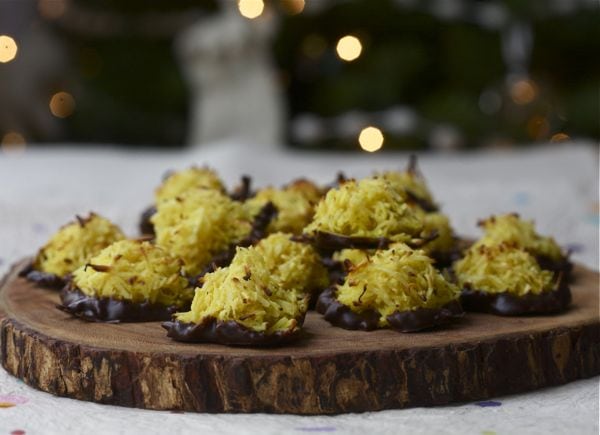 You know, those trust falls you supposedly did at summer camp with people you only knew for three days.
Why would I trust someone I barely know to catch me?! Whatever. Actually, I went to summer camp and never did trust falls. But movies tell me that's what kids did during summer camp so I dunno…
I did, however, go to a tennis summer camp in the mountains of California and for some crazy reason we were allowed to drive jet skis by ourselves at age nine. Age nine!!!
Back to curry in cookies.
This cookie is cool and weird and spicy and sweet.
I get a lot of good inspiration and ideas from all of the ice cream I eat. A few months ago I had chocolate soft serve ice cream with coconut curried flakes (Instagram evidence: here) on top. The combination was unreal, interesting and when I thought about it, made total sense. Curry and coconut go together in a savory way so naturally. And chocolate is a no-brainer of a pairing with coconut, so putting them all together just works! I turned that weirdo ice cream combination into a delicious weirdo combination of a cookie.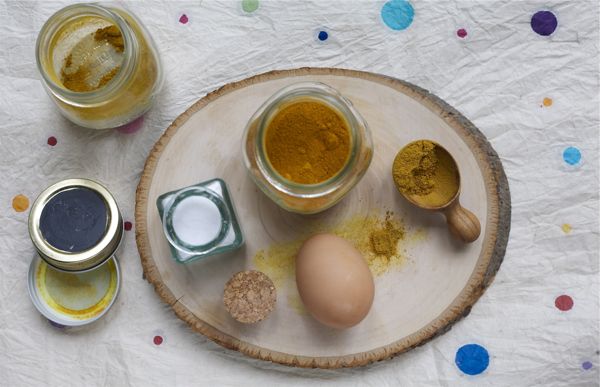 As we head into cookie-holiday-making season, I must say I'm a huge supporter of the macaroon.
They're famously easy and inexpensive to make. And though there's this curry element to these, they are still easy and cheap.
Super big bonus: they're gluten-free so everybody can eat them. Yay.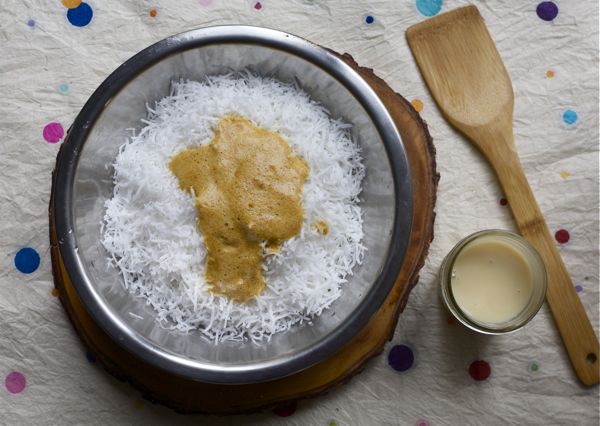 These start with a good whipping of an egg white. The Madras curry powder, tumeric (for additional color) and salt are folded in.
This yellow egg white mixture is tossed with the coconut until it's all properly combined. It might not seem like a lot at first but you just gotta keep mixing.
Oh let's talk coconut! At most grocery stores, you should be able to find unsweetened coconut flakes and sweetened coconut flakes. If you definitely want to go the unsweetened route.
If for some reason you can't find unsweetened coconut, no biggie; buy the sweetened coconut. I included directions below on how to unsweetened the coconut flakes. Basically you'll just need some hot water and a strainer. No big deal at all.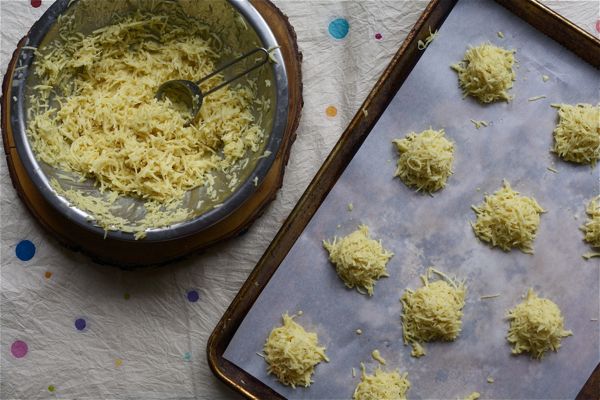 After the macaroons are done baking and cooling, their bottoms are dipped in chocolate ganache. A fork helps with them dipping seamlessly in and out of the chocolate.
If you like, you could squiggle some chocolate on top, or maybe even dunk half of each macaroon. Lots of chocolate macaroon design opportunities!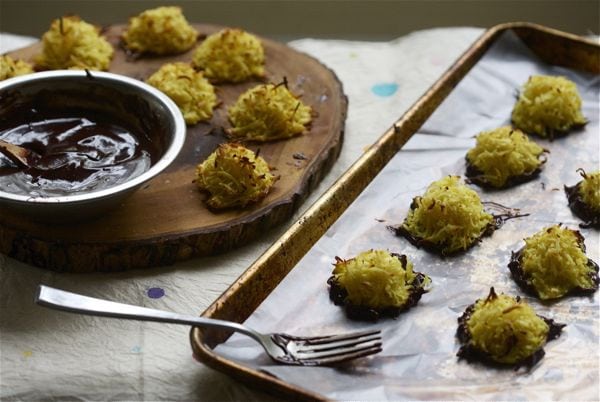 These macaroons taste like curry and yes, they are slightly spicy and they're sweet, too. The sweetness offsets the spicy curry flavor so nicely. And the chocolate is a must. Like all good macaroons, the coconut is crunchy and toasty on the outside and moist and soft on the inside.
I like these cookies at room temperature the best. Honestly, I just like these cookies period.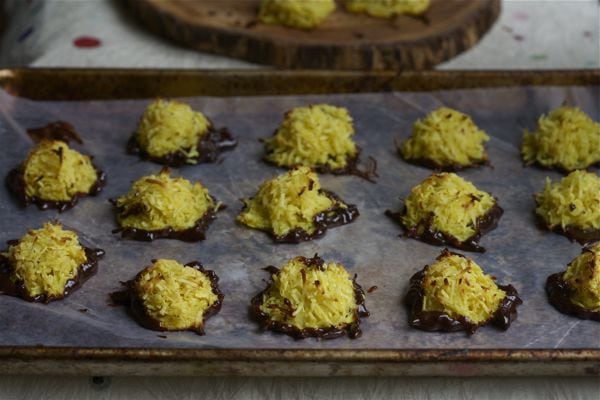 Chocolate Dipped Curry Coconut Macaroons
Macaroons:
14 ounces (1 standard-sized bag) unsweetened coconut
1 large egg white
2 teaspoons Madras curry powder
1/4 teaspoon tumeric
1/4 teaspoon fine-grain salt
6 ounces (or 3/4 cup) sweetened condensed milk
Chocolate Ganache:
6 ounces semisweet chocolate chips
1/2 cup heavy cream, plus 2 tbls
Pinch of fine-grain salt
1. Preheat oven to 350F. To a medium bowl, add the unsweetened coconut. (*See tip below for unsweetening sweetened coconut.) Set aside.
2. In another medium bowl, add the egg white. Using a hand mixer, beat the egg whites until light and fluffy, about 2-3 minutes. Sift in the curry powder, tumeric and salt. Fold in the spices until totally combined.
3. Add the egg white mixture to the coconut and mix until the coconut is evenly coated. Next, mix in sweetened condensed milk.
4. Using an ice cream scooper, place a scoops onto a parchment-lined baking sheet. Bake for 15 minutes, until the edges and tops are lightly golden brown. Transfer to a wire rack to cool completely.
5. Place the chocolate chips in a small bowl. Heat the heavy cream in a small saucepan; take the cream off the heat just before boiling. Pour the cream over the chocolate chips and add the salt; allow to sit for 5 minutes. Stir until the ganache is smooth.
6. Rest the macaroon on a fork and gently place it in the ganache (the fork will help with getting the macaroon in and out of the ganache easily). Transfer the macaroon to parchment paper or wax paper lined baking sheet. Repeat the process until all of the macaroons are dipped in chocolate. Place in the refrigerator to set for at least 30 minutes. Allow to come to room temperature before serving *Note, I left mine out for a couple of hours in a VERY warm apartment and the bottoms got a bit gooey, still delicious, but a little warning: your fingers will get chocolatey!
*How to unsweeten sweetened coconut: To start, place the sweetened coconut in a sieve or fine-mesh strainer. Place the strainer filled with coconut under hot water. Wash the coconut thoroughly until the water runs clear. Spread the coconut out on a paper-lined baking sheet to dry (will take an hour or so), or alternatively you could place it in a salad spinner and give it a whirl until dry.

Yields 20 cookies