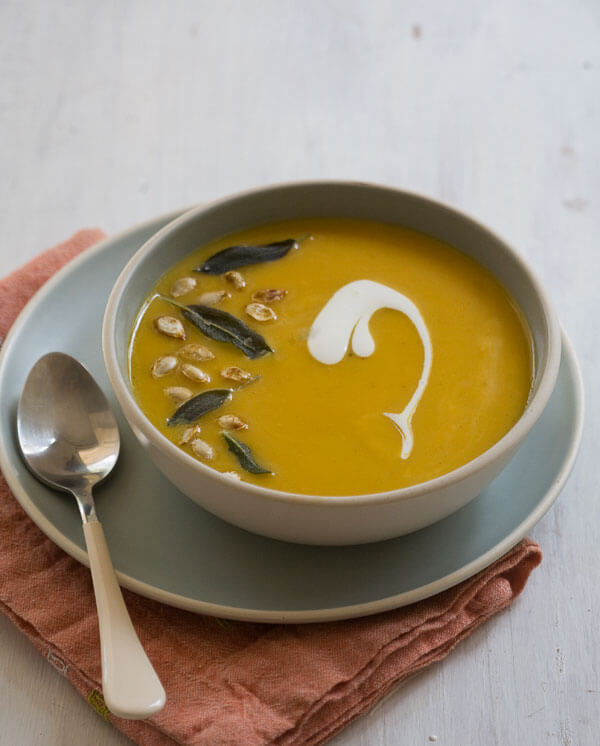 I live and die for this Acorn Squash Soup with Cheesy Croutons. It's a throwback from 2011 and one of my favorite fall things to make. The soup you see pictured is like its very interesting cousin who reads a lot, is well traveled and went to a fancy college. Sometimes I just want something to be easy and cheesy and comforting and other times I want things that make me think. This is the latter. I like it A LOT.
Sage and curry need to come together more often. I'm an enormous fan of butternut squash, but sometimes I think it's too sweet. I think the sage and curry serve as really awesome savory elements that balance out the sweetness perfectly. This soup is easy to make; I'm talking 30 minutes tops and it's perfect for days. The full recipe for this grown-up soup is over on PBS Food.
On another super random note, do you guys know the UP Series? Have you seen it? If you're unfamiliar, I'll be quick: it's a series that started in the 60s with 14 kids from different social classes and backgrounds. The kids were interviewed, talked about their hopes and dreams for the future, and every seven years they were interviewed. Initially the series was supposed to be a study about class division in England, but over the years it's turned into so much more. The movie is really beautiful, sad and heartbreaking at times and just totally fascinating. Today on PBS the "56 UP" aires! WUUUT! All of the kids are now 56. I'm so stoked to watch it. I cannot get enough. If you haven't seen it, please do! It's one of my all-time favorite movies.