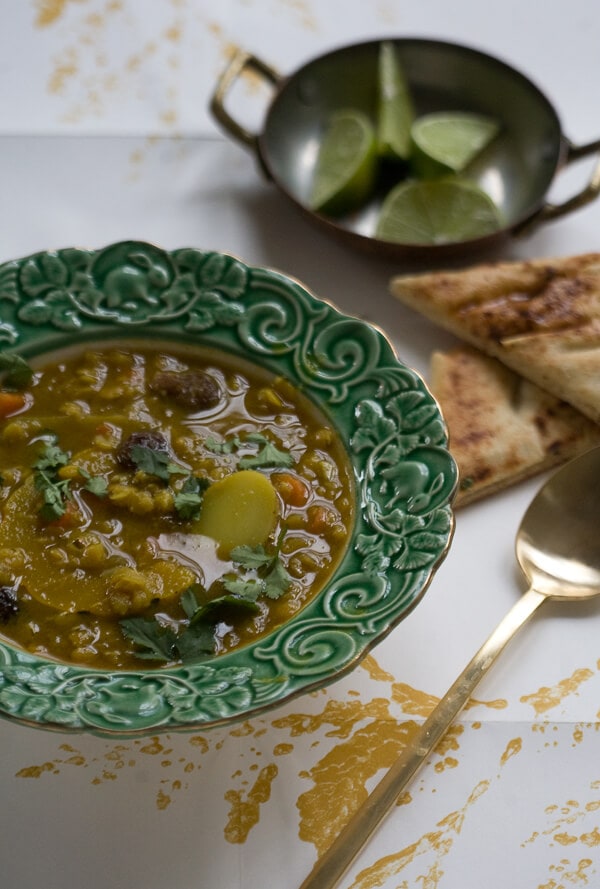 I need a reset button.
Yesterday I ate 1/2 of gigantic big bowl of guacamole, pet a bird, ate 1/4 of this spinach dip and then had a gigantic plate of Feijoada. (The Feijoada was beyond epic and it's now my goal to make it for this here space.)
Basically what I'm saying is that I overate. Probably more than Thanksgiving. A dinner of just appetizers is like a dream for me. It reminds me of My-So-Called-Life when Rayenne complains about always having frozen appetizers for dinner and her mother has no idea what she's talking about.
Eating just appetizers reminds me of afterschool snacks and tapas in Spain and my favorite television series of all time.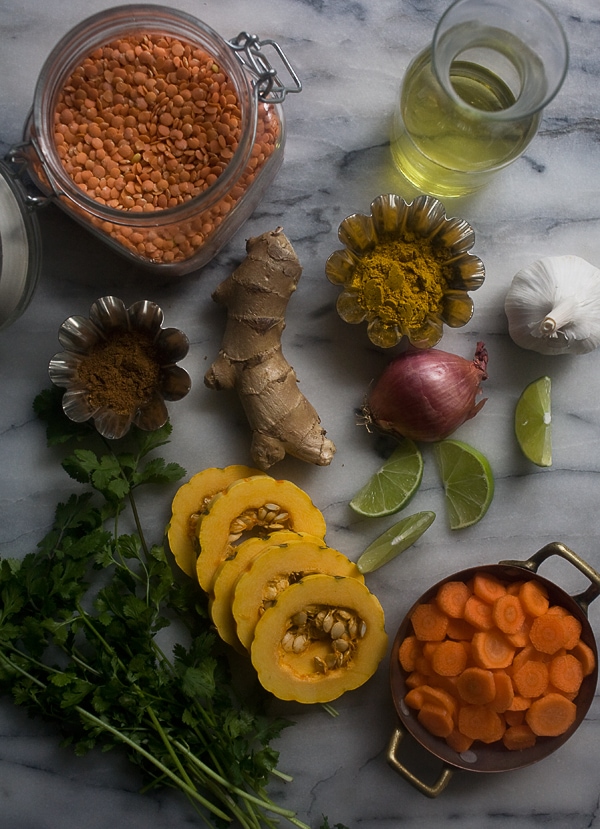 But sometimes we need dinner. And we need a healthy one.
I made this soup when I had some extra lentils from a side project I'm working on and was determined to repurpose them into something new and delicious.
I love making soup. It usually begins in the same way, there's so little work involved and the several layers of flavors gets me every time.
Not gonna lie, I sold myself on the idea of this soup based on the fact that warm naan bread was going to be involved. I cannot eat any type of soup without dipping some sort of carb-situation into it.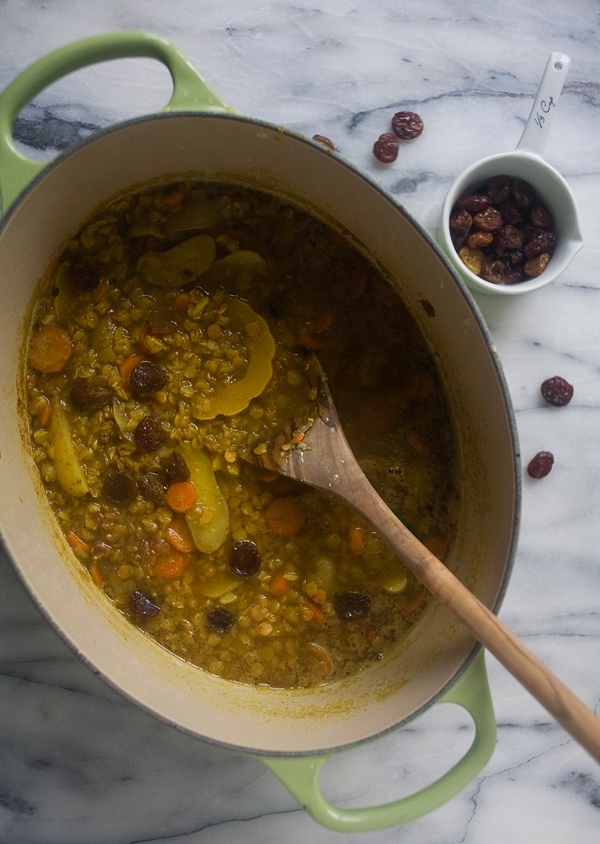 Are you a raisin hater? You're actually speaking to the queen of raisin-haters. The most disappointing thing in the entire world is when you pick up a cookie, thinking it's a chocolate chip cookie only to bite into it and realize that in fact you're eating a raisin cookie.
That is what sad is.
But this soup. With golden raisins. It is amazing. I love the little bits of sweetness that happen every bite or so. They're unexpected and so so welcomed.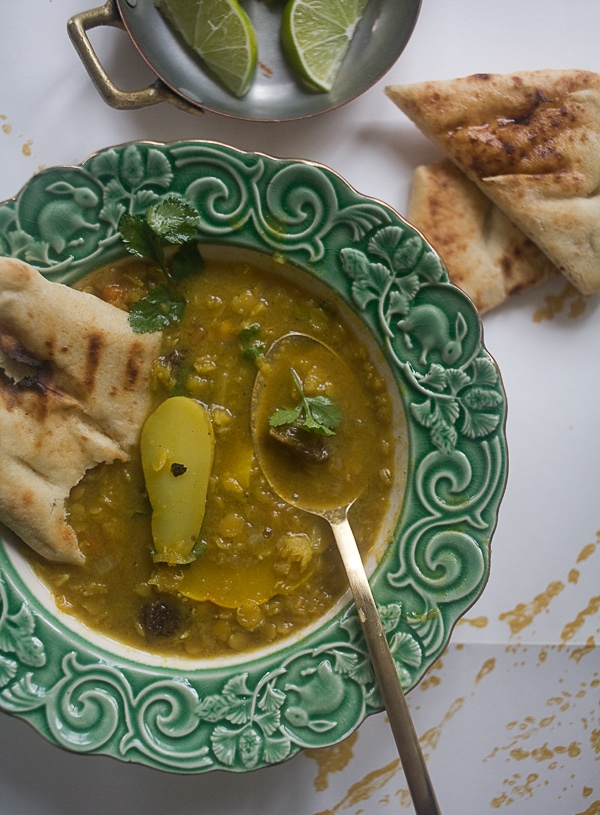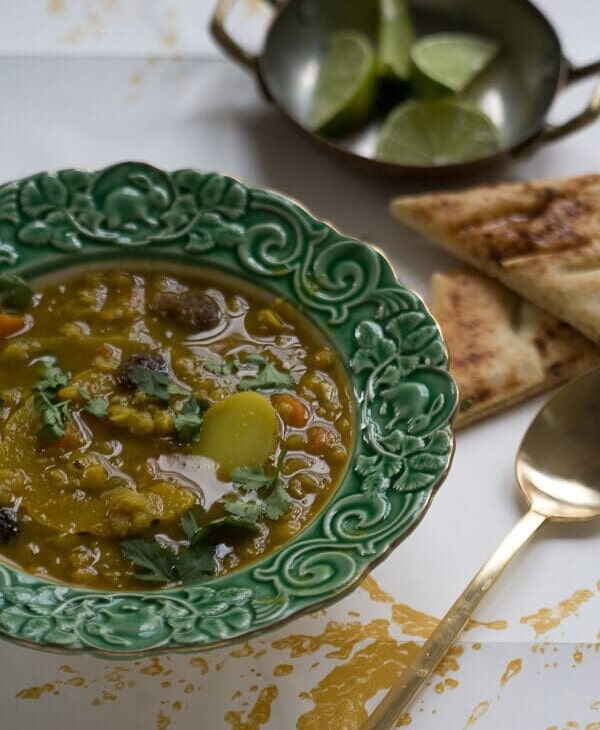 Print Recipe
Curried Lentil Soup with Golden Raisins and Delicata Squash
Ingredients
Soup:
1

tablespoon

olive oil1 shallot

minced

2

carrots

diced

6

Fingerling potatoes

halved

1

tablespoon

fresh ginger

2

garlic cloves

minced

1

tablespoon

plus 2 teaspoons Madras curry powder

1

teaspoon

ground cumin

1

teaspoon

ground coriander

1/4

teaspoon

ground cinnamon

1

cup

red lentils

4

cups

chicken stock

or vegetable stock

1/2

delicata squash

sliced into rounds with seeds removed

Handful golden raisins
Garnish:
A few lime wedges

Handful of cilantro

loosely chopped

Warm Naan bread
Instructions
To a medium pot, heat the olive oil over medium heat. When the oil is warm, add the shallot, carrots and fingerling potatoes; cook until the shallot becomes translucent and the carrots have softened, about 3-5 minutes. Mix in the fresh ginger, garlic cloves, Madras curry, cumin, coriander and lentils. Cook for about a minute, just enough time for the lentils to lightly toast.

Pour in the chicken broth (or veggie broth, if using) and bring the soup to a simmer. Place a lid on the pot and cook the soup on medium-low for 15 minutes. At the 15-minute mark, add the delicata squash and cook for an additional 15 minutes, until the lentils, potatoes and delicata squash are all tender. Salt to taste (I added about 1 teaspoon). Fold in the raisins and cook for an additional minute or so, until the raisins plump up a bit.

Divide the soup between bowls. Garnish each soup with a squeeze of lime juice, a sprinkling of cilantro parsley and warm Naan, if you like.