Crispy Jalapeño Popper Dip
3
Nov 21, 2017, Updated Nov 27, 2023
Disclosure: This post may contain affiliate links, which means I may earn a commission if you click on the link and make a purchase.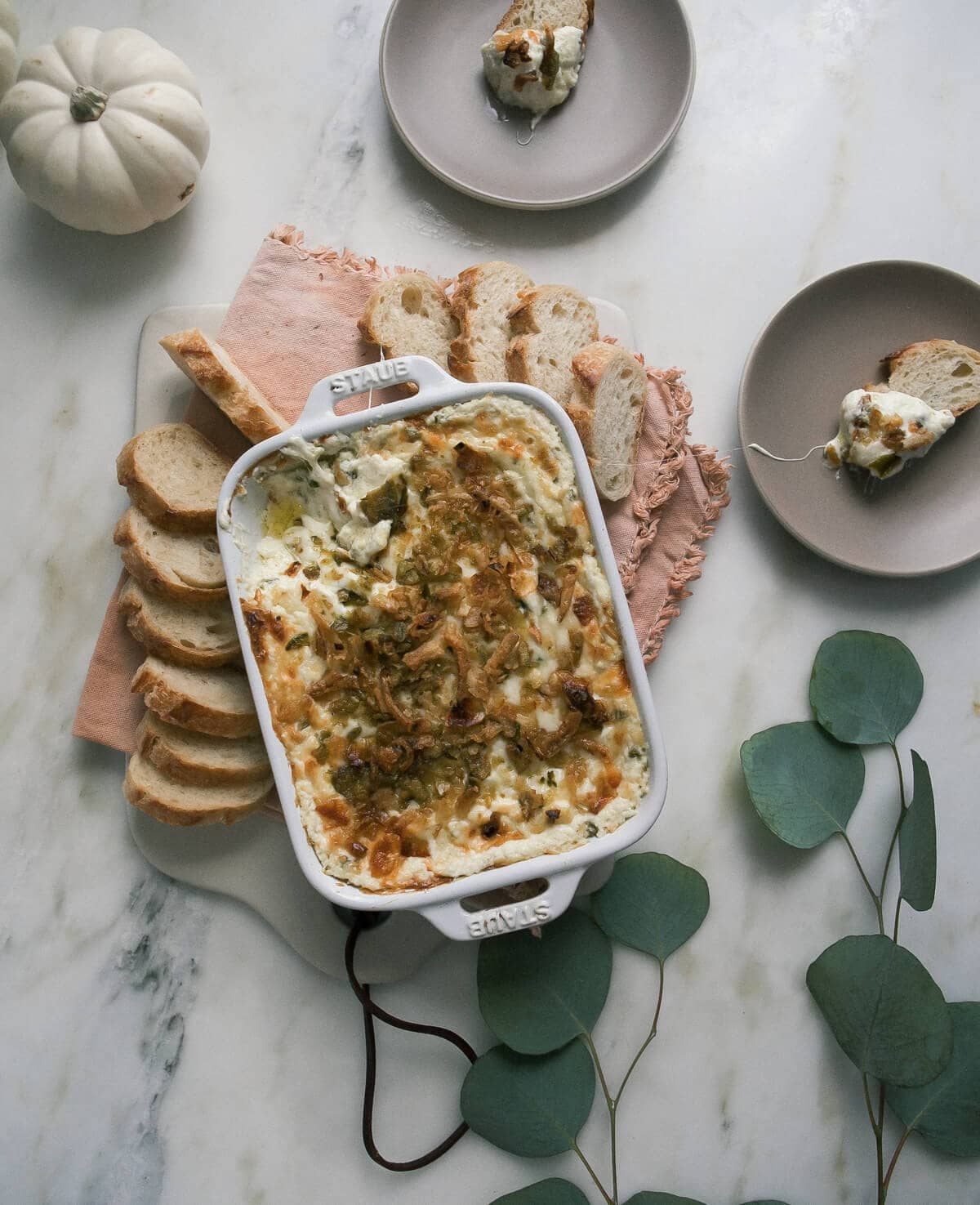 If you follow me on the Insta Stories then you know that your girl loves the "polls." I did a very informative "Thanksgiving Poll" where I asked the people some important and pressing questions.
Things like if they like pie or cake at Thanksgiving. Or if they're into salads or vegan things. I also asked if they like mashed potatoes or rather have fancy gratins. The results were fascinating and very interesting. Another thing I asked is if appetizers were a must or if, you know, we're all busy making other things.
Appetizers, as a requirement, came in at an astounding 97% so yes, appetizers are a must on Thanksgiving. The hangry people of the world have spoken!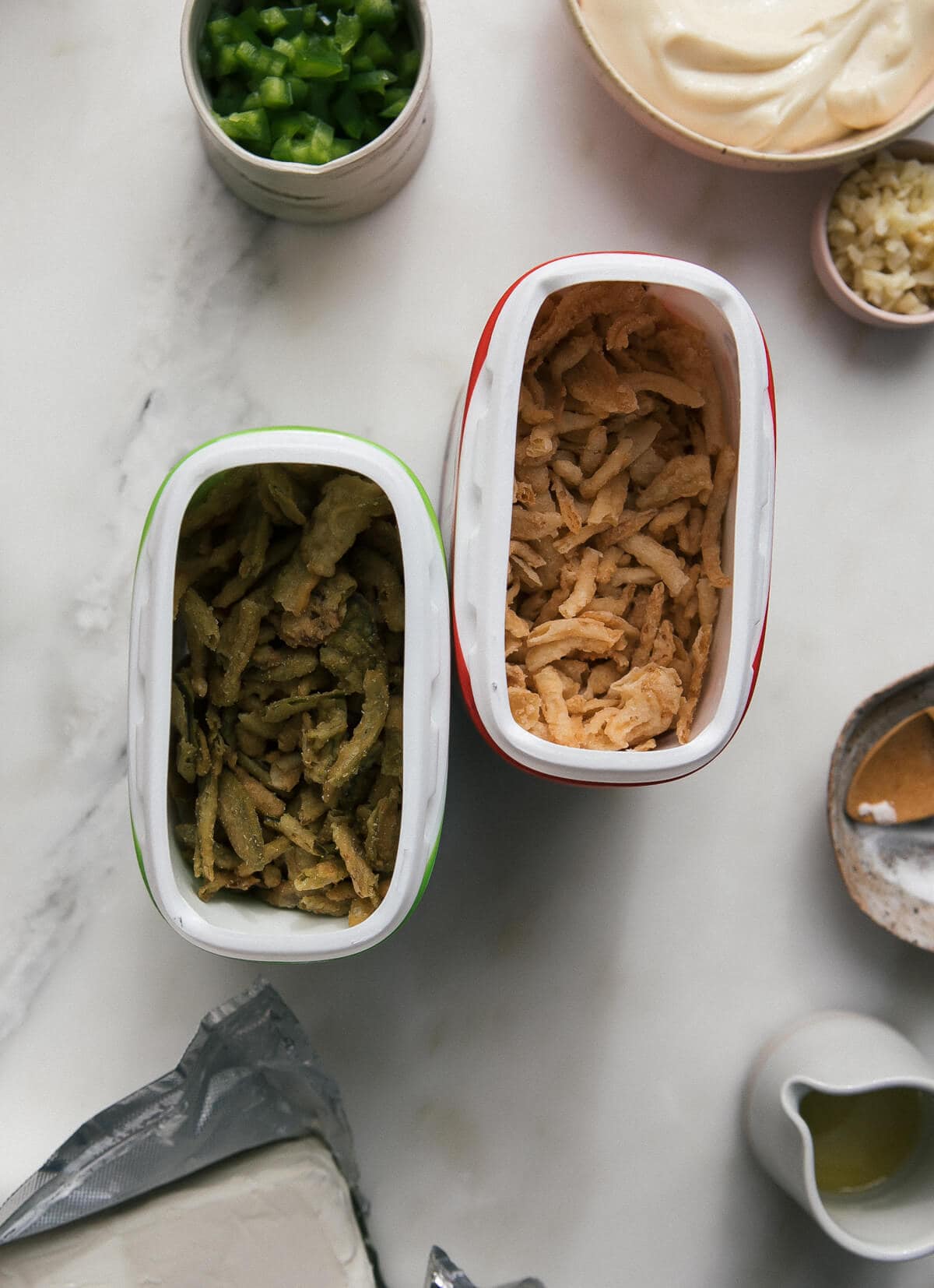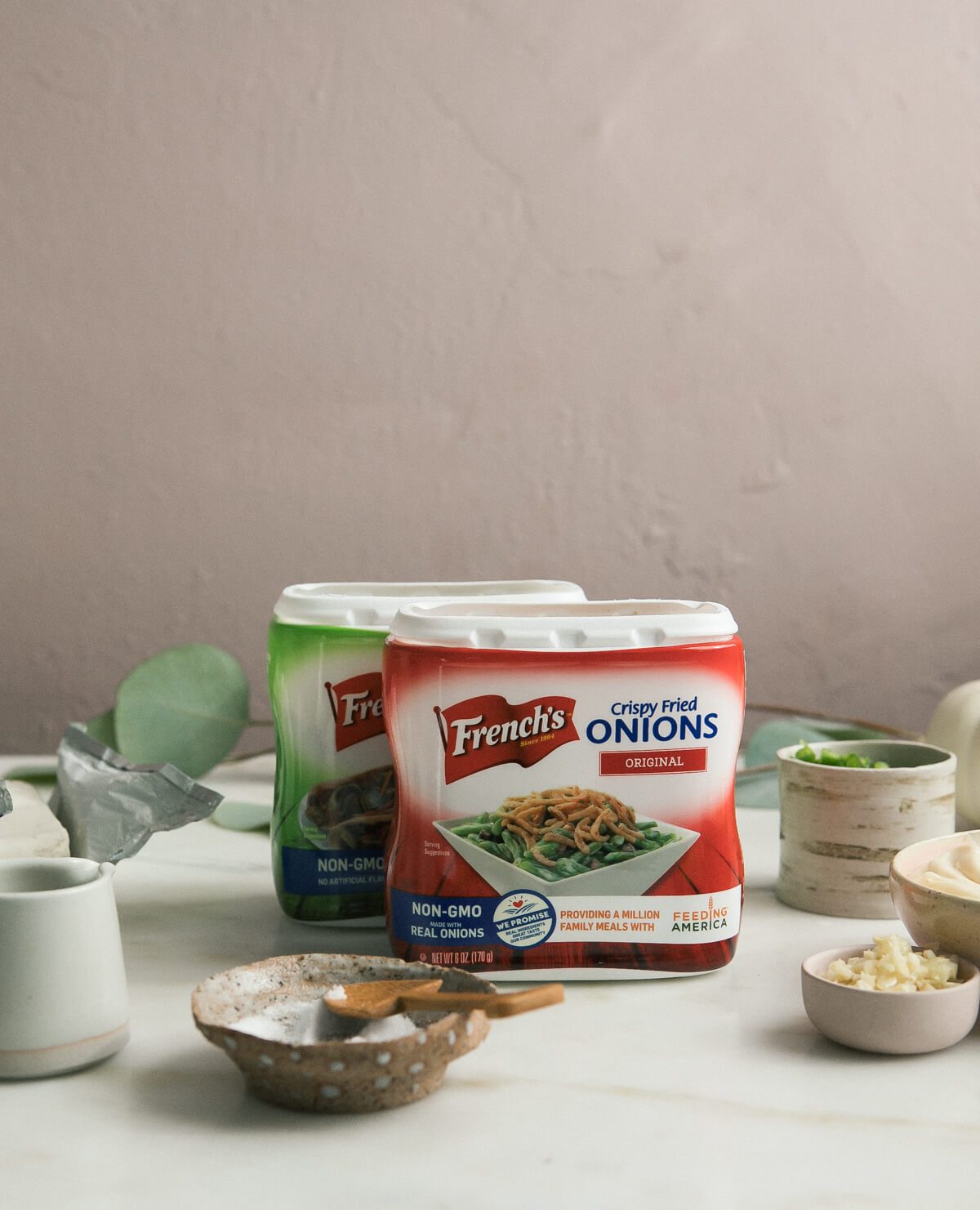 So here's an appetizer that is inspired by another appetizer: the jalapeño popper. For this post, I teamed up with French's Crispy Jalapeños and added the Crispy Jalapeños on top AND the crispy onions (because they are so good).
As I snacked on them as we were recipe testing these recipes, I also think they would be amazing in salads. They add such a nice crunchy texture and so much flavor.
This recipe is super simple because I do know we're busy and have other things to make. And yes, it can be prepped the day before and just baked off right before serving. You can even bake this in the toaster oven, if you're pressed for oven space and availability.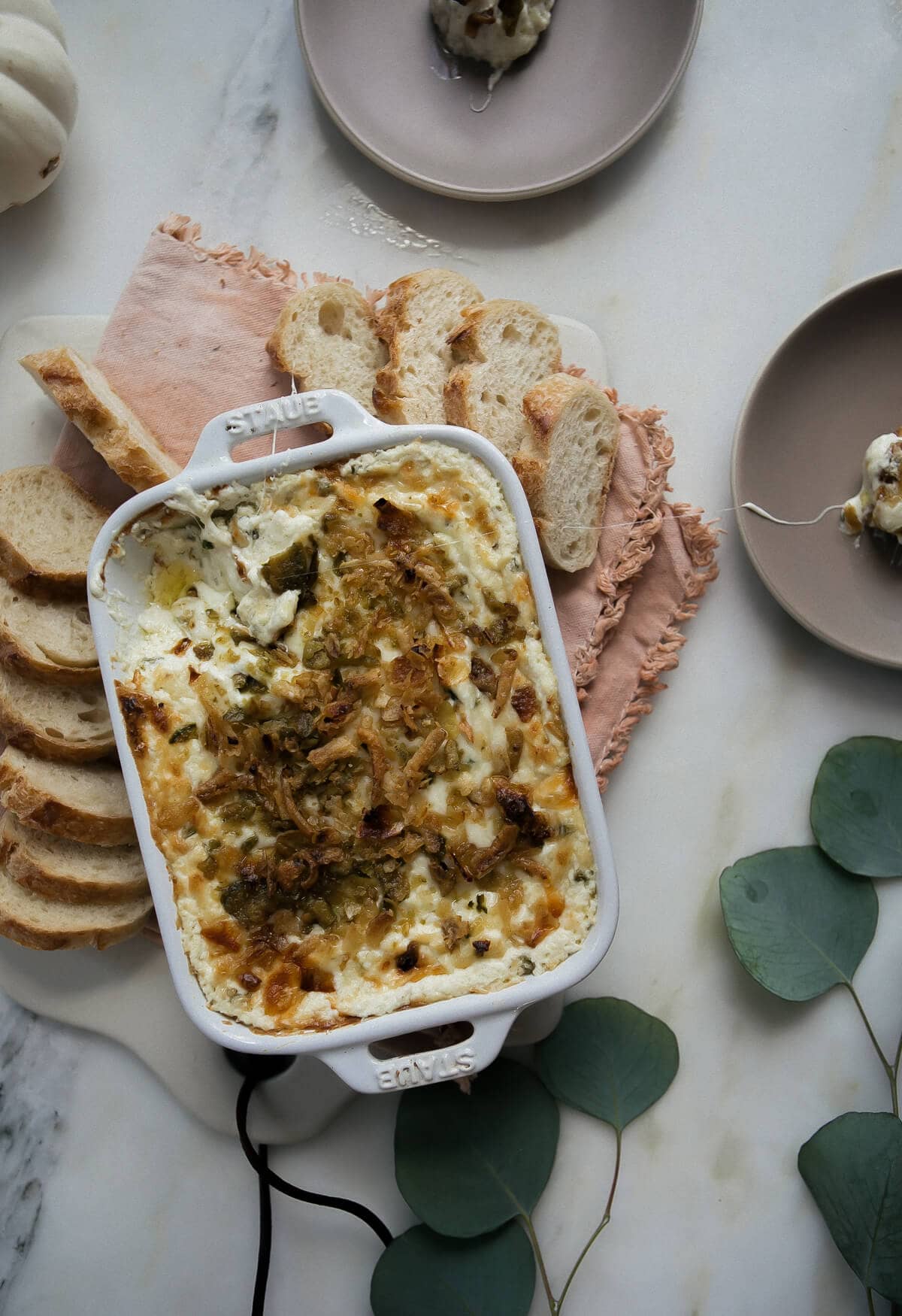 This recipe starts with some jalapeños and garlic being sautéed together. And then it's mixed in a bowl with cream cheese, mayonnaise, green onions, cheese, salt and pepper. It's then baked in the oven for 10 minutes and then topped with both the crispy jalapeños and crispy onions and baked again. And that's it! I served this with warmed slices of bread but tortilla chips would also be amazing. Crispy crackers too.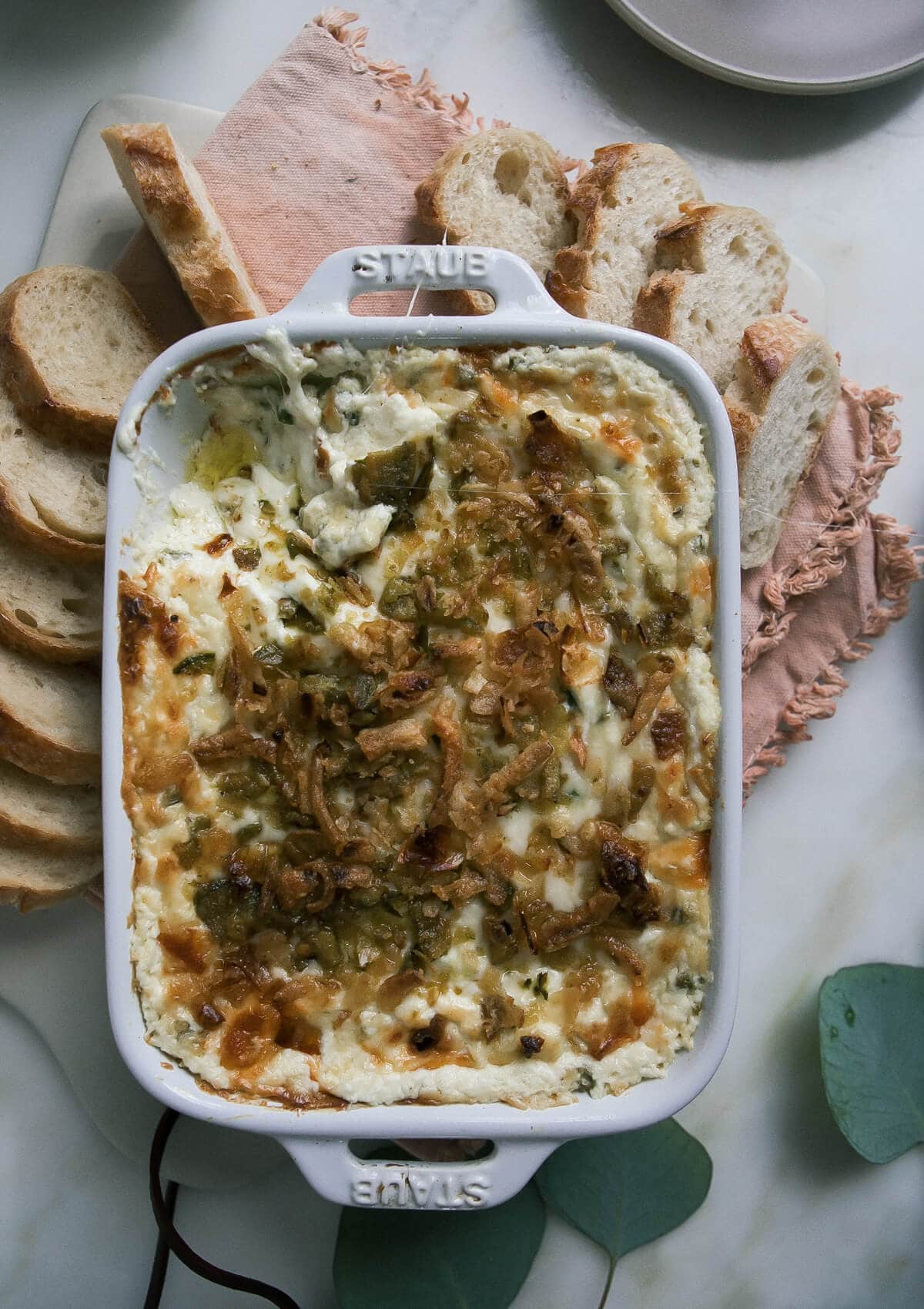 Crispy Jalapeño Popper Dip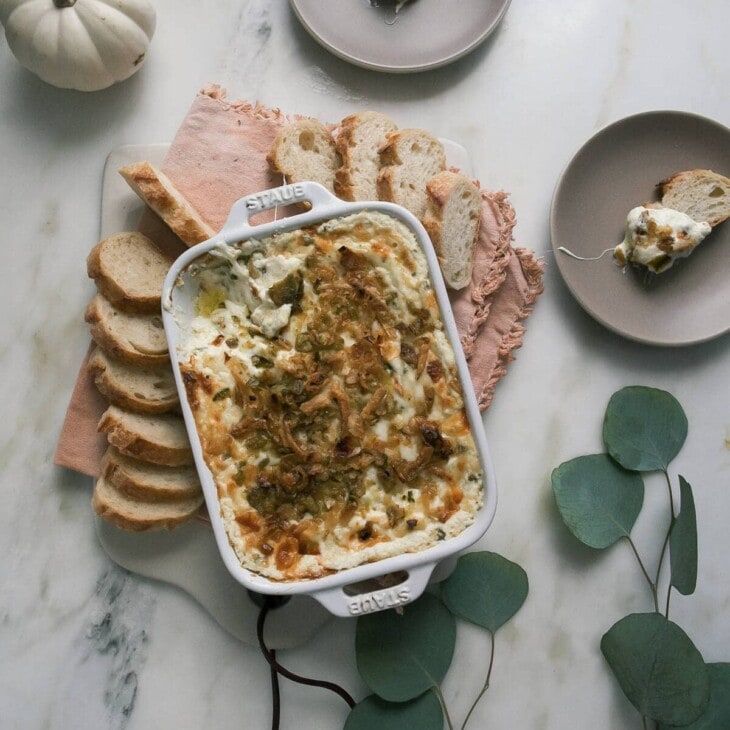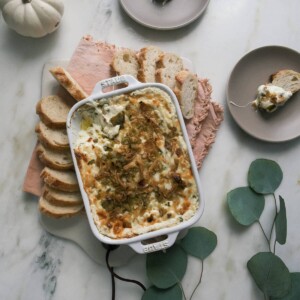 Ingredients
1

teaspoon

olive oil

2

jalapeños

,

diced

3

cloves

of garlic

,

peeled and diced

2

8-ounce packages of cream cheese, at room temperature

1

cup

mayonnaise

2

green onions

,

thinly sliced

2

cups

shredded mozzarella + 1/4 cup more for topping

1/2

teaspoon

salt

1/4

cup

French's Crispy Jalapeños

1/4

cup

French's Crispy Onions
Instructions
Preheat oven to 350 degrees. To a small skillet, set over medium heat, add the olive oil. When warm, add the jalapeños and garlic and cook until slightly softened, about 2 to 3 minutes.

To a medium bowl, add the cream cheese and mayonnaise. Beat until combined. Add the cooked jalapeño mixture, green onions, mozzarella and salt. Mix one last time until combined.

Transfer to a 1 1/2-quart baking dish and smooth out the top. Sprinkle the top with the remaining shredded mozzarella. Bake for 10 minutes, until the top is melty. Remove from the oven and add the crispy jalapeños and onions, crushing them with your hands as you sprinkle them on the top. Transfer back to the oven to bake for an additional 5 minutes.

Serve with warm slices of bread or chips!
Nutrition
Nutrition information is automatically calculated, so should only be used as an approximation.