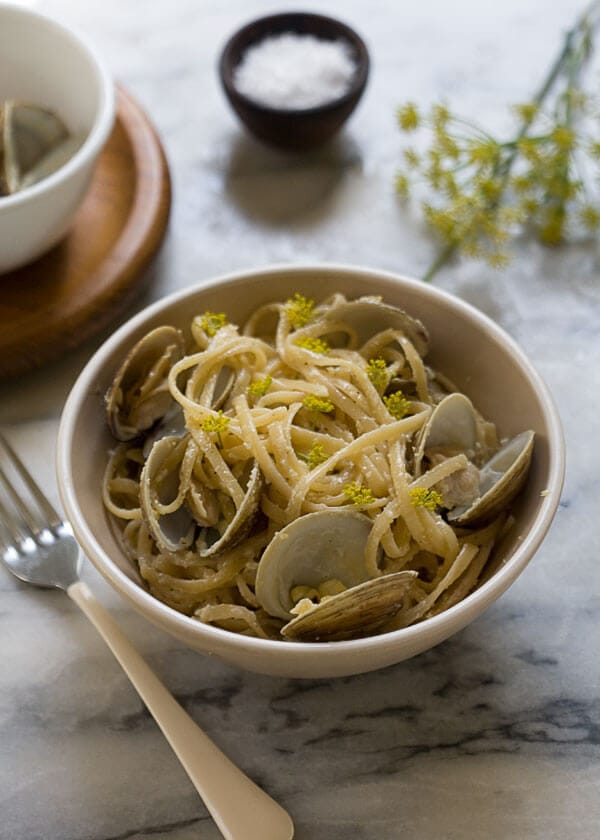 Whenever it gets way too hot, I get all dramatic and say I want to eat popsicles for dinner, but that never really happens. The closest I get to eating a popsicle for dinner is eating a salad, which is exact opposite of a popsicle. This corn linguine with clams is like a bowl of coziness with lots of summer flavors going on. It exploits the season.
In other unrelated pasta news, I finished Orange Is The New Black and OMG I'm obsessed. Like every show I love, I wish I could re-watch it all over again from the beginning. I love how good the balance is between funny and dark moments. I like getting to know the characters, learning what they did to end up there, and I like that their stories are a mix of innocent and very guilty. If you haven't watched it, you need to get on it!
Back to pasta talk…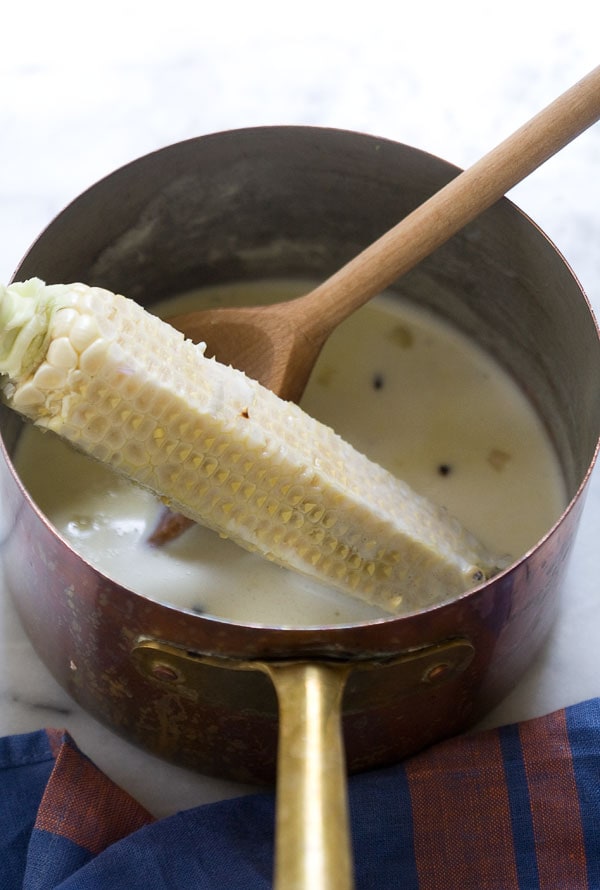 Geez. I sometimes wish I could have book club so I could just talk about stuff I read and watch for 2 hours. Do people actually talk about books at book club or is it just an excuse to drink on a Tuesday night? Real questions.
This pasta is easy in its preparation, I'd say it could be a 30 minute meal. Rachel Ray could totally do this in 30 minutes. EVOO.
Did you know that EVOO is in the dictionary now? Crazy.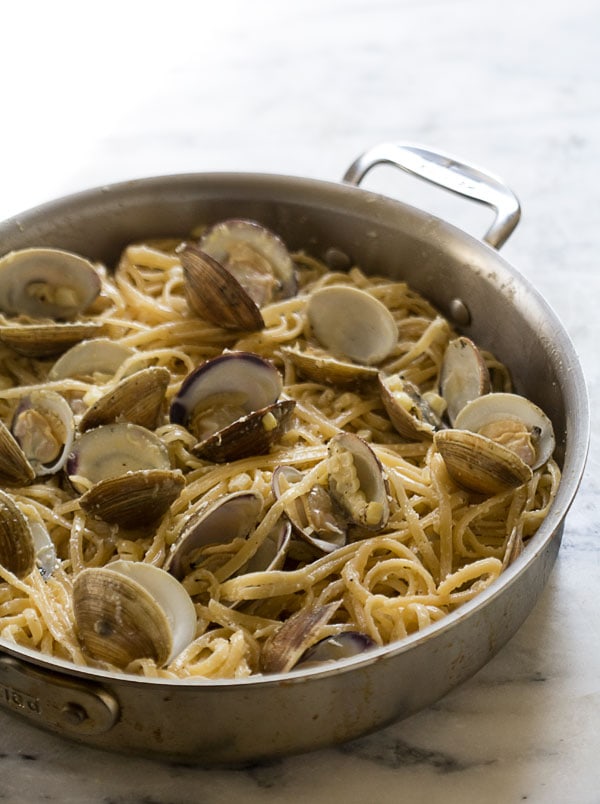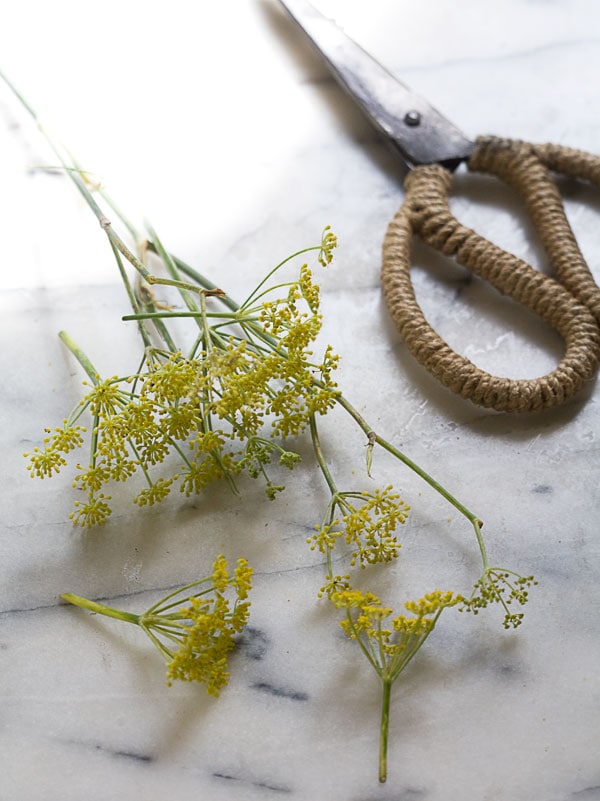 Anyway, this pasta! I love it. The clams add this really amazing briny flavor to the dish which works wonders with the sweet, charred corn. I sometimes wonder if I'm ever going to eat un-charred corn again…
The pasta is creamy, briny, bright and surprisingly light for a cream-based sauce.
Fennel grows around my neighborhood like mad so I took my scissors outside and tried to go forage some fennel fronds for garnish, but all of them were dried up and burnt from the summer sun. But the fennel flowers were beautiful. I cut a few off and garnished my pasta with it. Fennel flowers have a strong anise-like flavor and are surprisingly really sweet. They added a great flavor. If you can't find fennel flowers, feel free to use fennel fronds, tarragon or chives. All will add a nice touch.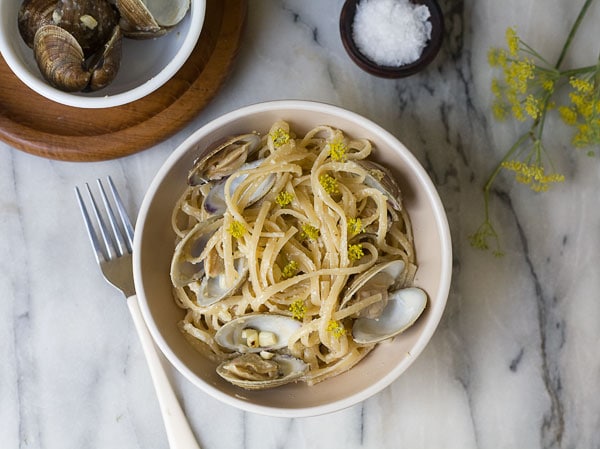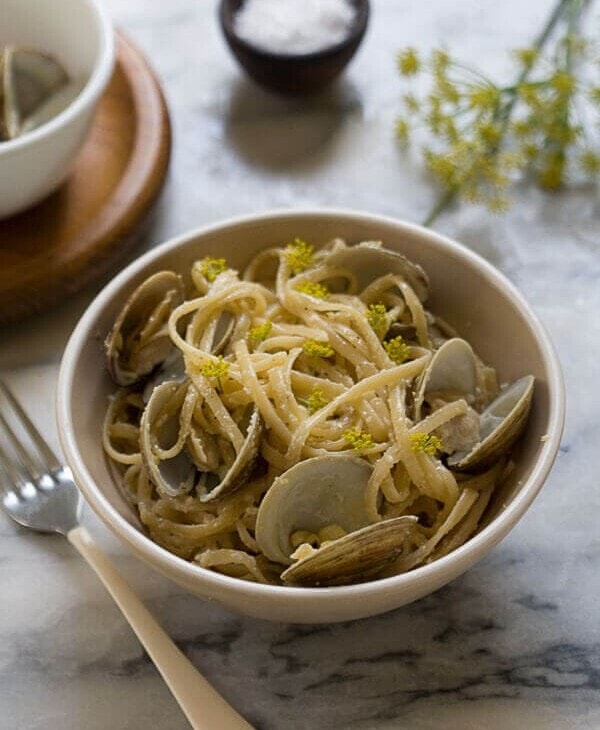 Print Recipe
Creamy Sweet Corn Pasta with Clams
Ingredients
1

pound

Littleneck clams

1

tablespoon

all-purpose flour

2

ears corn

husks removed and washed

1/2

pound

linguine pasta

1

tablespoons

olive oil

3

tablespoon

butter

1

shallot

minced

1

garlic clove

minced

1

cup

heavy cream

2

ears of corn

charred

1/4

cup

dry white wine

Salt

Pepper
Garnish options:
Fennel flowers

pictured

Fennel fronds

Tarragon

Chives
Instructions
To prep the clams, gently add the clams to a medium bowl and cover them with cold water. Stir in the all-purpose flour and allow mixture to sit for 30 minutes. The clams will gorge on the flour, releasing any sand and/or grit. Drain and rinse the clams completely. Transfer them to the fridge until you're ready to use.

Place the two ears of corn on the grate of a gas stove. Char the corn on all sides, rotating the corn every 30 seconds or so until evenly charred. Cut the kernels off of corn, dividing the corn equally. Note: We're going to use the first half in the sauce and then fold the second half into the pasta just before serving.

Prepare pasta, al dente and set aside.

In a medium saucepan, heat oil and melt butter over medium heat. Add the shallot and garlic; cook for 2 to 3 minutes. Pour in the first half of the corn kernels, heavy cream and dry white wine. Cook and stir for an additional 5 minutes. Carefully transfer the hot sauce to a blender. Be sure to allow a bit of steam to escape so you don't have a dangerous mess on your hands. Pulse for 30 seconds to a minute, until the sauce is completely smooth.

Transfer the sauce back to the medium saucepan. Salt and pepper to taste. I ended up adding about 1 teaspoon salt and 1/2 teaspoon of pepper. Carefully add the clams and cover the pan immediately. Cook for 3-4 minutes, until the clams' shells have opened, discarding any clams that have refused to open (those are bad news!). Add the pasta and the remaining corn kernels, and gently toss, coating the pasta evenly with the sauce. Divide the pasta between bowls and top with any garnish you choose (all of them will work lovely!).