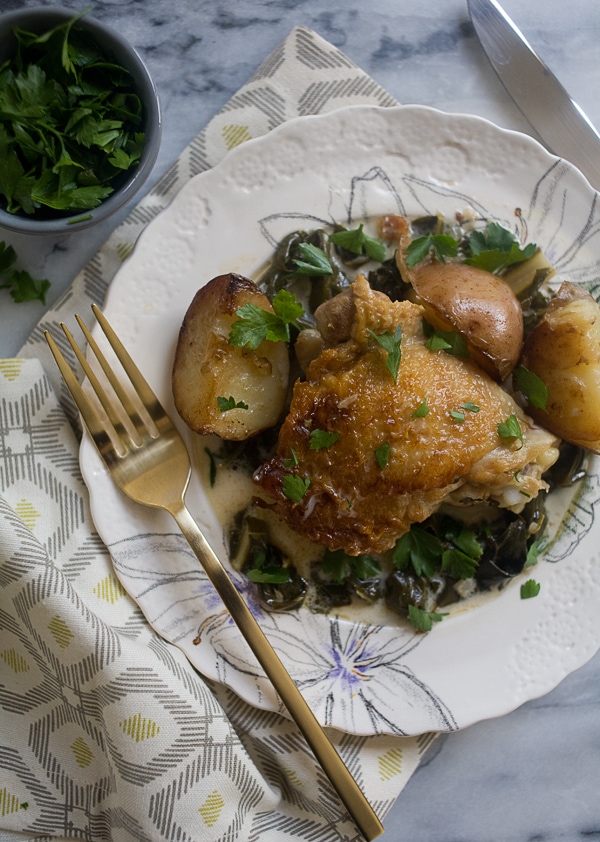 Sundays are somewhat of a double-edged sword. On one hand, they're lazy, relaxing and involve Bloody Mary's and long brunches. But then, as the night sets in, you feel the impending week full of to-do lists and getting up early just looming…
As a kid, Sundays were depressing. It was usually the day when I had to buckle down and do homework. You know, the homework that I had thrown to the side all weekend long because I was busy having fun. There was usually lots of whimpering and pouting and being a brat. There was usually a gigantic cloud over Sunday night. The only things that usually made it better was the tick, tick, tick sound from the opening credits of 60 Minutes and the smell of something mom was braising in the oven.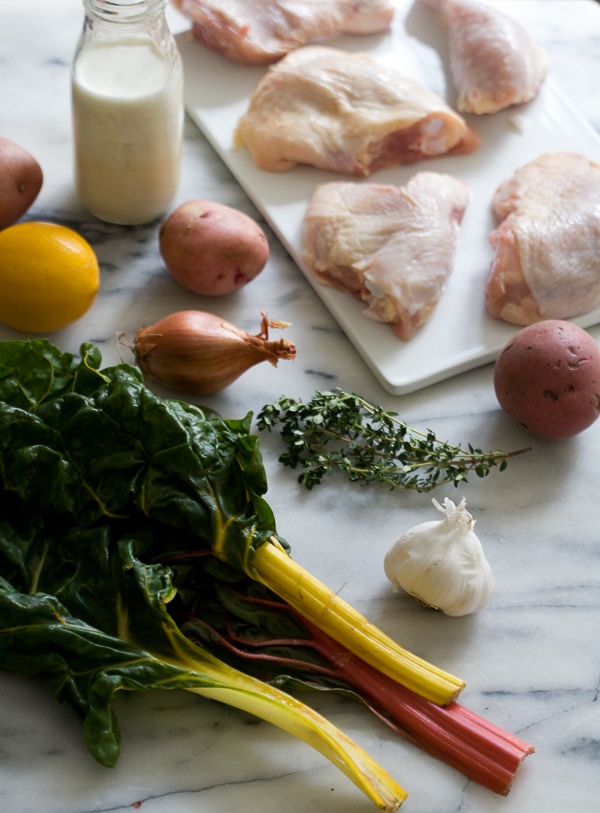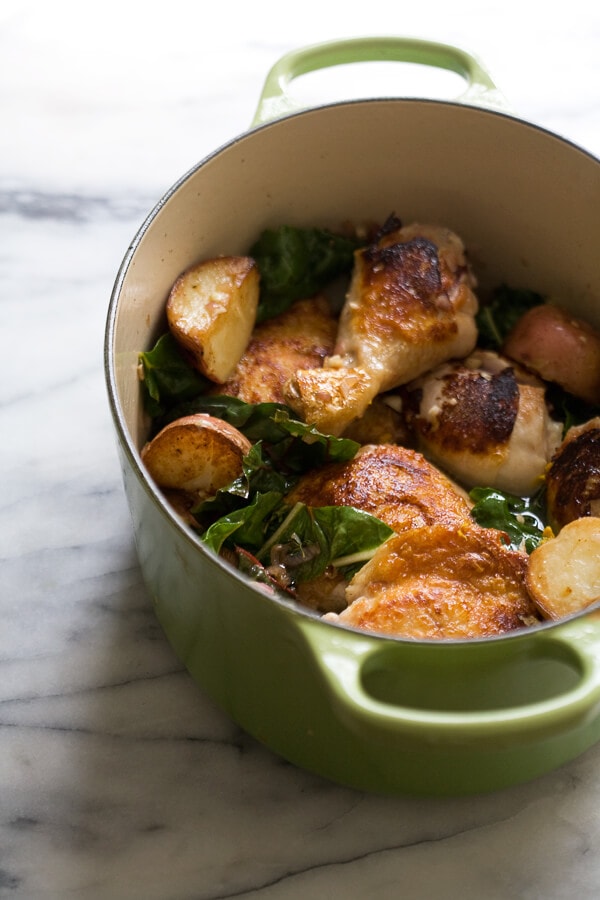 My mom had a braised chicken dish with tomatoes and spices that I loved. I have no idea what was in it and still don't, but it was so simple and amazing.
I honestly haven't braised much chicken and I'm not sure why because after making this dish a few times, I want to braise ALL THE CHICKENS!
It's the best. This is inspired by a dish I had at Boule Bar in San Francisco. It was Moroccan-spiced, just like this one is and braised in a lemony cream sauce that was kinda to die for.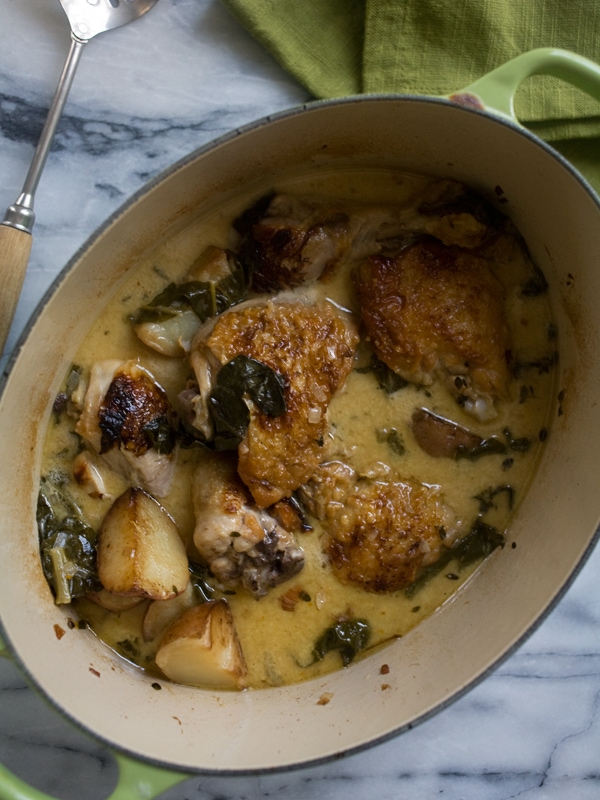 This is the dish that's perfect for Sundays, and if you have the time, it's not too bad of a week day meal either. It doesn't take nearly as long to braise as it does with other meats like, say, beef or pork. Just an hour.
The potatoes and swiss chard are interchangeable – feel free to swap in other stuff like artichokes or squash or kale.
This dish is the best leftover meal EVER. It's almost one of those dishes that tastes better the next day. Don't you love dishes like that!?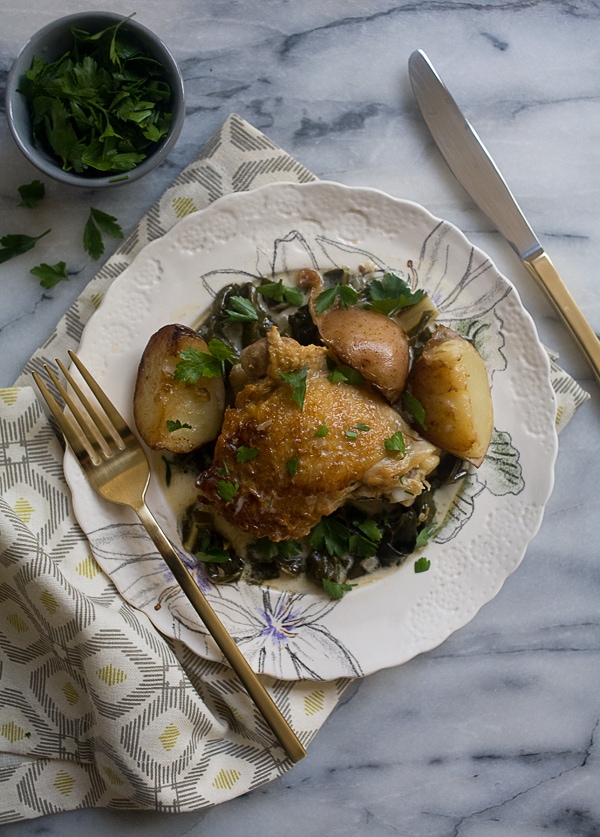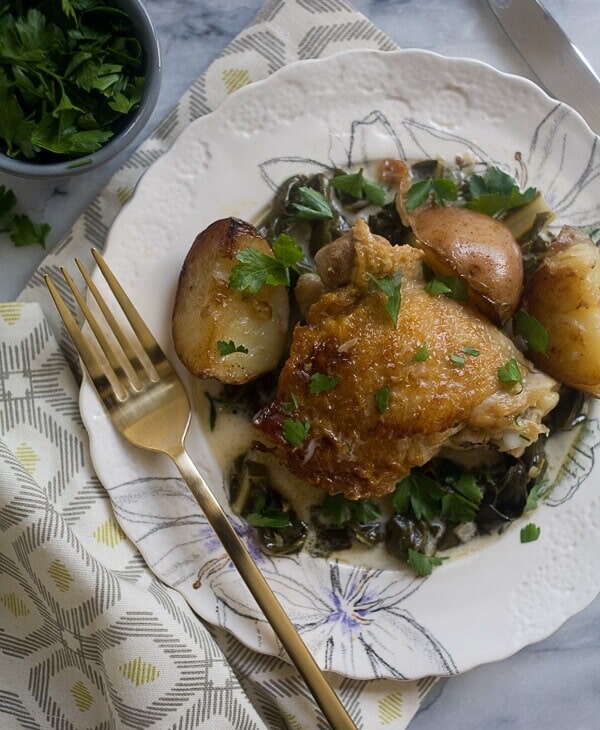 Print Recipe
Cream-Braised Chicken with Swiss Chard and Potatoes
Ingredients
3

chicken drumsticks

skin on and bone-in

3

chicken thighs

skin on and bone-in

Salt

Pepper

Olive oil

2-3

Russet potatoes

quartered

2

shallots

minced

3

garlic cloves

minced

1

teaspoons

ground cumin

1/2

teaspoon

ground coriander

3

sprigs fresh thyme

2

tablespoons

red wine vinegar

2-3

leaves

Swiss chard

roughly chopped

1

teaspoon

lemon zest

from 1 lemon

3

cups

low-sodium chicken stock

1/2

cup

heavy cream

Salt to taste

Handful of Italian parsley

chopped
Instructions
Start by prepping your chicken: wash the chicken and thoroughly pat dry using paper towels. Sprinkle the chicken with a few pinches of salt and pepper on both sides.

To a large pot, heat 2 tablespoons of oil over moderately medium to high heat. When the oil is hot, place the chicken, skin-side down and cook until the skin is crispy and browned, about 3 to 5 minutes. Flip the chicken, using a pair of tongs, and cook for an additional minute or so. You want to avoid overcrowding the pot, so you most likely will have to do this in batches. Remove the chicken from the pan and set it aside in a bowl.

You may find that the chicken's skin has released a lot of grease. We don't want all of that in the dish so dump out most of it, leaving about 1 tablespoon (eyeball this measurement). Place the pot over medium heat and when hot, add the potatoes, cooking them on each side until browned and crispy, about 1 minute. Remove them from the pan and set aside.

Throw in the shallot and cook until translucent, about 3 minutes. Add the garlic and cook until fragrant, about 1 minute. Next, add the cumin, coriander and fresh thyme. Pour in the red wine vinegar and using a spoon, deglaze the bottom of pan, scraping up any browned, crispy bits. Add the swiss chard, lemon zest and chicken stock. Add the chicken and potatoes back to the pot, being sure to nestle them into the mixture.

Bring the chicken mixture to a simmer and turn the heat to low; cover the pot and cook for 45 minutes, until the potatoes and chicken are cooked. Mix in the heavy cream and salt the mixture to taste (I added about 1 teaspoon). Cook for an additional 10 to 15 minutes. Divide between bowls and top with a sprinkling of fresh Italian parsley.