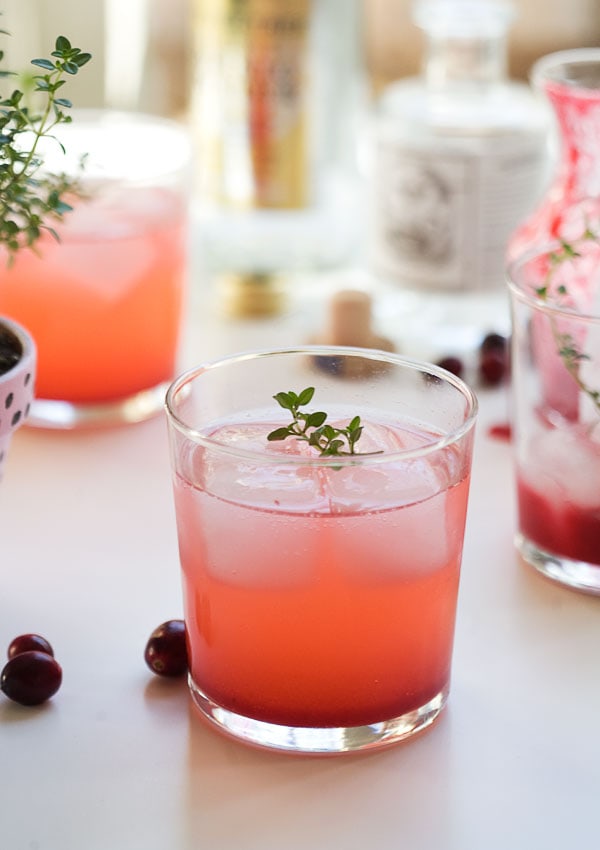 Before we dive in to this Cranberry Thyme Gin and Tonic. It's story time: When it comes to the beverage of choice, Thanksgiving has always been about wine. And beer. But mainly wine. Even growing up, Thanksgiving was that time when my parents would bust open the "fancy" bottle of wine a relative brought back from some region of Spain and we all discussed its legs and body like we knew what we were talking about.
Thanksgiving was the time when my parents would serve me a glass of wine at the ripe age of thirteen because that's what you Latin people do – we give our kids wine! My fellow American friends always thought that was so strange and awesome, but in South America alcohol and kids isn't that big of a deal. You give 'em a little sip because it's a special occasion, you know? Sharing is caring.
Now, cooking is different. When you're cooking it's a cocktail time…and in this case, thyme. Cocktail thyme! (I'm annoying myself today, too, don't worry.) I love a good spritzer. It's because deep down I'm a grandma who loves her spritzers and maybe, just maybe when no one's looking I put a few ice cubes in my wine, too.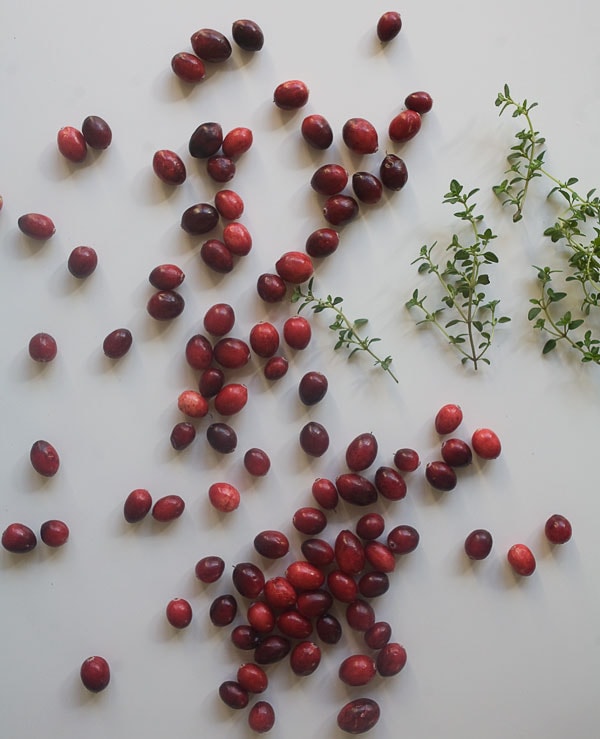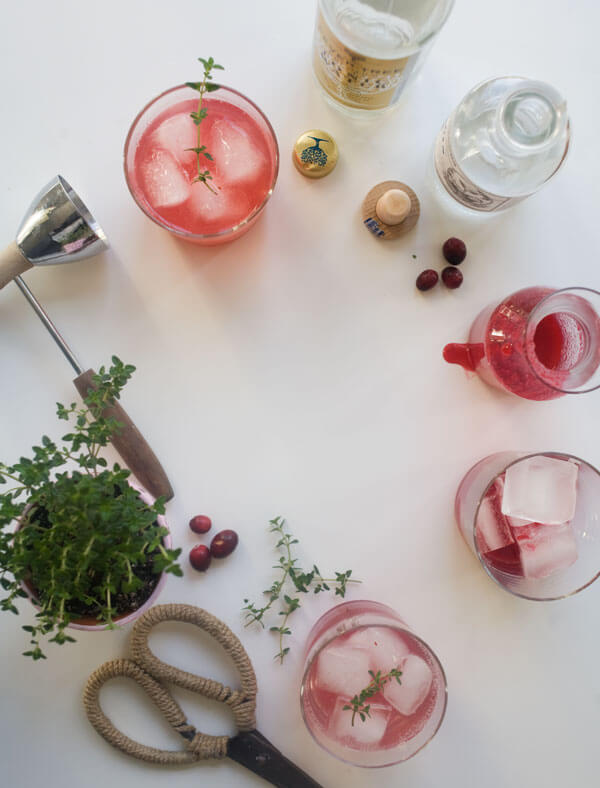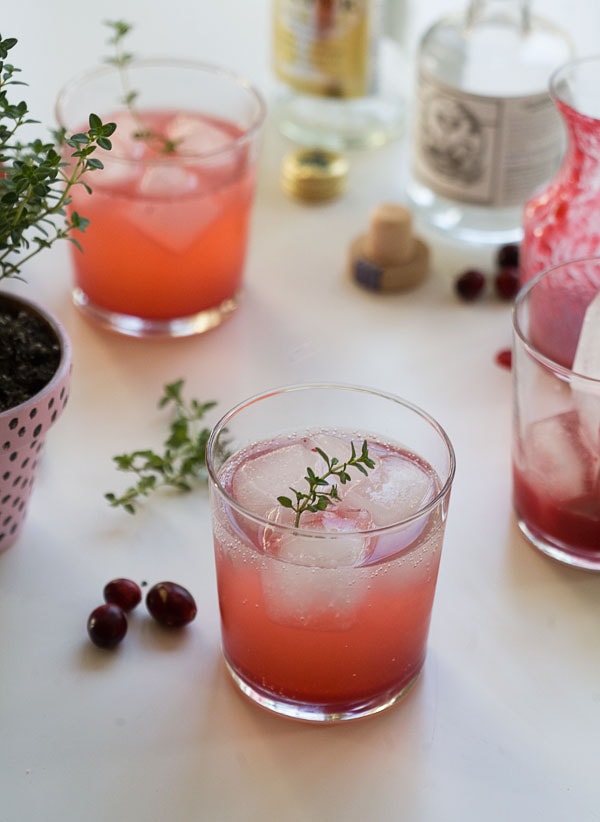 This cocktail is perfect for Thanksgiving because it's like a stragglers cocktail.
I'm sure you'll have some extra cranberries, and some extra thyme leaves laying around. And let's hope you have some gin in your cabinet and a decent bottle of tonic. It's a leftovers, before leftovers cocktail!
If you don't, here's what I recommend:
-Make a double batch of this (minus the tonic water and ice). Triple batch even. Add it all to a pitcher and stick it in the fridge.
-You'll probably be balancing it on various other containers and pots that are ready to be reheated.
-Right before serving, add a few ice cubes to each glass, pour it in, top it with tonic. And BOOM a delicious Thanksgiving cocktail.
Now, who's giving their thirteen year a old a swig of wine?!! KIDDING.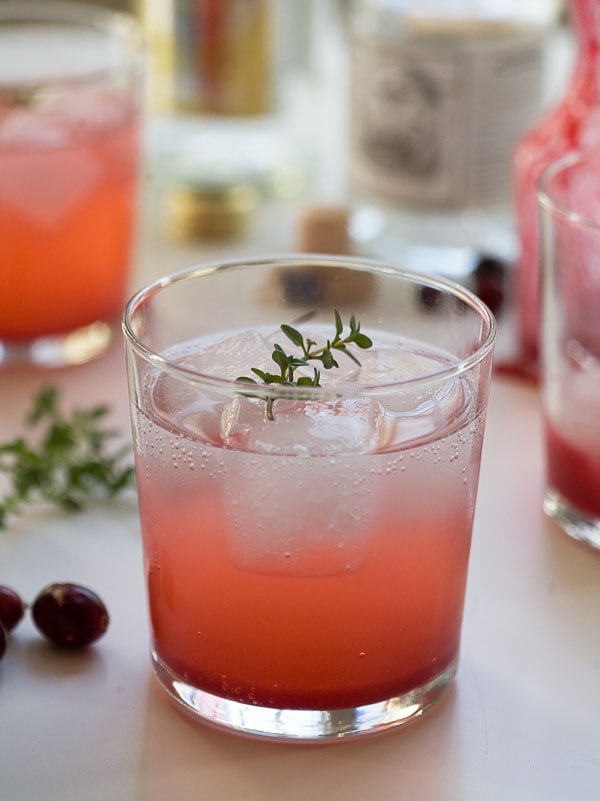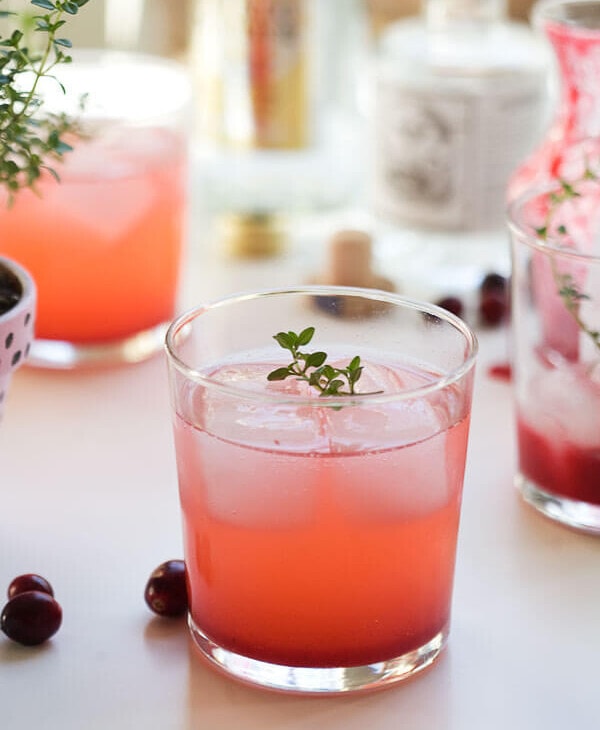 Print Recipe
Cranberry Thyme Gin and Tonic
Cranberry Thyme Gin and Tonic is a great refreshing drink for fall!
Ingredients
1 1/2

cups

fresh cranberries

1/2

cup

white granulated sugar

1

cup

water

Splash of orange juice

1/2

teaspoon

pure vanilla extract

Fresh English Thyme leaves

Gin of choice

I used St. George

Tonic of choice

I used Fever Tree
Instructions
In a small saucepan, mix together the cranberries, sugar, water, splash of orange juice and vanilla extract. Cook for 10 to 15 minutes, pressing the cranberries with the back of your spoon until they pop (beware--they'll splatter!). Add the fresh thyme and smash with the back of your spoon--this will release its aromatics. Note: The mixture should be much looser than traditional cranberry sauce. Pour the mixture through a strainer, discarding the solids, and reserving the cranberry syrup.

To assemble an individual cocktail, add about 1 fluid ounces of syrup to each glass. Top with a few cubes of ice, 2 fluid ounces of gin and then top with tonic. Mix and garnish with fresh sprigs of thyme.
Notes
To Make a Big Batch Cocktail:
Double the cranberry sauce recipe and add to a large pitcher. Combine with 8 ounces of gin. When you serve the pitcher, be sure to include a bottle of tonic next to it so guests can top each serving off with about 2 ounces of tonic. 
My Favorite Gin Brands: 
Hendricks | St. George | The Botonist Gin | Tanqueray