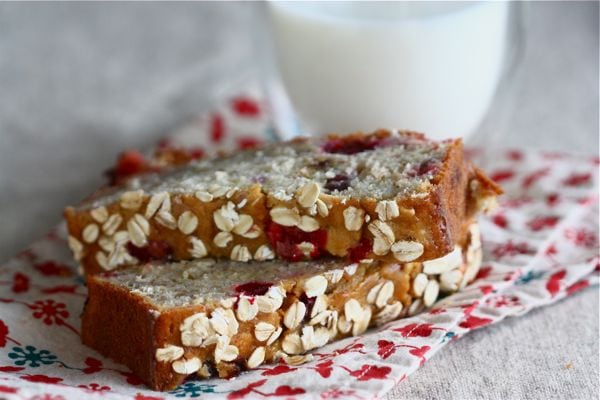 Ladies. Gents. Children. Toddlers…it's officially the start. The start of the holiday season.
Are you one of those prepared holiday/early shopper people? I wish I was one of you. I am not. I'm the antithesis.
I'm talking…tree finally goes up a week before Christmas. Gifts ordered two days before Christmas Eve. This, of course, leads to frantic calls to the post office. Passive aggressive conversations with Fedex. Paying a bit more in postage so holiday cards make it on time. Staying up late wrapping. STRESS!
Holiday drama. Lots of it. I think part of me likes it…deep down inside I find it super entertaining. And also, I'm busy working. I dunno. I don't have time to commit all this time to this holiday, man.
So I wing it. Year after year.
You want to wing the holiday season and still come out successful? I have some professional procrastination tips…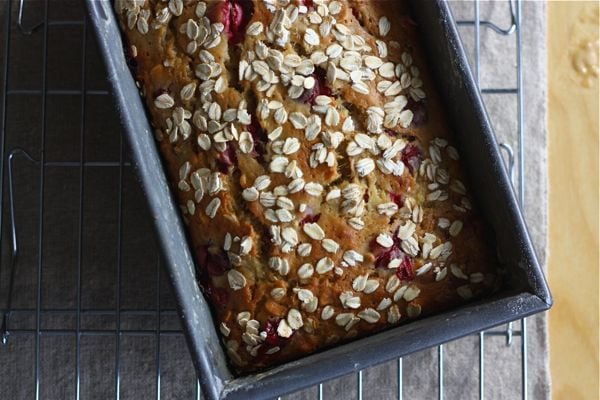 Step 1:
Invest in Amazon Prime. It gives you 2-day shipping FREE! No one said this was cheap.
Step 2:
Prioritize what gifts are actually important and which ones you can get away with slacking off on.
Good example of what to procrastinate on:
I know my dad likes books. I know he likes kitchen stuff. I can get alllll of that on Amazon. Why order it now when I can do it last minute?
Good example of what not to procrastinate on:
Business type cards and gifts. These are important. Now, my dad is important, too..even more important, actually; but he'll forgive me if his present doesn't show up. If I don't send a business holiday card? Just not okay. Awful. There's no room for error.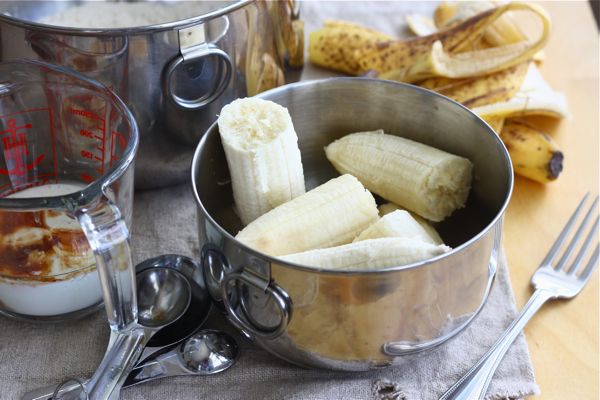 Step 3:
Look at your holiday party invites. Sometimes parties get stressful–there's just too many of them. Figure out which ones you can and want to bake for, and which ones you can get away with buying a bottle of wine for.
I say ones that are total acquaintance type parties…a bottle of wine is perfect. It's nice. Who cares if you picked it up at Trader Joe's on the way over and only paid $5!! Seriously, no one cares.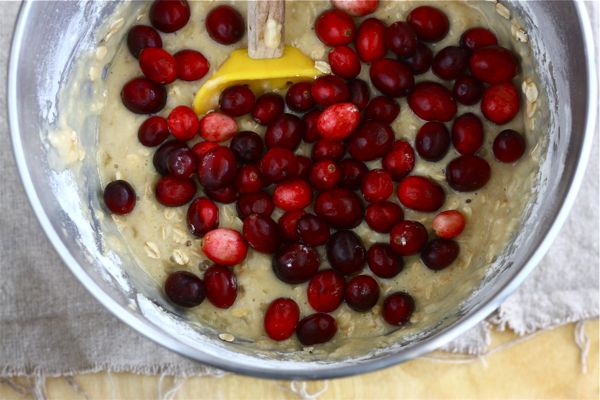 The parties thrown by your besties…those are the ones to cook and bake for.
Cue this slightly tart (hello cranberries!), perfectly textured (you're cute rolled oats!), moist banana bread creature.
I love it so much.
There are so many good things packed in this loaf pan.
I say this recipe deserves to be doubled. Two loaves!
They're moist and delicious for FOREVER! Like 3-4 days…maybe even longer, but I wouldn't know because it didn't last that long.
This means you can totally bake a few off on Saturday morning and keep them throughout the week, handing them out like Halloween candy.
Also, say you don't want to bake for anyone…because you don't have time. Well, that's cool…I say bake this for yourself then…eat it along side a cup of coffee and figure out your procrastination (or not) game plan.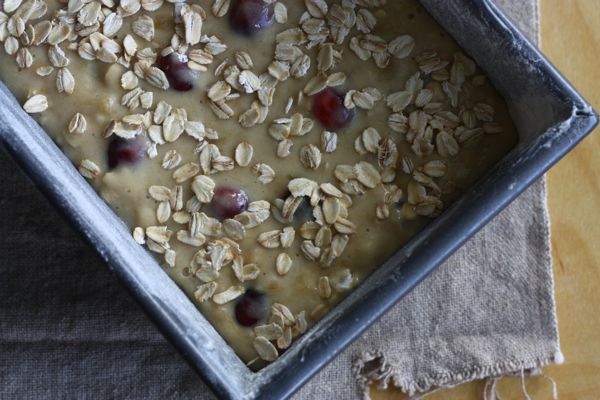 Cranberry Oat Banana Bread
1 1/2 cups all-purpose flour, plus 1 tablespoon for dusting pan
1/4 cup rolled oats, plus 1 handful for topping
2 teaspoons baking powder
1/2 teaspoon baking soda
1/2 teaspoon salt
1/3 cup buttermilk
1 tablespoon vegetable oil
1 tablespoon vanilla extract
2 large eggs
1/2 cup light brown sugar
1/4 cup granulated white sugar
1 cup smashed ripe bananas (about 3 bananas)
1 1/2 cup cranberries
1. Pre-heat oven to 325˚F. Lightly grease a 9×5-inch pan and dust with a tablespoon of flour.
2. In a medium bowl, mix together all-purpose flour, rolled oats, baking powder, baking soda and salt.
3. In a measuring cup, measure out the buttermilk. To the buttermilk, add the vegetable oil and vanilla extract and mix until combined.
4. In a large bowl, using an electric mixer, beat eggs, light brown sugar and white sugar together until thick and pale, approximately 3-5 minutes. Mix in smashed banana and buttermilk mixture. In two batches, add flour mixture, mixing until just combined, being sure not to overmix.
5. Fold in cranberries and transfer batter to prepared loaf pan. Top with a handful of rolled oats.
6. Bake quick bread for 1 hour, or until a tester inserted into the center comes out clean. Invert bread onto a rack to cool. Cranberry Oatmeal Banana Bread will be moist up to 3-4 days. Wrap tightly in plastic wrap to preserve its freshness.