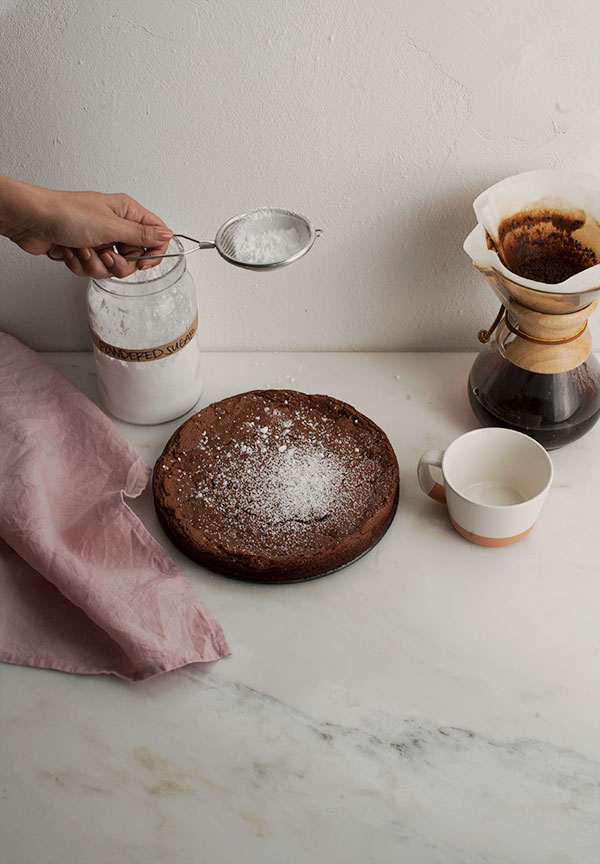 I've just binge-watched the entire eighth season of The Voice and I am in love with Gwen Stefani more than I was as a teenager, which is a crazy amount. I wish I was a singer just so I could try out for the voice with the hope she would want me on her team. But if I'm being honest, no one should hear me sing, EVER. Amelia hears me sing all day long and surprisingly she loves it (I think).
Oddly enough, I'm the worst singer in the world, but I love, LOVE karaoke. I don't love to participate in karaoke, I just love to watch it. And here in LA, the land of Hollywood and fame and music, the karaoke bars are filled with people who moved here to become famous singers.
There was this one place in Hollywood I used to visit all the time called Miyagi's; it was behind a Denny's, attached to a bad sushi restaurant. No one ate sushi there but people loved singing karaoke at the bar.
The singers were incredible. There was the Asian dude who sang Guns and Roses ONLY (and he'd actually wear a Slash wig); there was this beautiful African American woman that sounded like India Aire but better; there was the guy from the mid-west who sounded like Frank Sinatra but looked like a surfer; and there was the MC who had been there since the 80s. The place was magical.
It was filled with people who had sort of given up on their dream; most of them had day jobs doing other things that they were ok with but they'd come to Miyagi's to sing, because they couldn't not.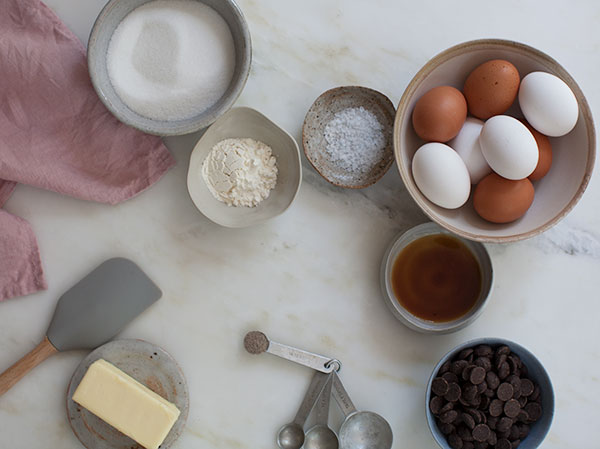 I guess that's what you do when you love something, you do it just because. You do it because it's so fun and invigorating and makes you feel alive. That's how I feel about cooking and making things. I'd do them even if I had another job doing something else.
I was planning on making a documentary about that place Miyagi's with my friend Setu. Not making it was maybe the biggest regret of my life. I know that sounds crazy melodramatic but it's true; I think about it weekly, sometimes daily. Miyagi's ended up shutting down, I think the owner couldn't afford the rent any longer. It's nothing now, totally empty and all of its patrons ended up going to other karaoke bars.
What's funny is that a few months ago I walked into a Thai restaurant late at night with Josh (I read on Yelp they had karaoke, also, I know I'm weird) and sure enough the same MC was there, doing what he does.
It made my insides all fuzzy.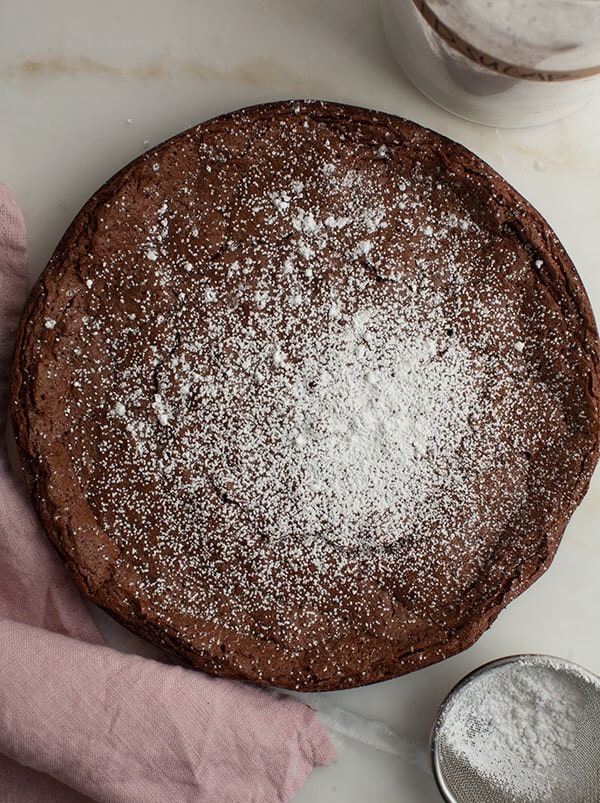 This recipe has nothing to do with anything, not karaoke, not the meaning of life, etc. But it does have to do with Josh. I like making him Passover desserts. He loves them, including this cake. There's no leavening, no flour but the cardamom and vanilla and salt, make it soooo lovely. Think of it like a Passover version of Izy's cake.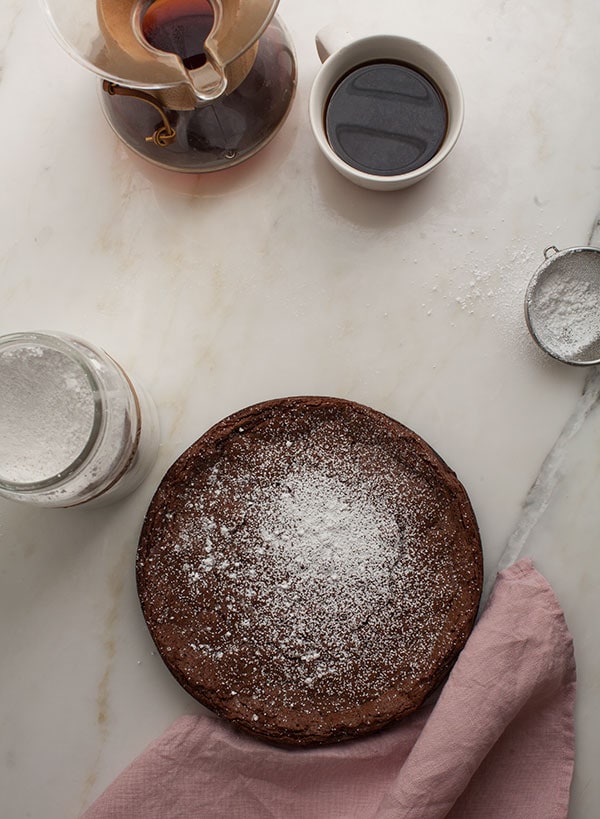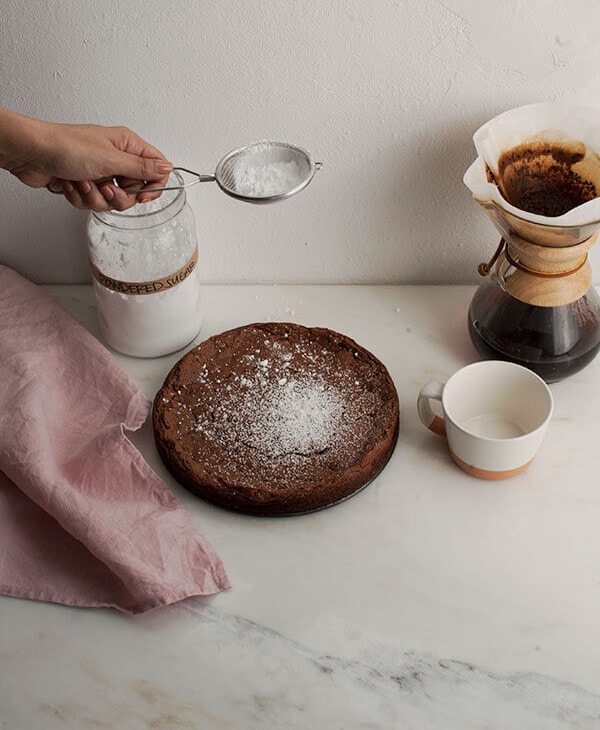 Print Recipe
Crackily Chocolate Cardamom Meringue Cake
Ingredients
1/2

cup

unsalted butter

plus 1 tablespoon of room temperature butter for pan

6

ounces

dark chocolate chips

60% cacoa

3/4

cup

granulated sugar

plus 2 tablespoons for the egg whites

1/4

teaspoon

ground cardamom

1

teaspoon

pure vanilla extract

1/4

teaspoon

salt

4

large eggs

separated
Instructions
Preheat 375 degrees F. Lightly grease a 10-cup/9-inch springform pan with the tablespoon of butter.

Pour the chocolate into a medium bowl. In a small saucepan, set over medium-high heat, melt the butter until it's very hot and melty. Immediately pour the hot melted butter over the chocolate. Let stand for a minute and then mix until smooth (if there are a few small unmelted chocolate chunks, no biggie). Mix in the 3/4 cup of sugar, cardamom, pure vanilla extract, salt and 4 large egg yolks.

In the bowl of a stand-up mixer (with the whisk attachment), add the egg whites. Beat until frothy, about 1 to 2 minutes. With the mixer going, pour in the 2 tablespoons of sugar and beat for an additional 2 to 3 minutes, until stiff peaks form. Add the beaten egg whites to the cake batter; gently fold them in until thoroughly incorporated.

Pour the cake batter into the prepared springform pan. Bake for 20 to 25 minutes, until a skewer inserted comes out mostly clean (little bits of batter are ok). Transfer to a cooling rack and allow to come to room temperature, about 1 hour. Remove the cake from the spring form pan and serve with a sprinkling of powdered sugar.