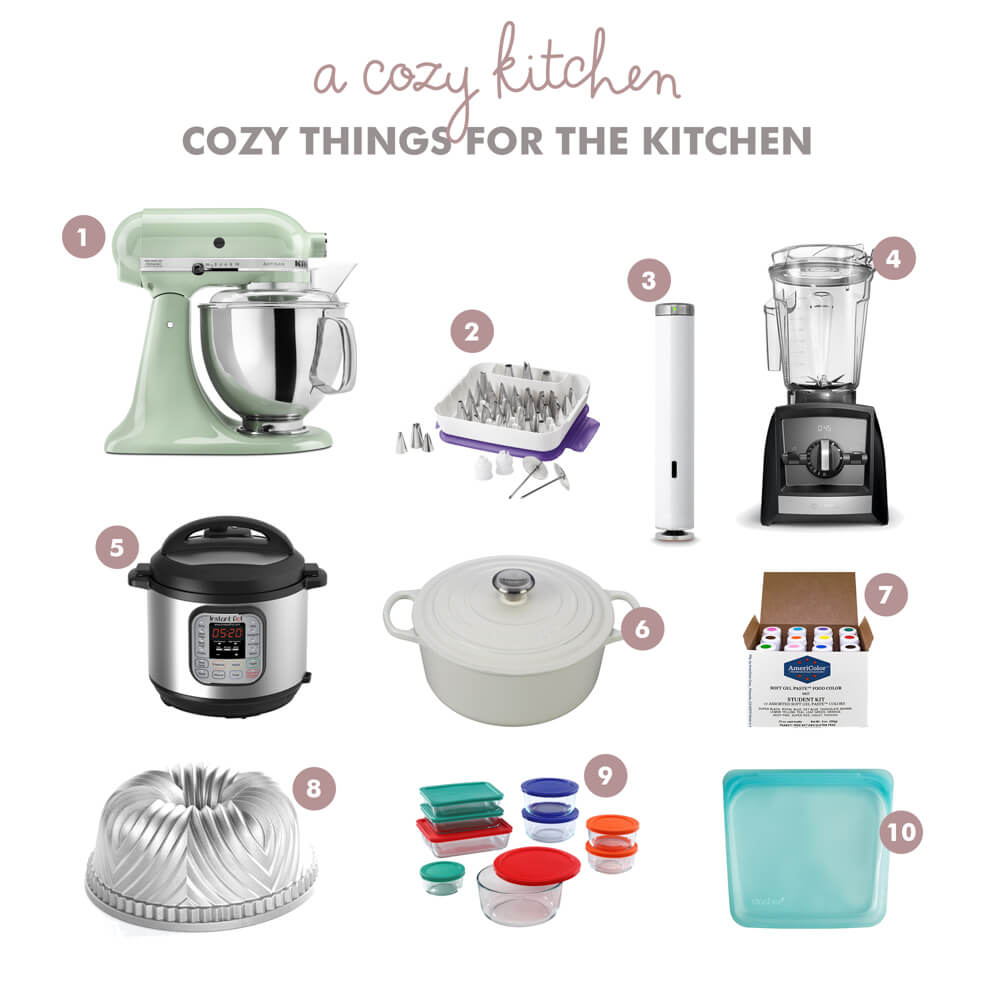 1. KitchenAid Stand-Up Mixer – I feel like a broken record, but this really is the perfect thing to give someone. I love this pistachio color but if your favorite person loves another color, well, they have a ton to choose from!
2. Wilton Decorating 55 Piece Set – I own this and have put this on gift guides before and that's because it's amazing to have all of these tips in one place. Also Wilton shows what the tips do on their Youtube page in case you're not sure what kinda design will come out!
3. ChefSteps Joule Sous Vide – I'm going to be completely honest with you, I was not a fan of anything sous vide'd. I didn't think it was that realistic for home cooks, but I bought this for Josh last year for Hannakah and he has used it so many times and I am now completely converted. I'm actually going to try and do caramelized white chocolate in it this week and am excited!
4. Ninja and I actually like it too. It's much cheaper, works just as well. The only downside compared to the Vitamix is that it's a bit louder than I'd like. But oh well! I do have my eye on upgrading my Vitamix to the one you see!
5. Instant Pot – Ok, so I'm gonna be honest: I don't own an Instant Pot (yet). It's on my holiday wish list. I've used my friend Billy's and I think it's amazing. Should I do a few Instant Pot recipes?
6. 3 1/2-quart every single day of my life. The 4 1/2 quart is the most functional—you can use it for stews, candy and even for baking bread. The possibilities are truly endless.
7. Food Coloring Set from AmeriColor – I think AmeriColor has some of the best colors in the food coloring game. They are very pigmented and I love how little you have to use in order to achieve your desired color.
8. NordicWare Cast Iron Bundt Pans – NordicWare did a whole exclusive line with Amazon and the results are pretty beautiful. I love intricate bundt pans and they make ones that are good quality with beautiful designs.
9. Pyrex Glass Container Set – I recently was gifted this set from a shoot I was on and man, was I excited. I love that it stacks perfectly. I love that it's glass and totally reusable.
10. Stasher Reuseable Silicon Bags – One of my goals for 2018 is to cut down my waste. I have my eye on these reusable bags to use for everything from storing a leftover sandwich to using it to sous vide something or using it when I go to the bulk bin (instead of using a plastic bag). I plan to give these as stocking stuffers.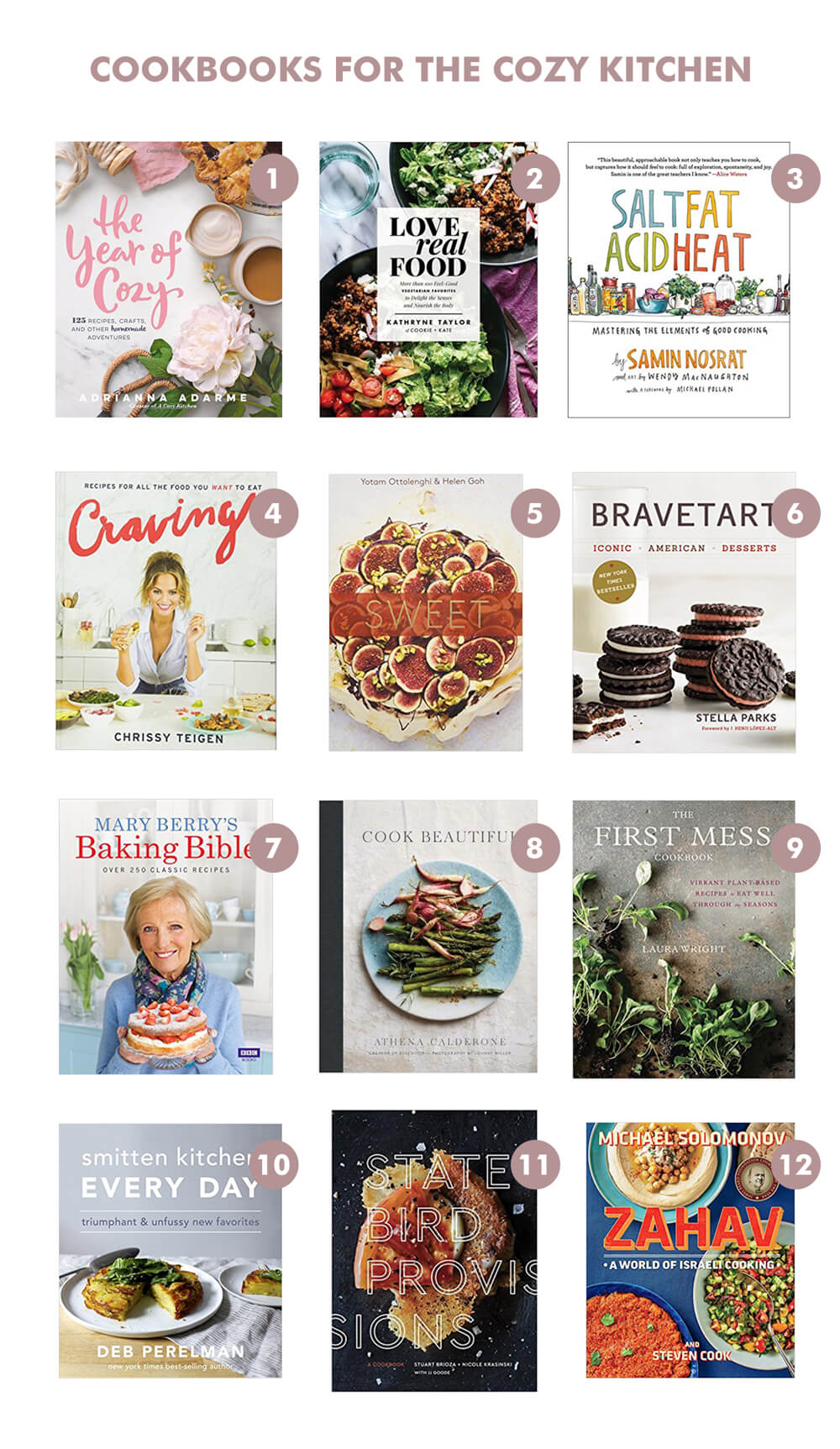 1. The Year of Cozy – Hello hi this is my book. And yes, technically this is self-promotion but I personally think that this would be a great gift.
2. Love Real Food – I love Kathryn Taylor's blog, Cookie and Kate. This book crushed it this year (look at all those positive reviews!). If you know someone who loves making vegetarian meals, this is a winner for sure.
3. Salt Fat Acid Heat – I LOVED this book. I feel like everyone—no matter your cooking level—can benefit from reading this book. It's very interesting, entertaining and the illustrations in the book are beautiful.
4. Cravings – Chrissy Tiegan is a fun follow on Twitter and The Insta. I haven't made any of these recipes but a lot of people have and love them!
5. Sweet – Beautiful baking cookbook from Yotam Ottolenghi and Pastry Chef Helen Goh. It's a gorgeous book and anyone who loves baking would definitely adore this book.
6. Bravetart – Another good baking book. Bravetart is written by Stella Parks from Serious Eats and I love that the recipes are based on American classics.
7. Mary Berry's Baking Bible – I am a diehard fan of The Great British Baking Show. In a world of toxic news and politics, I like to watch this show and The Kardashians and I'm not ashamed of that! So, when I was watching a few months ago, I realized I had never baked a Mary Berry recipe—gotta change that!
8. Cook Beautiful – This book is all over the internets. And you know, for good reason. The photos are aspirational (her kitchen! her house!) but the food is approachable and doable and that's wonderful.
9. The First Mess – For your favorite vegan! I love Laura Wright's food—it's delicious and simple and doable at home. I peruse this book all the time and sometimes I'll add cheese or an egg and make her recipes non-vegan lol.
10. Smitten Kitchen Every Day Triumphant – Deb is a master home cook and her recipes ALWAYS work wonderfully. This is her latest cookbook and I bet anyone would love it.
11. State Bird Provisions – When Josh and I had only been together for a few months, we took a trip to San Francisco and ate at State Bird. We loved our meal there. We sat at the bar and everyone was so nice and welcoming. I received this cookbook and the dessert section is my absolute favorite.
12. Zahav – This is not a new cookbook but it's a staple. I've actually never been to the restaurant but I wanna go.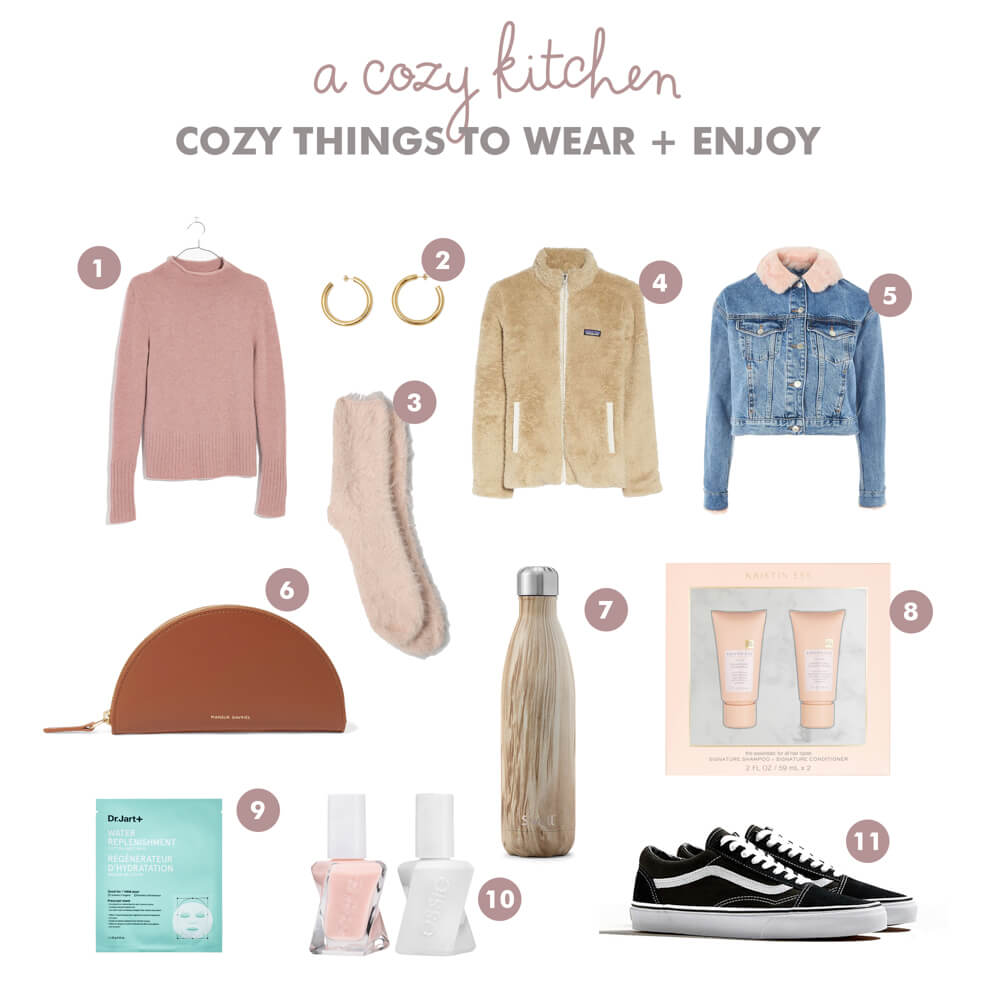 1. Very Cozy Madewell Sweater – It comes in a few colors and I tried all of them on. Obviously the mauve one was my favorite (pictured here). The fit is super flattering and so super soft. I want to sleep in it.
2. Bagatiba Hollow Hoops – I love these hoops. I actually like a lot of Bagatiba's jewelry. I've purchased a few pieces from them over the last year and I can say that their jewelry is good quality and really beautiful in real life.
3. Fluffy Women's Casual Socks – I recently bought these socks because they are right by The Year of Cozy at Target (hello sorry being annoying!) and they are SO soft and cozy. And very inexpensive.
4. Patagonia Teddy Bear Jacket – Listen, I dress for comfort a lot of the time and this jacket is just speaking to me right now. I love the beige color so I can just look like a teddy bear at all times.
5. Tilda Faux Fur Topshop Denim Jacket – Is the faux fur a little bit extra? Yes. Definitely. I do love the crop top tho and I love fur. Topshop ALWAYS fits me so small so be sure to size up a bit.
6. Mansur Gabriel Moon Leather Wallet – I've been using the same wallet for a few years now and while it's great, I might need a new one. I do love that my present wallet has a lot of room so I can't go down to a card-type wallet. I need a mom wallet. I feel like this one would be a good jump.
7. Swell Bottle – When I go workout I sometimes get a Smart Water BUT I'm trying to use less plastic so this is on my gift to myself. Less waste!
8. Kristin Ess Signature Shampoo/Conditioner Set – Kristin Ess is an amazing hair stylist and her line at Target is beautiful. I love this gift set.
9. Dr. Jart Water Replenishment Cotton Sheet Mask – I love Dr. Jart everything. All of their products are nourishing and hydrating. Whenever I travel, I always buy a few of these for when I land so my skin can be all hydrated all over again.
10. Essie Gel Couture Nail Polish Kits – I hate getting gels because they hurt my nails but when I was at the salon recently, a nail technician recommended these Essie Gel Couture polishes and OMG you guys, the color I have on has lasted almost two weeks and I use my hands every single day. Very impressed. These kits are cute.
11. Vans Old Skool Suede Sneaker – I wear these nearly every day and I've been wearing them for years. I recently switched from the hightop to the low tops. And I'm undecided which ones I like better lol. They're great for different reasons!