Cozy Gingerbread House
23
Dec 18, 2018, Updated Nov 29, 2019
Disclosure: This post may contain affiliate links, which means I may earn a commission if you click on the link and make a purchase.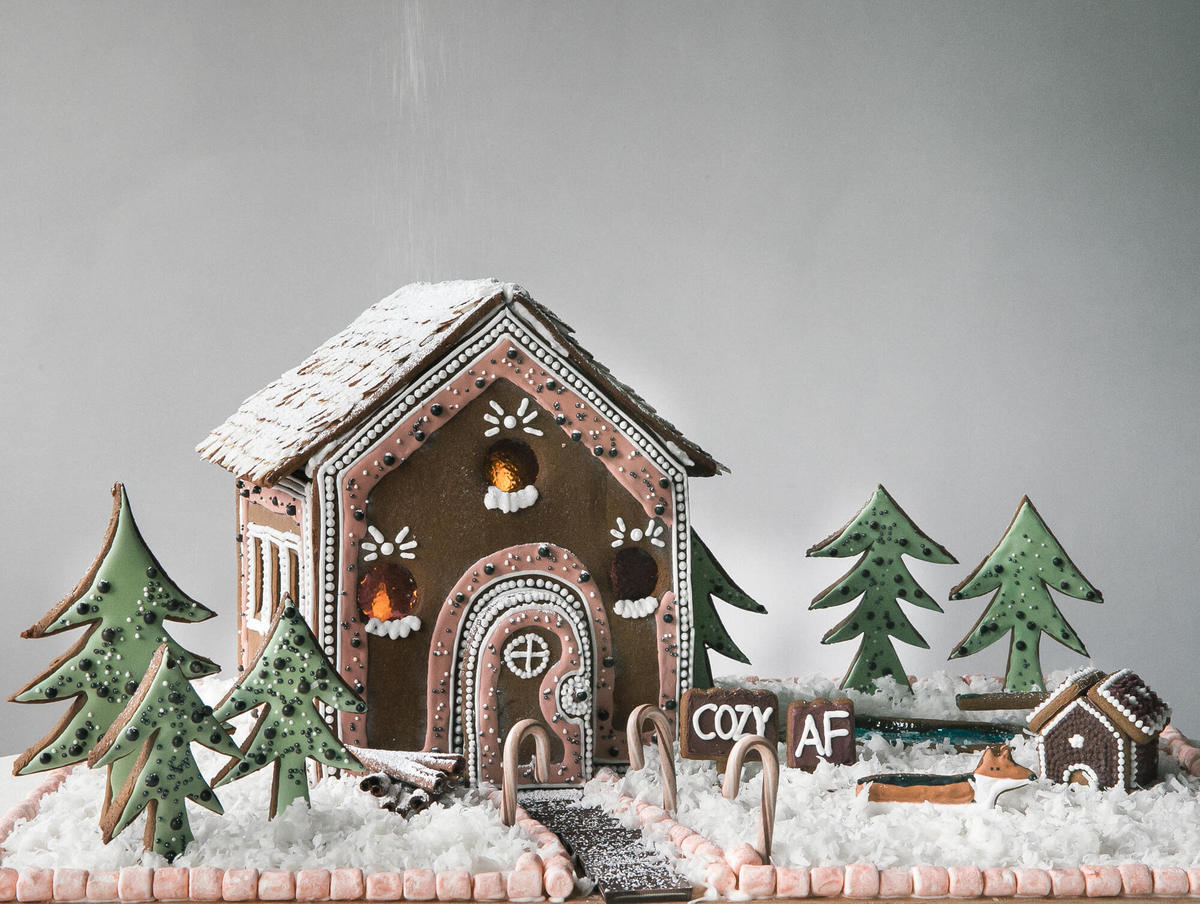 Let's make a Cozy Gingerbread House!
Did you ever have a Barbie Dream House? I think I asked for one for my eighth birthday (if I remember correctly) and I imagined myself being a grown-up in it. I had dogs (of course), I had a husband (Ken) whose head I shaved because I thought his blonde hair was ugly (I dunno) and a few kids who were ok. But most importantly, I had a pool with a slide and a trampoline. I also had a siqqq car that was bright pink that I'd use to pick up my friends so we could go to the movies and Disneyland.
When I got the insane idea that I should built a gingerbread house, I started to think: What should it look like? What should it include?
I remembered my Barbie Dream House and decided maybe that should be my inspo? I decided to leave out people because I don't think I can make realistic versions of gingerbread humans.
Let's start from the beginning…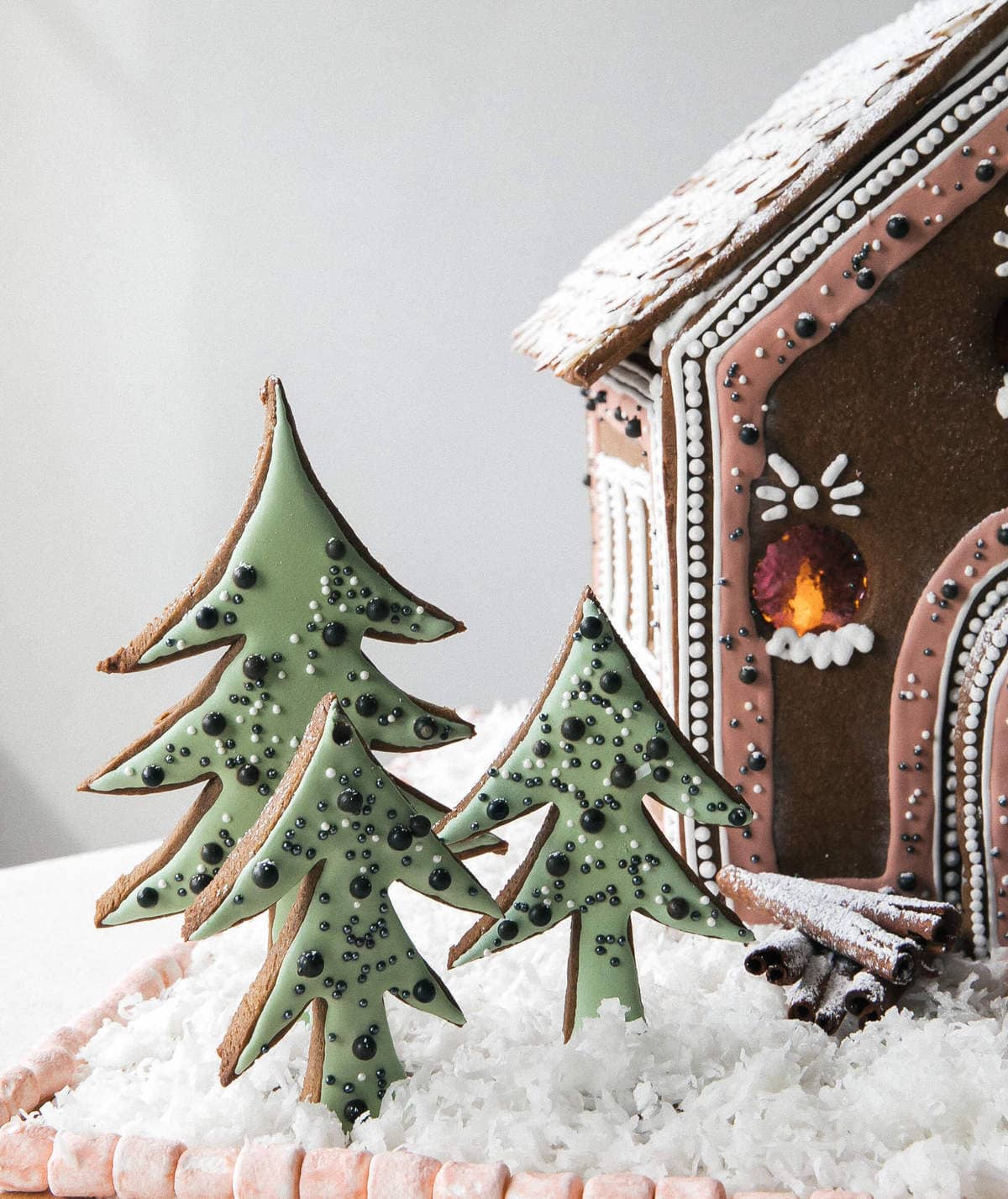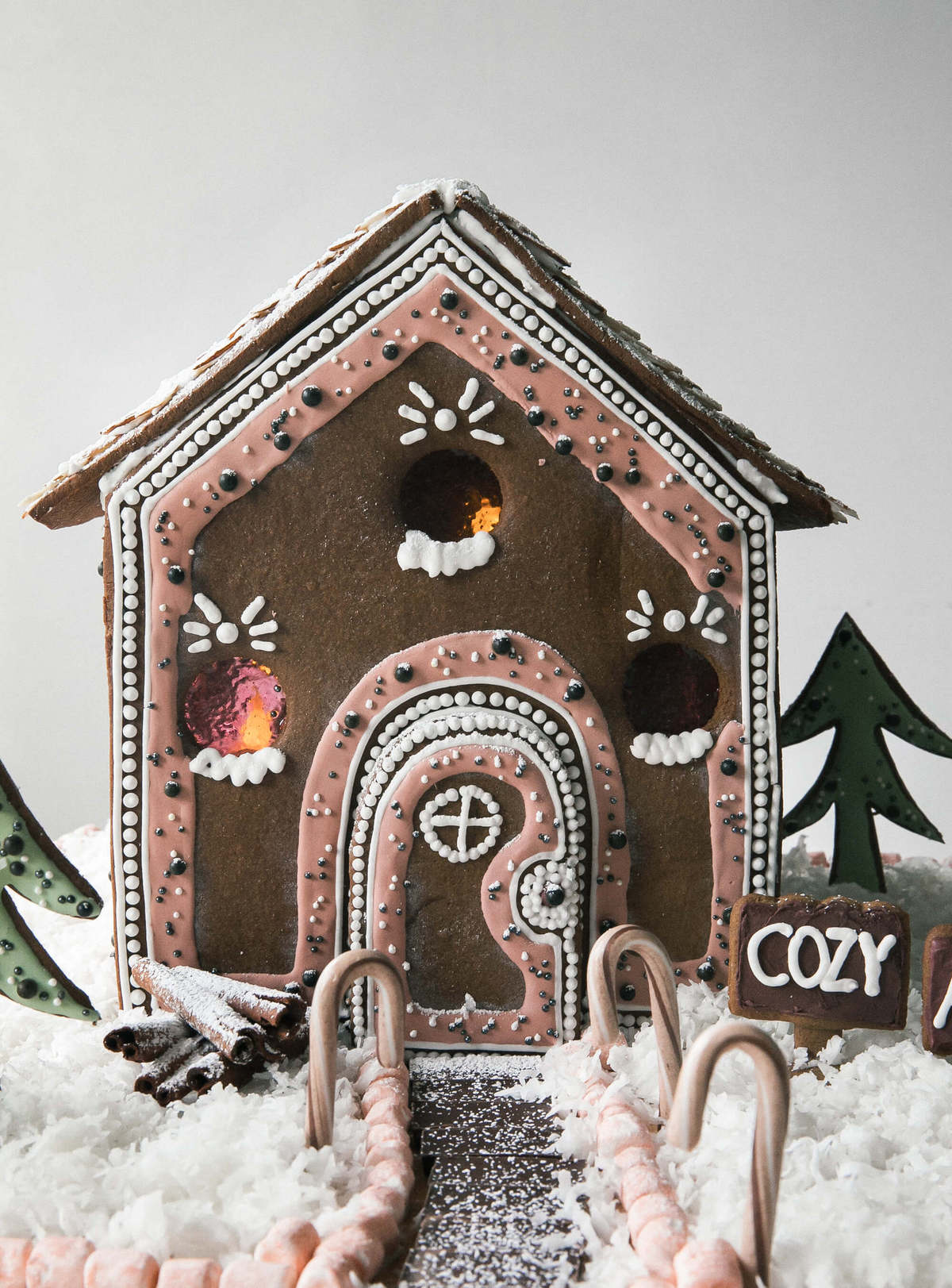 What You Need to Build a Gingerbread House!
The first step to making my gingerbread house was planning the dimensions like the architect that I AM NOT.
I started crunching numbers and ended up using old Amazon boxes that were in the recycling for my templates. And XACTO knife comes in real handy in this instance.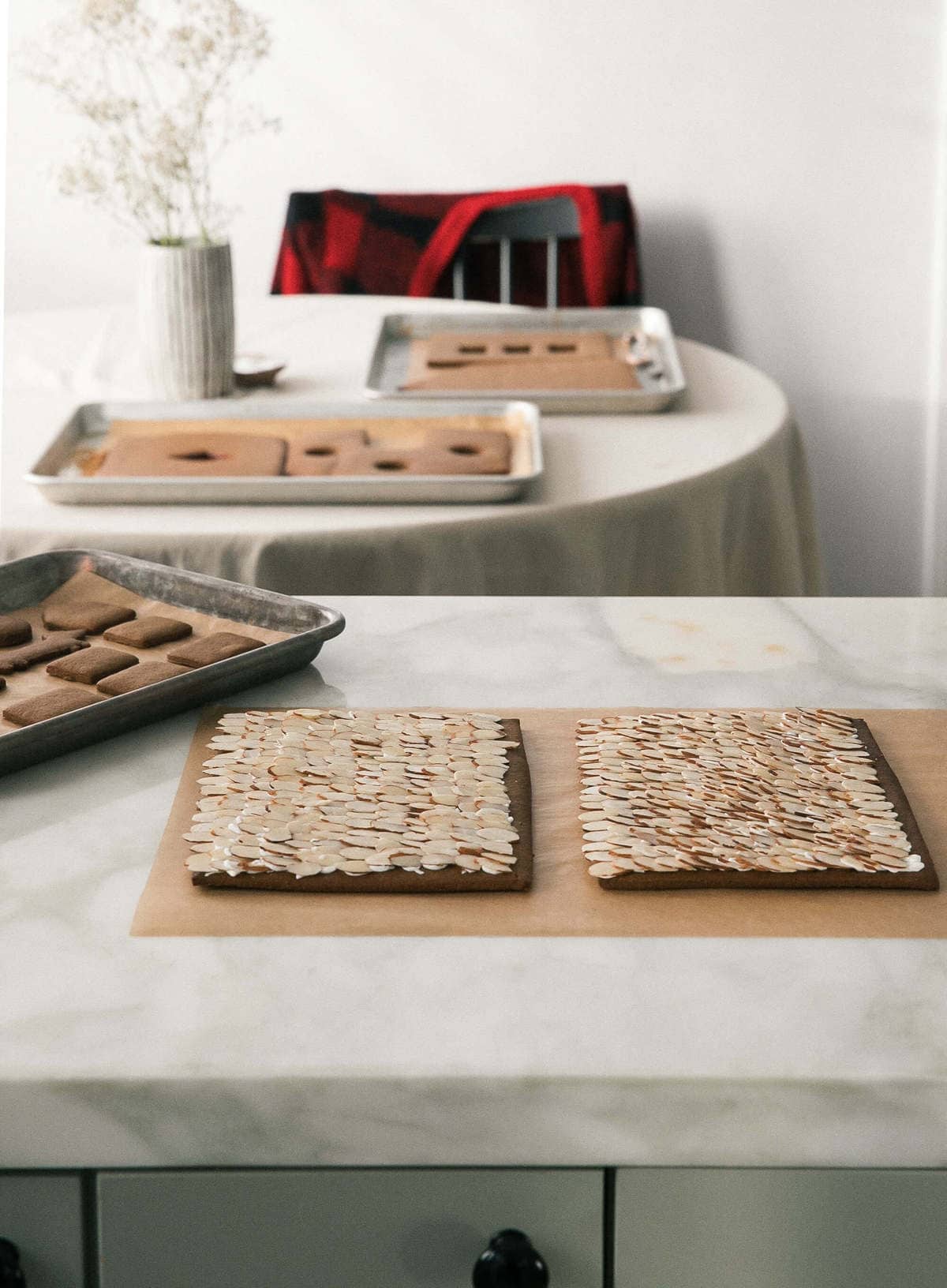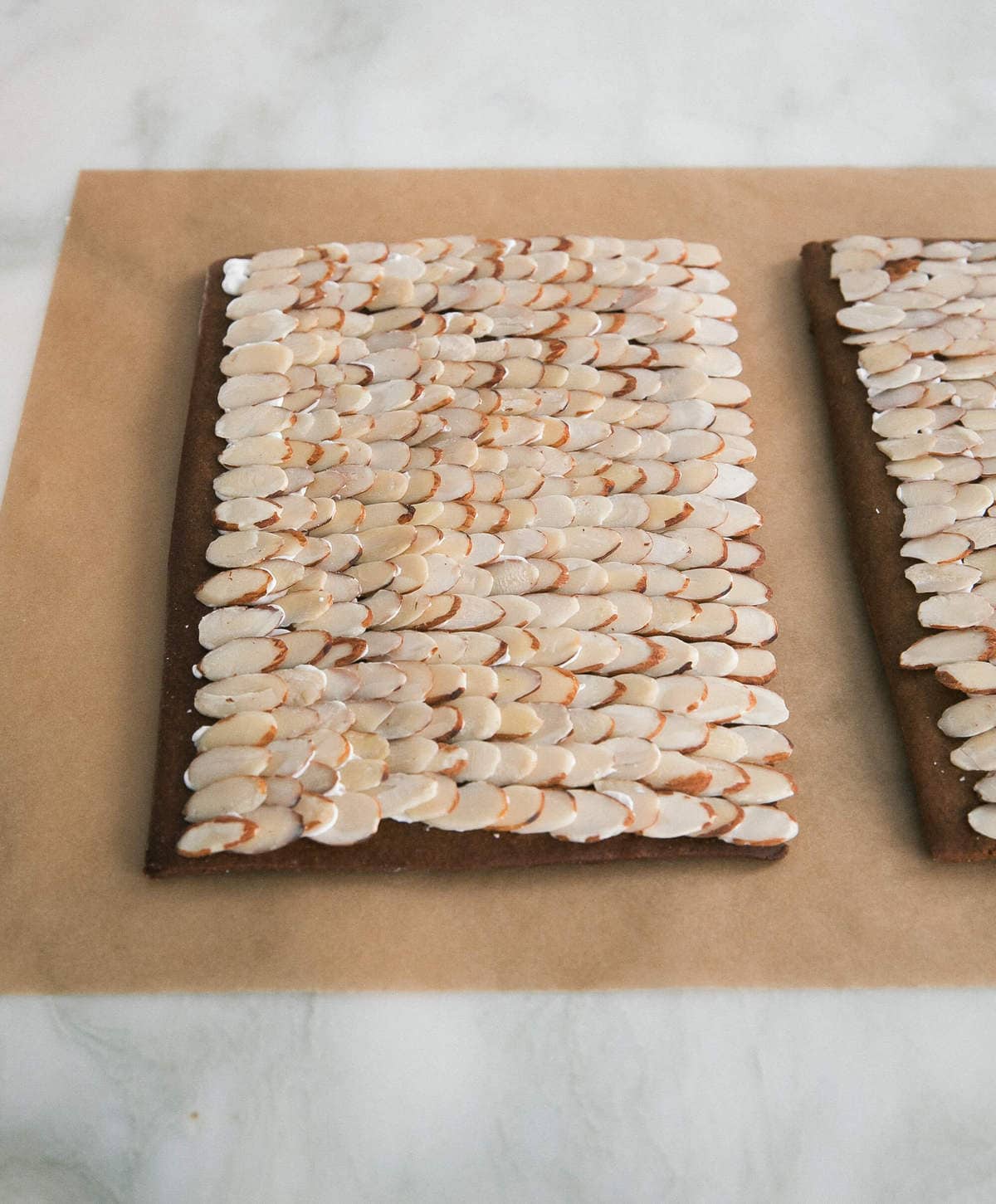 Making Dough for a Gingerbread House
Erin McDowell's recipe is by far the best. I thought about developing my own recipe but I was short on time. And honestly, hers works wonderfully, no surprise there. It's fragrant, gingery and perfectly spiced with ground ginger and brown sugar, resulting in perfect gingerbread house pieces. I made extra dough to make my life easier and I didn't regret doing so!
I happened to have shortening in my pantry because of these biscuits and it ended up making life SO much easier.  I surprisingly had all of these ingredients in my pantry and just whisked the dry ingredients (flour, baking soda, salt, spices) on hand before and then combined it with the shortening–super easy! Her tips, btw, are absolutely brilliant. She over-bakes her gingerbread to make it sturdier. I did the same and I found that really helped, too.
Another great thing with this dough is you can make it ahead of time. Just be sure to wrap it tightly in plastic wrap and store in the fridge or freezer.
If you like, you can roll out the dough between two sheets of parchment, but I had luck just rolling it out with a bit of flour and a rolling pin.
Royal Icing Is Important
Royal icing will act like the glue between the gingerbread house walls. It'll also act like glue to stand up a corgi, trees, or whatever else. Royal icing is typically egg white and powdered sugar, beaten together until light and fluffy. But I frankly refuse to do it that way and instead opt for meringue powder. You can find it at any craft store like Hobby Lobby or Michael's. I prefer it over egg whites because it's much neater and skips a huge step (separating eggs).
You can make royal icing ahead and store it in the fridge in an airtight container. Just be sure to bring it back to room temperature and give it a good stir before adding it to any piping bag.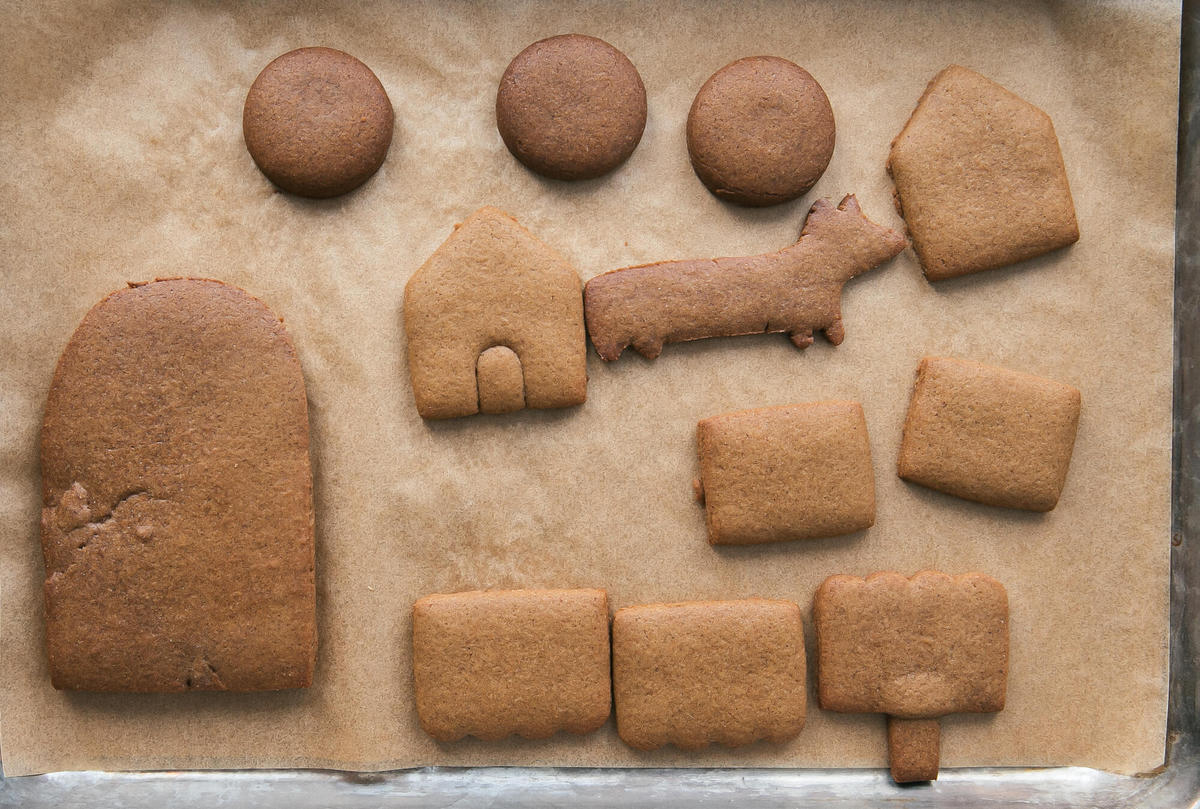 The Roof!
I decided on an almond-shingled roof. I LOVE the results.
If you're interested in a true zen experience, glue on a million perfectly slivered almonds for two hours. Truth be told, I actually enjoy these types of things. I mediate and zone out and think about my life. Sometimes I even cry—it's fun! These roof pieces ended up being total stunners and highly recommend them!
Creating Stain-Glass Windows!
Last minute I felt like I needed to create some dimension and lure to the cozy gingerbread house so I cut out some windows on each side of the house and the front.
I baked the sides of the house FIRST and then filled a few of the windows on the side and in the front with crushed up Jolly Ranchers.
I baked them for maybe around 5 to 6 minutes and the Jolly Ranchers ended up melting in the oven and making the prettiest pink windows.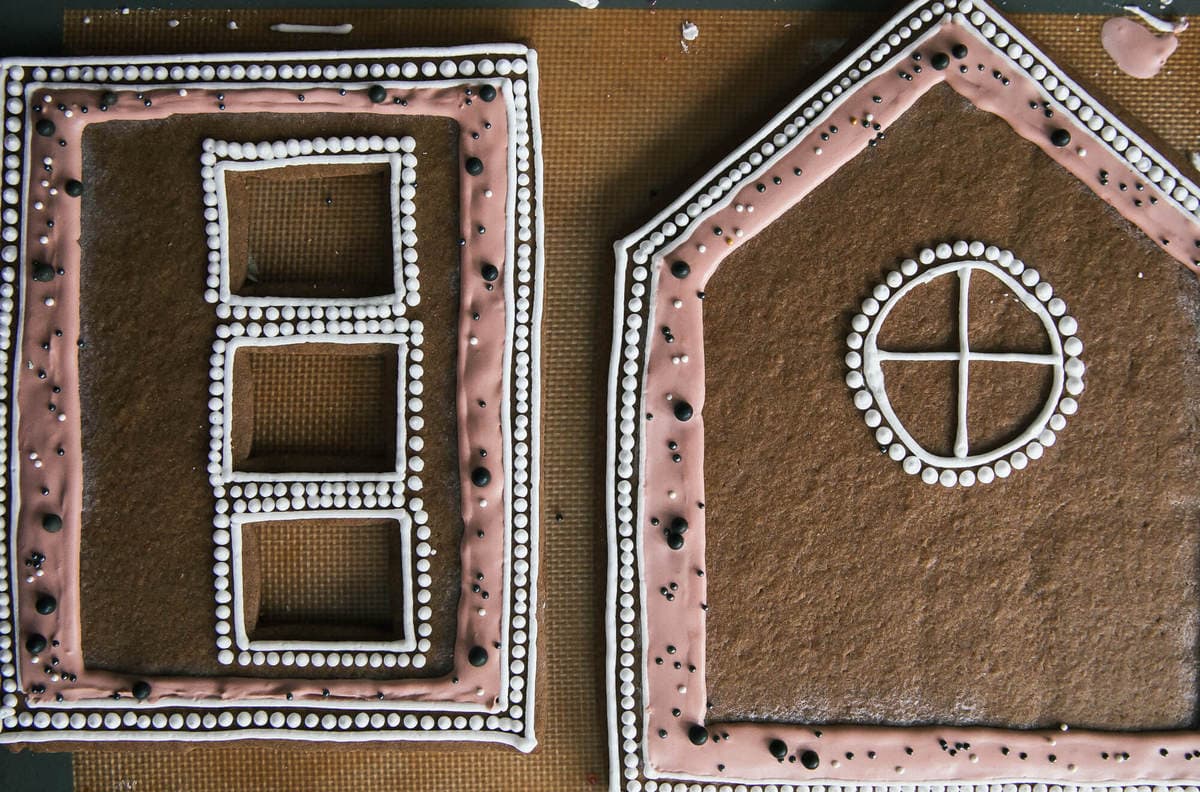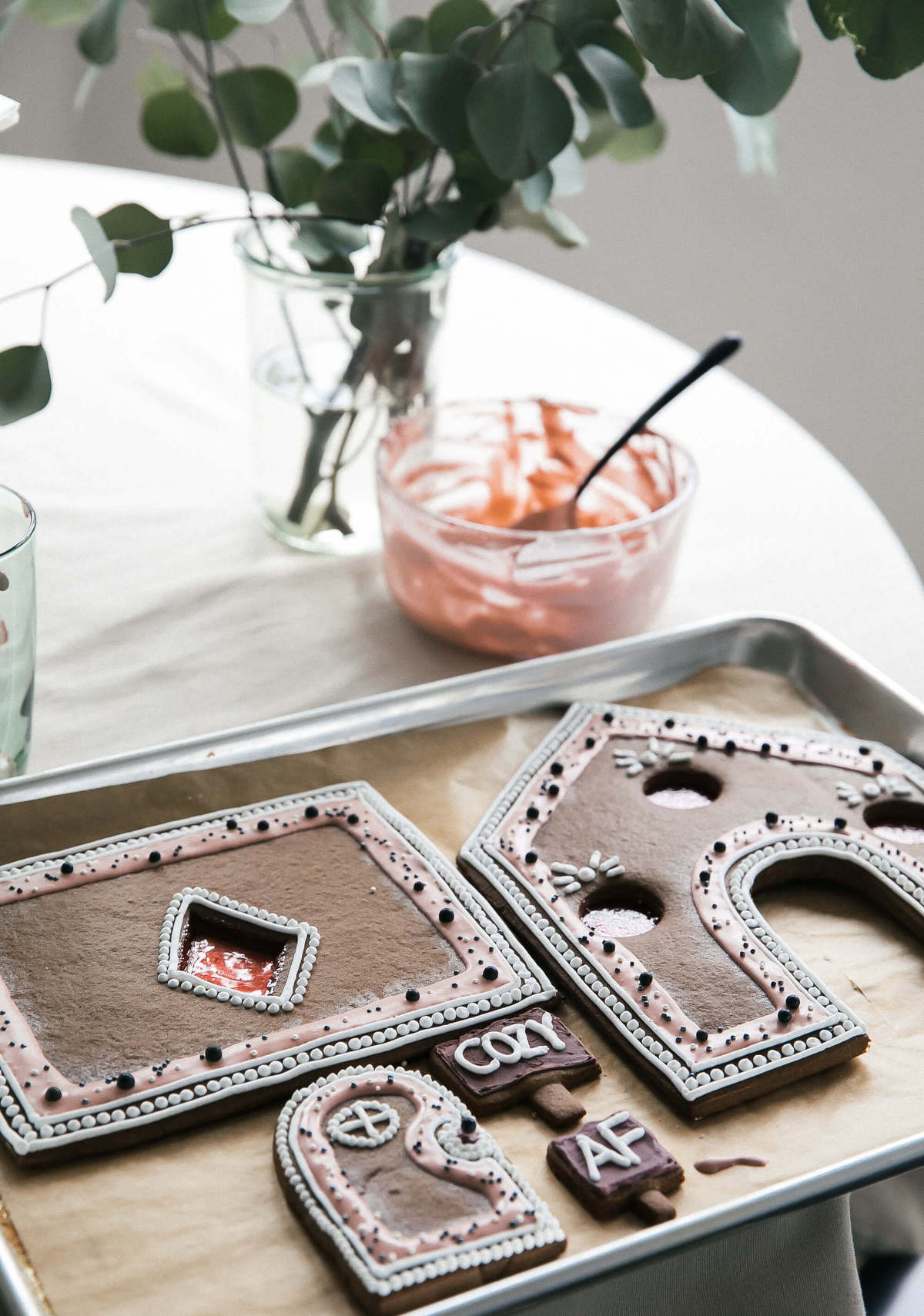 Making an Edible Pool!
The pool is made from gingerbread dough that I cut out into an oval. I filled it with a piece of foil and crushed blue Jolly Ranchers to replicate the look of frozen water. I added a diving board because that's what I would want in my own backyard.
Building Amelia's Dog House!
Amelia's Dog House is obviously just for show because she wouldn't think of ever sleeping outside. She prefers to sleep on beds and pillows. But it is cute. I used this gingerbread mini house cookie cutter.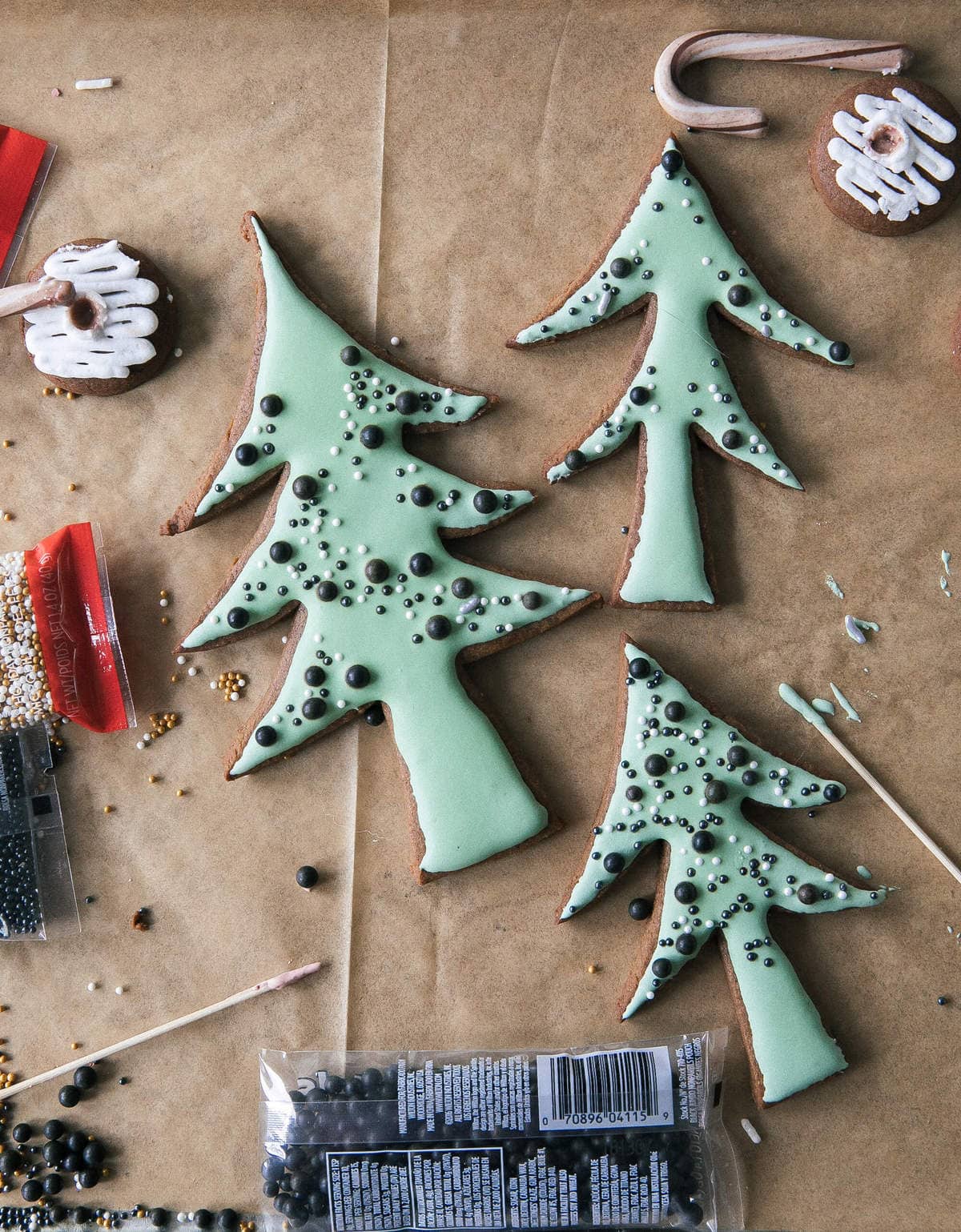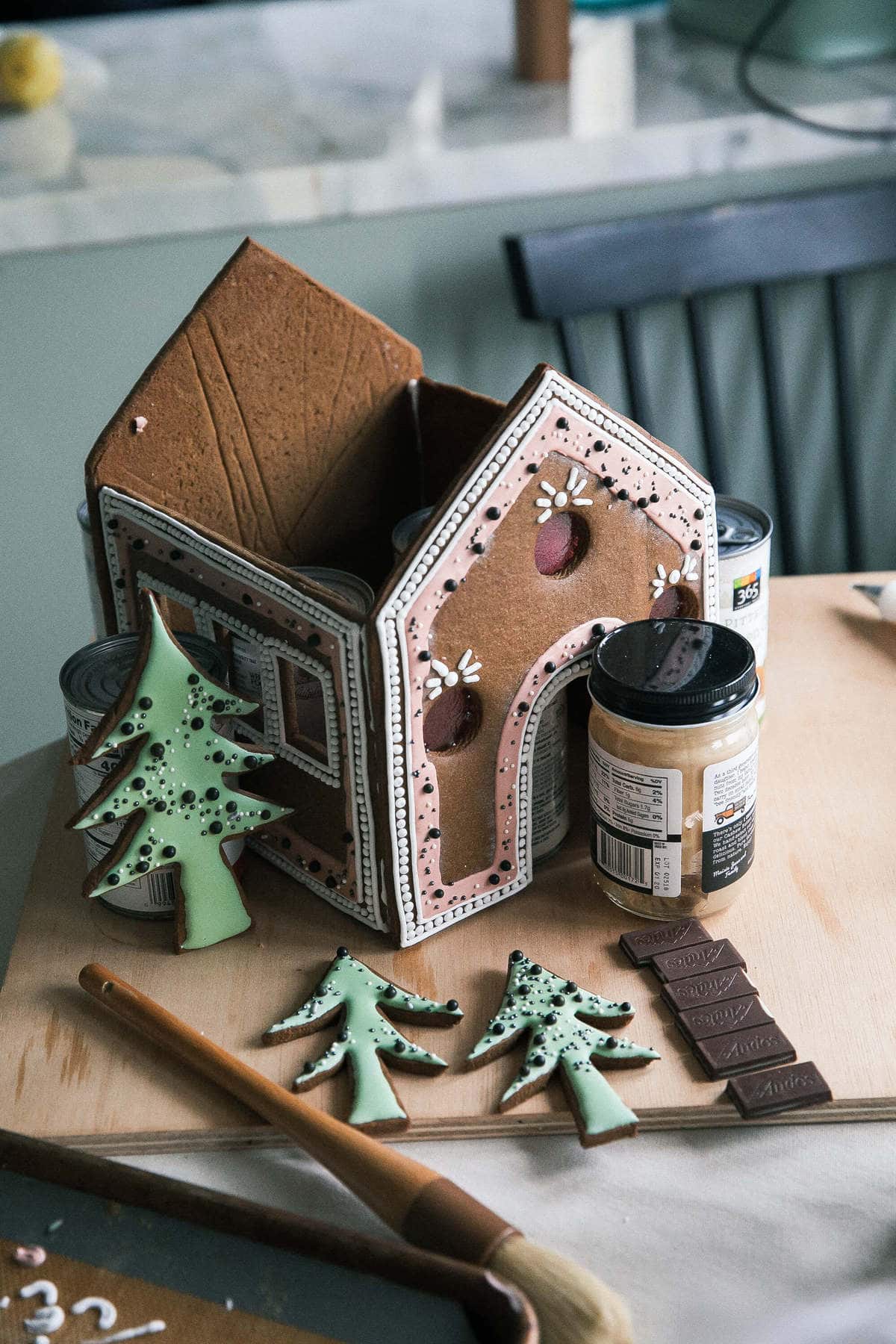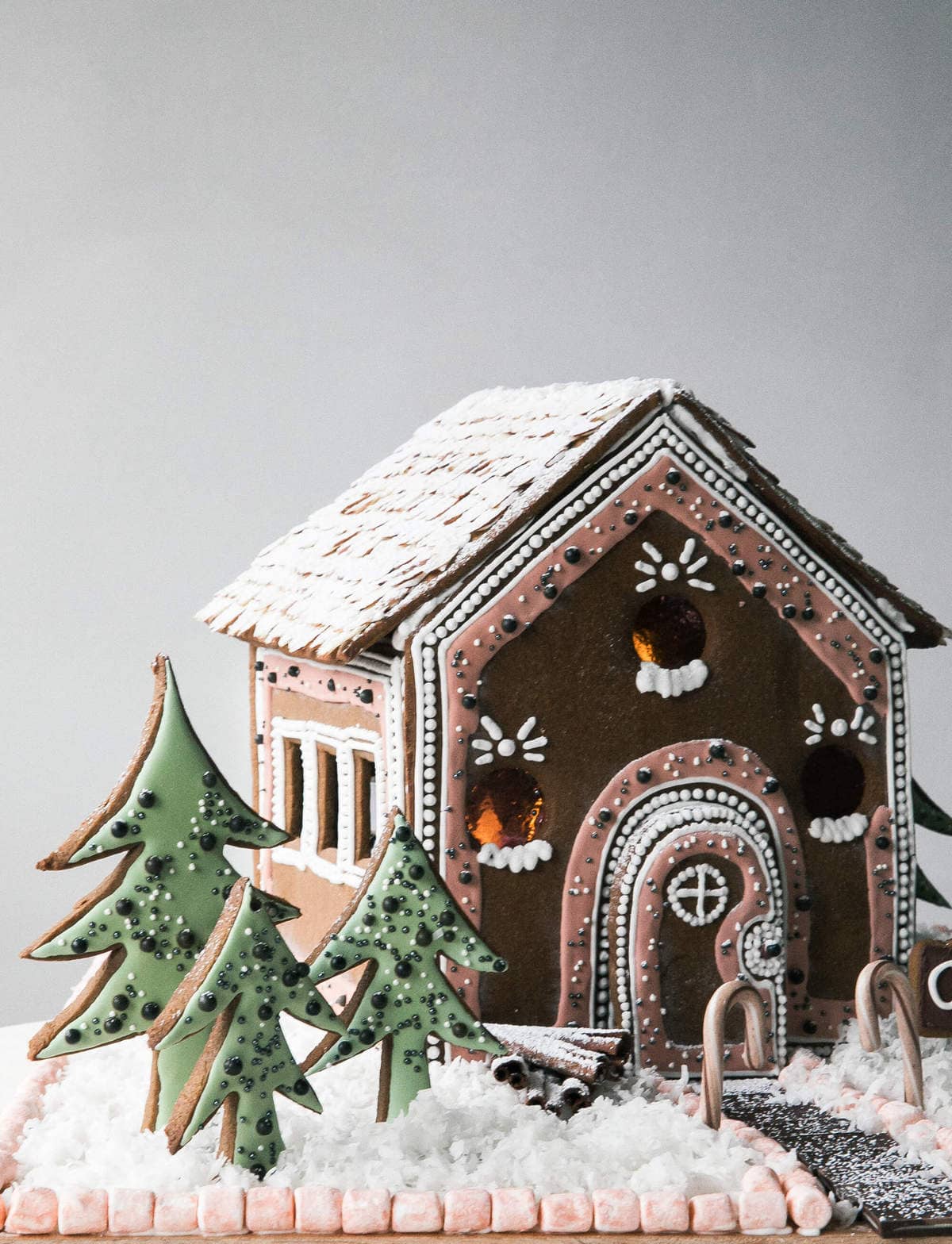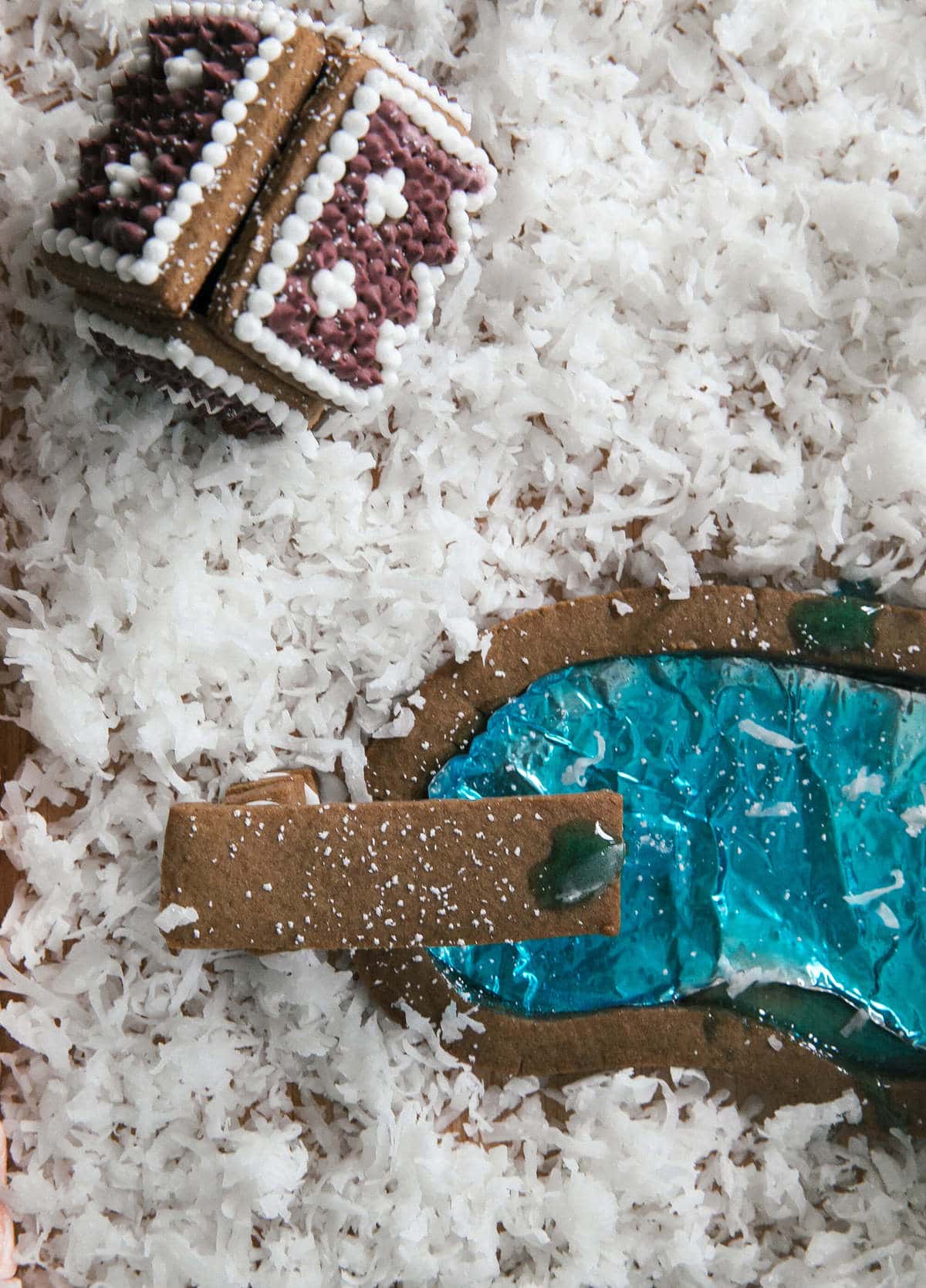 Corgi Gingerbread Cookie Body
I ended up being inspired by this cookie cutter but instead made a much smaller version so I made a template.
Gingerbread Trees
We needed some foliage so I made some trees of different sizes. I didn't want to fuss with making a template so I just freehanded it with my Xacto knife.
Green sage royal icing and black sprinkles made them fit into the cozy motif that I like to stick with.
Creating Snow and a Border
I used coconut flakes to replicate snow and in order to create a border around the property, I hand painted some small marshmallows. I used a little bit of vodka (it dries easily) and a teeny drop of brown food coloring gel.
Some Other Items include an Andes mint pathway to the front door.
Some mauve mini candy canes and a whole lot of royal icing that I colored a mauve pink. I used these Wilton sprinkles that were black. Honestly this is sort of the color palette of the den (which you will see soon! lol).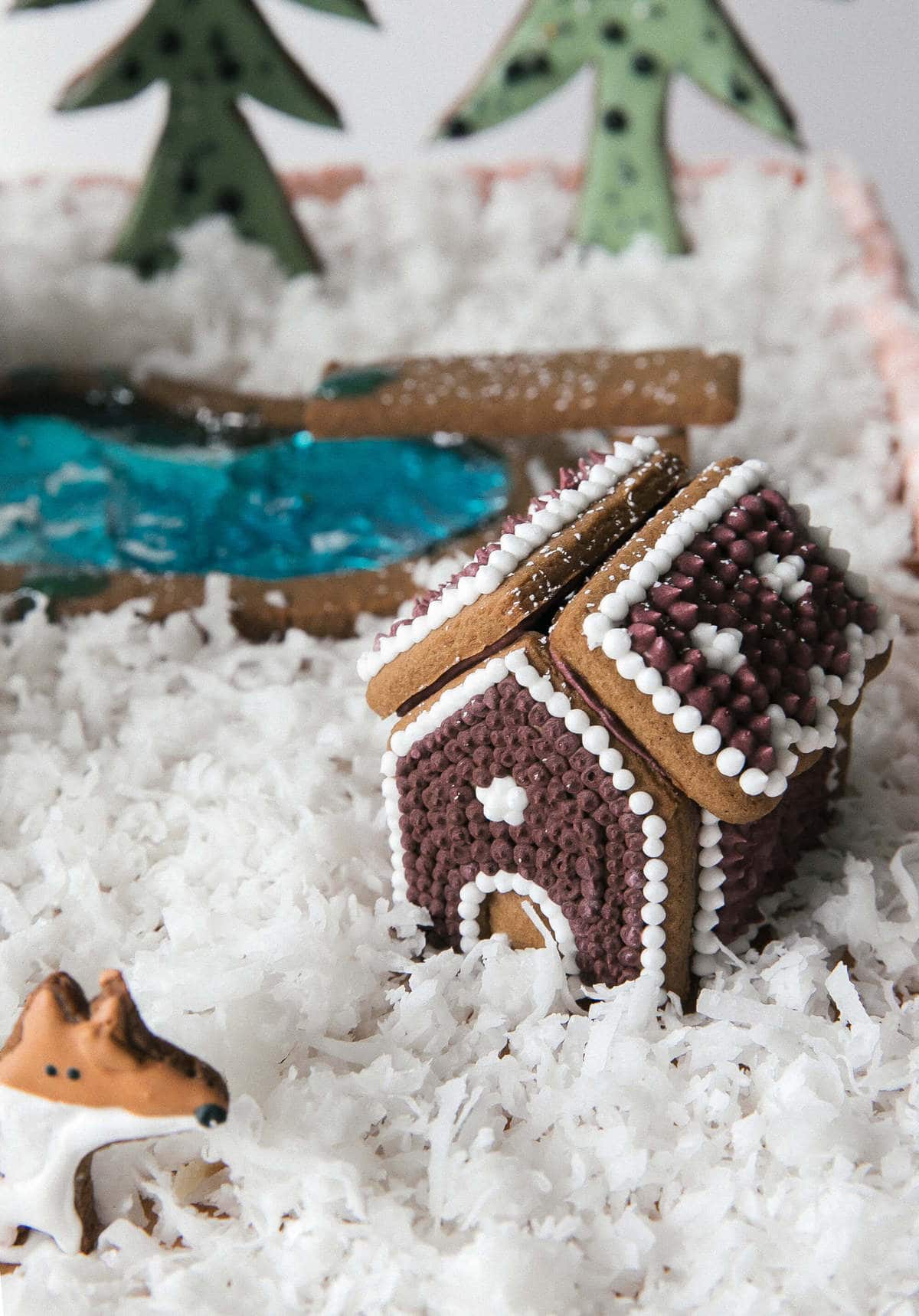 How Long Does a Gingerbread House Last?
A gingerbread house can last up to a year. Believe it or not, they can last quite a while. If you leave it in a dry, non-humid place in your house, it can last an entire year. But chances are, it'll begin to corrode and not look so great around 6 months.
How Do You Keep a Gingerbread House From Falling Apart?
Think of royal icing like glue for your gingerbread house. Royal icing acts like glue to keep the structure in tact. It keeps walls attached and the roof on top of the house. It will assist you all along the way of your gingerbread construction. Definitely be sure to make a big batch and keep it in an airtight container to make sure it doesn't dry out.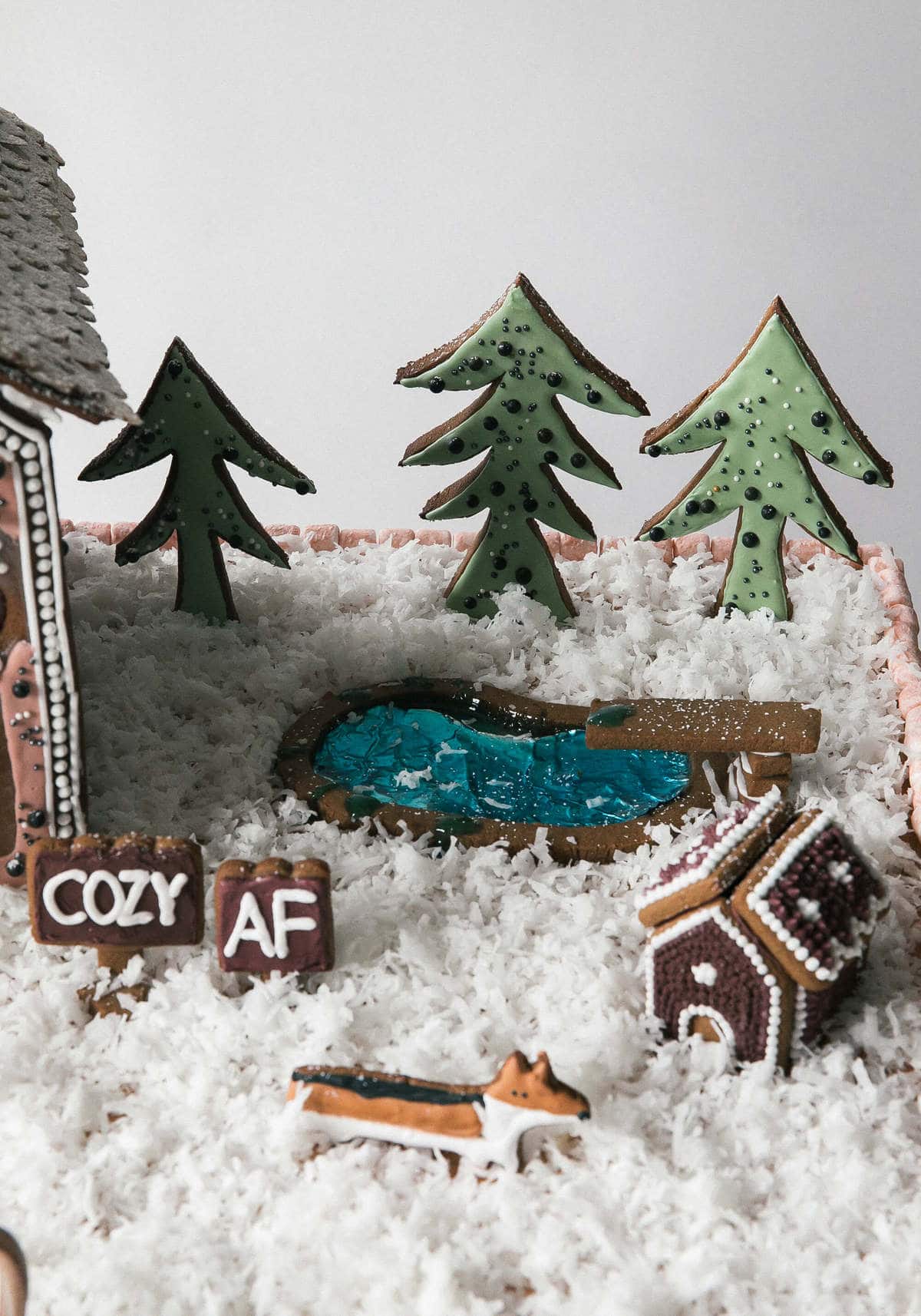 Why Do We Make Gingerbread Houses On Christmas?
Making gingerbread houses on Christmas as a tradition began in Germany in the 1600s. Their popularity grew with the famous story of Hansel and Gretel written by The Brothers Grimm. Gingerbread homes–and its tradition–arrived to the United States with the English colonists, where they implemented their Christmas celebrations.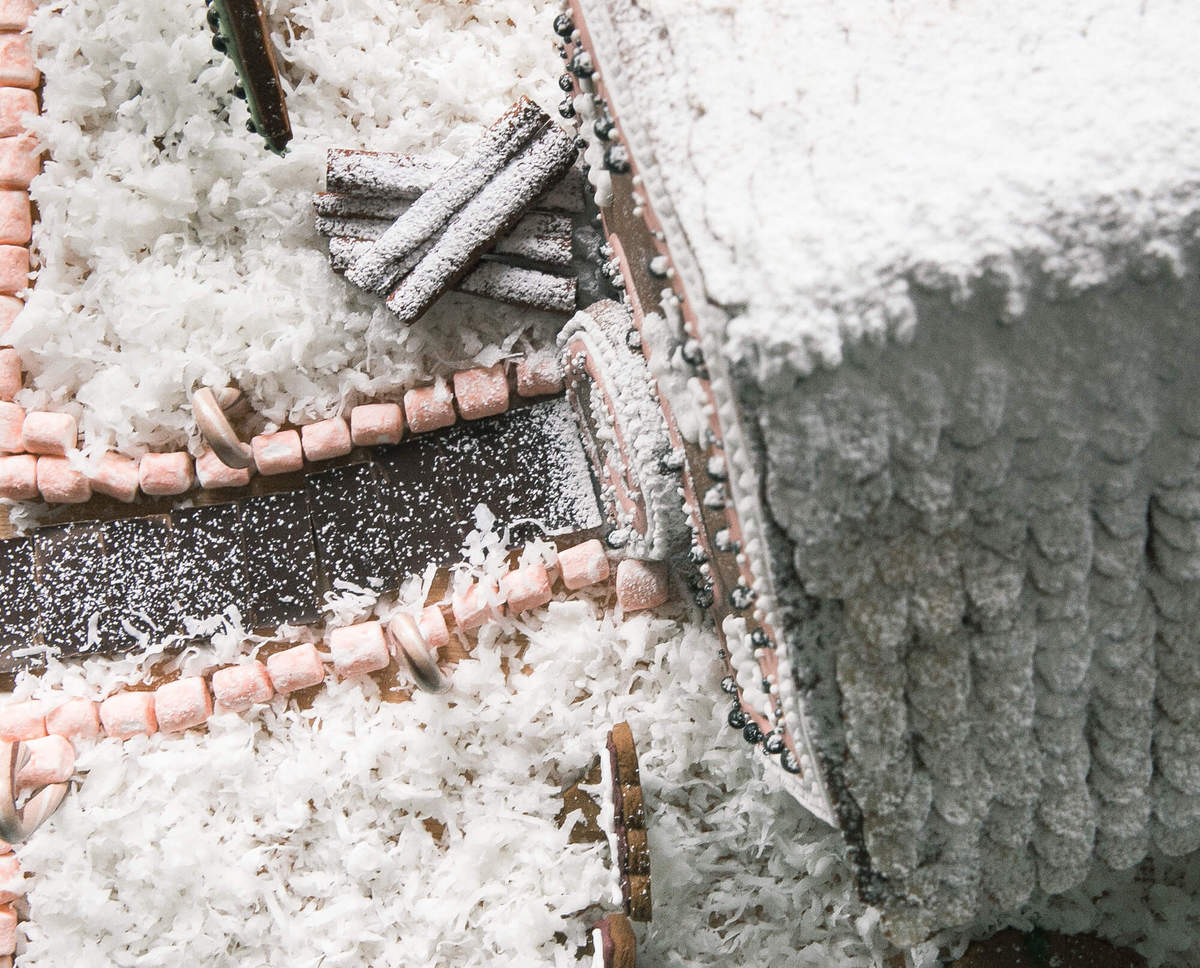 Other Tips and Tricks for Making Gingerbread Houses
Prep prep prep! It took me a whole day to just prep all of the ingredients, supplies, royal icing, gingerbread dough. It's took much to do in one single day so spend a day preparing yourself for success.
Design your house with a paper and pen beforehand. Things will change, as they always do, but get a good idea of what kind of house and style you want to make. Draw it on a piece of paper and then write out the elements and items you'll need to make.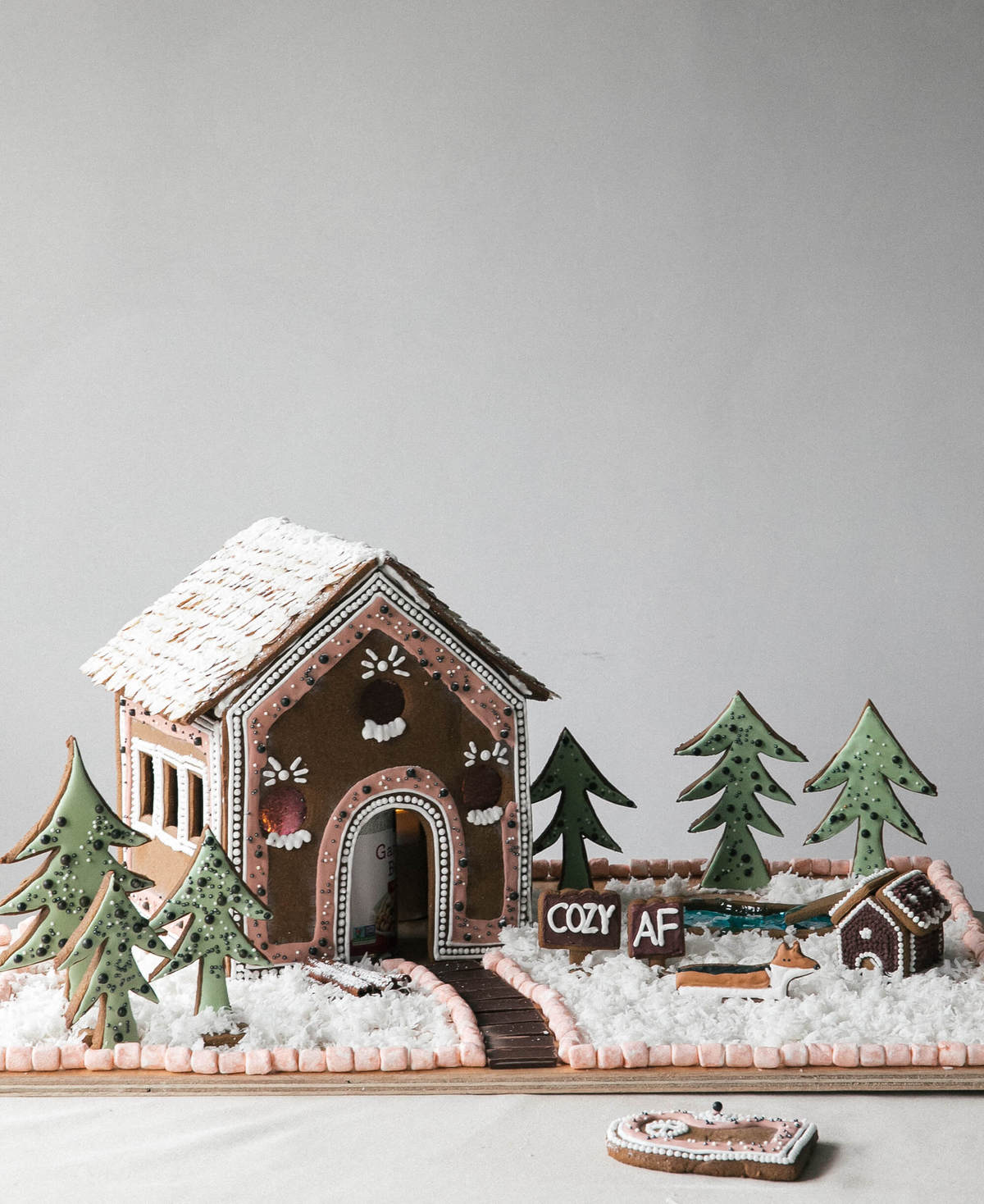 What do you think?! Are you feeling this lil' Cozy Gingerbread House?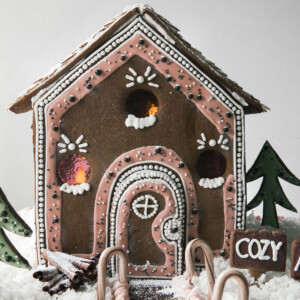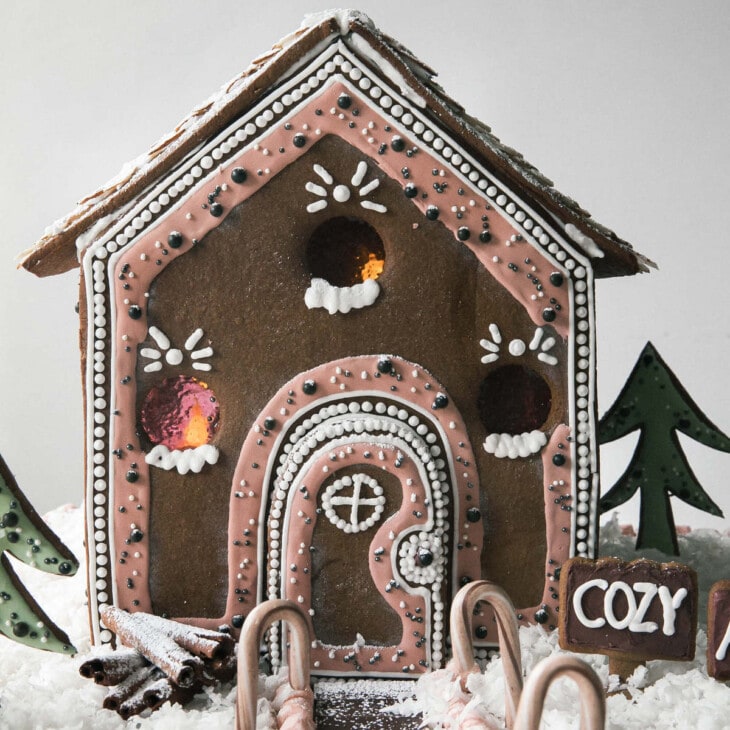 Learn how to make this cozy gingerbread house. Everything from gingerbread trees to a gingerbread pool, dog and more.
Equipment
Xacto Knife

Card board (for building a template)

Piping tips and piping bags

Food Coloring Gel

Battery-Operated Candles (for "inside lights")
Ingredients
1

batch

gingerbread dough

1

batch

royal icing

Variety of sprinkles

1

bag

slivered almonds

1

pound

powdered sugar

,

for snow

1

bag

mini marshmallows

,

for perimeter

1

bag

shredded coconut

,

for snow

Jolly ranchers

,

crushed up for pool and windows
Instructions
To Make the House Structure:
Figure out the structure you want to make. I made templates using old Amazon boxes, creating two pieces for the roof, walls, front of the house and back of the house. I also cut out (free hand) trees, a pool, a corgi, and a sign. If you want windows, be sure to cut out windows before baking.

Bake these sheets of dough out, following the instructions linked above. Allow to cool completely.
To Assemble:
If you want to have the windows to have glass panes, crush up jolly ranchers and crush up that candy in the center of the "window." Transfer to a 350 degrees F oven to bake for about 5 minutes until the jolly rancher has melted.

Decorate the sides of the houses first (before assembling the gingerbread house). I liked to add trim, sprinkles, etc.

Using royal icing, add it to a piping bag. "Glue" the walls together using the royal icing. I liked to use cans of beans to hold up the walls to make sure they're secure while it's drying.

Secure all of the almonds to the roof. This took me about 1 hour to do.

Glue the almond roof to the house. Add the coconut snow and finish decorating the gingerbread house scene.
Notes
Make as many things as possible the day before assembly. This is what I suggest: 
-Bake off the walls, roof and any other types of 
-Make royal icing (store in an airtight containers to assure it doesn't dry out and crack) 
-Dye royal icing (in the house you see above, there were three colors: sage green (for the trees), mauve (for the house), white (obviously didn't have to be dyed)
-Paint brush small marshmallows (this will go around the perimeter) 
Equipment:
Xacto Knife | Piping Bags | Wilton Sprinkles | Americolor Food Gels | Spatula  | Food Paint Brushes
Nutrition
Serving:
12
g
|
Calories:
376
kcal
|
Carbohydrates:
12
g
|
Protein:
3
g
|
Fat:
2
g
|
Saturated Fat:
3
g
|
Cholesterol:
21
mg
|
Sodium:
2
mg
|
Potassium:
2
mg
|
Fiber:
1
g
|
Sugar:
4
g
|
Vitamin A:
2
IU
|
Vitamin C:
5
mg
|
Calcium:
2
mg
|
Iron:
3
mg
Nutrition information is automatically calculated, so should only be used as an approximation.