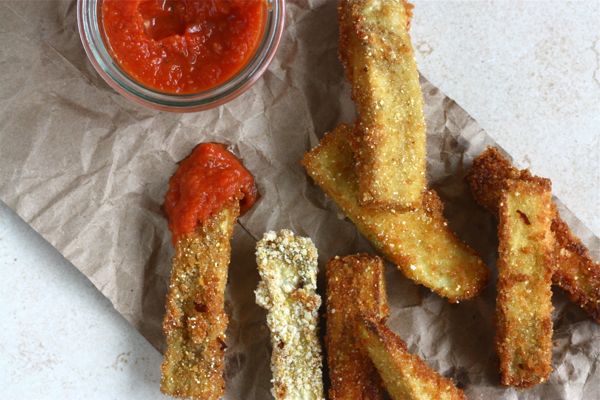 I've hated eggplant since infancy, I swear, so the fact that you're seeing little baked/fried matchsticks of eggplant right now is just crazy business. But here we are…just looking at eggplant.
The shift happened a few weeks ago when I went to my favorite vegan restaurant, which I sort of hate. I like/hate this restaurant. I sort of hate it and I sort of love it. This place is like no other restaurant I've ever been to. Each dish is an affirmation. Hold the phone, let me explain.
Every dish's name is an affirmation. A vegan BLT isn't just a vegan BLT, it's actually a "I Am Humble." So, in order for you to place your order you have to look at the server and say, "I would like the 'I AM GORGEOUS'" and then the server looks at you and says, "YOU are gorgeous."
This is when I vom. After you're done ordering they tell you the philosophical question of the day. This is when (internally, of course!) I'm all like, Dude, listen, can you just give me my damn cashew cream, raw cold-ass vegan enchilada thing without talking to me about my inner spirituality and positivity or whatever, because seriously now I AM ANNOYED.
Okay so, why do I go back? Because it's the best vegan food I've ever had. Ever! They served me an eggplant sandwich, which I ordered out of pure curiosity, knowing very well I hated the stuff. I figured if anybody could prepare an inherently gross vegetable in an awesome manner it was them. And I was soooo right.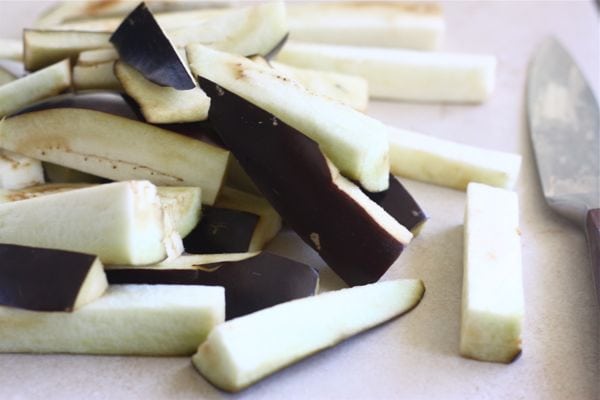 Eggplant gets a bad rap. Mainly because eggplants can be bitter and slimy.
The eggplant I had at my love/hate restaurant was neither.
After a ton of eggplant research I found some solutions to both problems.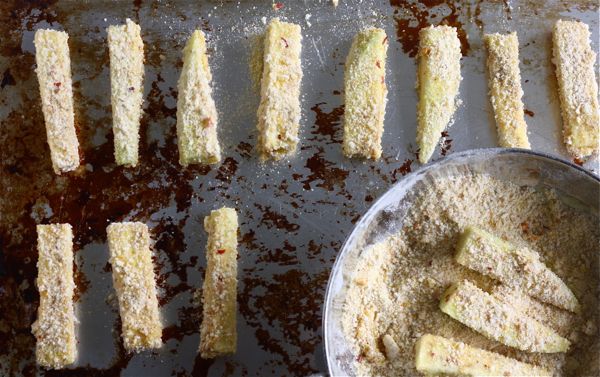 Slimy problem: People cook eggplant for too long. It should be cooked in the oven for about 20 minutes, max. It should be soft, but not, like, mushy and slimy.
Bitter problem: Salting the eggplant before and letting it stand for 25 minutes cures this. Salting the eggplant not only takes out the water and makes the eggplant firmer, but the salt actually suppresses the bitterness. (Here's the NY Times bit I found that explains it further. Pretty interesting.)
Also, when buying eggplant, try to go for recently picked, young eggplants. Look for ones with fresh looking green tops and that are firm to the touch.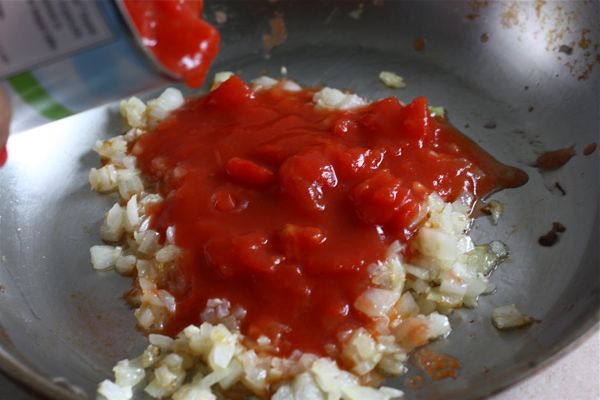 I prepared these eggplant two ways: fried and baked. Obviously the fried tasted better. I mean, that's a no-brainer, but I know that most of the human population hates frying things, so I figured I'd try it both ways.
I've included directions for both below. Disclaimer: The baked fries won't be totally golden brown. Most of the ones pictured are fried. There's a paler one mixed in there–that's the baked one. But no biggie! You choose. You're the boss!
And since every type of fry needs a dipping sauce, I whipped up this super-quick and easy sorta spicy tomato sauce. I did this all while a batch of fries were baking.
Like vegetable fries? Me too. Here's a few more that are on this blog:
Polenta Fries (not really a vegetable, but you know, whatever.)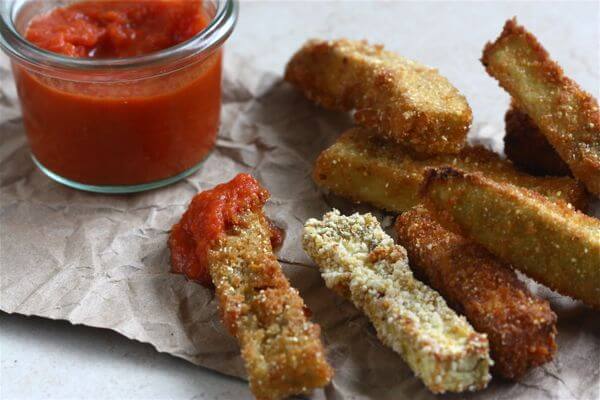 Cornmeal Crusted Eggplant Fries
Eggplant Fries:
1 eggplant, peeled and cut into matchsticks
1 1/2 teaspoon kosher salt, divided
1/2 cup cornmeal
3/4 cup Italian breadcrumbs
1 teaspoon crushed red pepper
1/2 teaspoon garlic powder
1/4 teaspoon dried oregano
2 large eggs, beaten
Quick Tomato Sauce:
1/4 yellow onion, finely diced
2 garlic cloves
1 (14-ounce) can of diced tomatoes
1/2 teaspoon crushed red pepper
Salt
To bake the fries:
1. Lay eggplant matchsticks, in a single layer, on a baking sheet lined with paper towels. Sprinkle with 1 teaspoon of salt and let stand for 25 minutes. At the 25-minute mark, pat dry with paper towels.
2. Preheat oven to 400 degrees F. In a medium bowl, combine remaining 1/2 teaspoon of salt, cornmeal, breadcrumbs, crushed red pepper, garlic powder and oregano. Crack two eggs in a small bowl and beat.
3. One by one, dip the eggplant sticks in the beaten eggs, and transfer to the bread crumb mixture, being sure to coat the eggplant thoroughly. Place the bread crumb covered eggplant on a baking sheet and bake for 20-23 minutes, flipping them at the 15 minute mark.
To fry:
1. In a cast iron skillet, add enough vegetable oil so it reaches about 3 inches up the sides. Heat oil to 350 degrees F. Gently transfer bread crumb coated eggplant to the hot oil and fry on each side for about a minute, or until golden brown. Using tongs, take them out of the oil and place on a bed of paper towels to drain.
For tomato sauce:
1. To make the tomato sauce, add 1 tablespoon of olive oil to a skillet. Throw in diced onion, and cook until translucent, about 7 minutes. Place garlic atop onions and cook until fragrant, about 2 minutes. Add the can of diced tomato and stir. Add the crushed red pepper and oregano. Next, salt to taste. Bring tomato mixture to a simmer and cook for 10 minutes, until mixture is reduced. Carefully add to a blender and blend until sorta smooth, about 30 seconds. Serve with eggplant fries.