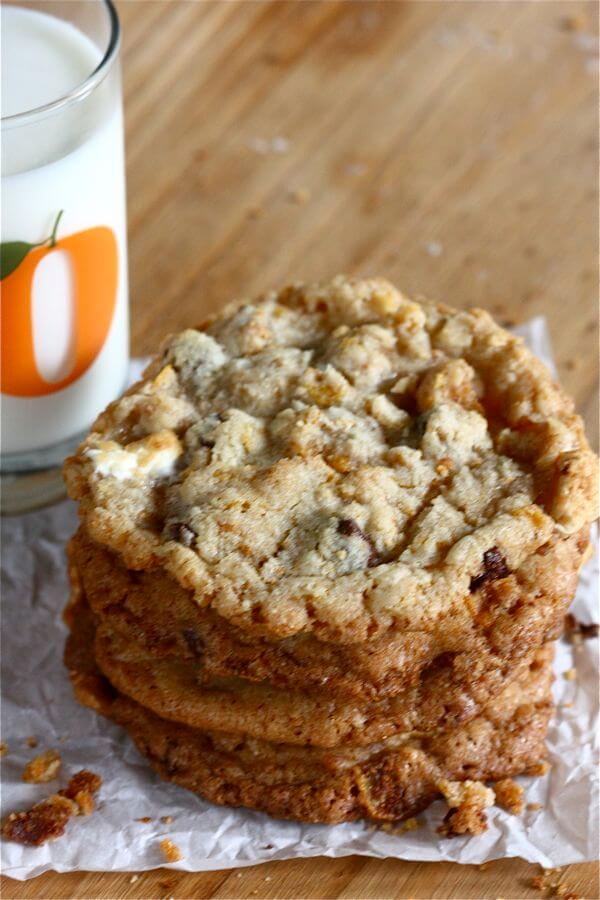 Real talk. Are you ready?
On Friday…(the one that just passed) I was a huge brat. I woke up extra early to show the day who's who and by noon I had four failed recipes. Every bowl I owned was in the sink. Flour was all over the floor. There was melted butter in my bangs. Soo…to no surprise, I had major attitude. Like major. So I was like, Cool, I'm gonna sit outside eat two tacos, have an iced tea and I'll feel better.
Didn't work. Came home…still had an attitude.
I decided to sit in my mess of a kitchen and open up a new book that just arrived: Christina Tosi's, Momofuku Milk Bar. Right after the introduction there is a section…and it's called 'Real Talk.'
Her Real Talk? Stop complaining. Keep your cool. Baking with no AC totally sweating? Shut up. No really…just shut up. Your mixer broke and you have 100 pounds of cookie dough to mix? Woman-up…roll up your sleeves…time to get busy.
Her hardbody, total attitude of pep talk is what I needed. Sometimes all of us need someone to set us straight. Christina did it. Girl crush? Totally.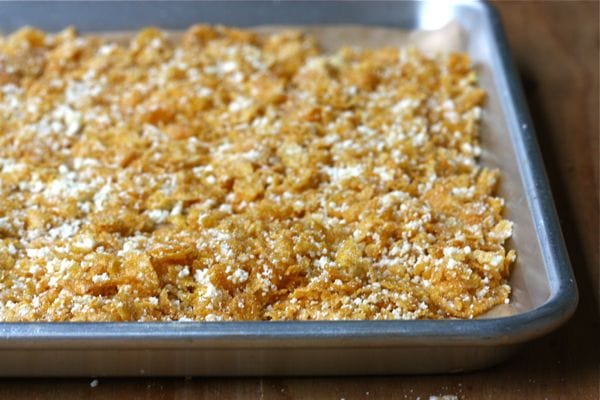 Sooooo…I cleaned up the entire kitchen. I woke up the next morning, came across this recipe (there's cornflakes in it!!!), got all my ingredienteses together…read the recipe in more detail and then realized I totally need a stand-up mixer.
I know I have this blog, and it's probably shocking that I don't have one, but honestly I don't have the room. And most of the time I don't need it. I just do stuff by hand.
Just as I started to get bummed out, I stopped myself. I grabbed a spatula and straight did it by hand. Because that's what you do when you want cookies…am I right? You woman-up…and just make do.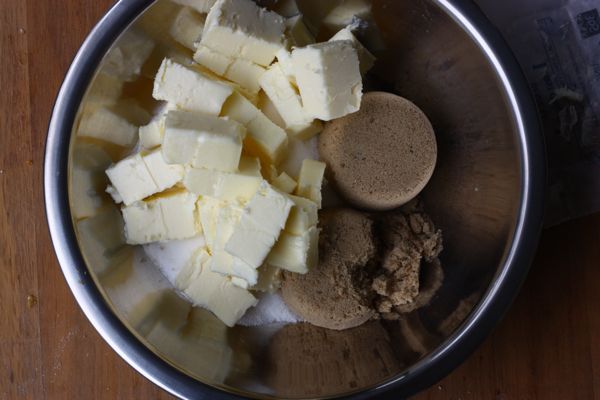 Christina has a pretty in depth technique on creaming butter and sugar. This recipe has A LOT of butter. Two sticks with only 1/2 cup of flour. That's an intense ratio, my friends. Intense.
That's why it's imperative that the butter and sugar are creamed together for 10 minutes in the stand-up mixer. You need to aerate that business. And the butter and sugar need to become one.
I mixed mine (by hand) for about 15. My arm felt like it was going to fall off, no lie. Did I complain? No…but part of that reason is because I was all by myself. This is another reason why I need a dog ASAP.
If you have a mixer, please use it. Your cookies will absolutely come out better than mine. It's just a fact.
Despite her hard real talk, her book is fun. The recipes…just so fun. There's sprinkles in some. All types of crumbs and crunches. Cakes that make you laugh. Cookies that are strange and interesting.
And this cookie? It's thin. I'm usually not a fan of thin crisp cookies, but this one is quite nice. It's crispy on the edges and chewy on the inside. Plus…I mean…there's marshmallows…and chocolate..and cornflake crunch.
If you make this, you'll be left with two cups of cornflake crunch. This is not a problem. Transfer it to a big bowl, pour milk over the top…a little treat to yourself for not complaining.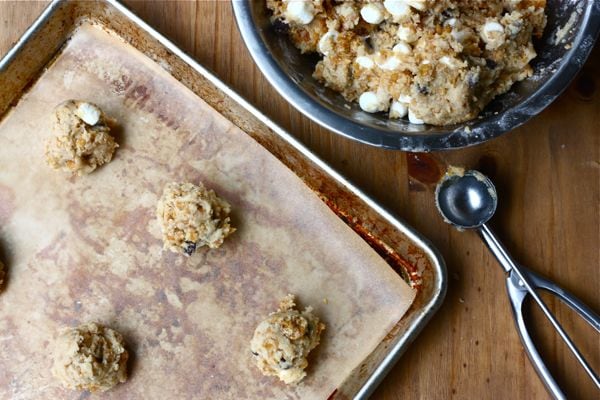 Cornflake, Marshmallow, Chocolate Chip Cookies
Corn Flake Crunch:
1/2 box (5 cups) / 170g cornflakes
1/2 cup / 40g milk powder
3 tablespoons / 40g sugar
1 teaspoon / 4g kosher salt
9 tablespoons / 130g unsalted butter, melted
Cookie:
16 tablespoons (2 sticks) / 225g unsalted butter, at room temperature
1 1/4 cups / 250g granulated sugar
2/3 cup / 150g light brown sugar
1 large egg
1/2 teaspoon / 2g vanilla extract
1 1/2 cups / 240g all-purpose flour
1/2 teaspoon / 2g baking powder
1/4 teaspoon / 1.5g baking soda
1 1/4 teaspoons / 5 g kosher salt
3 cups / 270g Cornflake Crunch
2/3 cup / 125g mini chocolate chips
1 1/4 cup / 65g mini marshmallows
Directions for Cornflake Crunch:
1. Heat the oven to 275F
2. Pour the cornflakes in a medium bowl and crush them with your hands to one-quarter of their original size. Add the milk powder, sugar, and salt and toss to mix. Add the butter and toss to coat. As you toss, the butter will act as glue, binding the dry ingredients to the cereal and creating small clusters.
3. Spread the clusters on a parchment- or Silpat-lined sheet pan and bake for 20 minutes, at which point they should look toasted, smell buttery, and crunch gently when cooled slightly and chewed.
4. Cool the cornflake crunch completely before storing or using in a recipe. Stored in an airtight container at room temperature, the crunch will keep fresh for 1 week; in the fridge or freezer, it will keep 1 month.
Directions for Cookies:
1. Combine the butter and sugars in the bowl of a stand mixer fitted with the paddle attachment and cream together on medium-high for 2 to 3 minutes. Scrape down the sides of the bowl, add the egg and vanilla, and beat for 7 to 8 minutes.
2. Reduce the mixer speed to low and add the flour, baking powder, baking soda, and salt. Mix just until the dough comes together, no longer than 1 minute. (Do not walk away from the machine during this step, or you will risk overmixing the dough.) Scrape down the sides of the bowl with a spatula.
3. Still on low speed, paddle in the cornflake crunch and mini chocolate chips just until they're incorporated, no more than 30-45 seconds. Paddle in the mini marshmallows just until incorporated.
4. Using a 2 3/4-ounce ice cream scoop (or a 1/3 cup measure), portion out the dough onto a parchment-lined sheet pan. Pat the tops of the cookie dough domes flat (Adrianna Note: I did this on one batch and they came out super thin. I found it unnecessary). Wrap the sheet pan tightly in plastic wrap and refrigerate for at least 1 hour, or up to 1 week. Do not bake your cookies from room temperature–they will not hold their shape.
5. Heat the oven to 375˙F.
6. Arrange the chilled dough a minimum of 4 inches apart on parchment- or Silpat-lined sheet pans. Bake for 18 minutes. The cookies will puff, crackle, and spread. At the 18-minute mark (Adrianna note: Mine took 10 minutes. I suggest keeping a close eye on them), the cookies should be browned on the edges and just beginning to brown toward the center. Leave them in the oven for an additional minute or so if they aren't and they still seem pale and doughy on the surface.
7. Cool the cookies completely on the sheet pans before transferring to a plate or to an airtight container for storage. At room temperature, the cookies will keep fresh for 5 days; in the freezer, they will keep for 1 month.
Recipe by Christina Tosi from Momofuki Milk Bar Cookbook