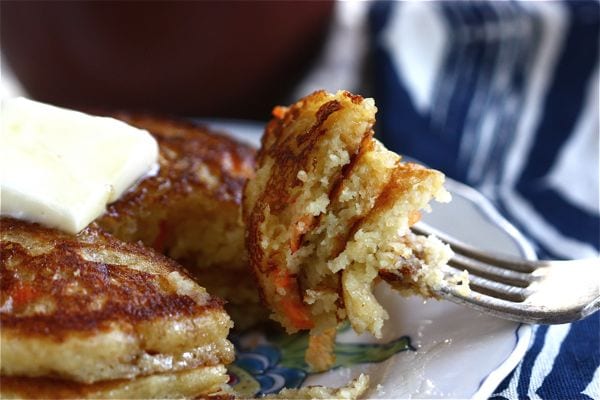 I spent this past weekend making homemade huaraches. I had some a few weeks ago and came home determined to make them by myself.
If you're not familiar with them, let me lure you in. They're made with an easy mixture of corn flour (masa), warm water and a dash of salt. After the dough rests you roll it into a cigar-like shape and create a cavity. THEN you spoon a bit of refried beans into the center and roll them out. Throw them on the griddle until brown and then finish them in some hot oil. They're like this crispy, refried bean fried tortilla. The topping opportunities are endless; everything from carnitas to sauteed vegetables. Hi deliciousness!
Now that I've convinced you they're awesome, I'll let you know that there's no huaraches recipe today.(SAD!) But I did have a bunch of corn flour leftover and figure I'd throw some in a batch of pancakes.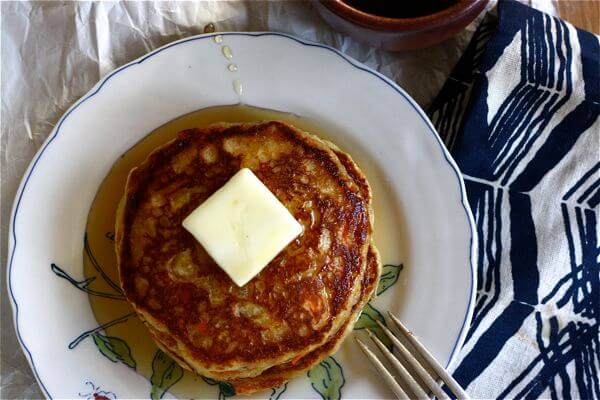 This is definitely one of those pantry/refrigerator scraps type of recipe.
I had some corn flour, had a few carrots, a few bananas (didn't end up using them) and some buttermilk. I remembered a recipe I had seen that combined the two in Good to the Grain. They were for waffles that actually used carrot juice vs. buttermilk. I contemplated running to the store, but that sort of defeated the purpose of this recipe.
I have to say that the corn flour added a softness to the pancakes that I've only really experienced with pastry flour.
And while I've had carrot cake pancakes, these feel healthier and less like "cakes" for breakfast.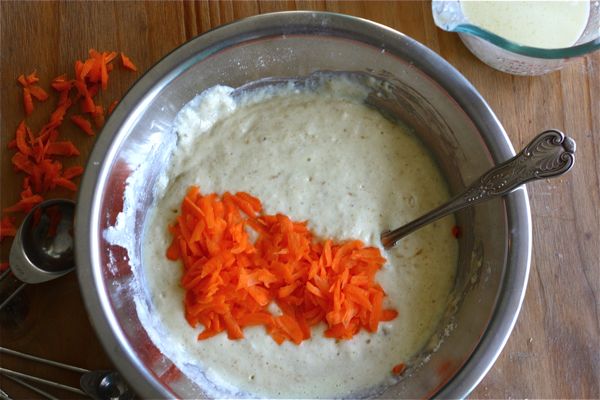 Corn Carrot Pancakes
1/2 cup all-purpose flour
1/2 cup corn flour
2 tablespoons light brown sugar
1 teaspoon baking powder
1 teaspoon baking soda
1/8 teaspoon kosher salt
3/4 cup buttermilk, plus 2 tablespoons
1 large egg
1 tablespoon unsalted butter, melted and slightly cooled
1 medium carrot, shredded (about 4 tablespoons)
1. In a medium bowl, mix together all-purpose flour, corn flour, light brown sugar, baking powder, baking soda and salt.
2. In a measuring cup, or small bowl, measure out buttermilk. Add egg and melted butter; beat until thoroughly combined.
3. Add the wet ingredients to the dry ingredients and mix until just combined. The batter should have some small to medium lumps. Gently fold in shredded carrot.
4. Heat up your griddle (or cast iron skillet) over medium heat and brush with 1/2 tablespoon of butter. Scoop the batter, using a tablespoon measure or a 1/4 cup measure, on to the warm skillet. Cook for 2-3 minutes, until small bubbles form on the surface of the pancake, and then flip. Turn heat down to medium-low and cook on opposite side for about 1 minute, or until golden brown.
5. Transfer cooked pancakes to a baking sheet and place in oven to keep warm. Proceed with the rest of the batter until you're done.
Recipe inspired by Corn and Carrot Waffles from Good to the Grain