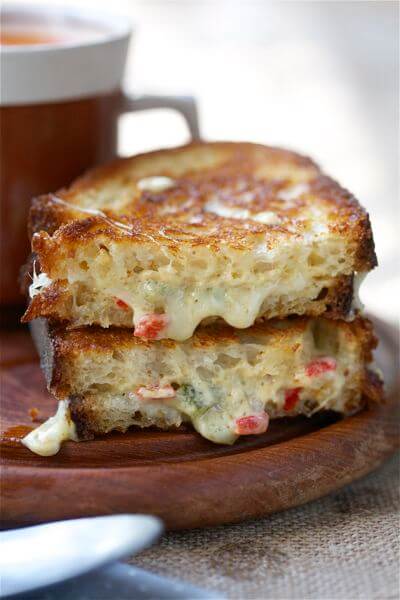 What would be your death row meal? That's a weird question for me to ask you because I imagine that you're a very lovely person and don't kill people BUT let's just pretend. So, if you were a bad person, what would you want your last meal to be?
It's a fun/weird thing to think about. I'm not sure what my request would be, but I am certain that a grilled cheese sandwich with tomato soup is in the top three things I would want. Maybe next to a pastrami sandwich and this arroz con pollo my papa made me growing up. That'd be sentimental and sweet.
But if I'm being honest with myself, I'm pretty sure butter, cheese and bread would prevail as the winner.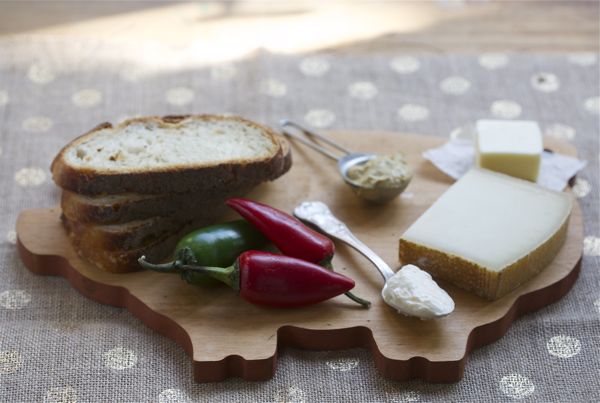 This is a grilled cheese at its core, but it's a little gussied up.
It starts with peppers being charred over the open flame in your kitchen.
This is fun because it reminds me of camping.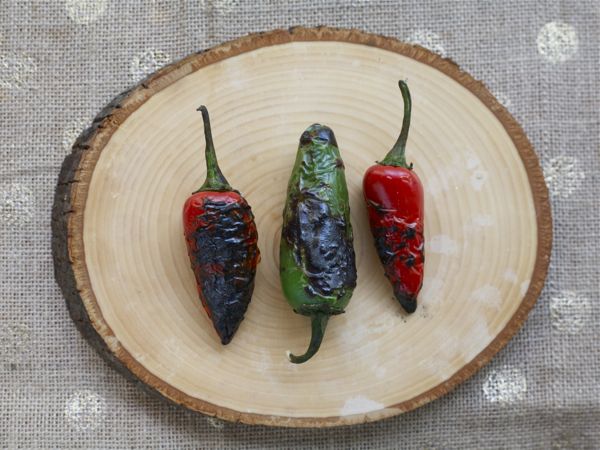 When the peppers become all charred and black on all sides, you'll want to transfer them to a bowl, stab them a few times with a knife and immediately cover them with plastic wrap.
Char steam action.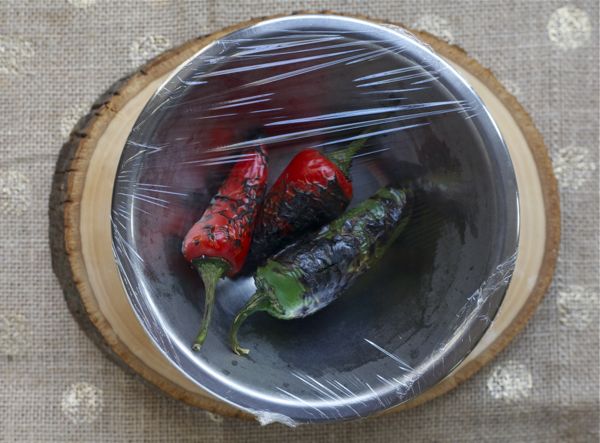 After the peppers are steamed, their charred skin will come off easily with the back of a knife. Go to town, scrape that shiz off. And then diced them up.
This will go in a mixture of a mustard, mayonnaise and lemon juice. It'll give the buttery, cheesy sandwich a nice acidic and spicy element to it. I think it's necessary.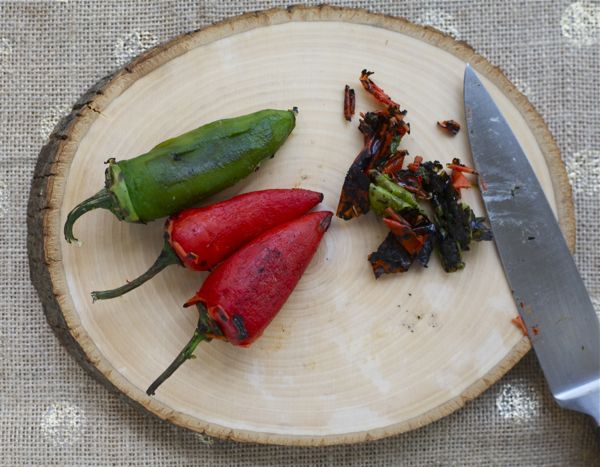 Grilled cheese time.
Softened butter smothered on the outside slices of bread. VERY important.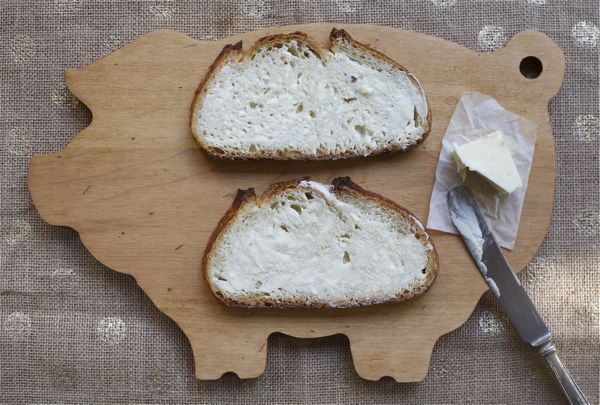 Flip the slices of bread. Add a teaspoon or two of the mustard/mayonnaise spicy sauce. Top with shredded cheese.
Shredded cheese is super important. If you slice it, the stuff won't melt as easily. You want melty, gooey cheese on the inside and crispy, crunchy, buttery and toasty bread on the outside. This situation provides that.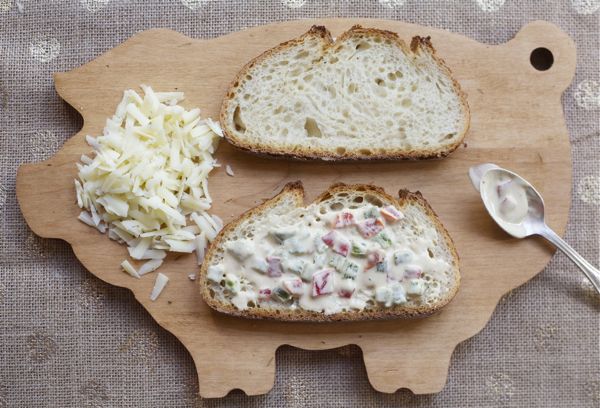 There's no smoking of tomatoes in this soup because, well, I don't have a smoker and neither do you, BUT the smokiness comes from some good quality smoked paprika. And whoa, do I love this soup.
If you're not in the mood for smokey and want something a bit more classic, make the recipe just as it reads below (or make this goat cheese version), but leave out the paprika. It'll will work out just great.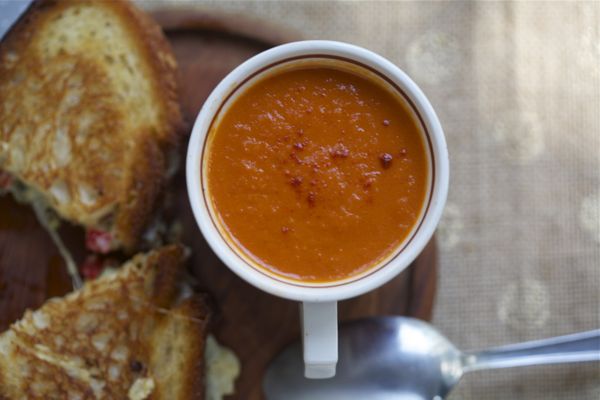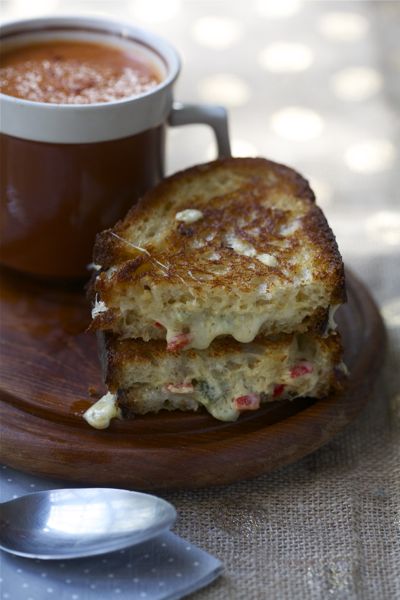 Comté and Pepper Grilled Cheese with Smokey Tomato Soup
Smokey Tomato Soup:
2 tablespoons olive oil
1/2 cup yellow onion, diced (about 1/2 onion)
2 garlic cloves, minced
3 sprigs of fresh thyme leaves
1 1/2 teaspoons smoked paprika
1/4 teaspoon kosher salt
1/2 teaspoon freshly ground pepper
1 (14-ounce) can of diced San Marzano tomatoes (in juice)
1 tablespoon tomato paste
1/4 teaspoon white granulated sugar
1 1/2 cups low-sodium chicken stock (or veggie stock)
2 tablespoons heavy cream
1. Heat the olive oil in a large, heavy-bottomed pot over medium-low heat. Add the onions and saute for about 5-7 minutes, or until translucent and tender. Add the garlic to the top of the diced onions and cook for about 1 minute, or until fragrant. Add the thyme, paprika, salt and pepper. Stir to coat the onions and cook for an additional minute.
2. Add the tomatoes, tomato paste, sugar, chicken stock and stir. Cook the soup for 15 to 20 minutes.
3. In batches, carefully transfer the tomato mixture to the blender. Blend on low, being sure to let steam escape. Blending hot soup is a little dangerous so be careful. When you're done blending it all, transfer it back to the soup pot. (Note: This soup has a little texture that I personally dig. If you don't want that, simply place a sieve onto the pot and pour the mixture through–it'll be much smoother with no tomato pulp.)
4. Reheat the soup just until hot. Mix in the heavy cream and salt to taste.
Comté and Pepper Grilled Cheese:
3 fresno peppers or jalapeños peppers (or a mix!)
1 tablespoon mustard
3 teaspoons mayonnaise
1 teaspoon fresh lemon juice (from about 1/2 lemon)
Pinch of freshly ground pepper
4 slices of bread
2 tablespoons unsalted butter, room temperature
4 ounces Comté, shredded
1.Turn your gas range to medium heat and toast the chiles by turning them an inch or two above an open flame for about a minute, until they're completely charred on both sides. (If you lack a gas range, you can transfer the chile to a day pan and place it over medium heat. Press the chile against the pan for a few seconds, rotate it, and cook until the pepper is charred.)
2. Moving quickly, transfer the chiles to a glass or stainless steel bowl. Pierce them a few times with a knife, and cover the bowl with plastic wrap. This will create steam, making the peppers' skins to fall off easily. Allow them to stand for 1-2 minutes. Remove the plastic wrap, and using a knife, scrape off the charred bits and discard. Dice the peppers, discarding the membrane and seeds.
3. In a small bowl, mix together the mustard, mayonnaise, lemon juice and pepper. Fold in the diced peppers and set aside.
4. Take 2 slices of bread and liberally butter the outsides of your bread with the softened butter. Turn the bread over and smother one slice with the pepper mayonnaise/mustard mixture. Top with a heavy hand of shredded cheese. Sandwich the two slices together. Repeat this process with the last two slices of bread.
5. Melt 1 teaspoon of butter in your cast iron skillet over medium heat. When hot and melted, add the sandwich. Cook on the first side for 2-3 minutes, until lightly golden brown. Flip, adjusting heat if needed, and cover with a lid. This will ensure proper melting. Cook for 1-2 additional minutes, and until lightly golden brown. Remove and serve immediately with warm soup.
Yields 2 sandwiches and soup for 2-3 servings