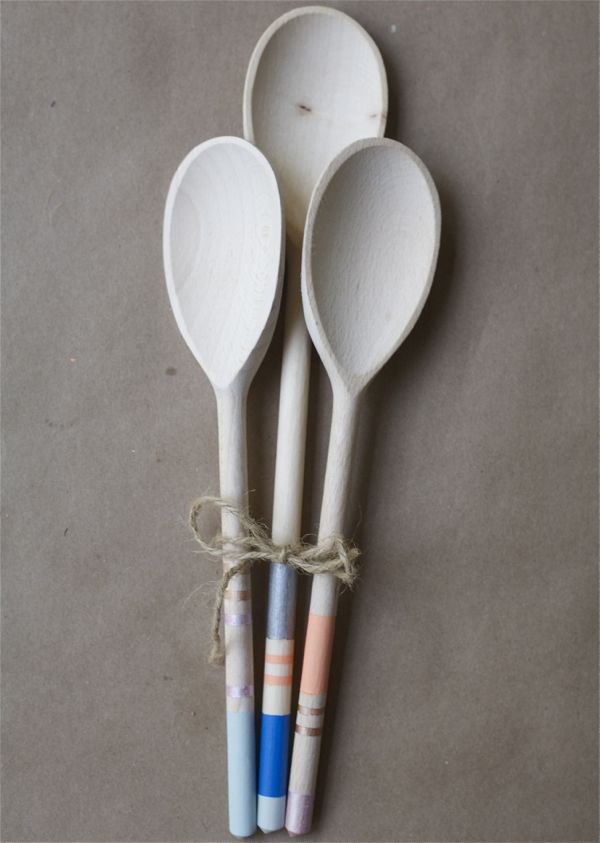 This holiday season I'm guessing you'll need cheap and easy hostess gifts.
Let's give our friends something useful: wooden kitchen spoons. And not just any wooden spoons, but super-cute color block wooden spoons that cost barely nothing and take about 30 minutes to make.
For this kitchen crafting adventure, you'll need the following:
1. Wooden Spoons. 2. Paint. 3. Painter's Tape. (Links to specific colors and supplies at the bottom of this post!)
Let's go!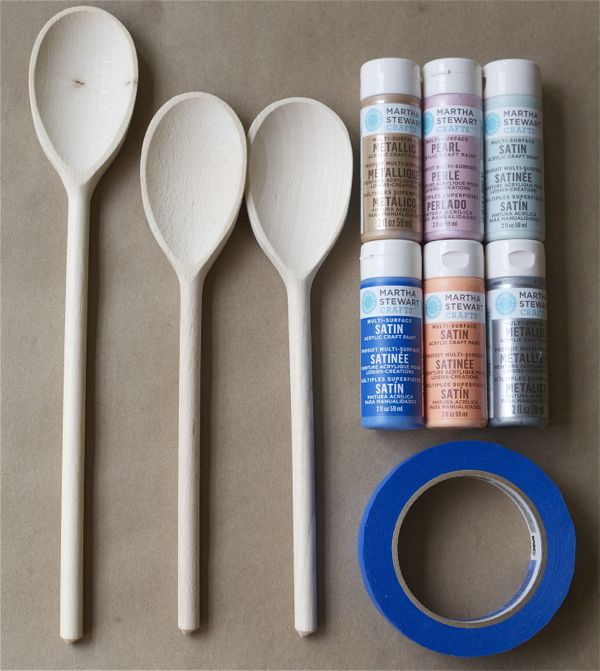 Step 1: Taping
Start by cutting strips of painter's tape into different lengths. For this particular spoon, I took two small pieces of painters tape and taped them at the bottom and top of the spoon's handle.
I cut one piece of small tape and cut that one piece into three, using two of the strips and placing them close together.
Play around with the patterns of stripes, if you like.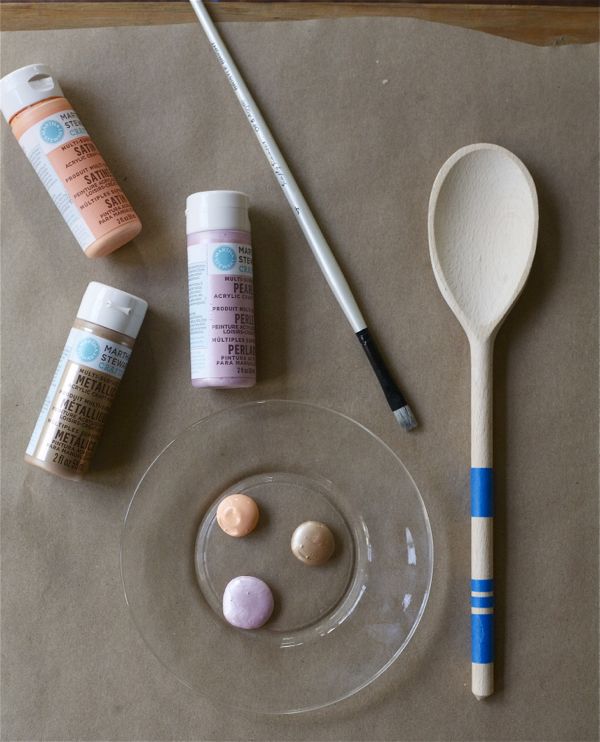 Step 2: Painting & Drying
I used a mismatch of six different colors, disbursing between three spoons. You could easily do this with three colors and save a little bit of money.
I did two coats, giving the paint about 5 minutes to dry in between coats.
I found that resting the spoon on a jar (in its dry areas) was useful in the drying step.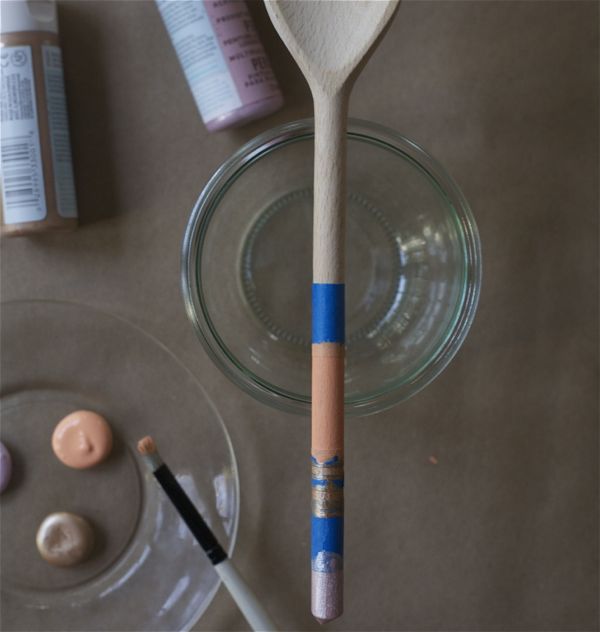 Step 3: Repeat
Different pattern; different paint colors! I switched it up with all of them. And since the patterns are so similar and you're using some of the same colors, it all looks cohesive and stuff.
Peel the painter's tape and off and ta-da! Done.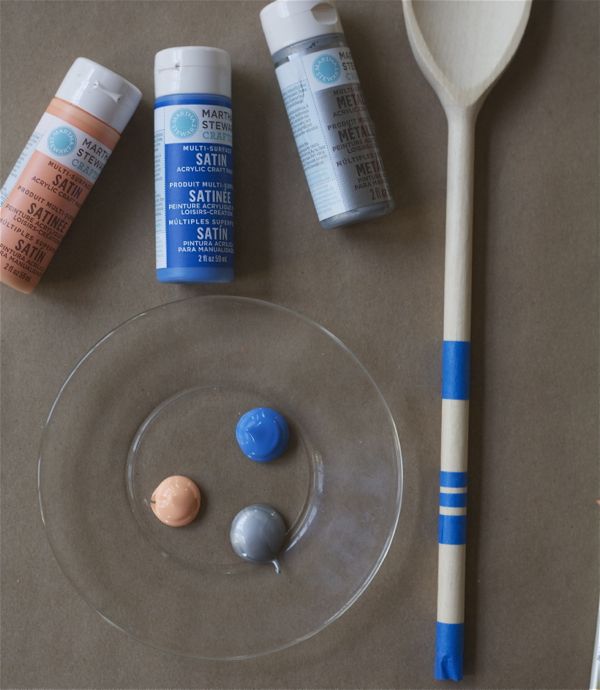 A few pro-tips I found along the way:
1. Make the sure the painter's tape is really on there. Smooth it down and make it one with the wooden spoon. You might have a little leakage here and there, which is ok, but sealing that painter's tape helps eliminate leaks.
2. Umm..I'm trying to think of another piece of advice on this project but I don't have anything else–it's super easy and fun!
Tie a ribbon around the three spoons and walk into the party with something fun, unusual and handmade. People will be into it!
Also, I think these would be cute stocking stuffers, too. Ok, I'm done being a saleswoman and pushing these things on you.
Tomorrow I'll be back with cookies or a tart. BYE!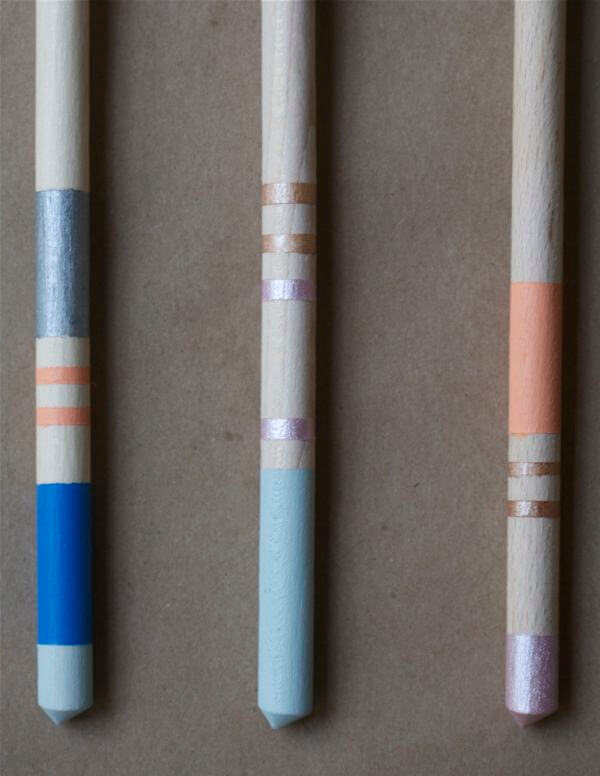 Supplies:
1. Wooden Spoons (These are from World Market – 99¢ each)
2. Paint brush
2. Scotch Painter's Tape
3. Martha Stewart's Multi-Surface Satin – "Wild Salmon"
4. Martha Stewart's Multi-Surface Satin – "Cloud"
5. Martha Stewart's Multi-Surface Metallic – "Rose Gold"
6. Martha Stewart's Multi-Surface Pearl – "Antique Silk"
7. Martha Stewart's Multi-Surface Satin – "Greek Tile"
8. Martha Stewart's Multi-Surface Metallic – "Titanium"
9. Clear Top Coat (Optional. This will help with the paint lasting and not chipping.)