Colombian Empanadas are made from corn flour, stuffed with a picadillo and pan-fried until they're crispy and delicious. These are served with a tomato ají that makes it even better!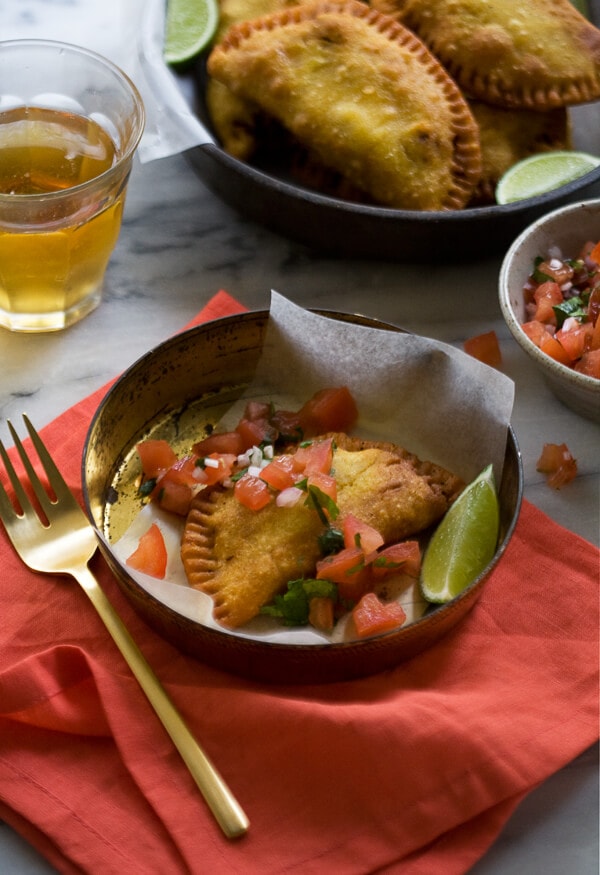 A few years ago I posted this recipe. For some people, it worked great. They loved the filling, the dough was perfect. You know, general hand claps all around. But then, a few other readers stated they had issues with the dough. It left me scratching my head and giving me anxiety. What went wrong? Were some people using corn flour and others using cornmeal? Was that the issue? Was the recipe the problem? I couldn't figure it out. I took the recipe down, vowing to retest it to figure out the problemo. It kept getting pushed onto the next day's to-do list until admittedly I forgot about it. UNTIL!! someone emailed me a few weeks ago saying WHERE IS THE RECIPE I LOVED IT!
So, here they are. Recipe reworked!! This is a recipe redo.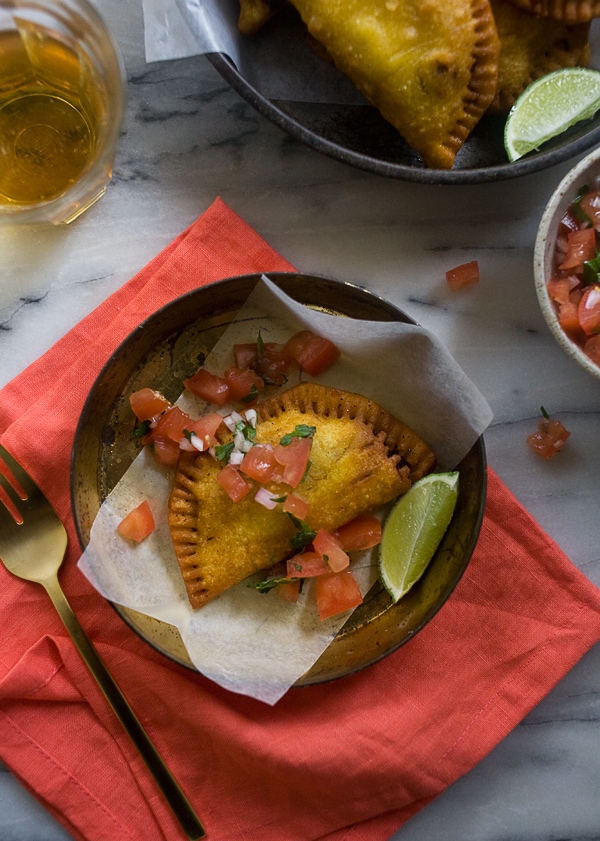 Colombian Empanadas vs. Argentinian Empanadas?
For starters Colombian empanadas are fried, while other empanadas are generally baked. The doughs are the other big difference. Colombian and Venezulean empanadas are both made with P.A.N., which is a white or yellow corn flour. It's different than cornmeal, which is definitely much coarser.
Growing up in South Florida, P.A.N. was easily available, I could go to the nearest Publix and find it. Well, it's not so easy to find elsewhere–even in Los Angeles, where I just assumed the Latin American Market would have it. Nope. You can actually use Masa Harina in this recipe and it should work too, though you may need a bit more water.
I also used Bob's Red Mill corn flour. That was the closest I could find and it worked out great. So just beware that if you do use P.A.N., the ratios might be slightly off bit.
And if you use cornmeal or MASA, these ratios below won't work at all. Look for yellow or white corn flour. The texture is much softer and lighter.
Empanada Filling
The filling to these is my absolute favorite part. It's almost like a Colombian picadillo, filled with potato and ground beef. There's a sauce made of ground cumin, a bit of paprika and a few tablespoons of tomato paste. I could literally eat it on top of a mound of rice and call it a day.
There were so many days in high school when these were my after-school snack. There was a Colombian restaurant on my way home and I'd stop to get a few empanadas and a Colombiana (a neon orange soda).
They're my favorite.
How to Make Colombian Empanadas
Mix together the corn flour and salt.
And then pour in the warm water and olive oil.
Wrap the dough and let it rest for about 20 minutes. You want it to rest at room temperature.
While the dough is resting, make the filling. This is super easy: cook the beef with the spices and potato.
And then, rub your hands with a bit of oil. This will help with the dough sticking. It is a sticky dough so this is why a sheet of plastic wrap helps a lot, too.
Scoop out about 2 ounces of dough and roll it on a piece of plastic wrap and rolling pin.
Add a bit of filling to one side, fold over the empanada, using the plastic wrap as help, and then seal the edges with the tines of a fork.
Repeat until you've worked through all of the dough. You will have filling leftover. There are tons of ways to use it up as leftovers. I like to serve it over a bit of rice.
Heat up your oil.
And then fry up the empanadas, in batches of two to three. Serve it with ají!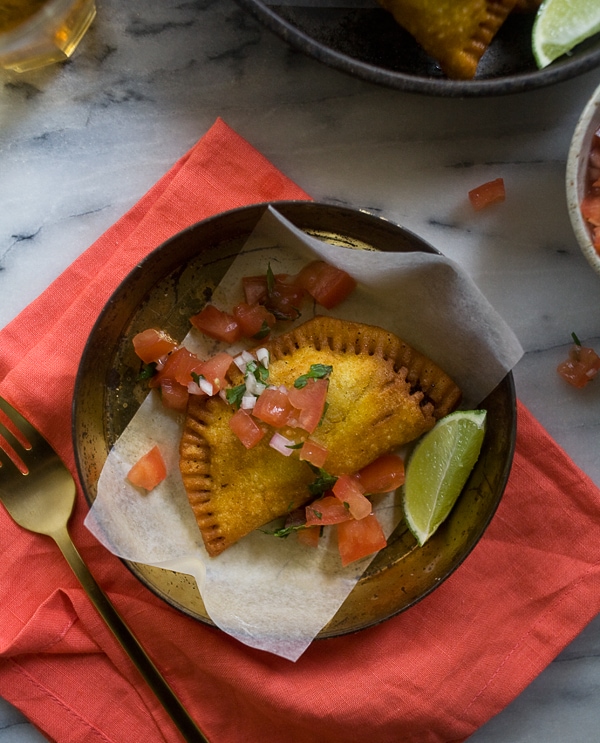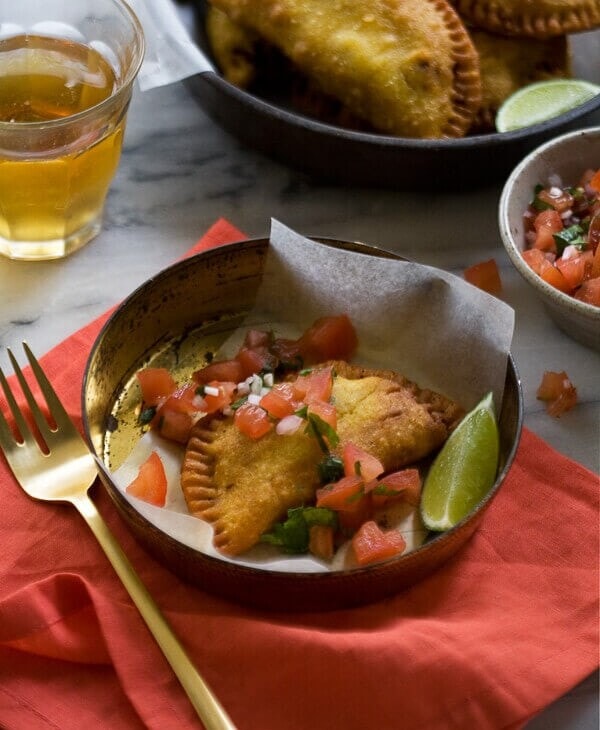 Print Recipe
Colombian Empanadas Recipe
These Colombian Empanadas are made from corn flour (P.A.N.), filled with a picadillo, fried and then served with a salsa.
Ingredients
Dough:
2 1/2

cup

(290 g) corn flour

(P.A.N. brand or Maseca both work)

1

teaspoon

kosher

3/4

cup

warm water

plus a splash or two of water

2

teaspoons

olive oil
Simple Tomato Aji:
3

ripe-vine tomatoes

de-seeded and diced

1

shallot

minced

1

serrano pepper

de-seeded and diced

2

tablespoons

cilantro

loosely chopped

Juice from 2 limes

Pinch

of kosher salt
Empanada Filling:
1

medium russett potato

peeled and diced

Olive Oil

1

shallot

diced

1/2

red bell pepper

diced

3

garlic cloves

minced

3

tablespoons

tomato paste

1

teaspoon

ground cumin

1/4

teaspoon

ground paprika

1/2

teaspoons

crushed red pepper

1

pound

ground sirloin

Kosher salt
Empanada Assembly and Frying:
1

tablespoon

neutral oil

for palms

1

quart

neutral oil

(vegetable oil, grapeseed or peanut oil)
Instructions
Dough:
In a medium bowl, mix together the corn flour and salt. Create a well in the center and pour in the water and olive oil. Mix until dough forms a ball. If the dough is on the drier side, add a splash or two of water until the dough feels moist and pliable. Wrap the ball of dough with plastic wrap and allow to rest on the kitchen counter for 15 to 20 minutes. Meanwhile, make the aji and filling.
Aji:
Mix together all of the ingredients until combined. Set aside.
Filling:
Bring a small pot of water to a boil. Add the diced potato and cook until tender, about 5-7 minutes. When done, transfer to a colander to drain. Mash the potato lightly with a fork and set aside.

In a medium skillet, set over medium heat, add a tablespoon of olive oil. Add shallot and cook until translucent, 3-5 minutes. Add red bell pepper and cook for an additional 2 minutes. Place minced garlic atop vegetable mixture and cook for an additional minute. Mix in the tomato paste, cumin, paprika, crushed red pepper and a few pinches of salt.

To the skillet, add the ground beef, breaking it up with a wooden spoon until the meat is in small crumbles. Cook until the meat browns, mixing it regularly, about 7 minutes. Transfer mixture to a bowl and add the mashed potato. Mix until combined and salt to taste.
Empanada Assembly:
Rub your palms with a bit of oil (this will help it from sticking). Scoop a few tablespoons of dough (about 2 ounces) onto your palm and roll into a smooth ball. Place the ball in between two pieces of plastic wrap and using a rolling pin, gently press the dough into a circle. (It's ok if the dough cracks a bit around the edges, but if it cracks completely that means it's not moist enough. You can fix it by adding a splash of water to the balls of dough, kneading it in and then re-rolling it. Not a fun solution but I've done this and it works great.)

Place a teaspoon or two on one half of the dough circle. Using the bottom plastic wrap, lift and fold the dough over, creating a half moon shape. Using the tines of a fork, crimp the edges tightly and if you're really fancy, you can trim off any scraggly edges with a knife. Gently move the finished empanada to a cutting board and repeat this process until you've gone through all of the dough.
Empanada Frying:
In a cast iron skillet (or medium pot), add enough vegetable oil until it reaches about 3 inches, and heat until a thermometer reaches 350F. If you don't have a thermometer, not that big of a deal--add a tiny bit of scraped dough and if it sizzles, it's ready for the empanadas.

Carefully add three empanadas at a time, being sure to not overcrowd the pan. Cook for 2 to 4 minutes, until the empanadas are golden brown and crispy. Drain on a bed of paper towels and repeat until all of the empanadas are fried. Serve immediately with the aji.
Equipment
1 medium Dutch oven or pot
Nutrition
Calories:
103
kcal
(5%)
|
Carbohydrates:
3
g
(1%)
|
Protein:
8
g
(16%)
|
Fat:
6
g
(9%)
|
Saturated Fat:
2
g
(13%)
|
Cholesterol:
26
mg
(9%)
|
Sodium:
254
mg
(11%)
|
Potassium:
255
mg
(7%)
|
Fiber:
1
g
(4%)
|
Sugar:
2
g
(2%)
|
Vitamin A:
527
IU
(11%)
|
Vitamin C:
12
mg
(15%)
|
Calcium:
13
mg
(1%)
|
Iron:
1
mg
(6%)
Looking for more Latin-inspired recipes? Here are some other favorites: