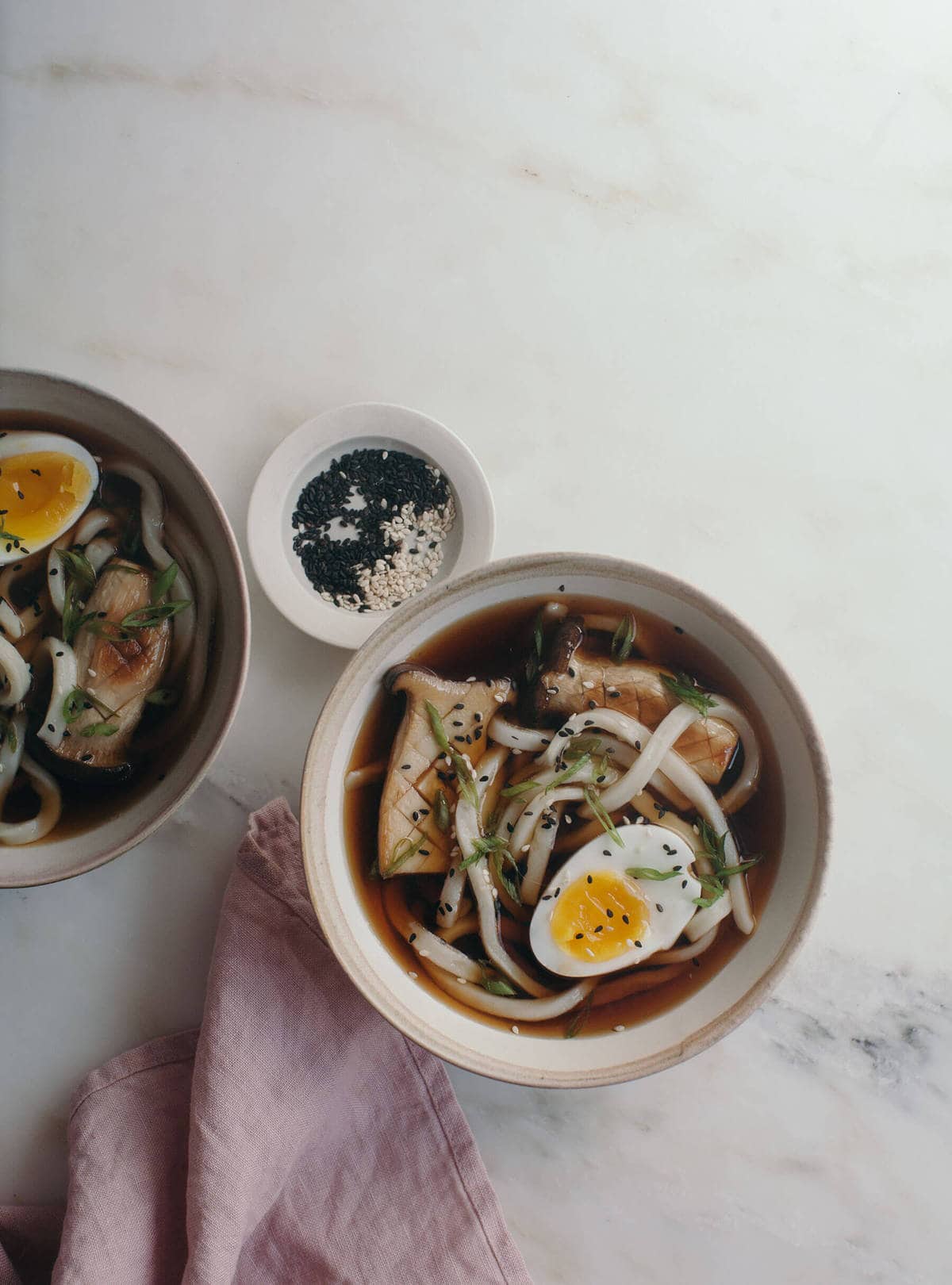 I'm about to say something incredibly controversial. Are you ready?
Pumpkin spice lattes are fucking gross. They taste like chemicals. They taste like fake syrup. They taste like fake pumpkin. And while they usually don't make me all that mad, they're kinda irking me right now because it's hot in Los Angeles and I'm sort of not ready for fall just yet. Too much pumpkin spice latte advertisement–calm down!!!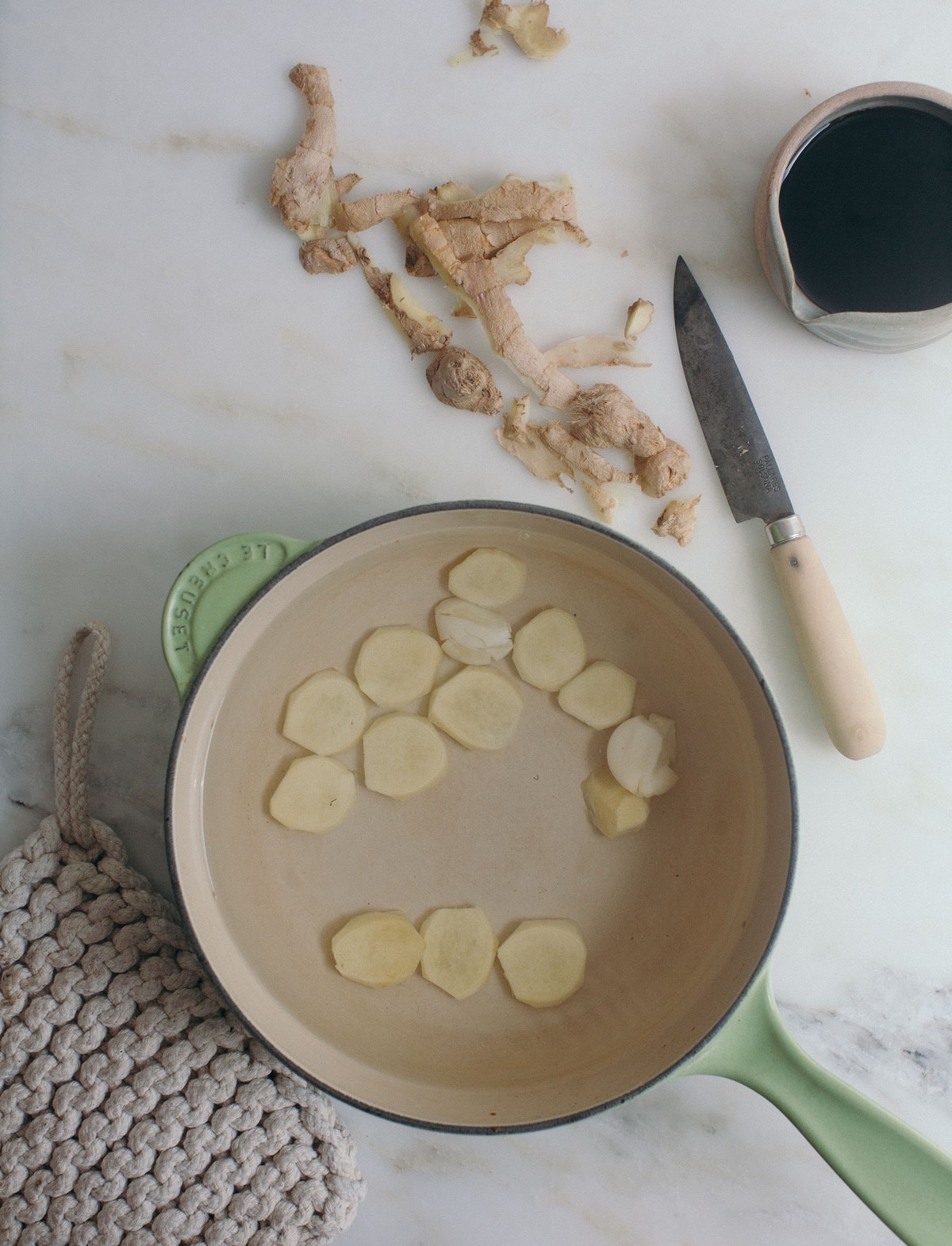 (If you like pumpkin lattes just know that we are still friends. I like you.)
During this strange seasonal transitional period, I like to make things that are flexible in terms of time spent in the kitchen and actual temperature. This soup is cold. The broth is cold, the noodles are cold, but if you're feeling a bit chilly or want to make this in a few months, then eat it warm! It's delightful piping hot.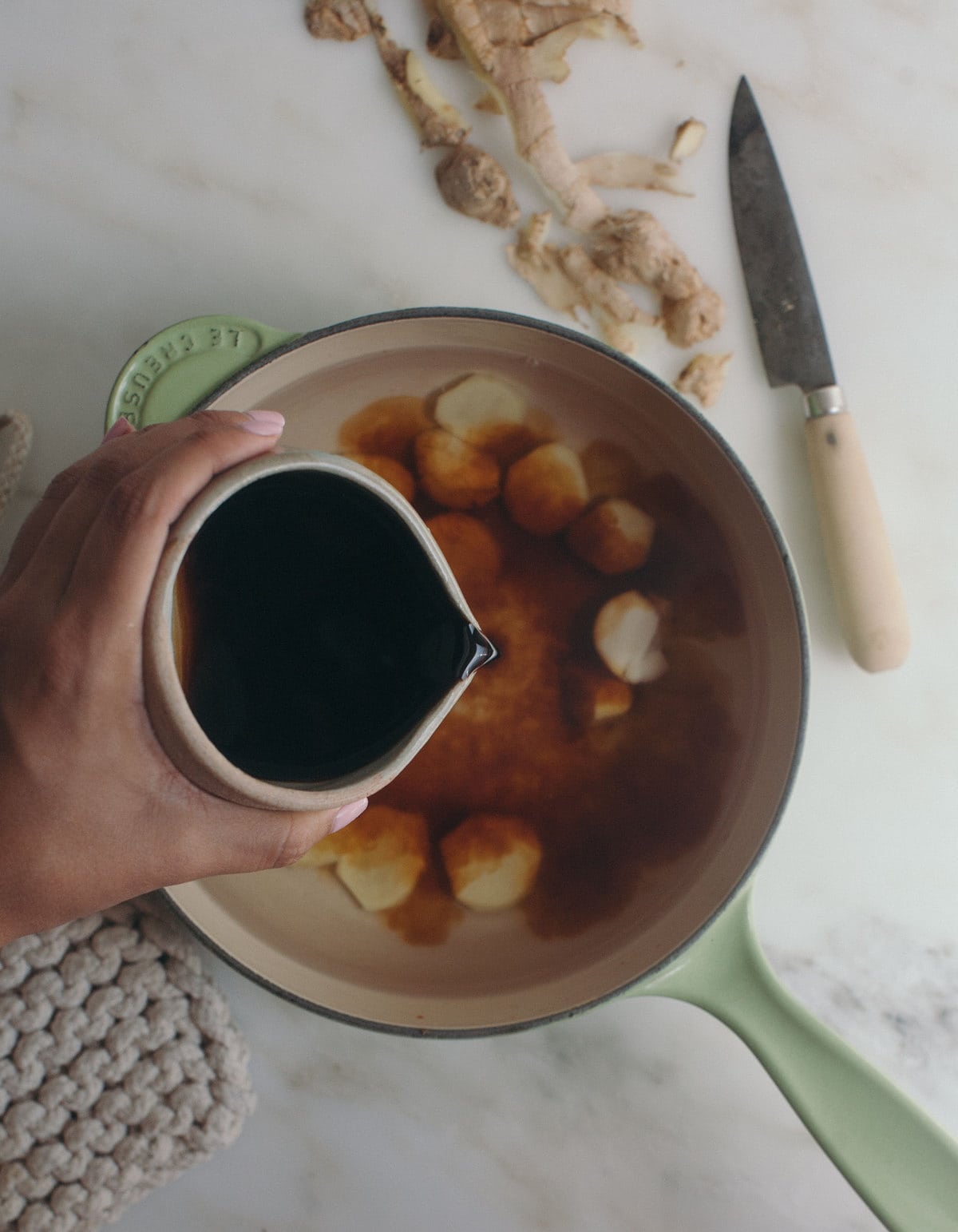 The ingredients are very flexible.
I took a trip to the Japanese market downtown and picked up frozen udon noodles. I wanted the thick ones that mimic the noodles I get at this restaurant I love going to. I like to sit in the window and watch the man roll out the dough, moving it around every so often until he reaches the perfect thickness. I could watch his do this all day long.
If you can't find the frozen noodles, then feel free to use the dried. Soba would work well, too.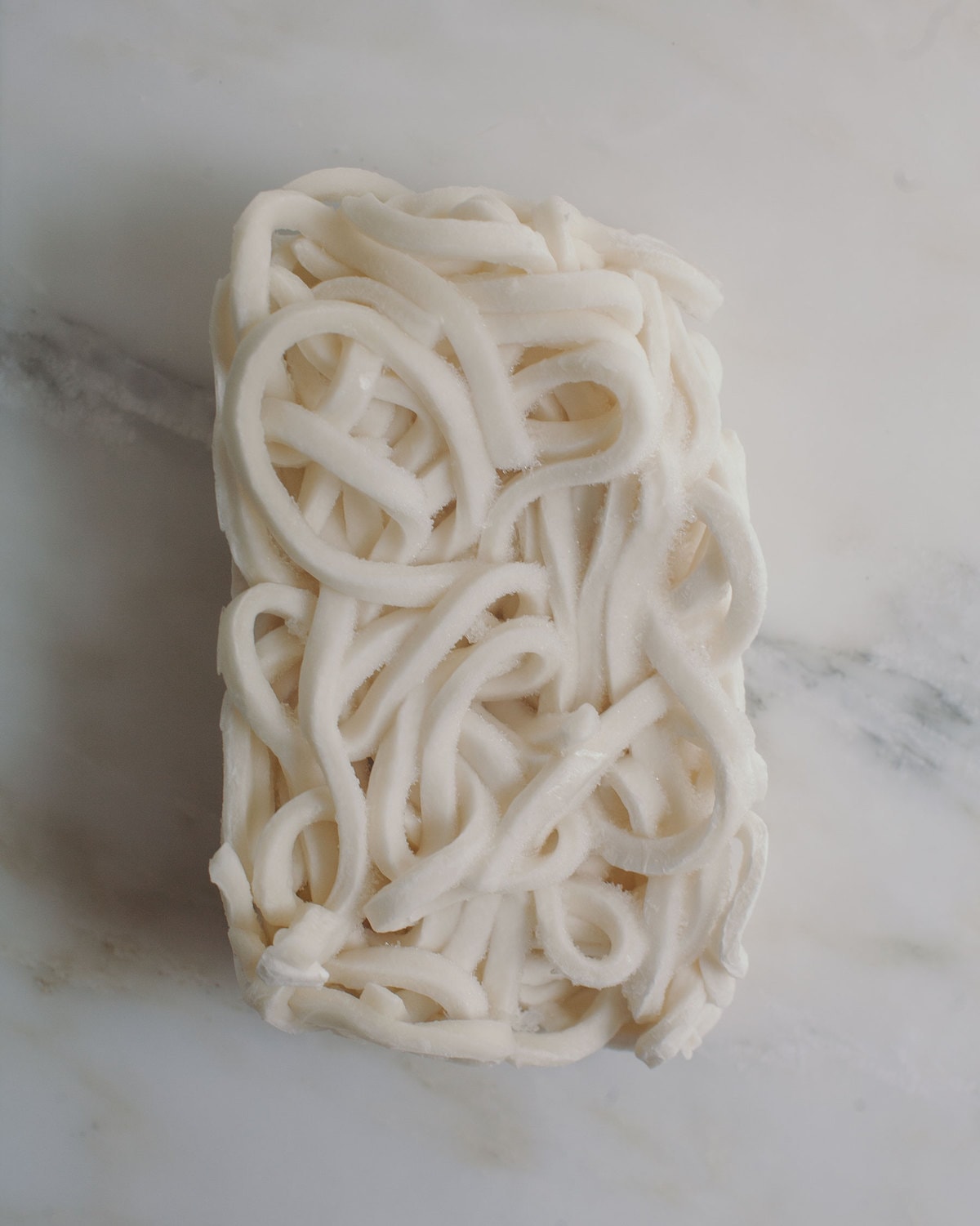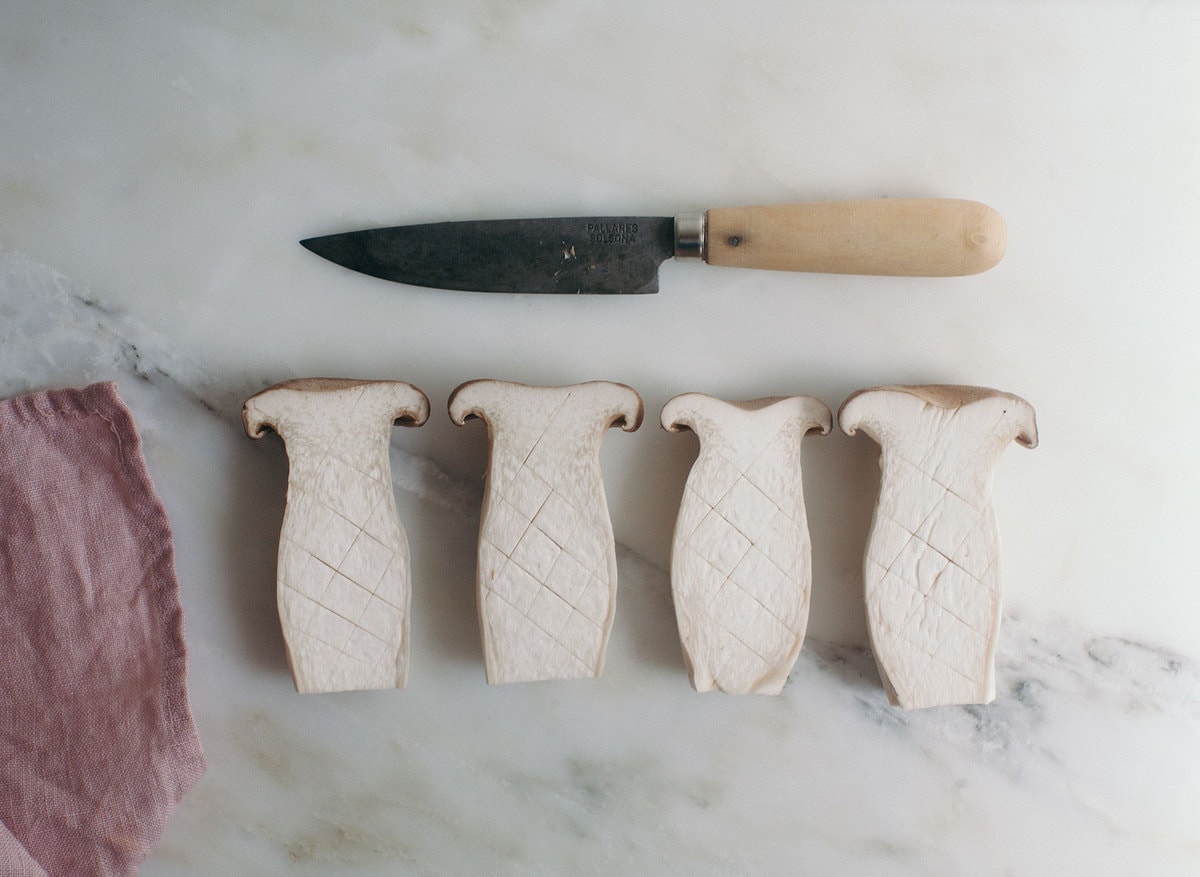 I put king mushrooms in this soup. I scored them on both sides of their stem so they'd cook all the way through. And then they were sautéed in a bit of sesame oil. If you can't find king mushrooms or enoki, then sautéed shiitakes or creminis will work too!
That egg is glorious and only took me and Billy a million times to get right but we finally did and it was totally worth it. We ate this in our typical working fashion: standing up in the kitchen while sweating profusely. Hopefully when you make it/eat it, the scene will be a bit more glamorous.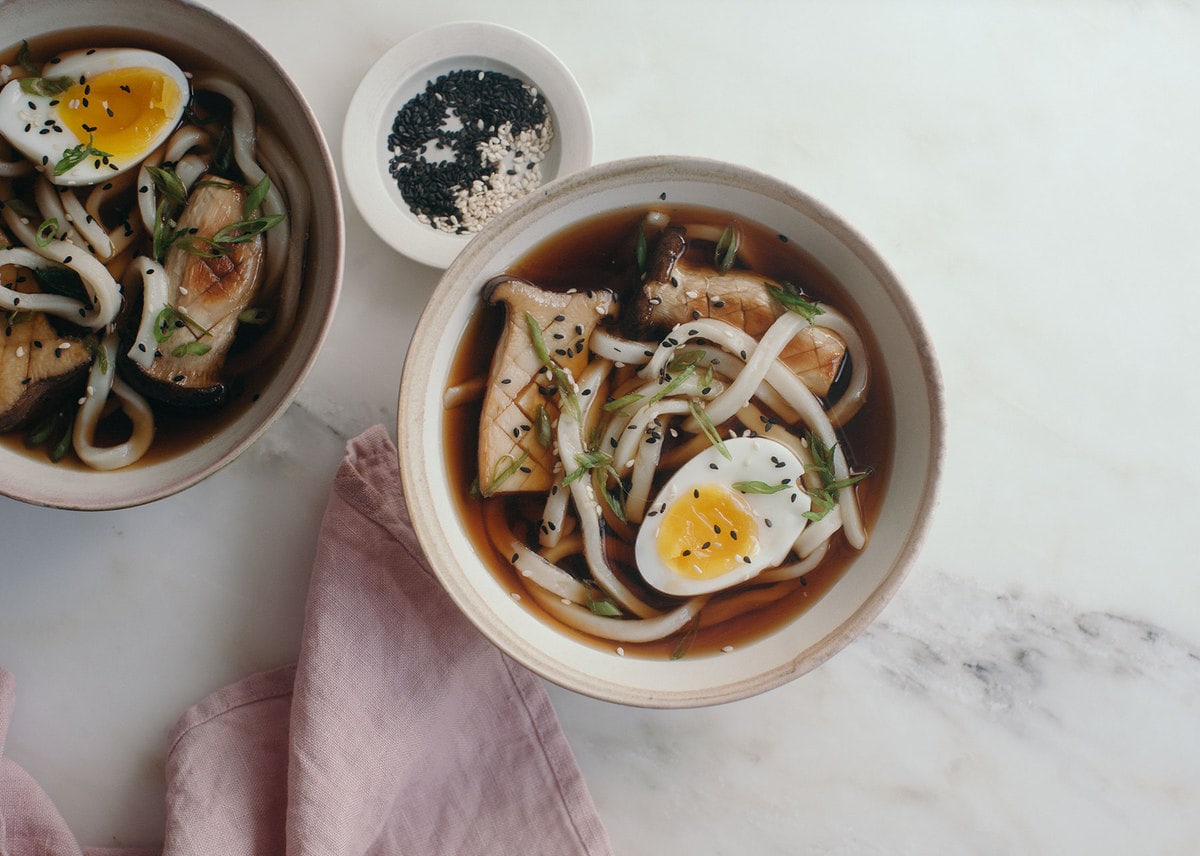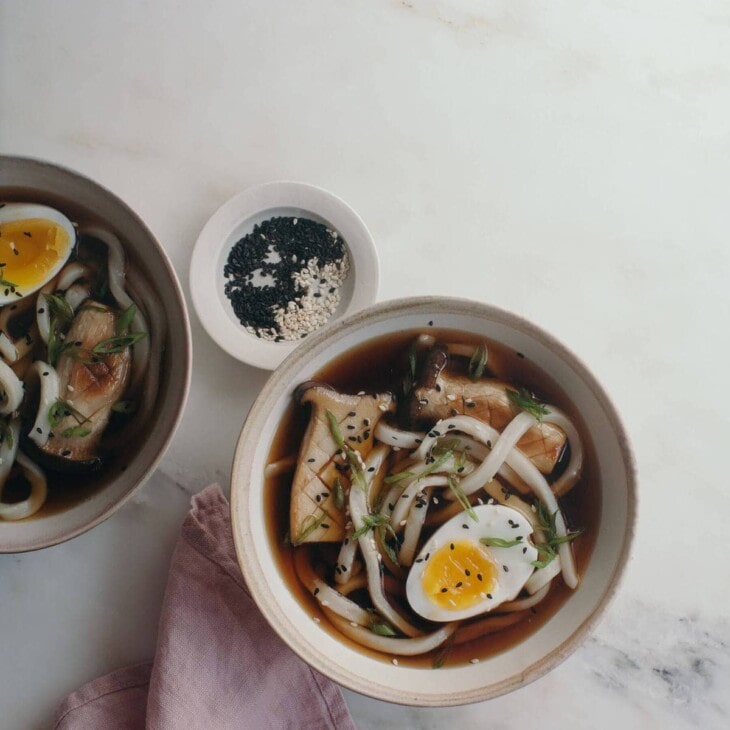 Print Recipe
Cold Udon Noodles in a Soy Broth with King Mushrooms
Ingredients
5-

inch

knob of ginger

peeled and thinly sliced into coins

2

garlic cloves of garlic

peeled and smashed

4

cups

filtered water

1/2

cup

low-sodium shoyu or regular soy sauce

2

bricks of frozen udon noodles or 5 ounces dried udon noodles

4

king mushrooms

halved lengthwise and scored on each side of the stem

2

large eggs

1

green onion

thinly sliced on the diagonal

2

teaspoons

sesame seeds

I used black and white sesame seeds
Instructions
To cook the broth: To a medium pot, add the ginger, garlic and water. Set the pot over medium high heat and bring to a light boil. Once it reaches a boil, immediately turn down the heat to a simmer and cook for 10 minutes. The water should be fragrant. Turn off the heat and pour in the soy sauce and give it a good mix. I ended up fishing out the ginger and garlic but you don't have to. Allow the soup to cool to room temperature and then transfer it to the fridge to chill completely, about 1 hour.

To cook the noodles: While the broth is chilling, you can prep all of the other ingredients. Bring a medium pot filled with water to a light boil. Drop the frozen udon noodles in the water and allow them to boil for about a minute. Drain the noodles and then immediately run cold water over them to stop the cooking. Toss the noodles with a teeny bit of olive oil or sesame oil (this will avoid them from sticking to one another).Transfer the noodles to the fridge to cool. If you're using dried noodles, cook them according to taste. I always find that the packages recommend a bit longer than they should be cooked, hence the recommendation of cooking them to taste.

To cook the mushrooms: Heat a teaspoon or two of sesame oil (you can use olive oil too) in a small sauté pan. When the oil is hot, add the mushrooms and sprinkle them with a bit of salt; cook on both sides for a few minutes. Turn the heat down to low and cook for a minute or two longer, until the mushrooms are tender.

To cook the egg: Bring a medium saucepan filled with water to a boil. Once the water hits a boil, drop the eggs into the water and immediately turn off the flame and cover the pan. Set your timer to 9 minutes. I found that 9 minutes was perfect for the results you see pictured. Run the eggs under lukewarm water and peel them. Slice 'em in half with a sharp knife.

To assemble: Divide the noodles amongst bowl and pour in the cold broth. Divide the mushrooms and eggs amongst bowls. Garnish with slivers of green onion and a sprinkling of sesame seeds.
Notes
Make ahead: This is a really good dish to make ahead. Make all of the parts and stick them in the fridge. Assemble hours or days after. Everything, separately, will last for up to 3 days.
Adapted from Bon Appetit