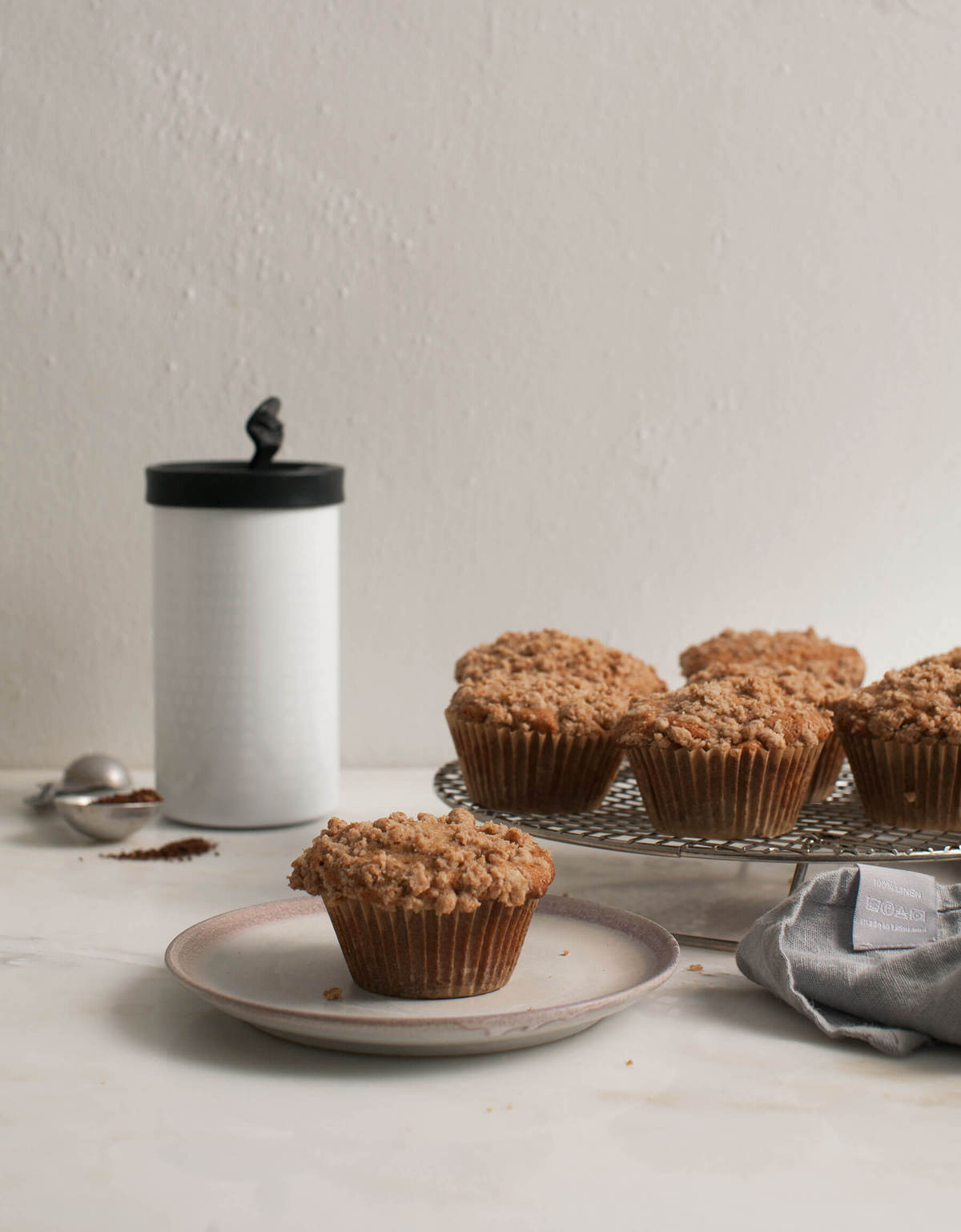 I started ceramics class this semester and unlike my classes in the past, this is actually in the morning. I didn't plan it that way but the sign-up process was pretty insane and unfortunately had to take what I could get. Luckily I live that freelance lifestyle so I could (sorta) take a class on Wednesday morning.
One thing I'm constantly thinking about is what should I pack for breakfast. The class is about 5 hours long so I definitely always like to take a few things with me to snack on. Of course, my other huge priority is COFFEE. Always.
For this post, I teamed up with bobble and their presse. It is seriously my dream come true.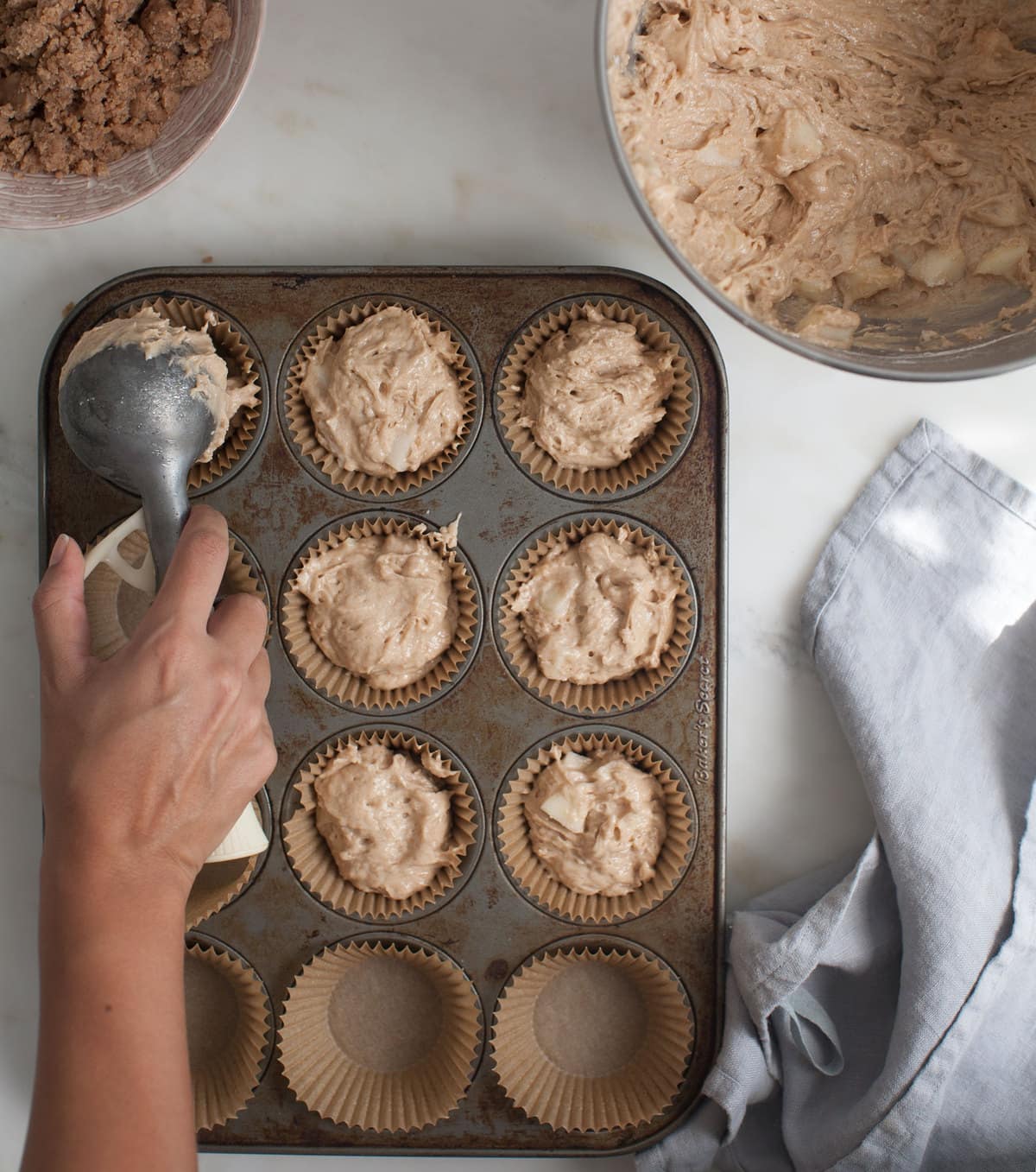 It's super easy: there are two pieces in the presse, you separate them, pour in the coffee grounds, add hot water, wait 3 minutes and then press the two pieces together. BOOM! You put on the top and you're on your way.
The best part is that your coffee stays warm for hours. I would say that it's like French press but it's slightly different. The viscosity of the coffee is not as thick, mainly because the micro-filter is has smaller openings than what you would find in a French press. I tend to favor a cleaner, thinner coffee viscosity so this is perfect for me.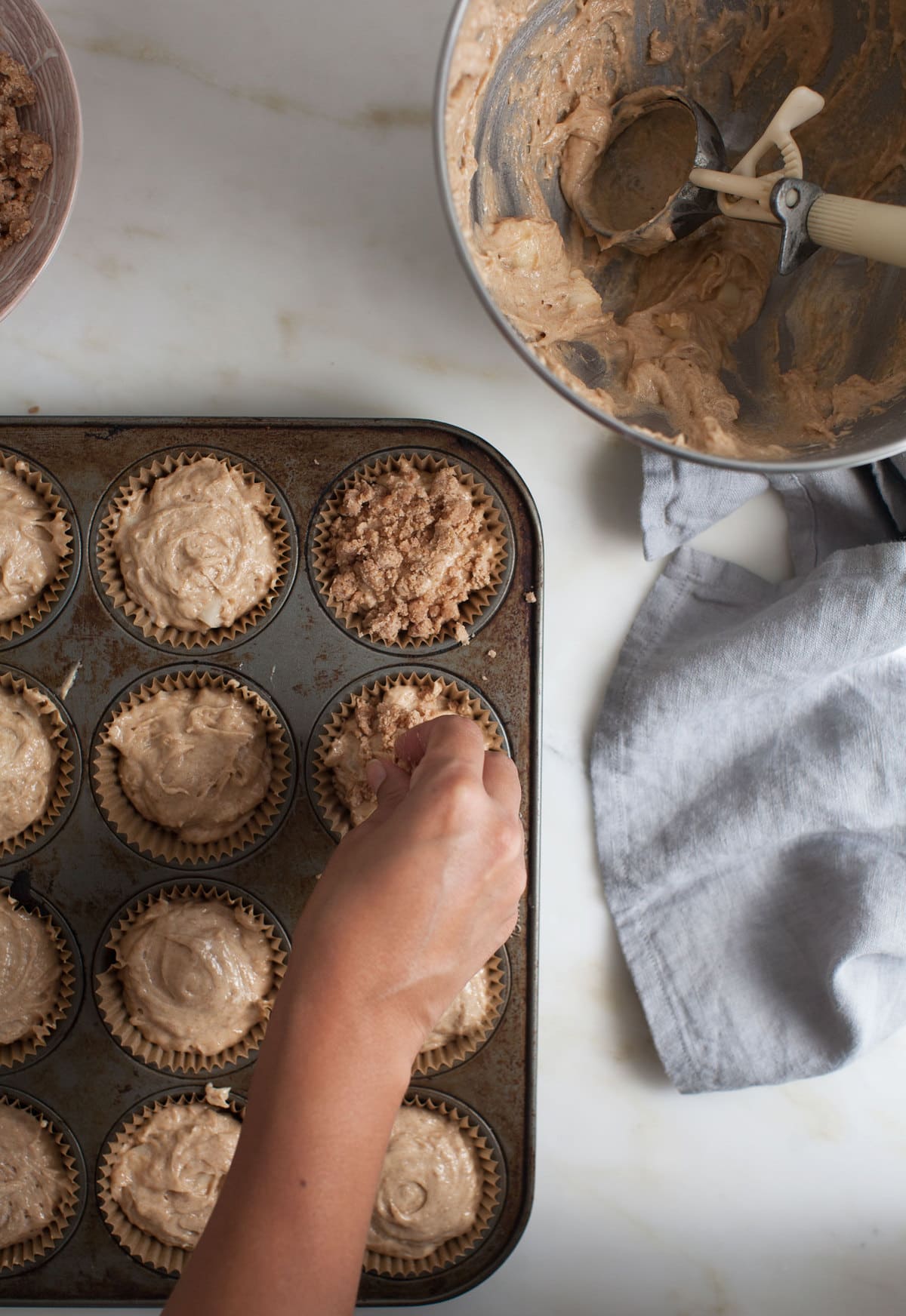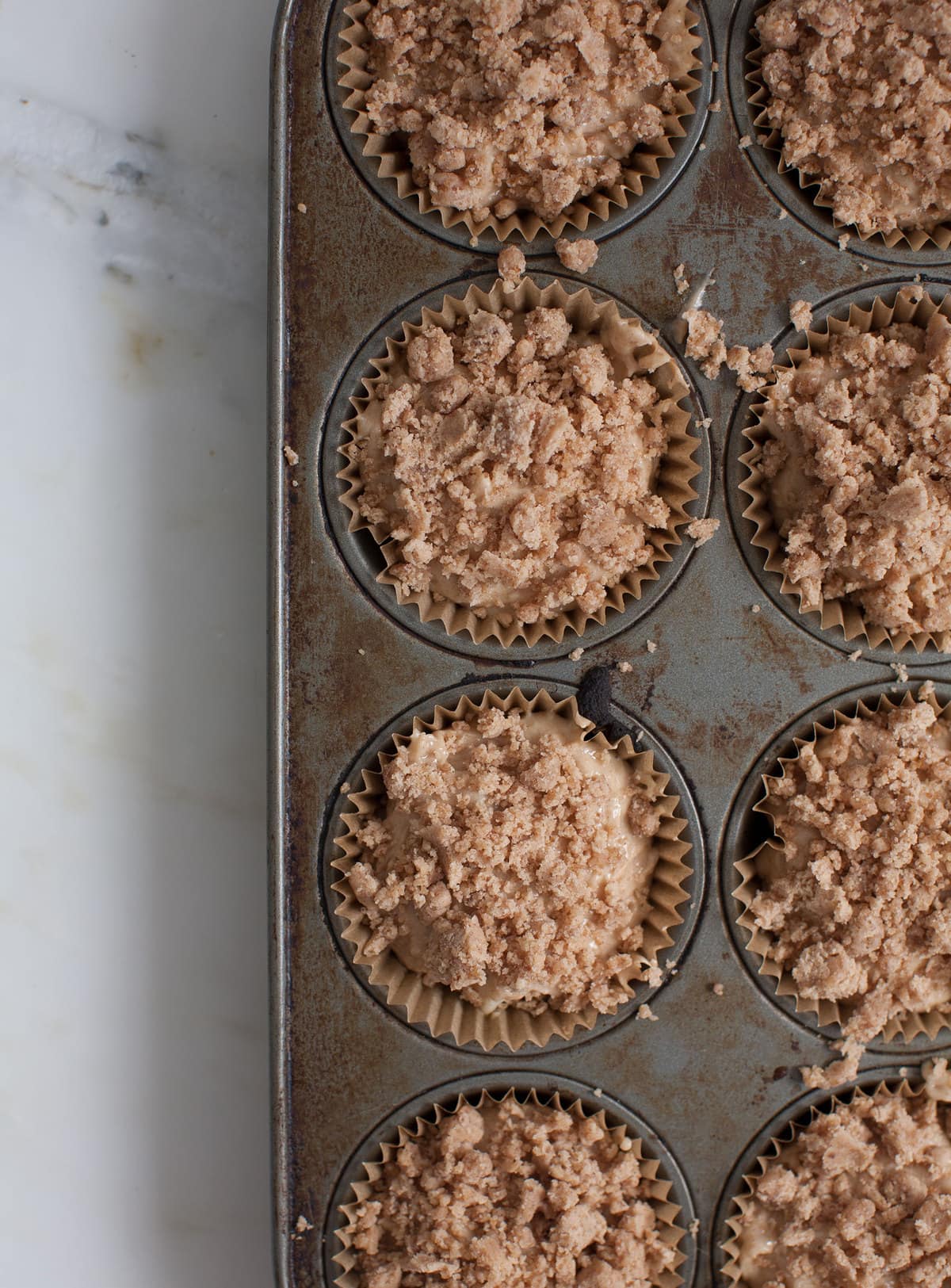 Another good thing is there is zero waste, no paper filters or pods or any of that business.
To compliment my coffee obsession, I made this recipe for Coffee and Pear Cake Muffins because I never understand why coffee cake never has coffee in it. I'm here to fix that and I did so in the streusel. The butter is steeped in coffee grounds, strained and then tops muffins that are slightly healthy and flavorful and delicious. I like to use yogurt in these muffins and spelt flour to lighten them up a bit. They're definitely more muffin-y than cupcake-y and I think that's a good thing.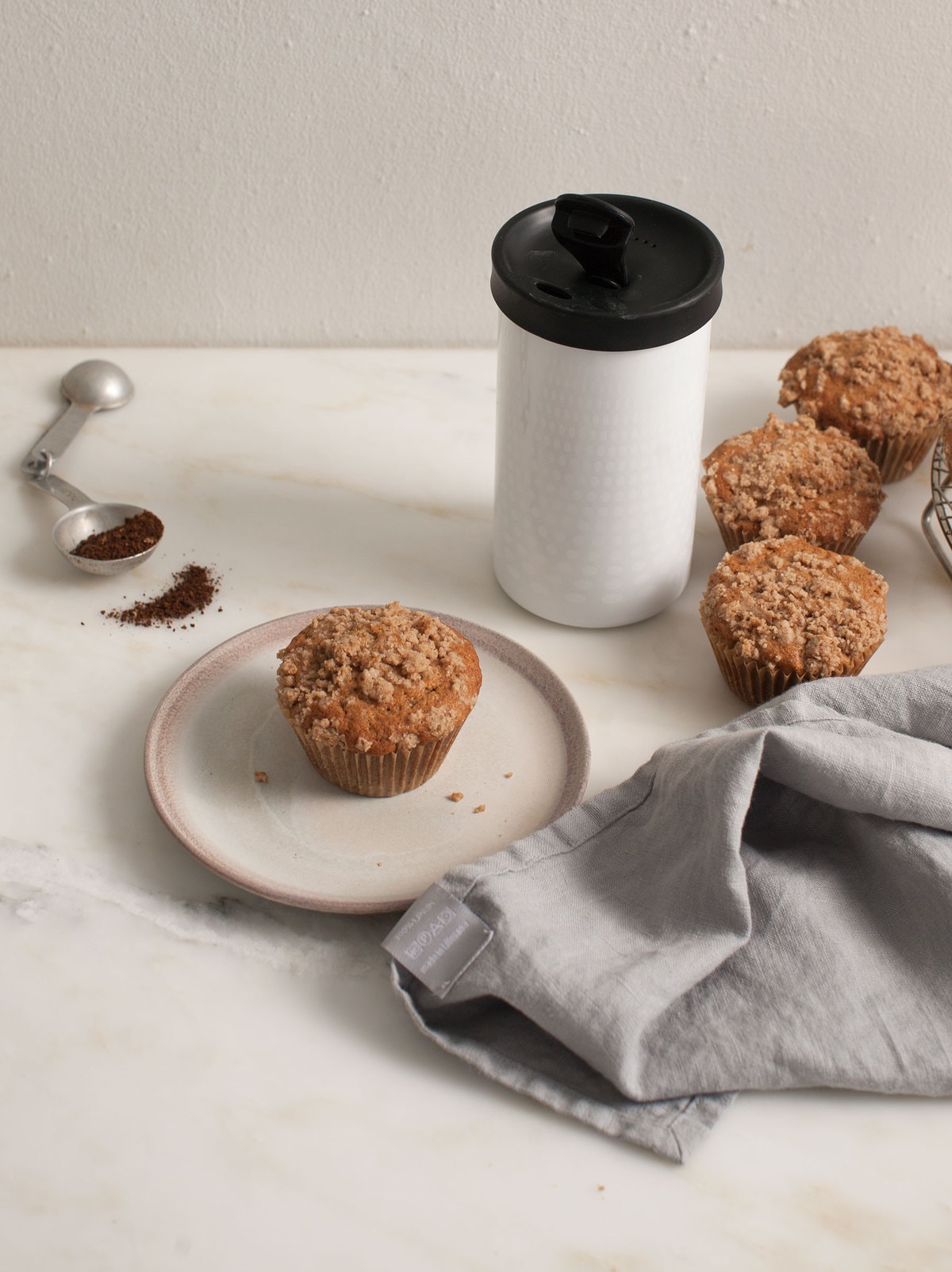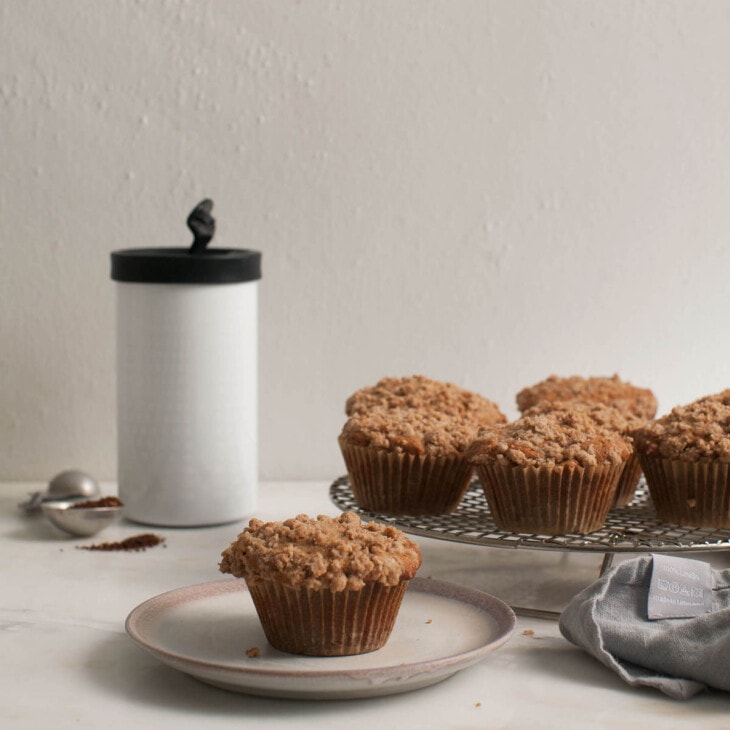 Print Recipe
Coffee-Pear Coffee Cake Muffins with Pear
Ingredients
Streusel:
1

tablespoon

coffee grounds 

4

tablespoons

unsalted butter, cubed

2

tablespoons

granulated sugar

2

tablespoons

light brown sugar

1/2

teaspoon

ground cinnamon

Pinch

teaspoon ground nutmeg

2/3

cups

all-purpose flour
Cake: 
2

cups

all-purpose flour

1/2

cups

whole wheat flour or spelt flour 

1

teaspoon

ground cinnamon

1

teaspoon

baking soda

3/4

teaspoon

baking powder

1/2

teaspoon

salt

8

tablespoons

butter, at room temperature

3/4

cups

granulated sugar

1/2

cup

light brown sugar 

2

large eggs

1

cup

plain yogurt or sour cream

1

teaspoon

pure vanilla extract

1

cup

diced pear, about 2 small pears 
Instructions
Preheat the oven to 350F. Line a muffin tin with liners and set aside. 

To make the streusel: In a small saucepan, set over medium heat, add the coffee grounds and butter. When the butter has melted, allow the coffee to steep in the butter for about 3 minutes. Run through a very fine mesh strainer, discarding the grounds, and adding the coffee-butter to a small bowl. Add the sugars, spices and flour. Mix with your hands until clumpy. Set aside. 

To make the muffins: In a medium bowl, whisk together the all-purpose flour, whole wheat or spelt flour, ground cinnamon, baking soda, baking powder and salt. In the bowl of a stand-up mixer, with the paddle attachment, add the butter and sugars; beat until light and fluffy, about 3 minutes. Add the eggs and beat until incorporated. Next, add the yogurt or sour cream and vanilla. Add the dry ingredients, in two batches, until barely combined. Lastly, fold in the diced pear. Divide the batter amongst the 12 muffin cups, filling them about 3/4 of the way.  Top each muffin with a handful of the streusel topping. Transfer to the oven to bake for about 17 to 20 minutes, until a skewer comes out clean when inserted into the center.