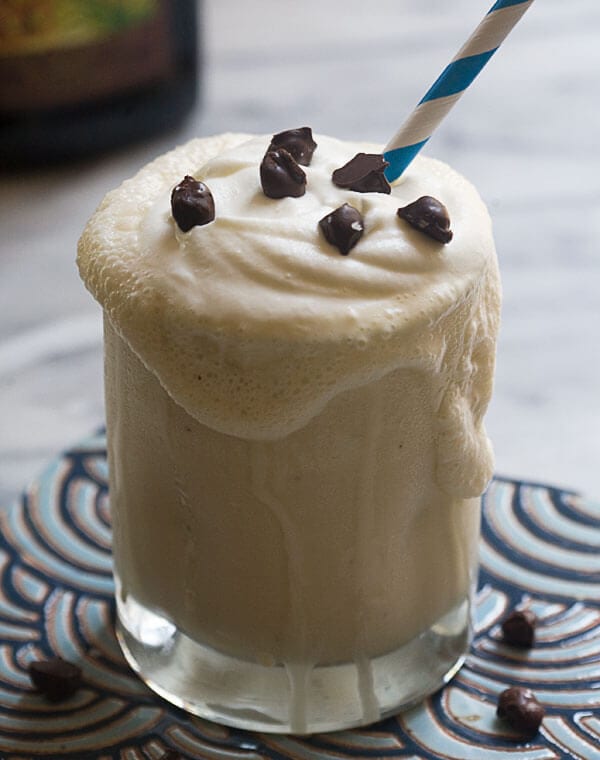 It feels like this entire summer everyone has been on vacation without me. I'll open up (enter: all social media networks) and there they are: picture after picture of people drinking pina coladas by the beach, frolicking in the sand, on their hipster rooftops in Brooklyn wearing jorts--it's not fair! It's been depressing. But now, I'm the one on vacation (albeit a short one, but I'll take what I can get).
I'm currently in Palm Springs chilling in the sun/mostly the air-conditioning. It's 110 degrees. Yes, one one zero. What's odd is that I kinda like it. The dry California, dessert air is nice--it feels very spa-like and it helps that I'm doing nothing but laying on the couch, drinking a cocktail and reading a summer book.
I've been wanting to make a boozy milkshake for like FOR-EVER-R. Also, fun fact: I wrote this post a few days ago, which means I was lying then, but am totally telling you the truth now. Confusing? I understand. Boozy milkshake. If you read this blog regularly, you know that I love my coffee. There's nothing better, in my humble opinion, than coffee ice cream. Combine coffee ice cream with a little milk, dark rum, some more coffee and put it in a blender? Heaven. Salty chocolate covered coffee beans is totally a thing I did too.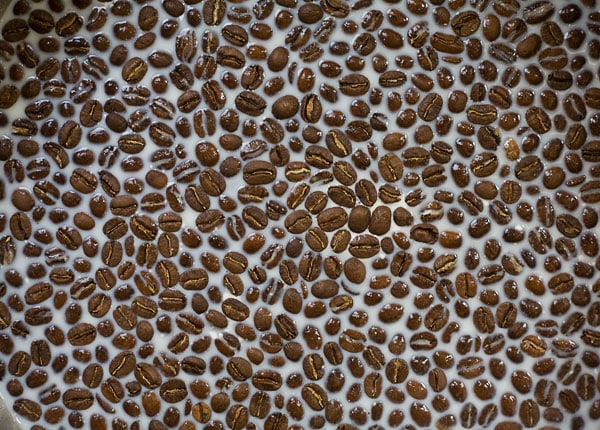 This post is brought to you in collaboration with Real California Milk. They love ice cream as much as I do and when I told them I wanted to put alcohol in a milkshake, they were like, Yes, please do this.
This coffee ice cream starts with steeping whole coffee beans. If you're using a dark roast, the result will be a caramel-colored milk that will look dreamy. I used a light roast, so it wasn't that dark, though the flavor was absolutely there.
Also, if you don't have an ice cream maker (how dare you!) or you just don't want to wait (there's a lot of waiting when it comes to ice cream-making), feel free to use store-bought coffee ice cream. There's no shame!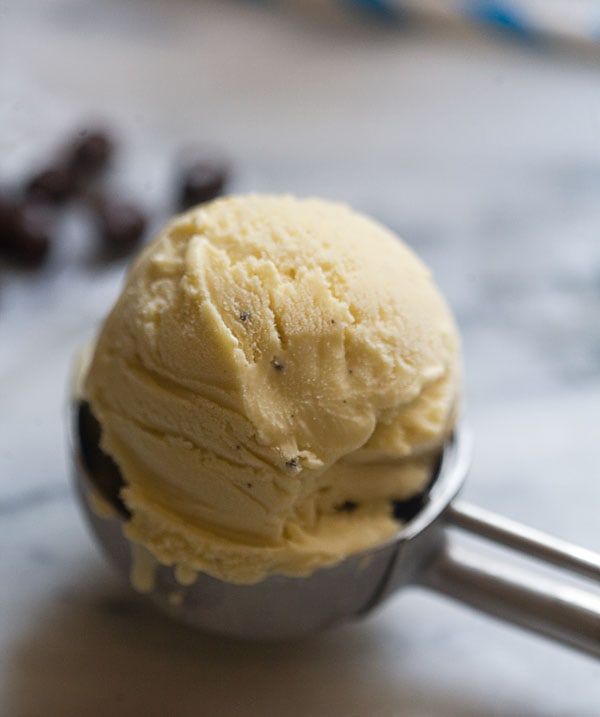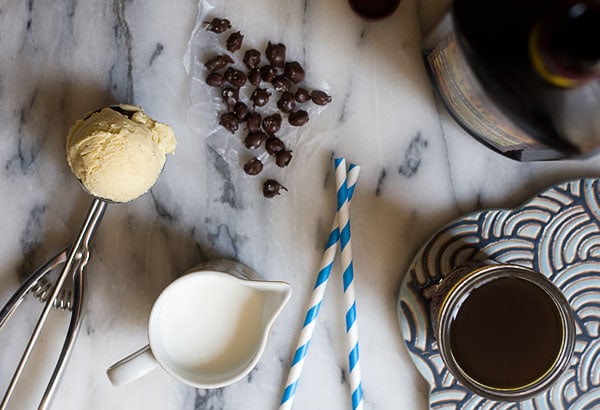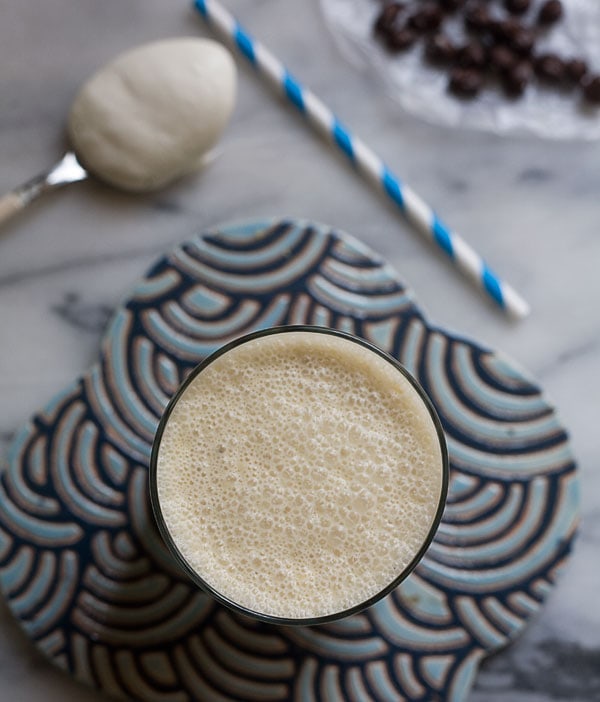 The whipped cream is no normal whipped cream--it's laced with tangy, tart creme fraiche. Dreamy!
This milkshake is topped with coffee beans dipped into chocolate. For some reason, since they sell these at the grocery store, I figured they'd be much more difficult to make. But seriously, all they are are coffee beans dipped in chocolate. Doh! I decided to be my normal self and sprinkle them with a little Maldon Sea Salt. I'm a predictable person. This milkshake is exactly what I wish my afternoon coffee break tasted like.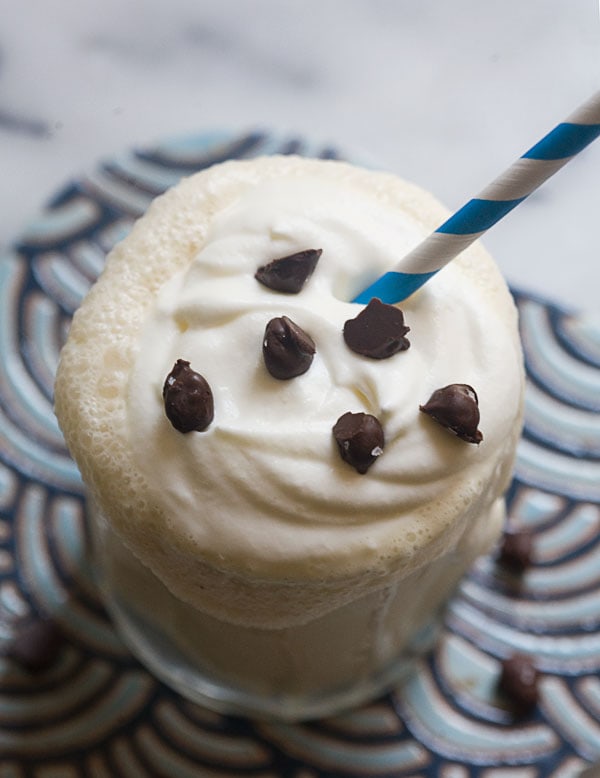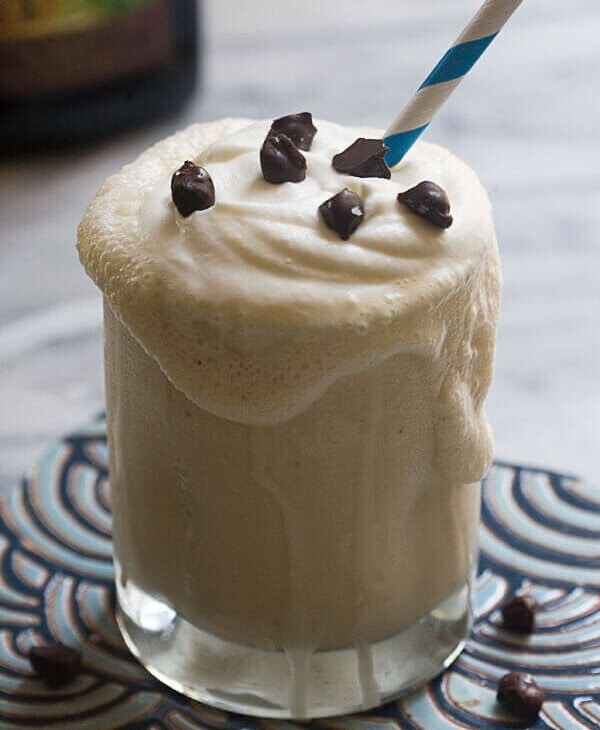 Print Recipe
Boozy Milkshake: Coffee and Rum Milkshake with Salty Chocolate-Covered Coffee Beans
Ingredients
Coffee Ice Cream:
1 ½

cups

California whole milk

½

cup

white granulated sugar

1

vanilla bean

scraped

Salt

1

cup

good-quality coffee beans

1 ½

cups

California heavy cream

divided

5

large egg yolks

½

teaspoon

finely ground coffee
Salty Chocolate-Covered Coffee Beans:
4

ounces

semi-sweet chocolate

15

coffee beans

Maldon Sea Salt
Creme Fraiche Whipped Cream:
1

cup

California heavy cream

¼

cup

powdered sugar

sifted

2

tablespoons

California creme fraiche
Milkshake:
½

cup

California whole milk

¼

cup

cooled coffee

2

fluid ounces

dark rum

3-4

large scoops California coffee ice cream

recipe follows or storebought
Instructions
Ice Cream:
To a medium saucepan placed over medium-low heat, combine the milk, sugar, vanilla bean, vanilla bean caviar, pinch of salt, whole coffee beans and ½ cup of heavy cream. Once the mixture is warm to the touch, cover, remove from the heat and let it to steep for 1-3 hours. (Note: if your coffee beans are a dark roast, they'll be done in an hour. However, if you're using a lighter roast (like I did), you'll want to steep the mixture for 3 hours. If you're worried about letting milk sit out for that long, transfer the pot to the refrigerator to steep.)

Rewarm the coffee-infused milk mixture. Pour the remaining 1 cup of cream into a large bowl and set a mesh strainer on top. In a separate medium bowl, whisk together the egg yolks. Slowly pour the warm coffee mixture into the egg yolks, whisking constantly, then scrape the warmed egg yolks back into the saucepan.

Stir the mixture constantly over medium heat with a heatproof spatula, scraping the bottom as you stir, until the mixture thickens and reads 170 degrees F to 175 degrees F on a digital-read thermometer. Pour the custard through the strainer and stir it into the cream. Press on the coffee beans in the strainer to extract as much of the coffee flavor as possible, then discard the beans. Mix in the vanilla and the finely ground coffee and stir until cool over an ice bath.

Chill the mixture thoroughly in the refrigerator, then freeze it in your ice cream maker according to the manufacturer's instructions. Transfer to a freezer-safe container and transfer to the freezer until firm.
Salty Chocolate-Covered Coffee Beans:
In a double-boiler, or a stainless steel bowl set over a saucepan with simmer water, add the chocolate and cook for 3-4 minutes. Stir with a spatula until chocolate is smooth. Using a fork, dip the coffee beans, one by one, into the chocolate allowing any excess chocolate to drip off; transfer the coffee beans to a sheet of wax paper. Sprinkle with sea salt and transfer to the refrigerator to set, about 5 minutes. Set aside.
Creme Fraiche Whipped Cream:
To a medium bowl, add the heavy cream and powdered sugar. Beat, using a stand-up mixer, until smooth and soft peaks form, about 2-3 minutes. Add creme fraiche and beat for an additional 30 seconds. Set aside.
Milkshake:
To the jar of a blender, add the milk, coffee, dark rum and coffee ice cream. Pulse for 5 seconds, until frothy and halfway blended (this is how I like my milkshakes). Divide between glasses. Top with a big dollop of whipped cream and a sprinkling of chocolate-covered coffee beans.
Coffee Ice Cream slightly adapted from David Lebovitz
(This post is sponsored by Real California Milk. Look out for the Real California Milk and cheese seals on dairy products in your grocery store, which means they're made with 100% real California milk. Thank you for supporting the sponsors that keep A Cozy Kitchen cozy.)