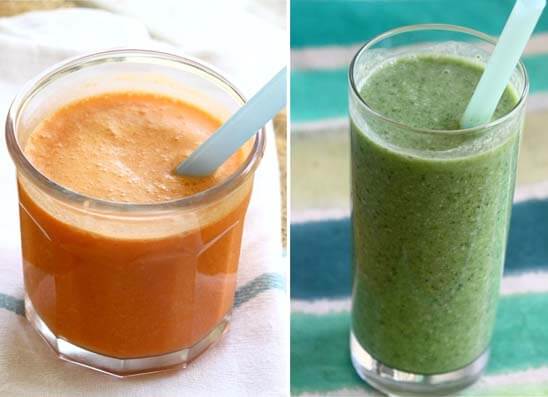 Coconut!
I dig it in my desserts, pancakes, drinks – with or without a lil' alcohol. I kinda like it a whole lot.
And I'm pretty sure it didn't even start with me eating coconut one day and loving it; but actually began with that scene in 'It's a Wonderful Life' when Young Mary tells Young George that she doesn't like coconut, and him totally appalled at such an ignorant statement, retorts with, "Say brainless, don'tchu know where coconuts come from?" He tells her how they come from Tahiti and the Fiji Islands, and goes on about how when he grows up he's gonna go exploring and travel the world and go to islands that no one in Bedford Falls had ever even dreamed could exist. And with that nerdy response about coconuts, Young Mary falls in love. If I remember correctly she even whispers her sentiments for him in his "deaf" ear. I think–as a nine-year old in my Christmas PJs–I fell in love with him a little, too.
So yeah, basically the whole reason I love coconut–and this blog post exists–is thanks to Young George Bailey.
I think we should start with the most annoying thing about handling a young coconuts: opening it…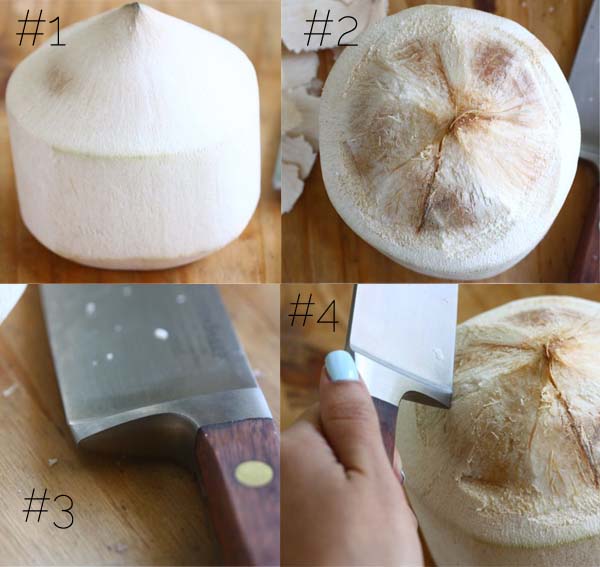 It's actually pretty easy. I've seen it done a few ways but I think this is the easiest–at least for me anyway.
Step #1: You have your coconut! Kewl. Next, grab a sharp knife.
Step #2: Put the coconut on its side and cut off the skin, slicing toward the top of the coconut, until you reach the shell (like pictured).
Step #3: Not really a step. Just a picture of what you're gonna use next – the butt of your knife.
Step #4: With the butt of the knife, hit the coconut (kinda hard!) at a 45 degree. Do this a couple of times all the way around the coconut. Open the "lid" using your knife and….
It'll look like this: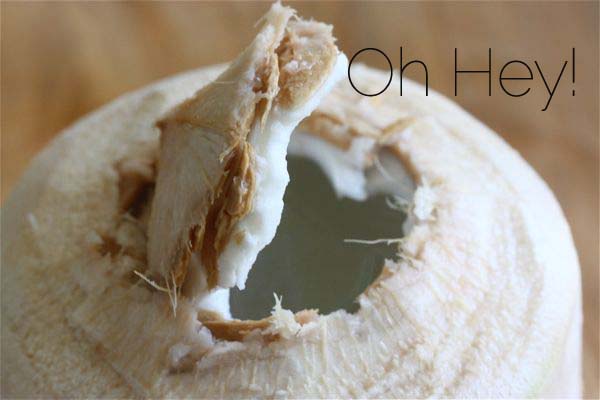 Easy enough. Moving on…
The first juice I'm sharing today was inspired by a coconut carrot juice I had from Pressed Juicery–so good!
I actually have no idea what they put in theres but I figured I'd make mine this way.
Just some fresh carrot juice, coconut water, the meat from the coconut, vanilla extract and cinnamon.
Creamy, delicious, healthy and sweet. It's awesome.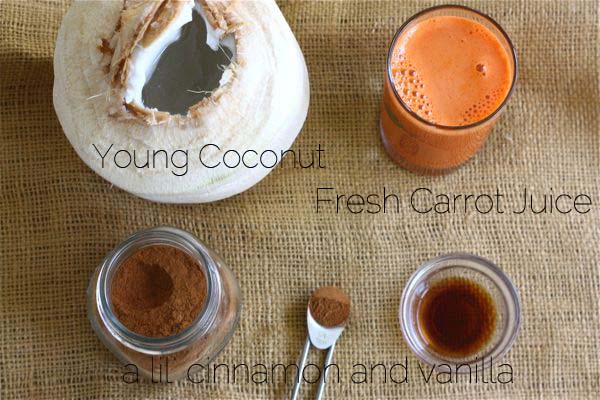 I've been making this kale and coconut smoothie for a few weeks now. I'm so in love with it. There's a good amount of banana–which makes it nice and thick–agave, coconut water and meat, ice and a bunch of kale. When I drink this I imagine my hair looking prettier and skin glowing. I'm kinda positive that kale is the "make you pretty" vegetable. So drink up!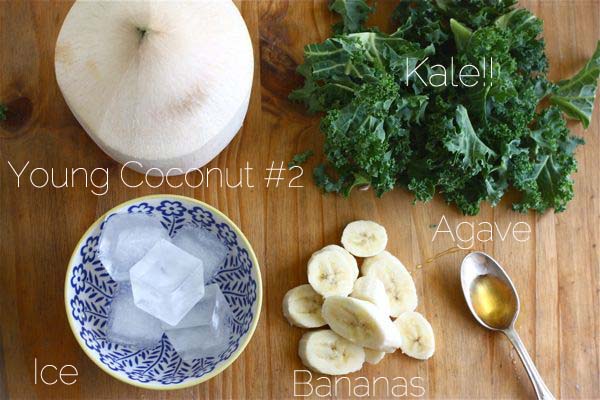 Coconut Smoothie, Two Ways
Coconut Kale Smoothie
1 1/2 cup kale, chopped
2 bananas
2 teaspoons agave syrup
1 young coconut, meat and juice
Handful of ice
1. Place everything in a blender and process until completely smooth, about 2-3 minutes. (My blender is kind of crappy and I literally had to run it this long to get everything smooth–yours might not take as long.)
Coconut Carrot Juice
1 cup fresh carrot juice
1/4 teaspoon ground cinnamon
1 teaspoon vanilla extract
1 young coconut, meat and juice
1. Place everything in the blender and process until completely smooth, about 1-2 minutes.
Yields 1 big Smoothie and Juice