This is the last time I mention pancakes. Promise. (JK I would never promise such a thing.)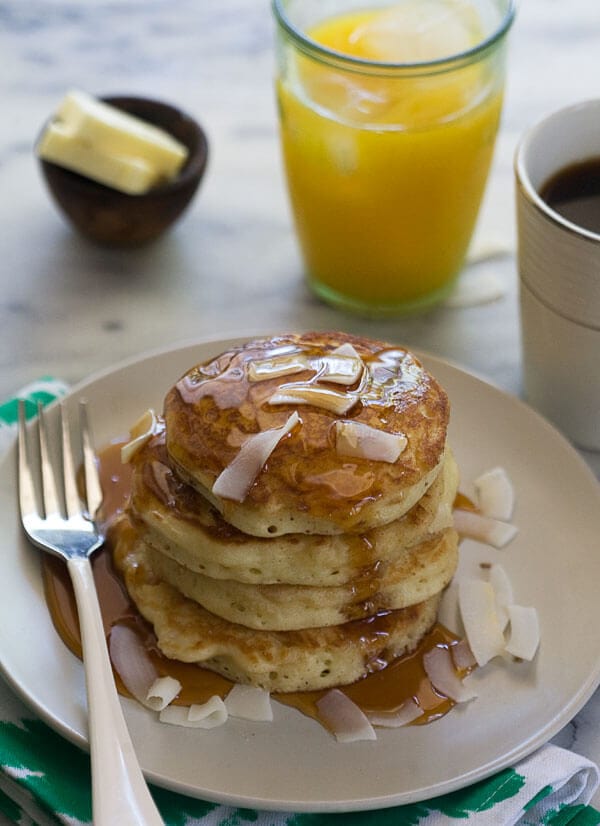 Today I'm bringing you Coconut Pancakes. For this pancake situation, I teamed up with my friends Geri and Erin of LEAFtv. If you're unfamiliar, LEAFtv is a how-to concept (and soon-to-be shoppable video site) that's fresh, fun and beautifully shot. And! Their music is always really awesome. You'll start by watching one video and then find yourself having watched 10. They're addicting!
We shot about six recipes/videos in one day and this is the first one to be released. These pancakes are some of my favorites–the flavors remind me of being on a tropical island with a pina colada and a book in my hand. I need this in my life soon. If you're currently reading this from your iPad sitting on the beach, then I'm jealous. If you're not, then, well, we have these pancakes.
Have a good weekend, friends. This was such a crazy and fulfilling week. Your comments on Tuesday's post seriously made my week, my month, my year!
Thanks you!
xo
Adrianna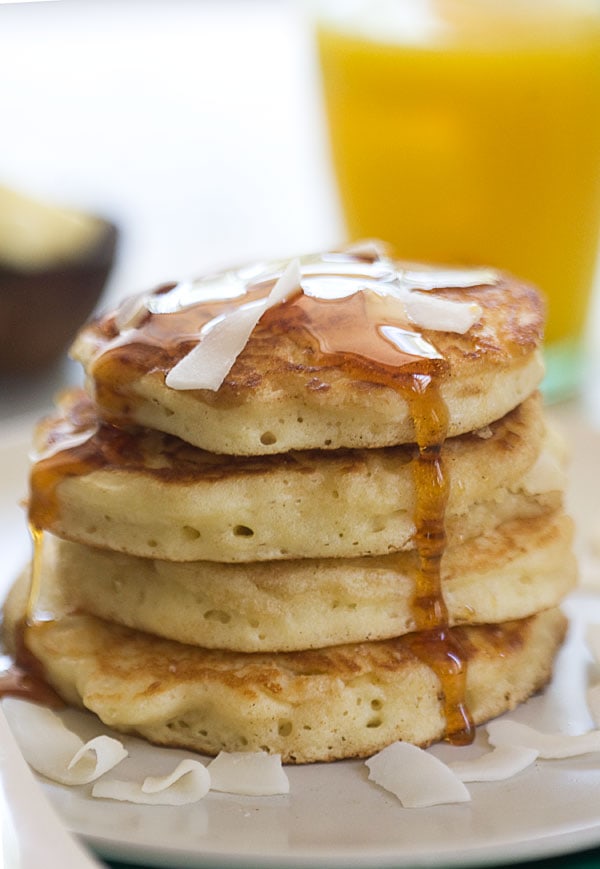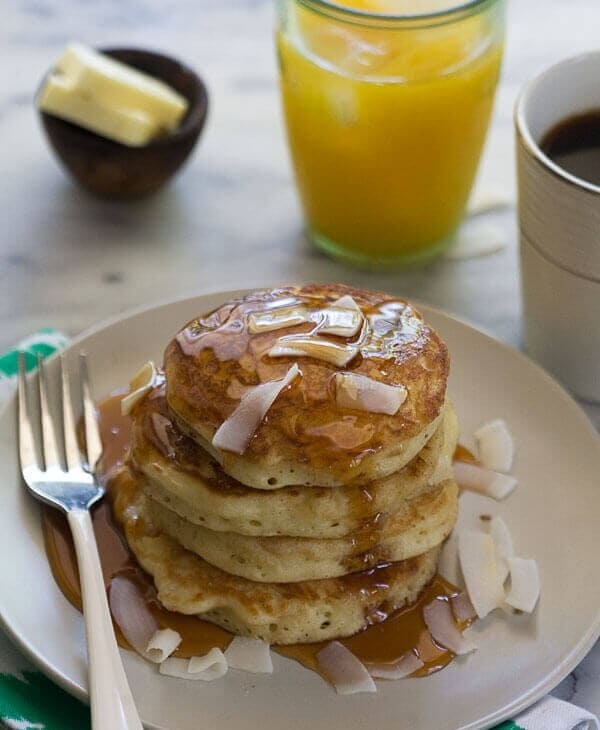 Print Recipe
Coconut Pancakes with Leaftv
Ingredients
Dry Mix:
1

cup

all-purpose flour

1

tablespoon

sugar

1

tablespoon

baking powder

1/4

teaspoon

salt
Wet Mix:
1/2 to 3/4

cup

coconut milk

1/4

cup

cream of coconut

1

large egg

1

tablespoon

butter

melted and cooled
Mix-in:
1/4

cup

unsweetened coconut flakes

Butter or vegetable oil

for the skillet
Instructions
In a medium bowl, mix together the flour, sugar, baking powder, and salt.

In a measuring cup or small bowl, measure out the coconut milk. Add the cream of coconut, egg, and melted butter and beat until thoroughly combined.

All at once, add the wet ingredients to the dry ingredients and mix until just combined. The batter should have some small to medium lumps. Gently fold in the coconut flakes.

Preheat your skillet over medium heat and brush with 1 1/2 teaspoons of butter or a teaspoon onto the warm skillet. Cook for 2 to 3 minutes until small bubbles form on the surface of the pancakes, and then flip. Reduce the heat to medium-low and cook on the opposites sides for 1 to 2 minutes, or until golden brown.

Transfer the cooked pancakes to a baking sheet and place in a preheated 200F oven to keep warm. Repeat the process with the remaining batter, adding more butter or vegetable oil to the skillet when needed. Serve immediately.
Recipe from PANCAKES: 72 Sweet and Savory Recipes for the Perfect Stack