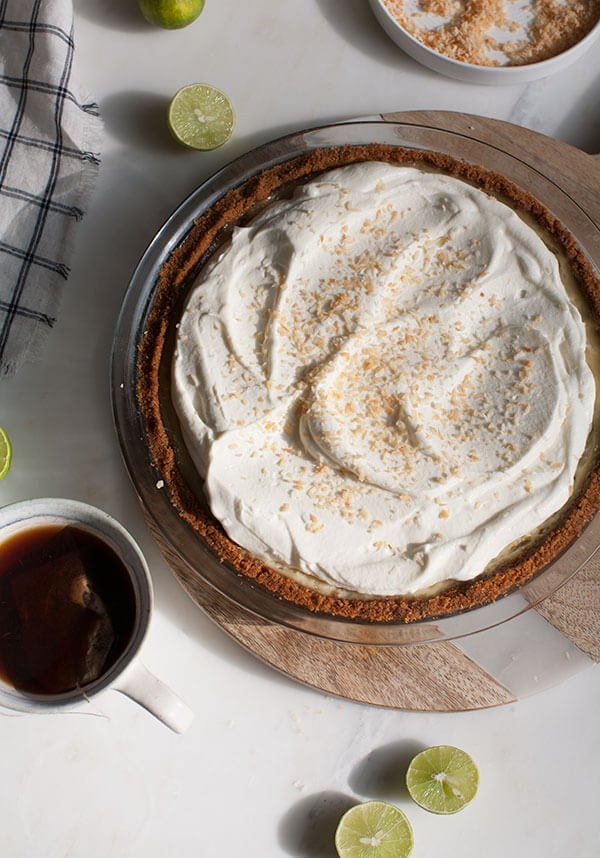 There's no winter equivalent to the term "dog days of summer," is there? I feel like whatever that would be, we're in it. It's sort of a waiting game, it feels like, for flowers to bloom and other produce besides turnips and beets to show up.
And yes, I know I live in Los Angeles, a place where winter never really arrives, but I feel like, we too, are sort of in a bit of a slump. February is slumpy, man!
Cute key limes are here to the rescue and they come in form of this pie, which you should eat a lot of. Pie cures all sorts of things, including but not limited to, the winter blues.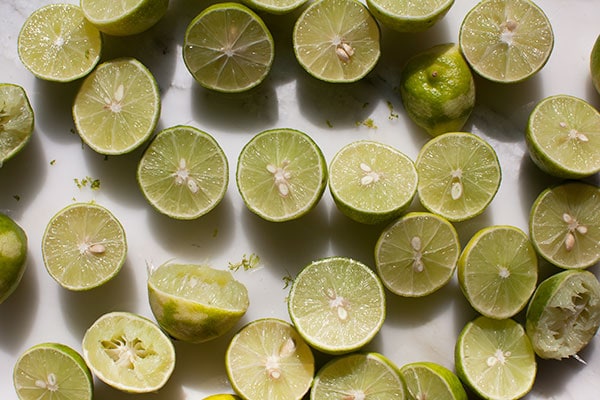 I used to get the winter blues when I lived in North Carolina. For weeks it would be dark and gloomy and my skin would get soooo chapped and dry because of the weather. A doctor once told me I should go to a tanning bed because it would help my mood. I thought it was insane so I went, which is strange because I'm already brown, but it actually helped
This coconut key lime pie is like the equivalent of sitting in the sun. It will give you images of beaches and blue and green oceans and palm trees.
I've actually ventured down to Key West, Floria many times. I have a bit of a fondness for it. It's not a fancy place at all but it's one of the only places in the country where you can see the sunrise and sunset in the same place.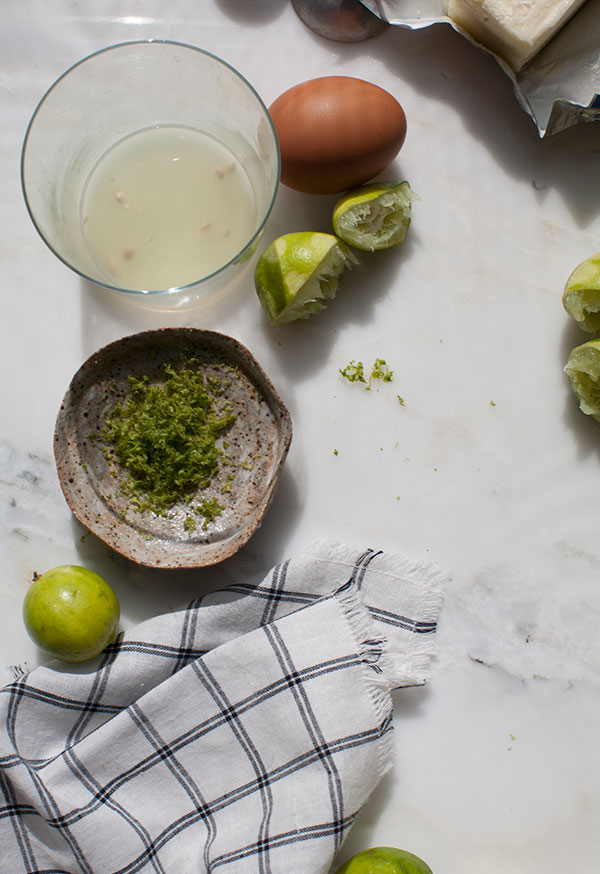 I remember being a kid, sitting at a shitty beach restaurant, which had a deck that stretched out into the ocean, and watching the sunset, as we all ate slices of key lime pie.
I feel like all of my favorite moments are totally imperfect. It was the least Pinterest-worthy/Instagram-worthy moment ever: my dad was wearing Tevas, the white chairs were those cheap plastic ones you'd get on sale at Home Depot and the food wasn't pretty. But that moment is one I'll never forget.
While the restaurant was terrible, the key lime pie was the best. It was tart and sweet and topped with a torched meringue. This pie you see here is an extension of that.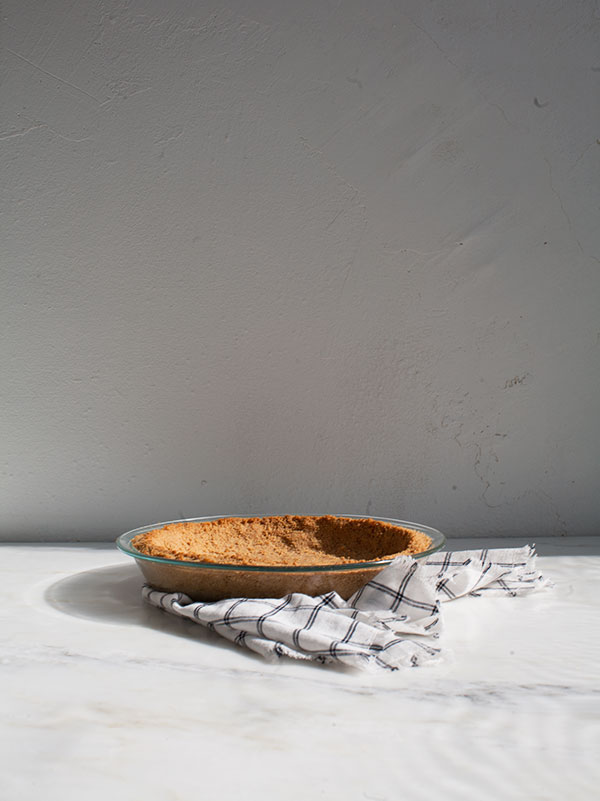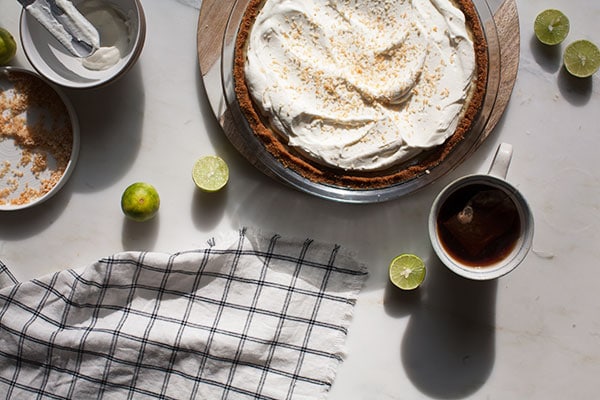 The coconut and key lime juice compliment one another and the topping is less work than making a meringue–it's a simple combo of heavy cream and coconut cream. And this pie isn't perfect. I was frustrated that I couldn't get the crust to be totally even all the way around. And the topping didn't have the swoops I was going for, but I remembered that not everything has to be pitch-perfect to be delicious and important.
And this pie is important.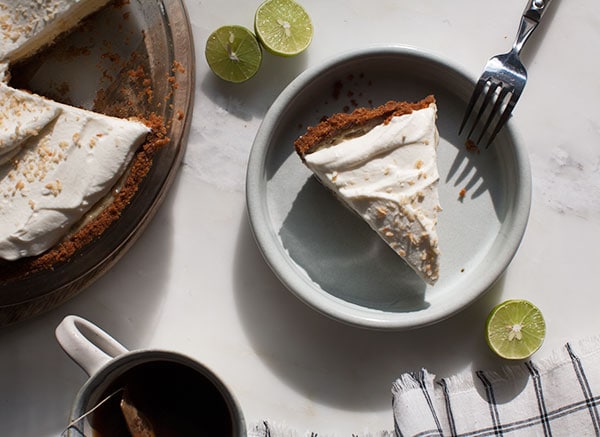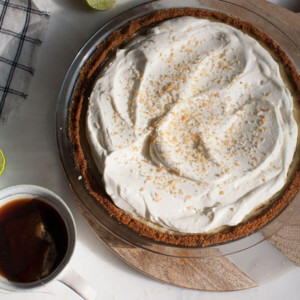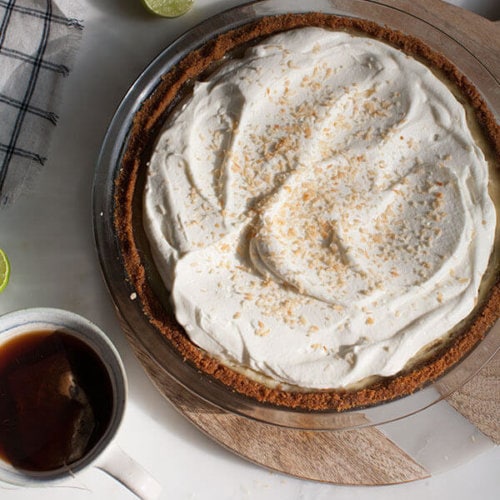 Coconut Key Lime Pie
Print
Serving Size:
6
TO 8 - 1 (nine-inch) pie crust
Ingredients
1

cup

finely ground graham cracker crumbs

,

(from about 8 crackers)

2

tablespoons

granulated sugar

1/4

teaspoon

salt

6

tablespoon

unsalted butter, melted

1

15-ounce can full-fat unsweetened coconut milk

1 1/2

teaspoons

finely grated key lime zest

,

(from about 4 key limes)

1/3

cup

fresh key lime juice

,

(from about 6 key limes)

5

large egg yolks

1

14-ounce can sweetened condensed milk

1/2

teaspoon

salt

2

tablespoons

sweetened or unsweetened coconut flakes

2

tablespoons

powdered sugar

1

cup

heavy cream
Directions
Begin by making the crust. Preheat the oven to 350 degrees F. To a medium bowl, mix together the graham cracker crumbs, sugar, salt and butter. When thoroughly mixed, dump into a standard 9-inch pie dish. Press the crumbs up the sides and all over the bottom of the dish until you have an even layer of crust. Transfer to the oven to bake for 10 to 12 minutes, until lightly golden brown. Remove and set aside and allow to cool completely. Turn the oven down to 325 degrees F.

Meanwhile, let's make the filling! Start this process by setting aside three tablespoons of the coconut cream that's sitting at the top of the can of coconut milk. Transfer this coconut cream to the refrigerator (we're going to use it as part of the topping!). Whisk together the coconut cream and coconut milk together (you can do this in the can). Make sure the clumps aren't super large, some small clumps are ok. In a large bowl, whisk together the coconut milk, key lime zest, key lime juice, egg yolks, sweetened condensed milk and salt. Again, little clumps are ok, but big clumps, not ok--break them up with a fork if they're throughout.

I found it easiest to add the filling to the pie dish when it was in the oven—no spillage! Place the pie dish with the crust on a baking sheet and transfer to the middle rack of the oven. Pour in the filling, close the door and allow to bake for 45 to 50 minutes, until the top is firm to the touch yet still a wobbly. Remove from the oven and cool for about 10 minutes. Transfer it to the fridge so it can set for at least 2 hours. It's a long time to wait but it's well worth it! Since the oven is already hot, we're going to toast some coconut flakes. To a small baking dish, add the coconut flakes and allow to toast for about 5 minutes in the oven, until lightly golden brown. Set aside.

Right before serving, make the topping. By now the coconut cream should be very cold. Add the coconut cream and powdered sugar to the bowl of a stand-up mixer with the whisk attachment; beat until smooth, about 2 minutes. With the mixer running, pour in about 2 tablespoons of heavy cream (eyeball this measurement) and beat until incorporated. Slowly incorporate the rest of the heavy cream until smooth and medium peaks form, about 2 minutes. Just an FYI, you don't want over-beaten whipped cream so do not walk away!

Pour the whipped cream on top of the pie and spread it around--get artsy with it. Sprinkle the toasted coconut flakes on top and slice and serve.
Notes
If you live in the Los Angeles area, I found my key limes at Gelson's Grocery Store in Los Feliz.
Before you start, make sure you know that this pie has to set in the fridge for 2 hours before serving or else it'll be a sloppy ol' mess.
Full-fat coconut milk gave me the best flavor and texture (silky smooth!), but lite coconut milk will also work (my first go-around used lite).
If you can't find key limes, you can use bottled key lime juice! For the zest, feel free to use regular lime zest.
Lastly, a question I'll probably get: will this work with regular limes? Yes, absolutely, but I'd increase the zest by about 1/2 tablespoon.