This key lime pie recipe is made even more delicious by adding a coconut component. Key Lime Pie with Coconut is perfectly sweet with a nutty, delicious coconut flavor.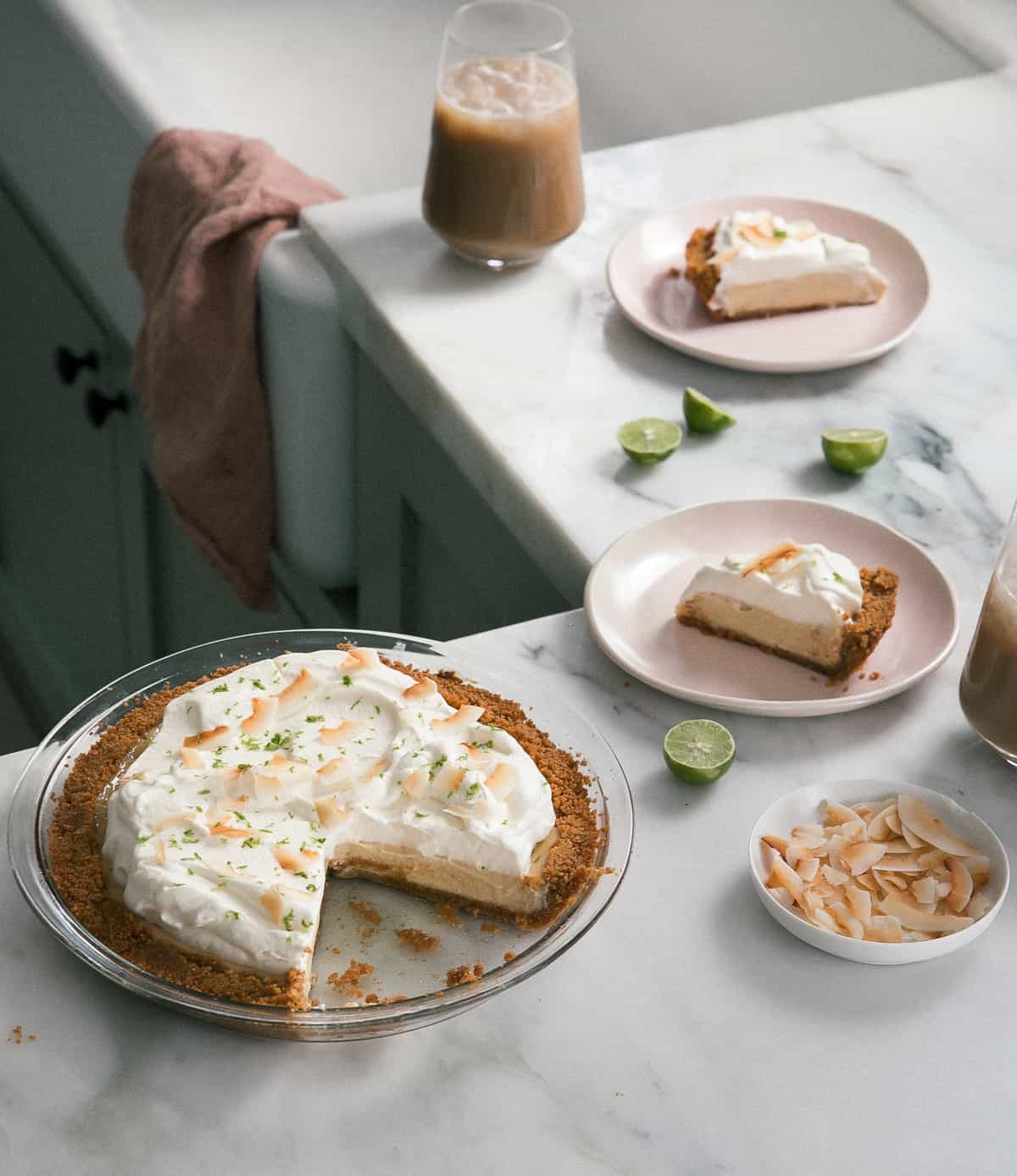 Have you ever been to Key West, Florida. It's at the southern most tip of Florida. It's a magical place where you can visit Ernest Hemmingway's house (with all his cats), drink in the streets), see the sunset and sunrise in the same place AND, of course, eat all the key lime pie. Authentic key lime pie.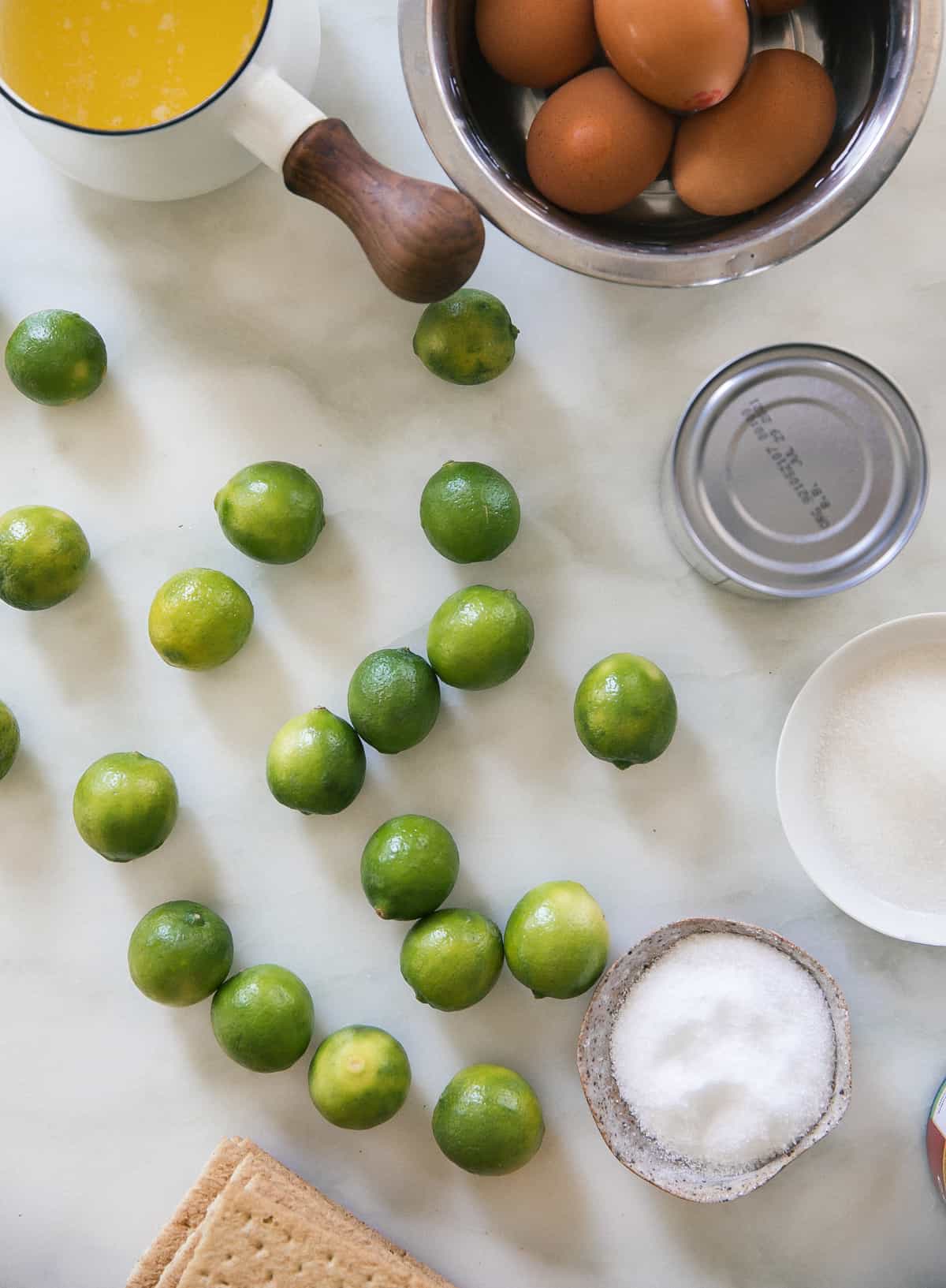 What Is Key Lime Pie
Key Lime Pie is a specialty pie from Key West, Florida. Eating a slice of this heaven while in Key West is a heaven. The best key lime pie traditionally consists of the following:
A graham cracker crust. 
Sweet custard filling filled with lime flavor. 
A meringue topping that's torched until medium golden brown. 
I figured that adding a bit of coconut to the mix would be a good look!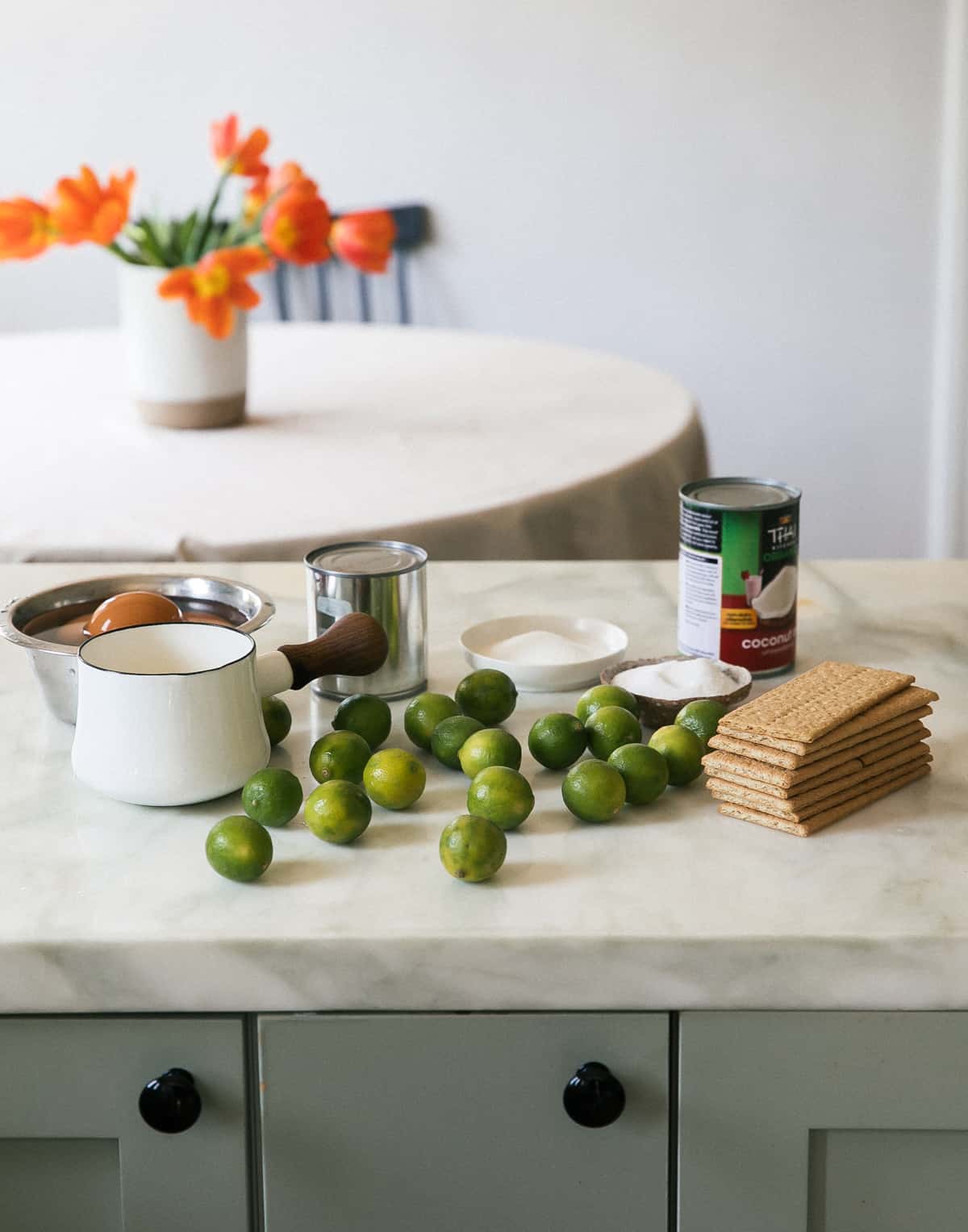 How to Make Key Lime Pie
Make the graham cracker crust. This means combining melted butter, graham cracker crumbs and salt.
Press it into the pie dish. I find it easiest to do this with a cup measure; it really helps pack the cookie crumbs into the bottom and sides of the pie dish.
Bake the crust. 
Mix up the filling. Add the strained the key lime juice and mix it with the coconut milk, sweetened condensed milk, key lime zest and salt.
Pour the filling into the pie crust. I like to open the oven, add the pie dish to the rack and pour the filling to eliminate having to move the pie dish all full with filling.
Bake it until the filling is set! And then let it cool to room temperature and transfer to the fridge for 2 hours to chill.
Toast the coconut flakes (that we're gonna use for garnish).
Make the topping of coconut cream and heavy cream. 
Add the topping to the top of the pie. 
Can You Freeze Key Lime Pie with Coconut
Yes you can absolutely freeze it. Bake the pie and then allow it to cool to room temperature. Wrap it tightly with plastic wrap and then transfer to the freezer. Will stay good for up to 3 months.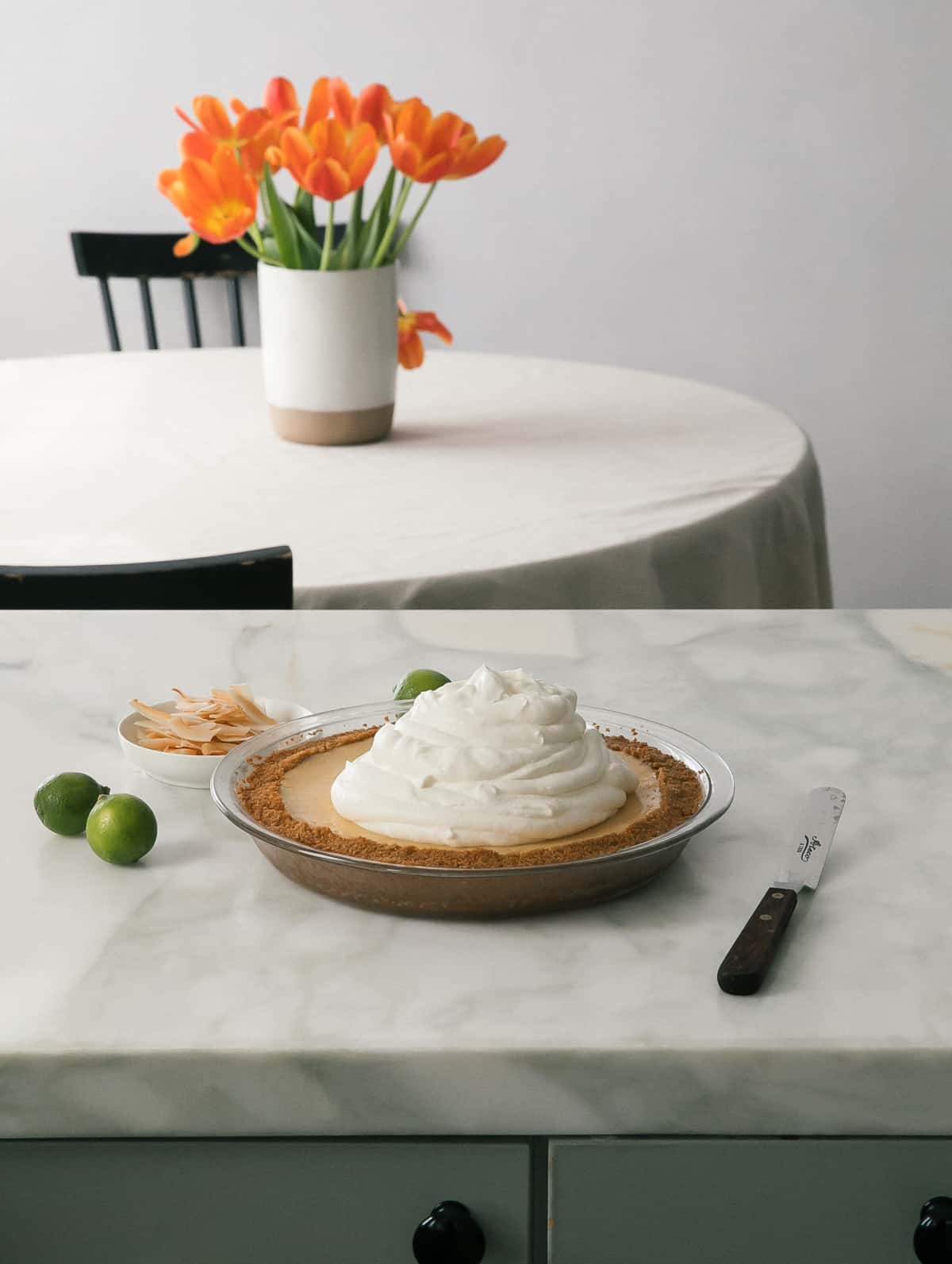 Tips and Tricks
Use a cup measure to help you pack and even out the graham cracker crumbs. This helps a lot!
Strain the key lime juice! This removes the pulp which is important! Key lime pie strain!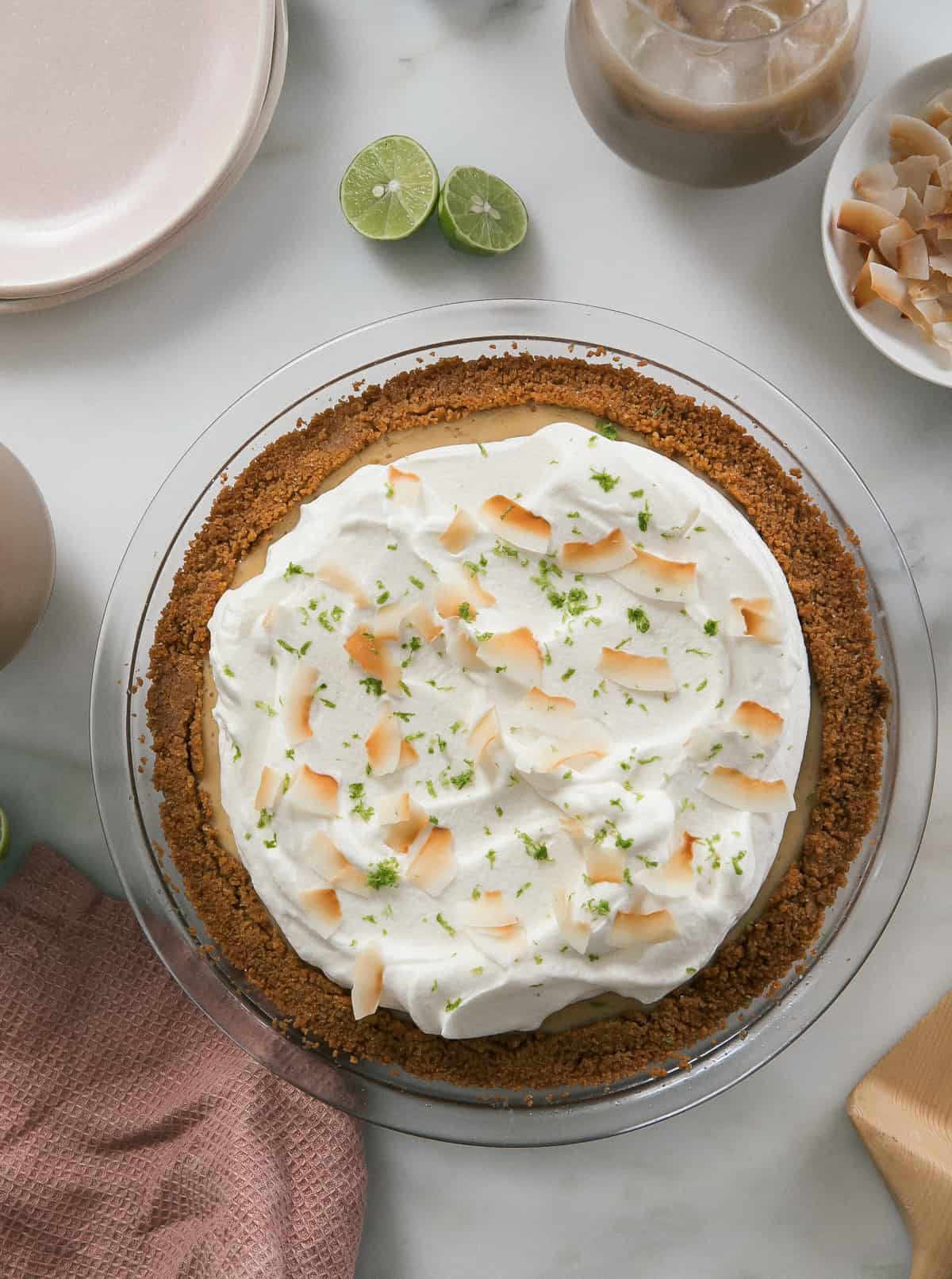 Can You Use Regular Limes for Key Lime Pie?
You definitely can! I would suggest adding more lime zest; up by 1/2 tablespoon of zest. The pie won't be as tart and bright, but it'll still be super delicious.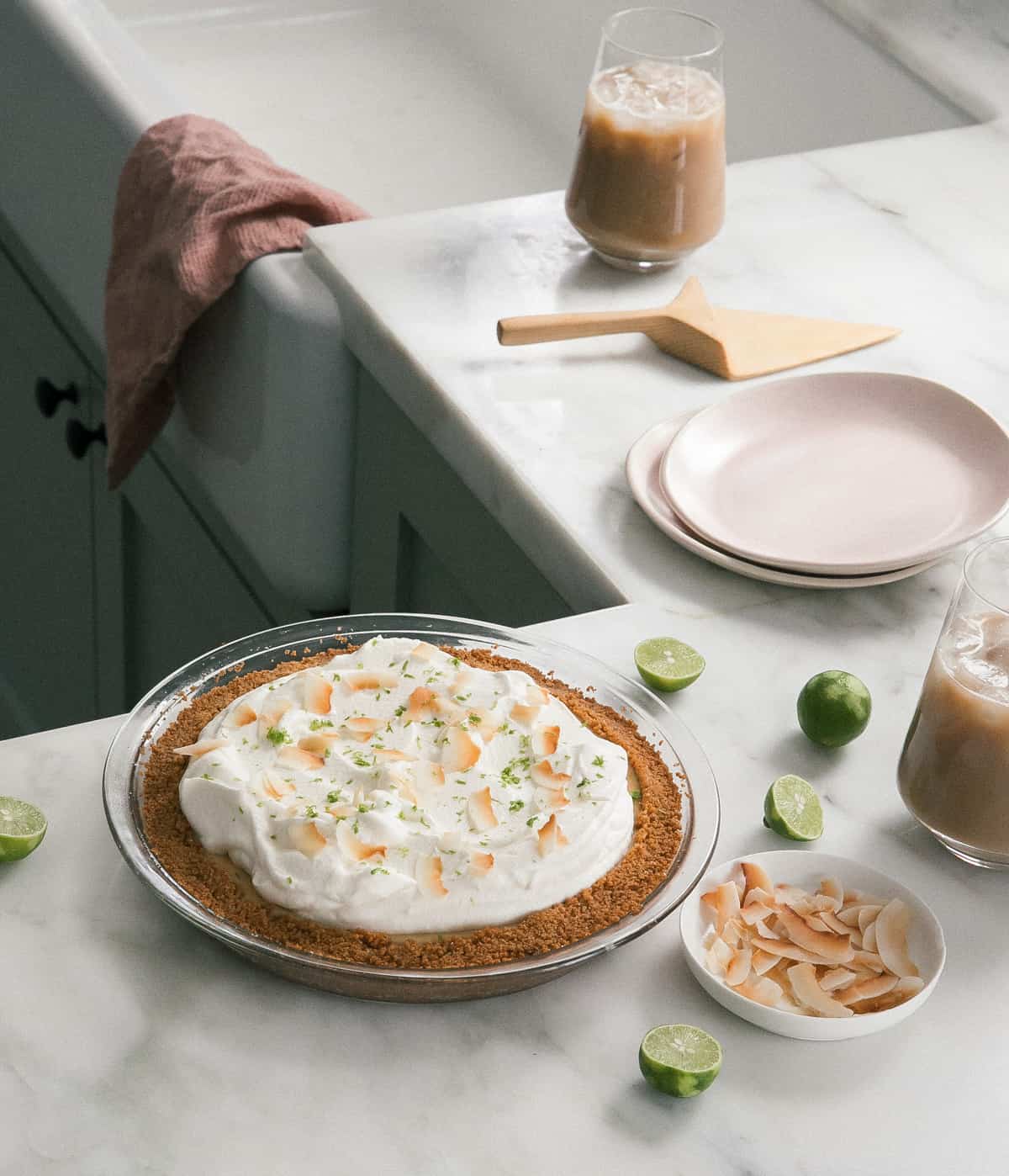 If you make this Key Lime Pie with Coconut, let me know on Instagram! 
Looking for more dessert recipes? Here are some other options: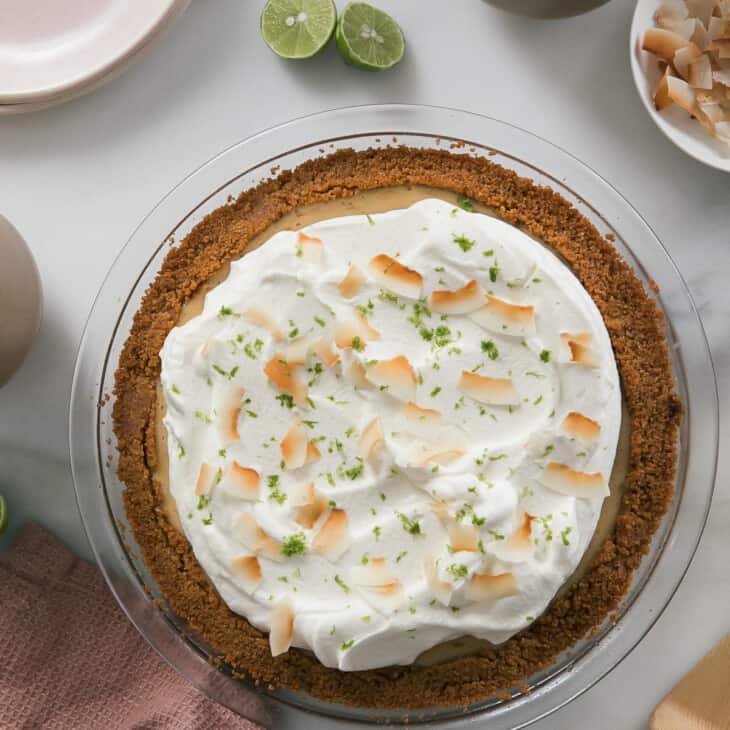 Print Recipe
Key Lime Pie Recipe
This key lime pie recipe is made even more delicious by adding a coconut component. Key Lime Coconut Pie is perfectly sweet with a nutty, delicious coconut flavor.
Ingredients
Graham Cracker Crust
1

cup

finely ground graham cracker crumbs

(from about 8 crackers)

2

tablespoons

granulated sugar

1/4

teaspoon

kosher salt

6

tablespoons

unsalted butter

melted
Key Lime Pie Filling:
1

cup

full-fat unsweetened coconut milk

1 1/2

teaspoons

finely grated key lime zest

(from about 4 key limes)

1/2

cup

fresh key lime juice

strained (from about 12 key limes)

5

large egg yolks

1

(14-ounce) can

sweetened condensed milk

1/2

teaspoon

kosher salt
Key Lime Pie Topping:
1/4

cup

sweetened or unsweetened coconut flakes

(I used chips)

1

cup

heavy cream

2

tablespoons

powdered sugar
Instructions
To Make the Crust:

Preheat the oven to 350 degrees F. To a medium bowl, mix together the graham cracker crumbs, sugar, salt and butter; it should feel like wet sand. When thoroughly mixed, add to your 9-inch pie dish. Press the crumbs up the sides and all over the bottom of the dish until you have an even layer of crust.

Transfer to the oven to bake for 10 to 12 minutes, until lightly golden brown. Remove and set aside and allow to cool completely.

To Make the Filling:

Turn the oven down to 325 degrees F. Start this process by scooping out three tablespoons of the coconut cream that's sitting at the top of the can of coconut milk. Transfer this coconut cream to the refrigerator (we're going to use it as part of the topping!).

Whisk together the remaining coconut cream (if any) and coconut milk together (you can do this in the can). Make sure the clumps aren't super large, some small clumps are ok.

In a large bowl, whisk together the coconut milk, key lime zest, key lime juice, egg yolks, sweetened condensed milk and salt. Again, little clumps are ok, but big clumps, not ok--break them up with a fork if they're throughout.

I found it easiest to add the filling to the pie dish when it was in the oven—no spillage! Place the pie dish with the crust on a baking sheet and transfer to the middle rack of the oven.

Pour in the filling, close the door and allow to bake for 45 to 50 minutes, until the top is firm to the touch yet still a wobbly. Remove from the oven and cool for about 10 minutes. Transfer it to the fridge so it can set for at least 2 hours. It's a long time to wait but it's well worth it! If you can do it overnight, even better! The colder the better.

Since the oven is already hot, we're going to toast some coconut flakes.

To a small baking dish, add the coconut flakes and allow to toast for about 5 minutes in the oven, until lightly golden brown. Set aside.

To Serve the Key Lime Pie:

Right before serving, make the topping. By now the coconut cream should be very cold. Add the coconut cream and powdered sugar to the bowl of a stand-up mixer with the whisk attachment; beat until smooth, about 2 minutes.

With the mixer running, pour in about 2 tablespoons of heavy cream (eyeball this measurement) and beat until incorporated. Slowly incorporate the rest of the heavy cream until smooth and medium peaks form, about 2 minutes. Just an FYI, you don't want over-beaten whipped cream so do not walk away!

Pour the whipped cream on top of the pie and spread it around--get artsy with it. Sprinkle the toasted coconut flakes on top and slice and serve.
Notes
Where to buy Key Limes:
If you live in the Los Angeles area, I found my key limes at Gelson's Grocery Store in Los Feliz. They also sell them at Vallarta Market and Smart & Final. 
Some Things to Keep in Mind Before You Start: 
Before you start, make sure you know that this pie has to set in the fridge for 2 hours before serving or else it'll be a sloppy ol' mess.
Full-fat coconut milk gave me the best flavor and texture (silky smooth!), but lite coconut milk will also work (my first go-around used lite).
If you can't find key limes, you can use bottled key lime juice! For the zest, feel free to use regular lime zest.
Lastly, a question I'll probably get: will this work with regular limes? Yes, absolutely, but I'd increase the zest by about 1/2 tablespoon.
Equipment: 
9-inch Pie Dish | Oxo Strainer | Silicon Spatulas | Stainless Steel Bowls | Kitchen Utility Towels | 
Nutrition
Serving:
6
g
|
Calories:
197
kcal
(10%)
|
Carbohydrates:
6
g
(2%)
|
Protein:
1
g
(2%)
|
Fat:
20
g
(31%)
|
Saturated Fat:
12
g
(75%)
|
Cholesterol:
63
mg
(21%)
|
Sodium:
231
mg
(10%)
|
Potassium:
22
mg
(1%)
|
Sugar:
5
g
(6%)
|
Vitamin A:
700
IU
(14%)
|
Vitamin C:
1
mg
(1%)
|
Calcium:
22
mg
(2%)