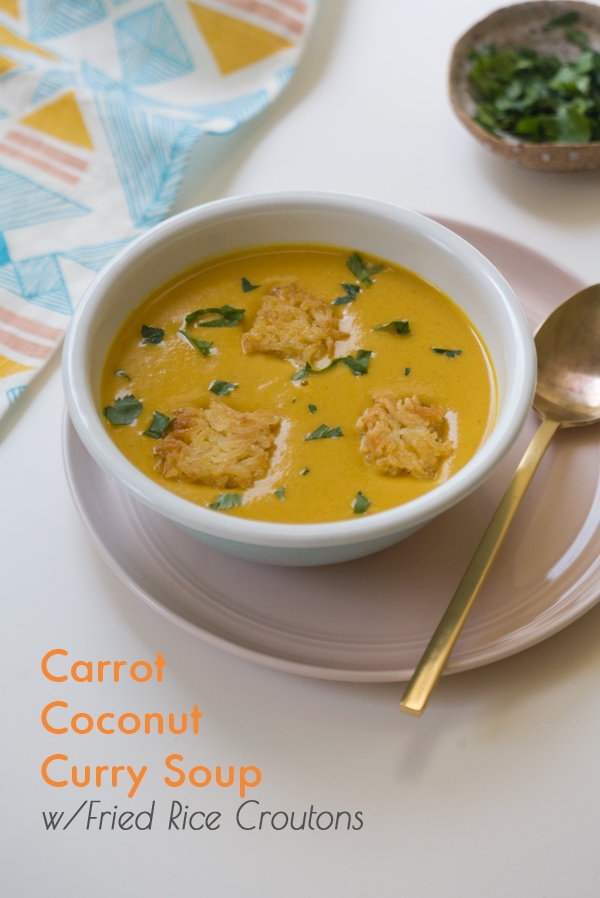 Spring has turned me into a daydreamer.
The weather right now in Los Angeles is cool and drafty and every pink bush, tree and flower has decided it's time for its debut (evidence here). I'm headed to New York at the end of this week and decided to take a gaze over at the ol' weather channel, thinking, hoping, expecting for temperatures to be very Spring-like. You know, 50s and 60s. Umm…New York is gonna be crazy cold. (Not polar vortex cold but you know…) I'm staying with my friend Tre, and I have plans to make him a big pot of soup in his barely-stocked kitchen. This recipe doesn't require much. Just a pot and a blender, warm socks and some hope that Spring is so very close.
This recipe is a part of McCormick's Go4Gourmet challenge. It goes like this: McCormick sent me a box of three ingredients (in this case it was their California garlic powder, chicken stock, and basmati rice) and I used these ingredients, plus any root vegetable of my choosing to create a recipe. These are the results!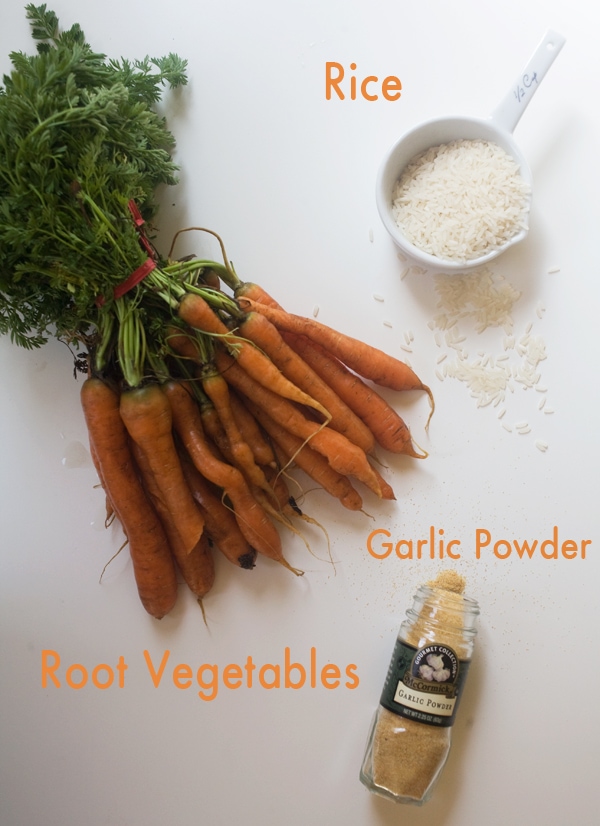 This soup is a good combo of healthy, light and filling. The coconut gives it a bit of a Thai-influence, while the curry adds sooo much flavor that you don't need much for it to have a lot of depth.
Can we discuss Fried Rice Croutons and how it's my goal in life to make them a thing? These croutons taste like the rice that always lives at the bottom of the pot. It's crunchy and chewy and just perfect. The garlic powder gives it a welcomed flavor and I could almost eat a whole bowl of fried rice croutons with the soup poured over. Almost like the reverse.
Fried Rice Croutons > Bread Croutons.
I'm determined to make Fried Rice Croutons a thing. Please help me in my crusade.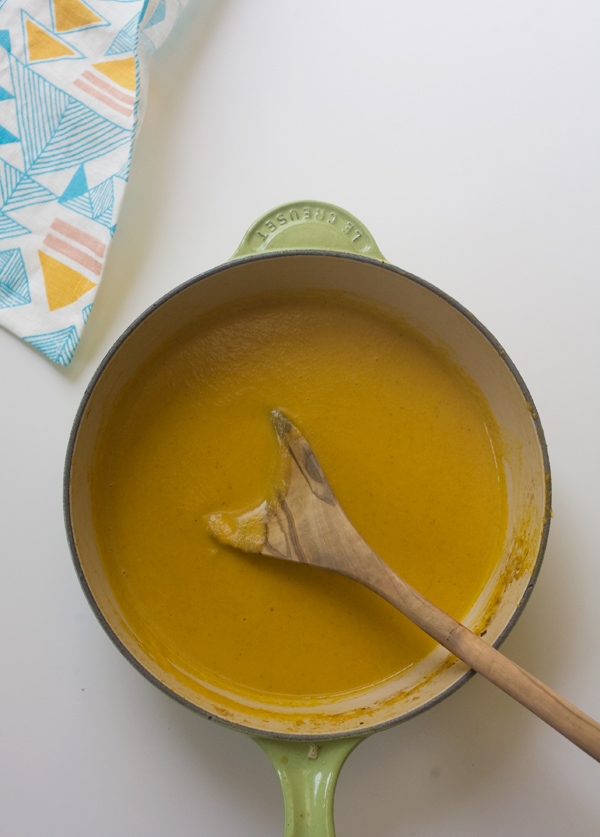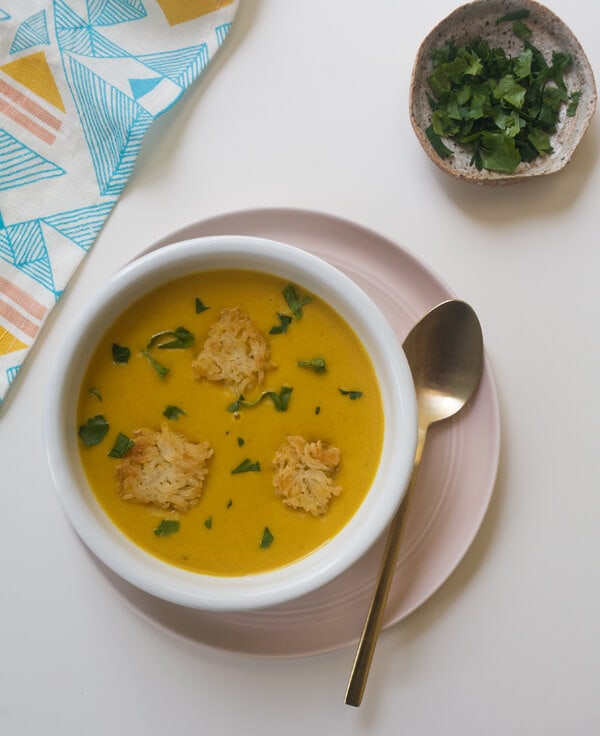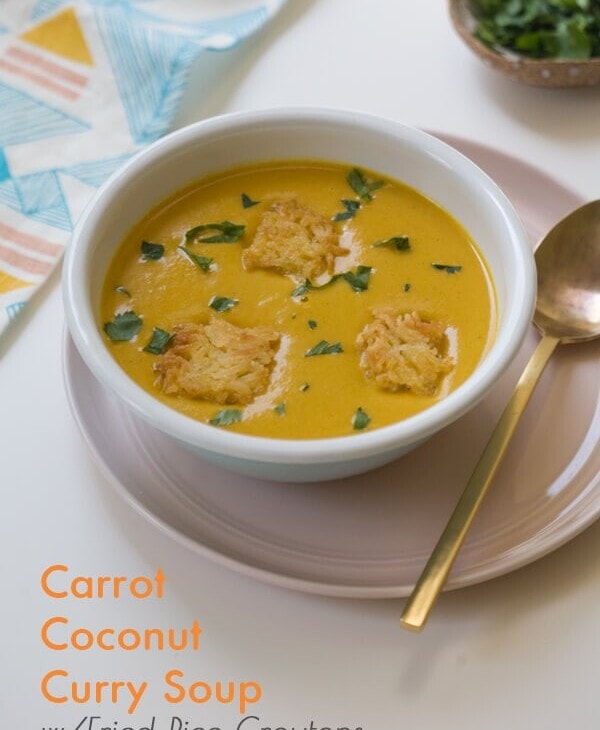 Print Recipe
Coconut Curry Carrot Soup w/ Fried Rice Croutons
Ingredients
Fried Rice Croutons:
1/4

cup

basmati rice

1/4

cup

water

1/4

teaspoon

McCormick garlic powder

Pinch

of salt
Soup:
2

tablespoons

coconut oil

or olive oil 2 small shallots, minced

3

garlic cloves

peeled and smashed

7

small carrots

peeled and diced (equals to about 2 cups of carrots)

1

tablespoons

red curry powder

2

teaspoons

freshly grated ginger

3

cups

vegetable broth

1 1/2

cups

coconut milk

1/2

teaspoon

table salt

plus more if needed

Fresh cilantro

for garnish
Instructions
To make the fried rice croutons, mix the rice, water and garlic powder together in a rice cooker. Cook, using your rice cooker's instructions, until the rice is tender and water has evaporated. Transfer the rice to a bowl, cover with plastic wrap and place in the refrigerator so the rice can "dry out" for about at least 2 hours, ideally overnight. This will make it more fry-able.

In a medium pot, heat the coconut oil, over medium heat. When the oil is hot, add the shallots and cook until translucent, about 5 minutes. Next, add the garlic cloves, carrots, red curry and fresh ginger; stir until everything is thoroughly mixed and cook for about a minute, until very fragrant.

Mix in the veggie broth and coconut milk. Once the mixture reaches a slight simmer, turn the heat to low, cover the pot and allow to cook for 20 minutes, until the carrots are tender when poked with a fork.

If you have an immersion blender, puree the soup until smooth. If you don't have one, no biggie. Carefully add the soup to the blender (you'll have to do this in a few batches) and puree the soup, being sure you allow the hot air to escape (if not, you'll have a bit of an explosion on your hands). Adjust the soup's consistency, if you like. I added about 1/2 cup of veggie broth to thin it out just a bit. Next, salt to taste. (I added about 3/4 teaspoon of salt). Turn the heat to low to warm while you make the fried rice croutons.

At this point the rice should be dry. Line a 8x8-inch baking dish with foil. Press the rice onto the foil, creating one even layer. Give it a few more presses, just to be sure the rice is compact and adhering. Lift the foil out baking sheet (the rice should be a circular kind of shape); trim the sides with a knife and cut the compressed rice into squares (these don't have to be perfect).

In a sauté pan, pour in 2 tablespoons of olive oil. When very hot, gently add the rice croutons and fry on each side until crispy, about 1 minute. Immediately transfer to a paper towel to drain and sprinkle with salt. Repeat with remaining rice croutons (this amount should give you about 8).

Divide the soup between bowls and garnish each one with a sprinkling of freshly chopped cilantro and a few fried rice croutons.
(This post is sponsored by McCormick Gourmet. Thanks for supporting the sponsors that keep A Cozy Kitchen cozy.)