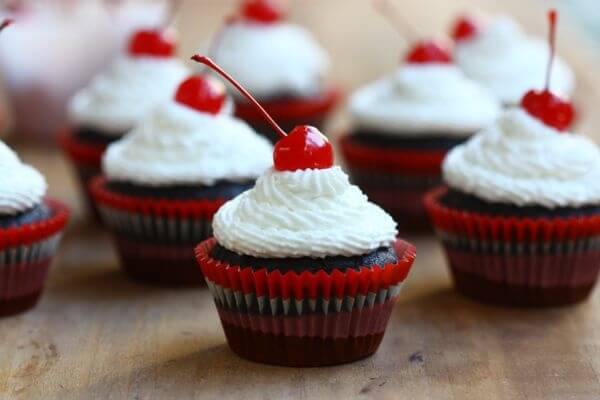 I don't drink coca-cola. But I do eat it. Weird. Yeah, I dunno.
It's way better eaten. Let's take a look, shall we?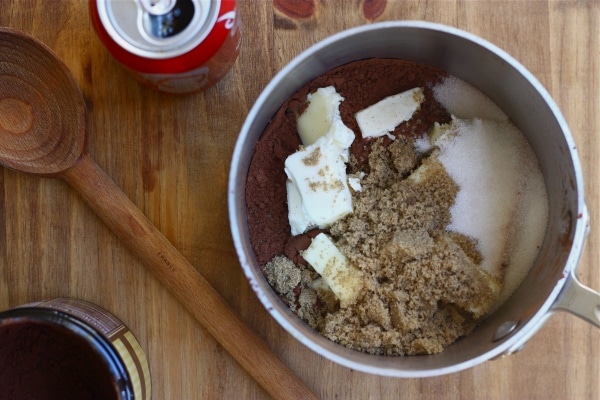 There's some dark and white sugar cooked with dark dutch processed cocoa powder...and a can of coke! Your kitchen will smell all sorts of delicious.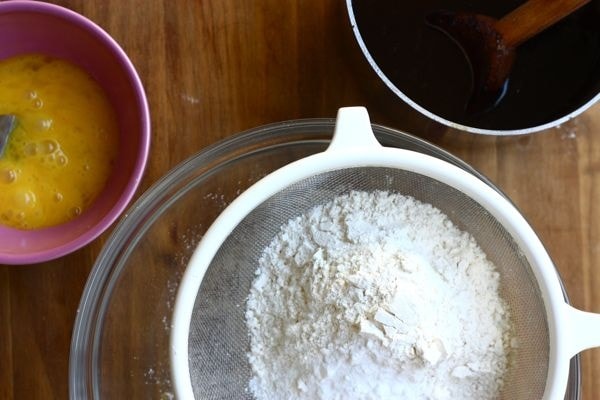 There's some the ol' that pouring into this and this pouring into that. No biggie.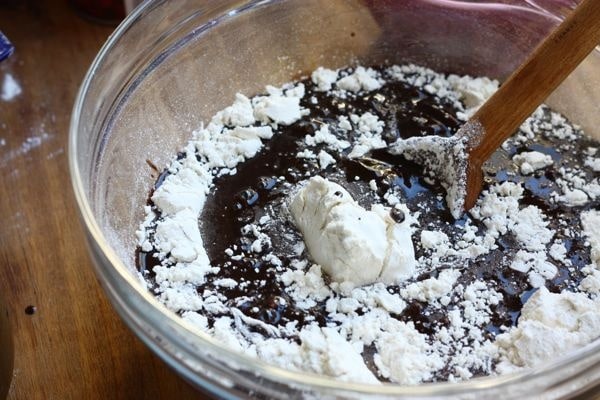 There's some mixing. No equipment needed. This is an old school kind of recipe.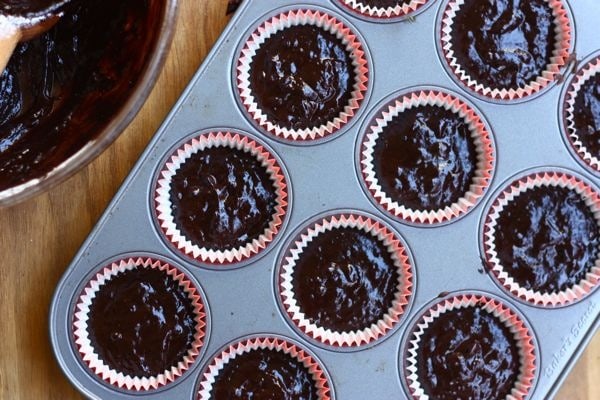 Take a little PAM and spray the liners--this is a sticky cupcake batter. Then the usual ¾ of the way fill up in your cupcake liners.
UPDATED TIP ALERT: A few of you tried this recipe and sprayed them and the cupcake still stuck. Using foil liners should fix this problem. If you don't have 'em just know that the cupcake will stick a little. They're still awesome.
These cupcakes are chocolately, decadent, rich and kind of amaze. There's just a hint of coca-cola flavor. It's not super obvious. But despite this, it's MA-JOR.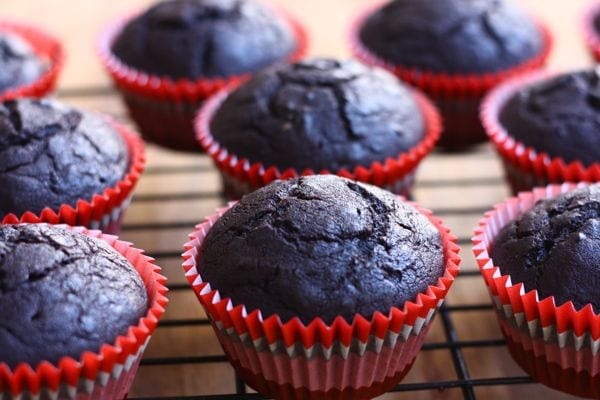 This frosting isn't frosting--it's just whipped cream. I had plans on a coca-cola buttercream, but my inability to plan properly (read: leave the butter out), forced me to improvise.
And guess what? I kinda dig whipped cream as frosting. I might be doing this mistake on purpose next time.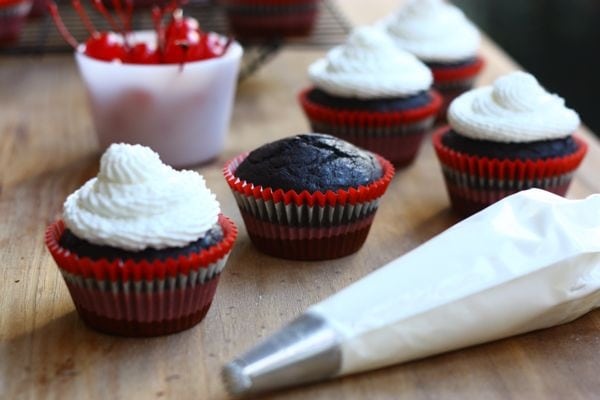 Next, cherries on top!
P.S. Why are maraschino cherries so cute looking, but so gross tasting. WHY? Someone needs to fix that.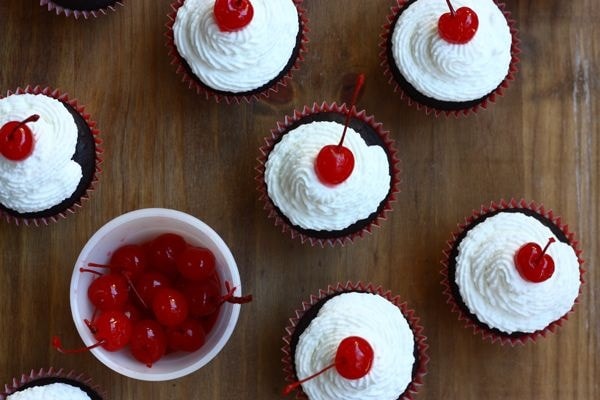 Coca-Cola Cupcakes
Recipe adapted from Baked: The New Frontier
Yields 15 cupcakes

Print this recipe!
Cupcakes:
2 cups Coca-cola (do not use diet!)
1 cup dark unsweetened cocoa powder
½ cup (1 stick) unsalted butter, cut into 1-inch pieces
1 ¼ cups granulated sugar
½ cup firmly packed dark brown sugar
2 cups all-purpose flour
1 ¼ teaspoons baking soda
1 teaspoon salt
2 large eggs
Whipped Cream Frosting:
1 ½ cups of heavy whipping cream
4 tablespoons of powdered sugar
½ teaspoon of vanilla extract
Maraschino cherries (for topping)
Preheat the oven to 325 degrees F. Generously spray the inside of the cupcake liners with nonstick cooking spray.
In a small saucepan, heat the Coca-cola, cocoa powder, and butter over medium heat until the butter is melted. Add the sugars and whisk until dissolved. Remove from the heat and let cool. In a large bowl, whisk the flour, baking soda, and salt together.
In a small bowl, whisk the eggs until just beaten, then whisk them into the cooled cocoa mixture until combined. Gently fold the flour mixture into the cocoa mixture. The batter will be slightly lumpy--do not overbeat, as it could cause the cake to be tough.
Pour the batter into the prepared cupcake liners/tin and bake for about 20 minutes, rotating the pan halfway through the baking time, until a small skewer inserted into the cake comes out clean. Transfer the cupcakes to a wire rack to cool completely.
In a medium bowl, beat whipping cream, powdered sugar and vanilla extract until medium peaks form. Transfer to pastry bag with a 5B star tip. In a circular motion, pipe on whipped cream and top with one cherry.