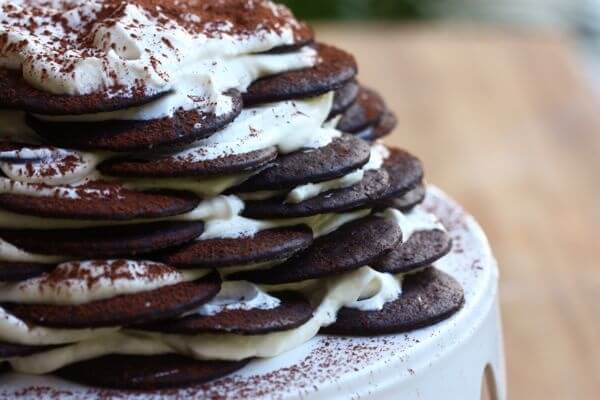 I have an affinity for old things.
Vintage dresses, creaky old houses, boots from the flea market, random old family photos I find in the street...I dunno...I dig it all. I think it's because I like things with history and stories attached...stuff that's aged. I just, myself, don't want to be aged. I confuse myself. Constantly.
Icebox Cakes have a bit of history. They're aged like all that stuff listed above, though I'm entirely sure about its history (if you know, please leave it in the comments!!), I do know that this dessert is what someone must've stumbled upon/dreamed up when they were desperate for something fast, easy and amazing. Calling for only two ingredients (chocolate wafers and whipped cream), means anyone at any time can do this successfully.
Can we talk cake deets?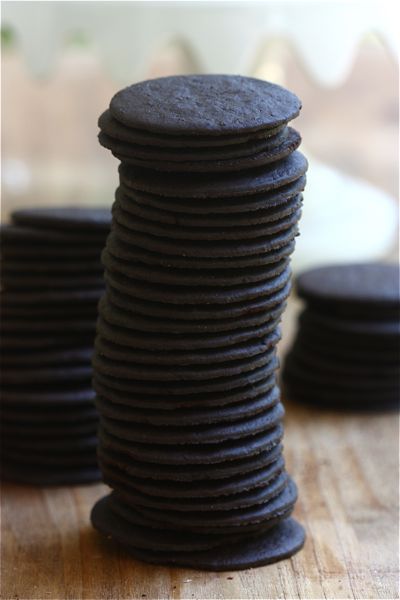 Again, two ingredients: Nabisco's Famous Chocolate Wafers and whipped cream. That's it.
I have a few pro-tips.
Since there are only two ingredients, both are important. Let's start with the cookies. If you're in LA, head to Gelson's where they have them in stock. Here's a link online where they sell them. The unfortunate part is that they sell them in bulk? Who wants to buy $60 worth of chocolate wafers?! Umm...no one. Dumb.
On the East Coast I hear Publix is the place. Call around--it's worth it!
And obviously, you can make your own, but isn't the charm in a cake like this that you don't have to turn on the oven?
Yeah, I think so too.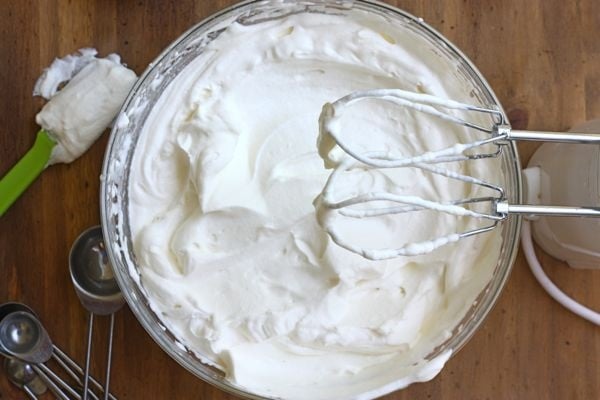 Next, the whipped cream...easy, right? Yes....no....wait, this part is important. You must use heavy whipping cream, not whipping cream. If you use just plain whipping cream the cookies will absorb all of the whipped cream (made from plain whipping cream) and you'll have a soggy mess on your hands.
BUT if you use heavy whipping cream, it'll hold. Also, I usually beat my whipped cream a little loose. For this, I actually flirted with the area right before they were over whipped.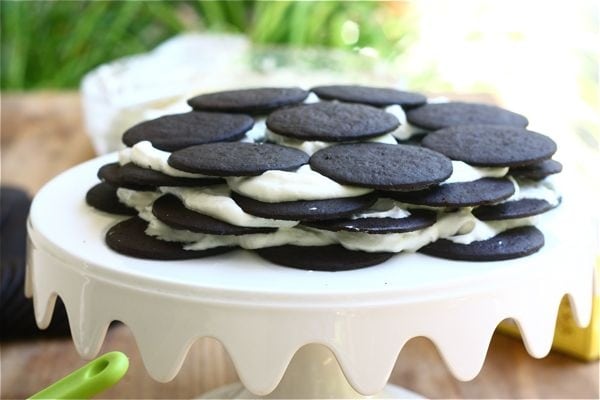 Seriously, I might be making this overly complicated--it's just that I want yours to turn out perfect too, because I haven't been this excited about a dish in forever.
Seriously. This is me in love.
After you arrange the cake, layer by layer, all you do is stick it in the fridge and wait...and wait.
Here's a little fridge peek for you: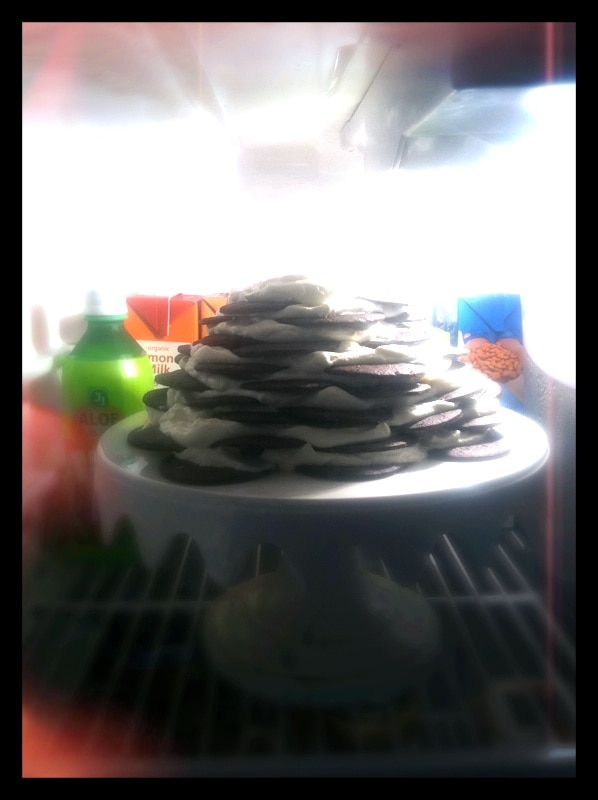 After a few hours (or overnight), the wafers will absorb just the right amount of the whipped cream making it one big mass, allowing you to cut it...into the perfect slice of the easiest most amazing thing you've ever eaten.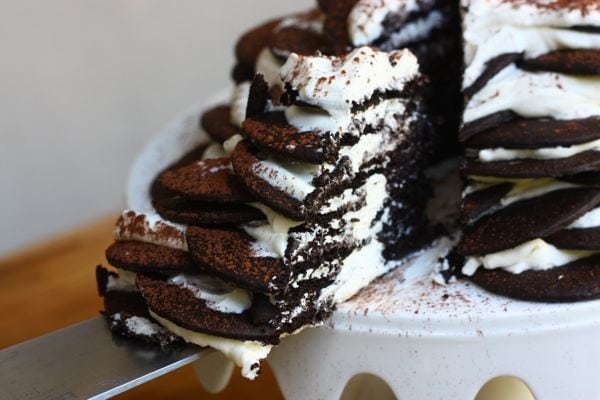 Classic Icebox Cake
Recipe tweaked from Magnolia Bakery (via Smitten Kitchen)
3 cups heavy cream
4 tablespoons sugar
1 tablespoon vanilla extract
2 (9-ounce) packages Nabisco's chocolate wafer cookies
Unsweetened cocoa (or chocolate shavings)
In a large bowl, beat cream, sugar and vanilla with an electric mixer on high speed until soft to medium peaks form.
On a flat serving plate, arrange 7 cookies side by side in a circle, keeping 1 cookie in the center.
Spread with ½ cup whipped cream, making a 7-inch circle. Repeat with remaining cookies and cream, making 11 layers of cookies and ending with a layer of cream (there will be a few cookies left over). Cover with plastic wrap and refrigerate overnight. (Note: I didn't cover and it was fine.)
To serve, dust top lightly with cocoa powder or chocolate shavings.