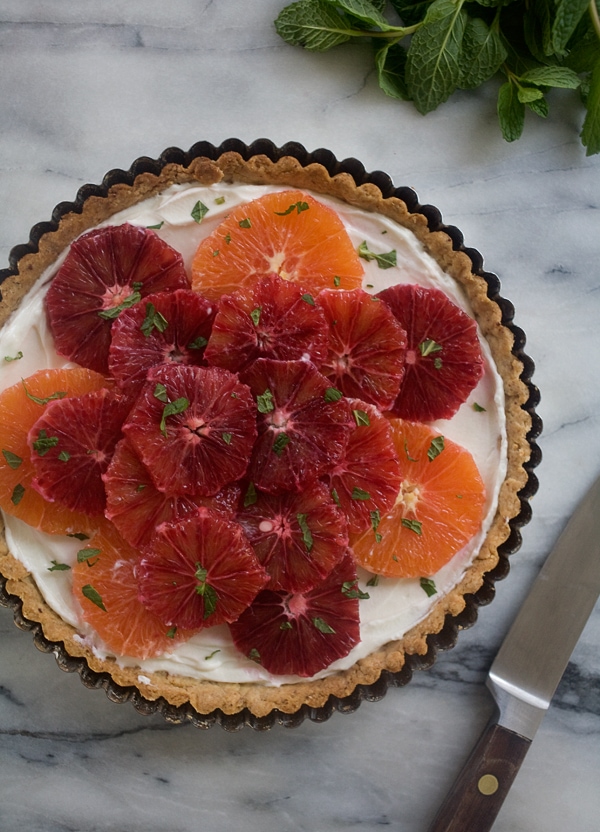 I'm standing here eating a slice of this tart, in front of the mirror, studying this stupid wrinkle that has appeared—literally out of no where!—on my forehead. The wrinkle line is a vertical situation and is just sitting happily right in between my two eyebrows. I think it's showed up—and is probably here to stay—because when I watch TV or read a book, I scrunch my face up. It's my "concentration face." I've made it for as long as I can remember. I suppose it's just the way my face settles. Bad move, my friends. Bad move!
It's made me think about how I don't have a skincare routine. I don't really have a regimen. And maybe I should. Ugh. Why can't I be nineteen forever. Actually, nineteen was stressful. I just want nineteen-year-old skin forever. That'd be better. Since that's impossible, I guess I need to figure out a skin treatment situation. Do you do this? Please share. Right now I wash my face with Cetaphil and then rub a bit of Josie Maran's Argan Oil all over my face and that's it. And that feels like a lot to me. I know it's not enough…I just know it.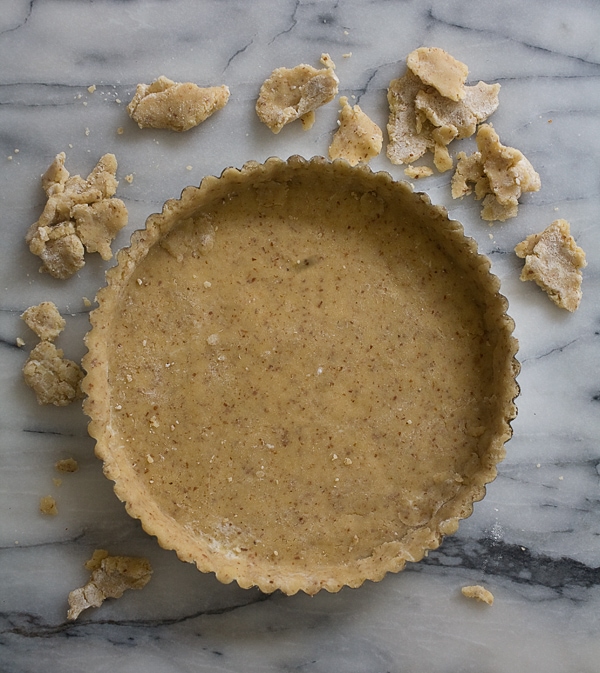 If I were in the skincare making business, all my stuff would be food-inspired. Duh. I'm talking lotions made with essential oils that smell like my favorite desserts. Putting stuff on your face would feel one part snack, one part face mask! It'd smell so good that you'd want to eat it. But you shouldn't because it's supposed to battle wrinkles and dirty pores.
My dream would that the smells would encourage people to then go make dessert.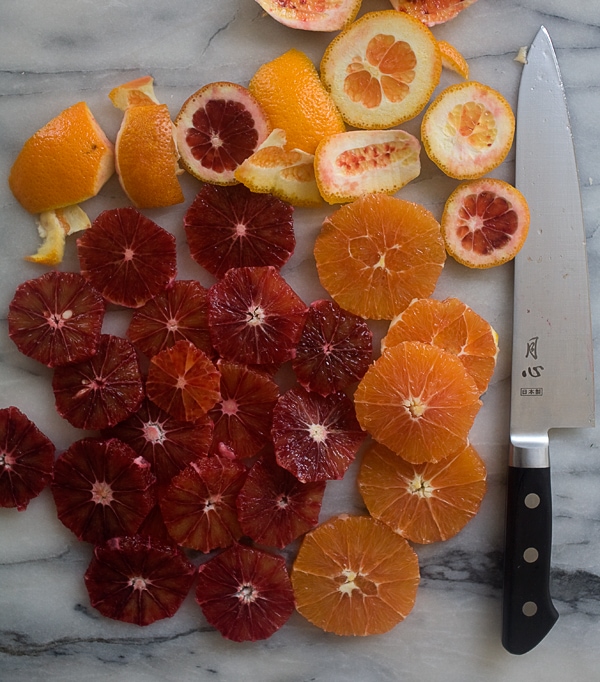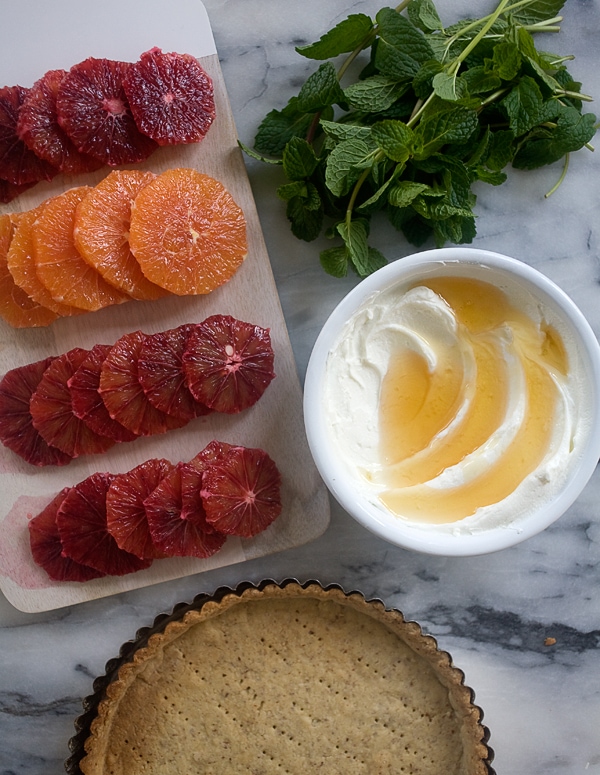 Preferably something light and healthy-ish. I know this tart is dessert and there's sugar and butter and yogurt but this tastes refreshing, light and bright.
It's basically the dessert version to this salad. I'm so not sick of winter citrus yet because when I go to the market it's the only thing that looks remotely good to me. That and meat and wine, which will be included in a recipe soon!
In the meantime, eat some color.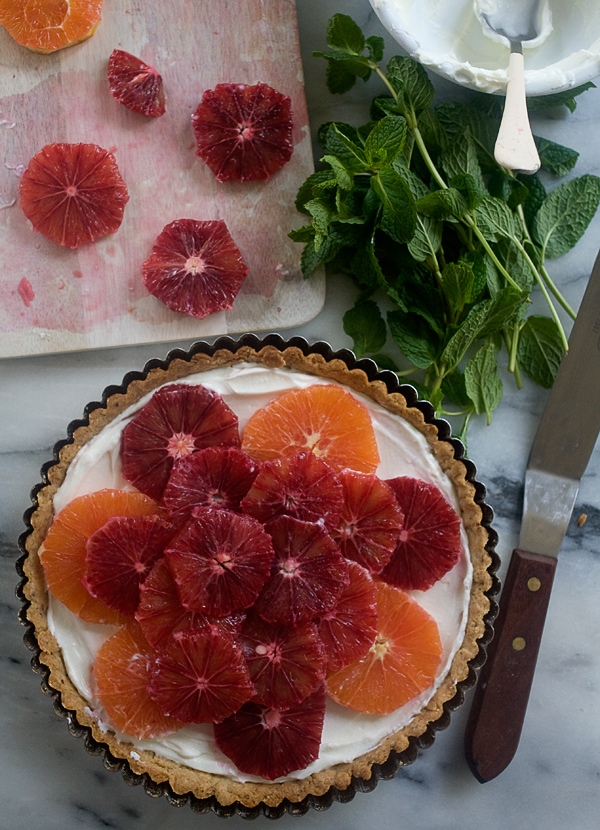 One of my favorite flavor combinations is hazelnuts and grapefruit or citrus. It's unexpected but works so well. The yogurt is drained overnight so it turns into a yogurt cheese–also known as lebneh. It's glorious. I love to swirl in a few tablespoons of honey until it's perfectly sweet.
Making a tart crust is always a bit labor-intensive, so I encourage breaking the work up a bit: making the tart crust dough the night before, sticking it in the fridge to rest and then draining the yogurt. This way the next day all you'll have to do is bake up the crust and then assemble. Super easy!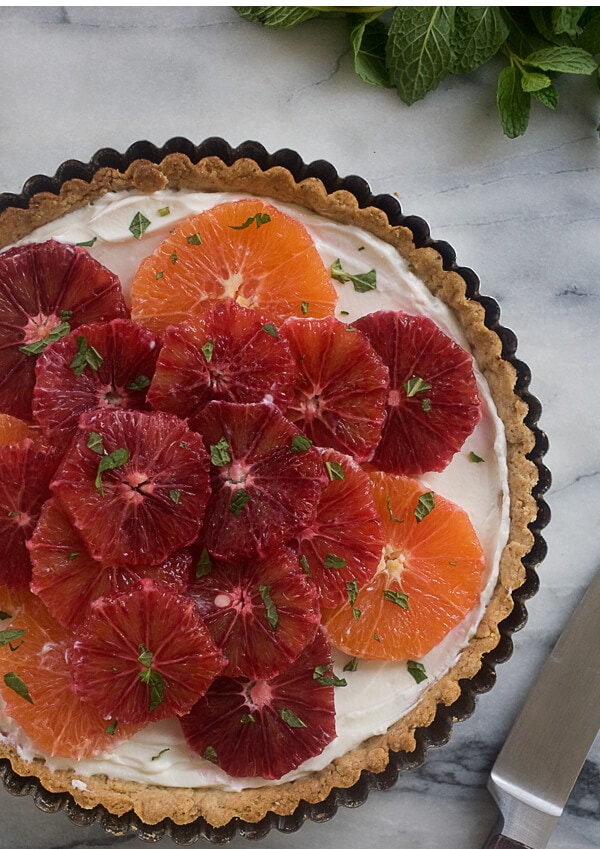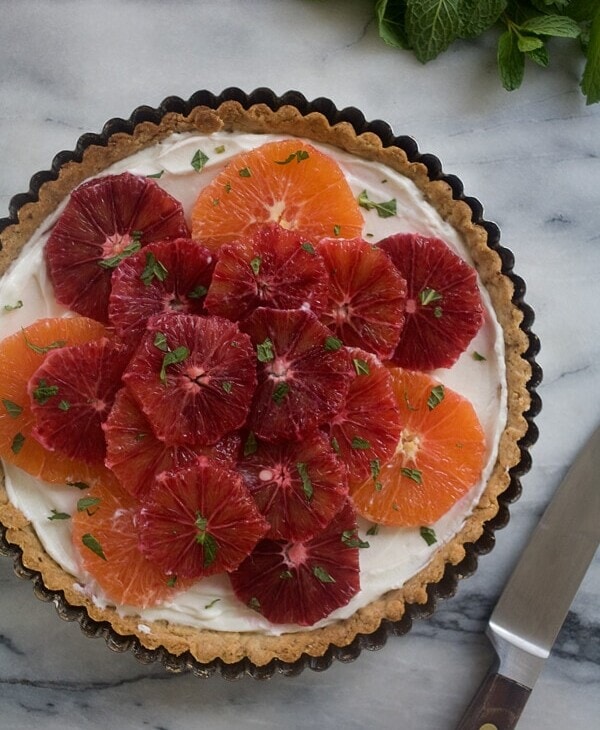 Print Recipe
Citrus Honeyed-Yogurt Hazelnut Tart
Ingredients
Lebneh (Time: 24-48 hours):
2

cups

full-fat or Greek yogurt
Hazelnut Crust:
2 1/2

cups

all-purpose flour

plus more for dusting3/4 cup hazelnut meal

1/2

teaspoons

fine-grain sea salt

14

tablespoons

1 3/4 sticks chilled unsalted butter, cut into small pieces

1/2

cup

confectioners' sugar

1

large egg

1

large egg yolk
Tart Filling:
3

tablespoons

of good-quality honey

I used sage

Pinch

of fine-grain sea salt

3-4

blood oranges

1

valencia orange
Instructions
Directions for Lebneh:
Line a strainer or sieve with a few layers of cheese cloth. Suspend the strainer over a bowl (my strainer has hooks on the end so it works pretty well), being sure it doesn't rest at the bottom of the bowl (you don't want the lebneh to be sitting in the whey). Cover the yogurt and bowl with plastic wrap and transfer it to the refrigerator to drain for at least 24 hours (a few days is awesome too, it'll just result in thicker lebneh). After it's drained, discard the whey and set the lebneh aside. Note: In the past I've used Chobani which expels a good amount of whey. This time I used Fage which barely drained (maybe a tablespoon or so of whey). I'm thinking that if you wanted to skip this step to save on time, you could! Simply use full-fat Fage Greek yogurt.
Directions for Hazelnut Tart Crust:
In a bowl, whisk together the all-purpose flour, hazelnut meal and salt.

In the bowl of an electric mixer fitted with the paddle attachment, combine the butter and confectioners' sugar. Mix on medium-low speed until well combined, about 4 minutes.

Mix in the egg and then the yolk, allowing each to be incorporated before adding the next. In two additions, add the flour mixture, scraping down the sides of the bowl after each addition. If it seems dry and crumbly, not to worry, using your hands knead the dough until it comes together, it might take about a minute or so.

Turn out the dough onto a clean lightly floured work surface. Divide it in half, shape into flattened disks, and wrap each one in plastic wrap. Refrigerate for at least 1 hour, or overnight. (The dough can be frozen for up to 1 month; thaw it overnight in the refrigerator before using.)

Preheat your oven to 350 degrees F. Liberally flour your work surface and rolling pin. Remove one of the discs from the refrigerator and place on the counter. If the crust is too cold to roll out, allow it to come to room temperature, slightly, for about 10 minutes. Roll the crust out, being sure to turn it every so often so it doesn't stick to the counter (this dough is a bit sticky), and adding more flour for dusting, when needed.

Roll the dough onto the rolling pin and transfer it to a 9-inch tart pan). If the dough falls apart a bit, not to worry. (Mine had a bit of cracking.) Take the scraps and press it into the dough, sealing any cracks or holes, and then trimming the overhang.

Using a fork, score the bottom of the tart crust. Transfer it to the freezer to chill for 15 minutes. Line the tart with foil or parchment paper and fill with pie weights or pennies. Transfer to the oven to bake for 15 minutes. Remove the foil and pie weights and bake for an additional 15 minutes, or until tart crust is lightly golden brown. Allow to cool to room temperature.
Directions to assemble the tart:
To prepare the citrus fruits, start by slicing off about 1/4-inch off the stem end. Slice off the other end and rest the citrus on its now-flat surface. Take your knife and slice off the pith and peel in a vertical motion. Ultimately you want the citrus to be pith-free. If there are any bits of white pith, take your knife and carefully slice it off. Repeat with the remaining citrus fruits. Slice the blood orange and navel orange into 1/4-inch thick rounds.

In a medium bowl, mix together the lebneh, honey and sea salt. Mix until thoroughly combined. (At first the mixture will appear striated with the honey but it'll eventually come together – keep mixing!) Pour the lebneh mixture into the tart crust and spread evenly. Arrange the citrus to your liking – I went with the blood oranges as the outside layer and then added a bit of the oranges in the center and piled on the rest of the citrus--there's no wrong way!

Just before serving, mince up the mint leaves and sprinkle on top.

Tart crust adapted and fiddled over and ovah from Karen Demasco (her book is a winner!)