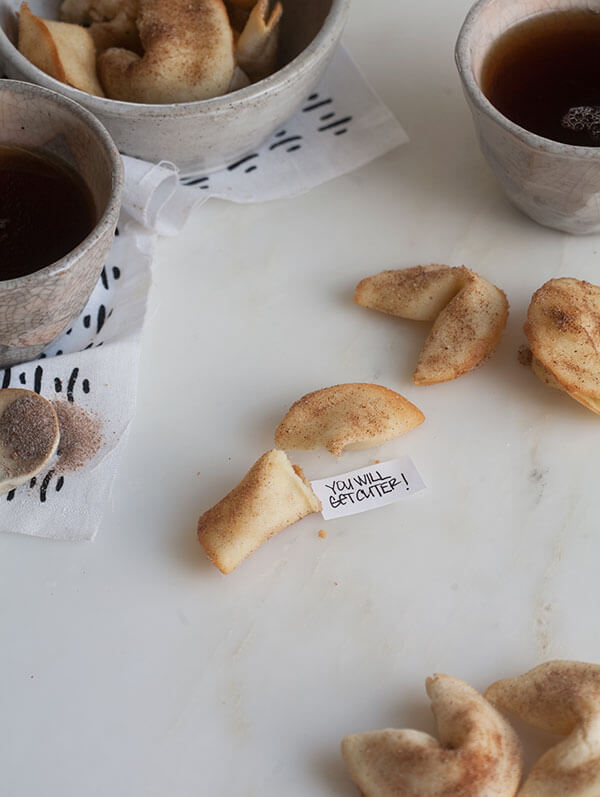 I have a fun weekend activity for you. Here it goes:
1. Throw a bunch of dog treats in the air and scream "IM MAKING IT RAIN!" And then see your dog freak out and run around trying to eat them as quickly as possible.
Don't have a dog? No biggie, here's another fun weekend activity: Make fortune cookies.
I first had intentions of making these fortune cookies REALLY dark. Think Cards of Humanity but with fortunes. People are sensitive on the internets, I have found, so I kept it one-hundred, as they say.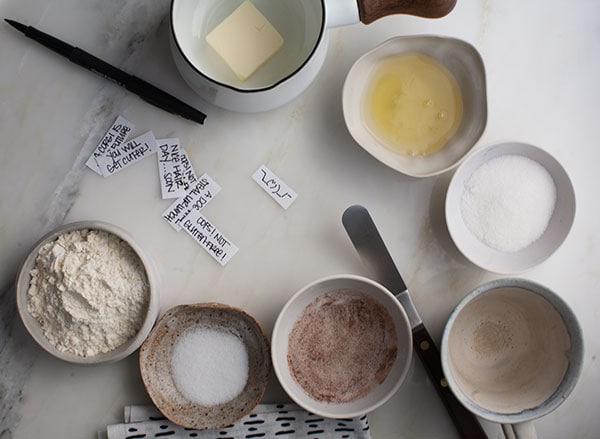 Totally mom-friendly! These fortune cookies require you to work quickly. They require a thin little spatula. A silicon baking mat works best (I used parchment).
They require for you to come up with quippy fortunes because the whole idea behind making your own is so you can make them NOT boring. I really can't stand when fortune cookies state facts, like, "Today is a nice day." I KNOW I'M LIVING IT THX!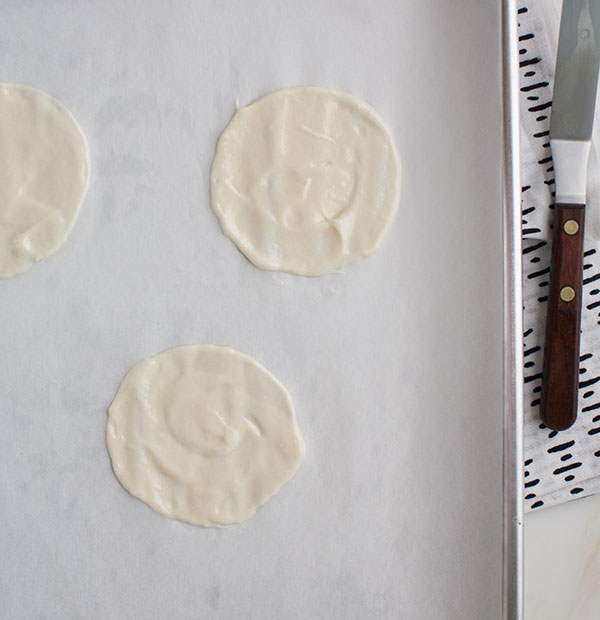 Tell me something I don't know, so customize them as you see fit. I went with the following fortunes: You will get cuter A dog will eat your lunch You will have a good hair day…soon Have fun with them. Just a heads up. Something I found in my fortune cookie making: I really think fortunes cookies need to be baked twice.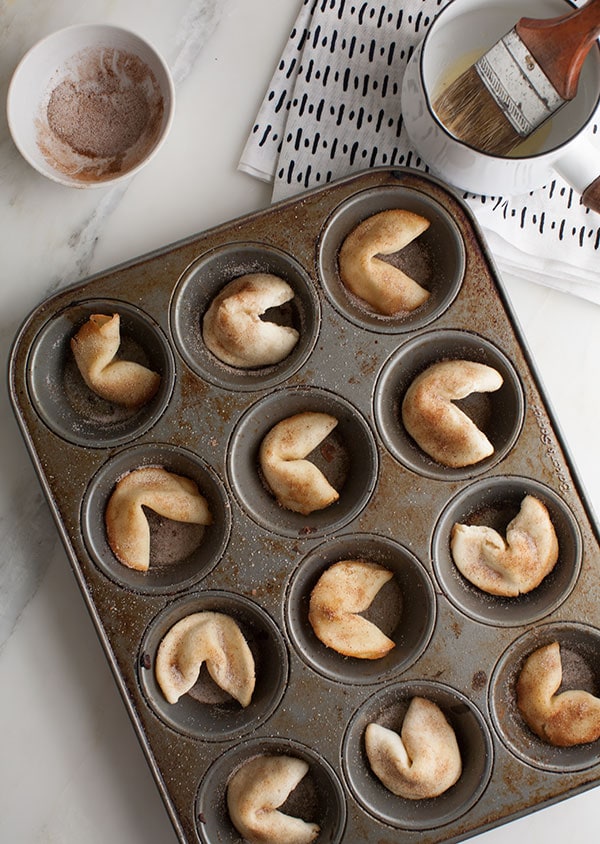 So here's what I did: I baked them, put the fortunes inside, folded the cookies over the fortune, used the edge of a mug to make the crease, let them cool in a muffin tin so they kept their shape AND then I dusted them with sugar and cinnamon and baked them one last time.
This makes sure they're crispy and not slightly soft in some places. And lastly, some will turn out not so cute. That's ok. This is one of those instances where it's function over form. And by function, I mean deliciousness and a bit of humor and fun. Feel me? See you back on Monday. We're gonna get healthy…ish! xoxo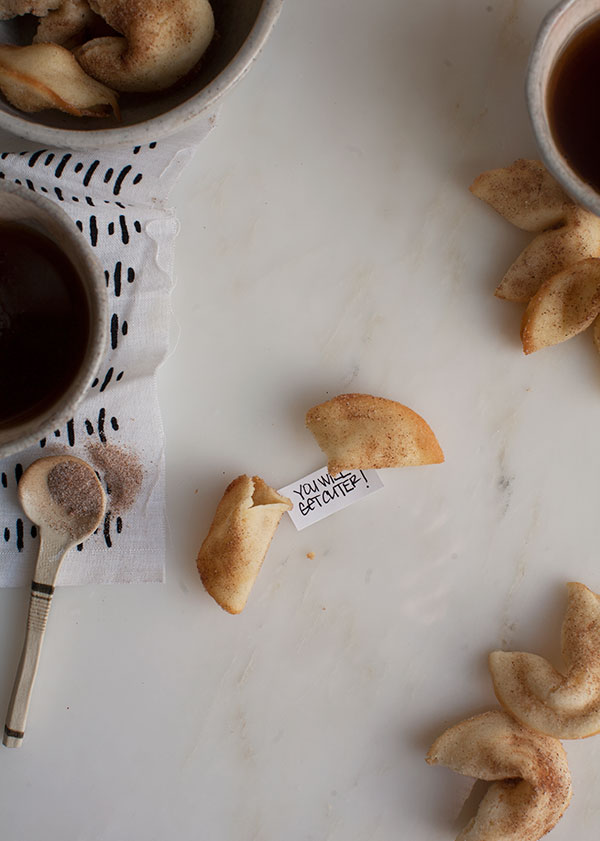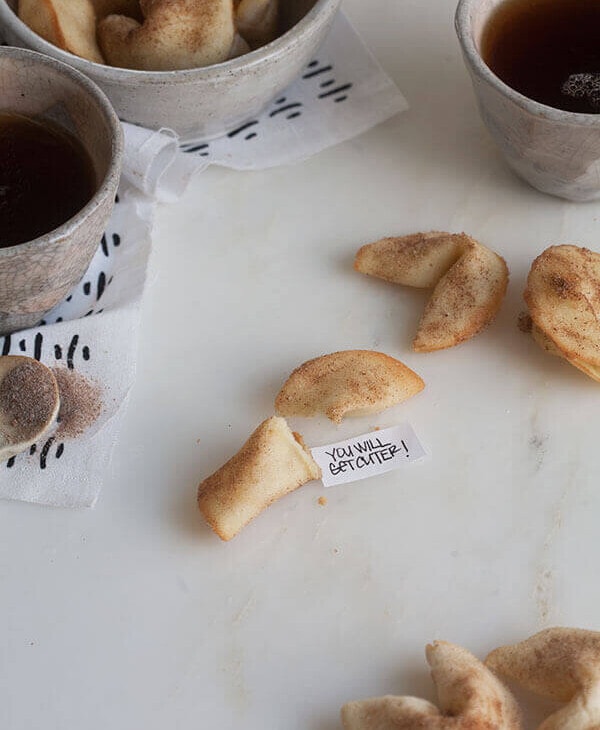 Print Recipe
Cinnamon Sugar Fortune Cookies
Serving Size:
Fortune Cookies
Ingredients
Cookies:
2

large egg whites

1/4

cup

plus 2 tablespoons white granulated sugar

Pinch

of salt

4

tablespoons

melted butter

cooled

2

tablespoon

water

1/2

cup

all-purpose flour
Topping:
1

tablespoon

white granulated sugar

1/2

teaspoon

ground cinnamon

Salt

1

tablespoon

melted butter
Instructions
Preheat the oven to 375 degrees F. The prep for these cookies is as follows: Line two baking sheets with parchment paper; I found that a silicon mat works best so use that if you have it. Get a mug ready. Grab an off-set spatula or metal spatula.

To a stand-up mixer with the whisk attachment (you can also use a hand blender), add the egg white and beat until frothy. Pour in the sugar and pinch of salt; beat until medium stiff peaks form, about 2 minutes.

Next, pour in the melted butter and water; mix until combined. Lastly, add the flour and stir with a spoon until just combined, just until you no longer see any flour speckles.

We're going to only make about 3 cookies at a time since cooled cookies are your worst nightmare in this recipe. Add a scant tablespoon of batter to the parchment paper and smooth it out into a thin round circle. Repeat with two more cookies.

Transfer to the oven to bake for 5 to 7 minutes. You want the cookies to have slightly browned edges. If the middle becomes browned, it might make it impossible to fold—they'll become too crispy. When the cookies come out of the oven, use your metal spatula to get under the cookies, flip them over onto a cutting board, place the fortune in the center and fold it over, like a quesadilla. Place the bottom center of the cookies on the lip of the mug and push down, so it creates a moon-shape. Transfer the cookies to a muffin tip so it keeps its shape (see photos for help). Repeat the folding process with the remaining two cookies.

Repeat the spreading, baking, and shaping with the remaining batter. You should end up with about 8 to 10 cookies. Bake them in the muffin tin until lightly golden brown around 2 to 3 minutes; this will get any last moisture out of them.

In a small bowl, whisk together the sugar, cinnamon and salt for the topping.Brush the cookies with a bit of melted butter and the cinnamon sugar and transfer to the oven to bake for an additional 2 minutes.