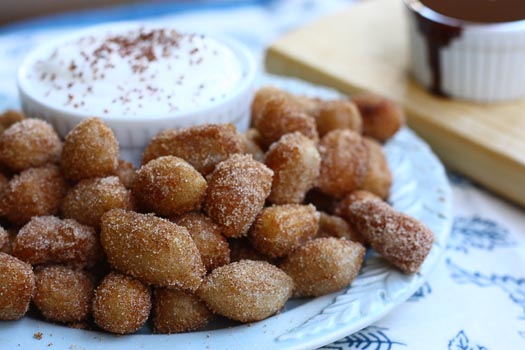 Happy Wednesday, beautiful people.
Factoid for you: Getting my car serviced stresses me.
To deal, I totally made Churro Tots. Throw in stress eating and calls to dad, and it some how made everything okay. I encourage it!
Last week I went to a cookbook release party at Border Grill and they had churros...in tot form! I was blown away by their cuteness--had to replicate it stat for you all.
I basically made a tweaked and adjusted version of this pate a choux recipe. And then fried small balls of the dough. It was a breeze. Messy, but a breeze.
I'm not a really clean cook. I'm not super organized. But I'm sure you knew this. Being organized with this recipe is kind of a must.
I know I know, you're probably thinking: "Organized, schmorganized." But it'll make your life a whole lot easier. Let's talk about it. Let's get through it together.
Get your dry ingredients together in small prep bowls: AP flour, cinnamon, sugar and salt.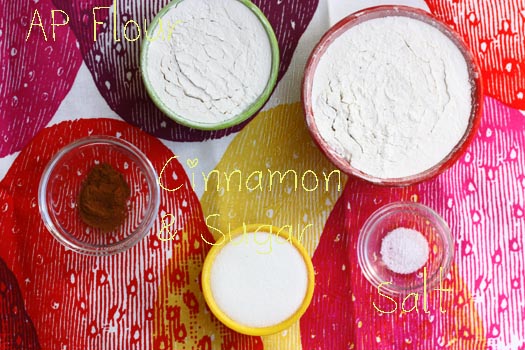 Wet ingredients: eggs, butter and water.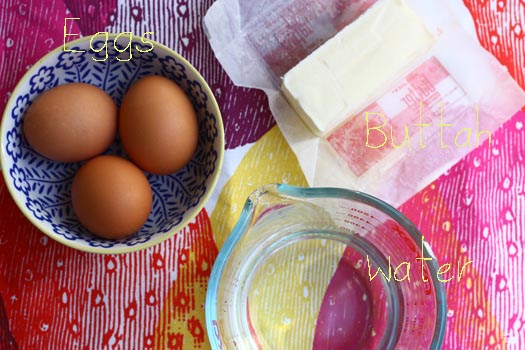 Put oil in your cast iron or dutch oven.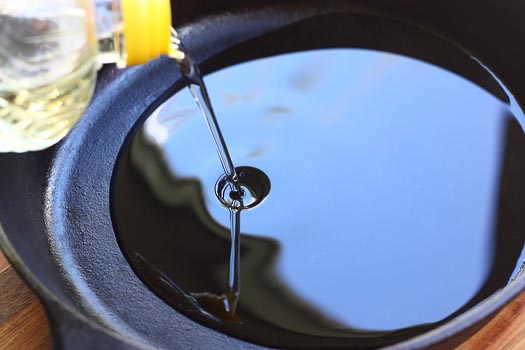 Grab a baking sheet, line it with some paper towels. Get a plate ready with the sugar and cinnamon (not pictured bc I'm an idiot). Make sure you have some sort of strainer, too.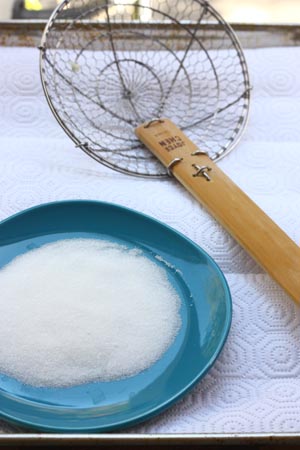 And then go to town. It's easy. Cook up the batter. Add the eggs. Fry 'em up. Drain 'em. Roll 'em in sugar and cinnamon.
Crunchy and crispy on the outside; light and fluffy on the inside. Totally dreamy.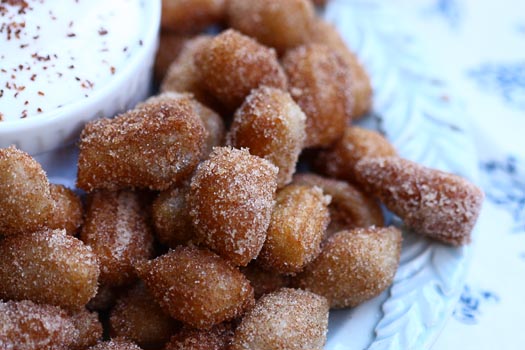 Whip up some whipped cream and melt some chocolate...then do some dipping action. It's necessary.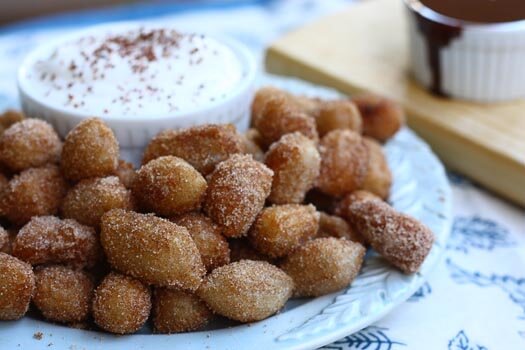 Print Recipe
Churro Tots
Ingredients
Ganache:
4

ounces

semi-sweet or bittersweet chocolate chips

1

tablespoon

heavy cream
Churros:
1

cup

water

½

cup

unsalted butter

¼

teaspoon

salt

1 ½

cups

all-purpose flour

sifted

4

large eggs
For Frying:
1

quart

vegetable oil

or other frying oil of choice
Instructions
To make the chocolate ganache: combine the chocolate chips and heavy cream in a small bowl. Microwave for 30 seconds to a minute and stir until melted.

In a medium saucepan, bring the water, butter, and salt to a roiling boil. Stir in the flour all at once. Reduce the heat to low and stir, using a wooden spoon, vigorously until the mixture forms a ball and begins to pull away from the pan, about 1 minute. Remove the pan from the heat.

Let the batter sit for 2 to 3 minutes to cool. When it's warm (not hot) to the touch, add one egg at a time. Keep stirring until the mixture comes together and is smooth. It might seem squishy for a while, keep going! Note: You can also do this in an electric stand-up mixer with a paddle attachment–it'll go faster.

To a pot, add 3 inches of oil and place over medium-high heat. When the oil reaches 325 degrees F, it's ready. You may need to bring the heat down to medium-low to keep it around 325 degrees F to 335 degree range.

Spoon the churro dough into a piping bag fitted with a large star-tip. Have sterilized scissors on hand. Hold the bag over the hot oil, squeeze a strip of dough that's about 1 to 2 inches long and then snip it with the scissors and let it drop into the oil. Fry on each side for about 1 to 2 minutes. Drain on paper towels and toss in cinnamon and sugar combo. Repeat until you've worked your way through all of the churro dough. Serve with melty ganache.