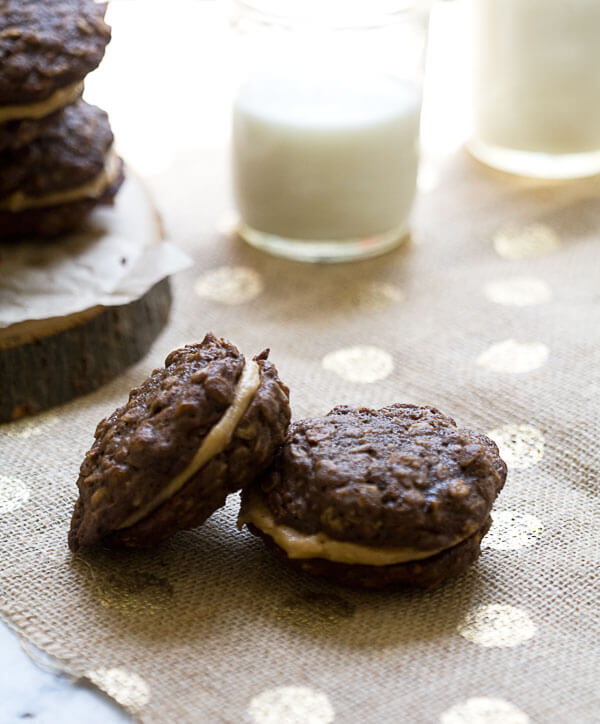 Sometimes I want to love what everyone else loves…but don't. Like, harem pants (my thighs don't need help looking larger – thanks) or frappuchinos (real coffee, please) or sparkly shoe clips  or Mad Men (boring). Peanut butter and chocolate is one of those things that the entire world LOVES. And I do, too.
It's the classic of classic combos. And there's good reason. Something magical occurs when chocolate and peanut butter come together. The clouds open, the symphony sounds, a Lisa Frank rainbow appears in the sky and smiles appear.
This cookie has chocolate, peanut butter, oatmeal and a good amount of salt all mixed into one.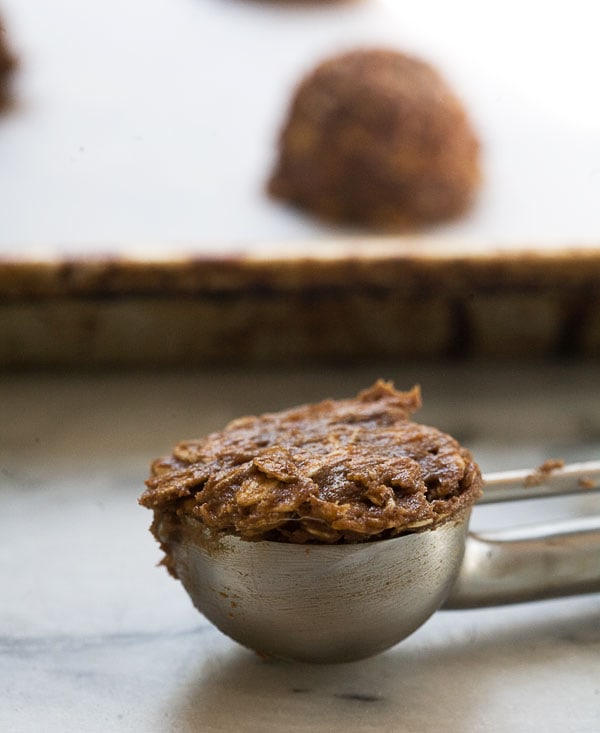 My biggest pet peeve in the world (and I'm being melodramatic) is when I eat a sandwich cookie and the cookie part is hard or crispy.
I loooove crispy cookies but not in the context of a sandwich situation. They need to be chewy and soft, or else the filling oozes out – and not like an attractive "oooo" ooze, but a "it's on my shirt now" ooze.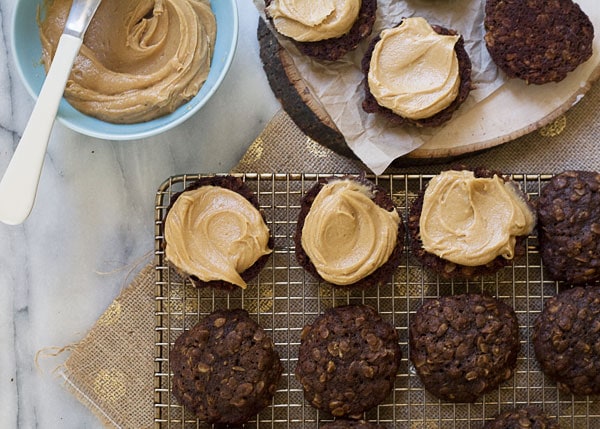 These oatmeal chocolate cookies are chewy. I like them. These are adapted from these Meyer Lemon and Currant Oatmeal Cookies that I posted a few months ago. This was a time when meyer lemons had just hit the scene and Amelia still wasn't housebroken. I'm glad it's now and not then.
(Psst: Another example of salty, chocolatey and peanut buttery stuff on this blog: A Very Giant Reese's Peanut Butter Cup.)
Isn't peanut butter so pretty when sugar, salt and butter are added?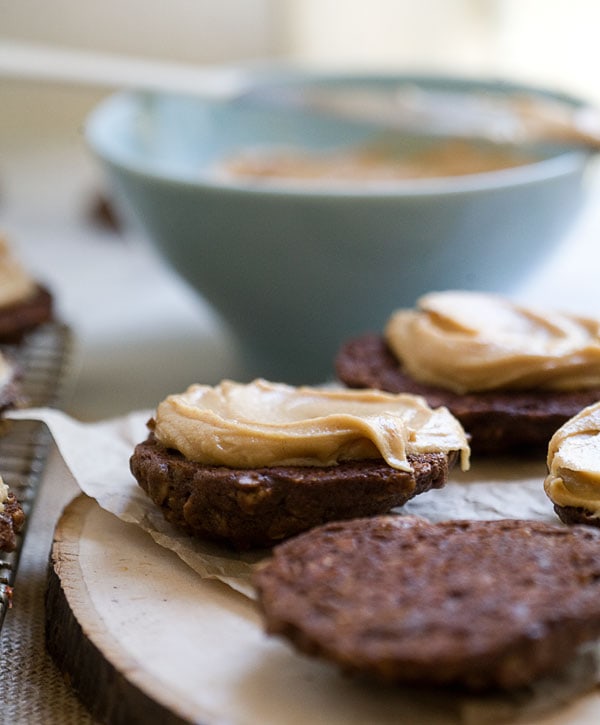 This is a peanut butter frosting that's sweet and salty and all that jazz. Peanut butter does very nice swoops.
And this picture here is just all about me showing you my new manicure. That is all.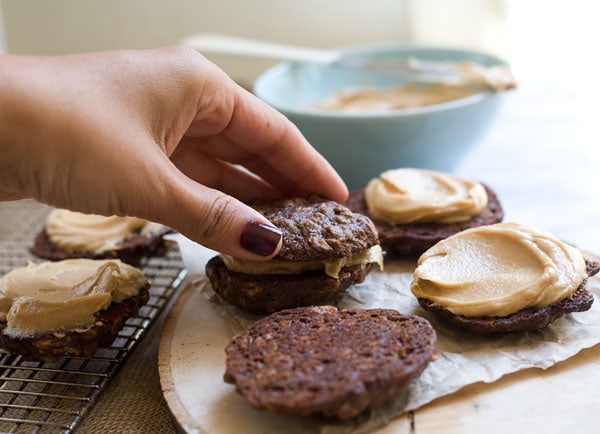 I added a few chocolate chips to the last few cookies I baked up and dude are they so good with added chocolate. Not a necessity. No.
I sat yesterday debating whether or not I needed to remake them, adding chocolate chips. I came to the grand conclusion of no. They're chocolatey on their own. But as we all know, a little extra chocolate ain't hurt nobody.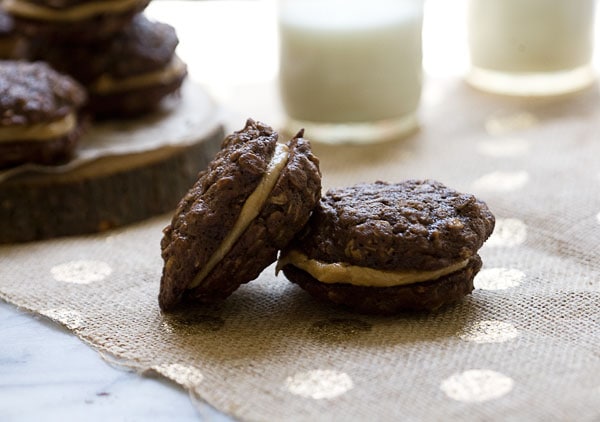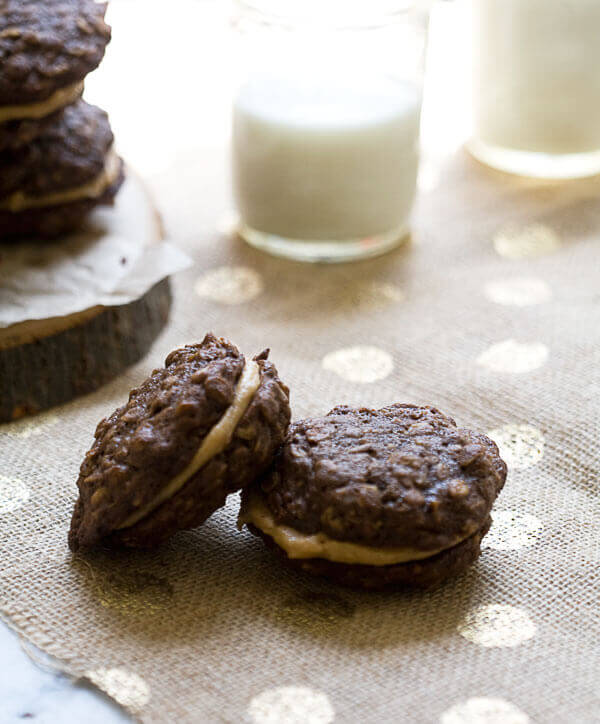 Print Recipe
Chocolate Oatmeal Peanut Butter Sandwich Cookies
Serving Size:
Sandwich Cookies
Ingredients
Cookies:
1 1/2

cups

all-purpose flour

1/4

cup

Dutch processed cocoa powder

1

cup

8 ounces unsalted butter, room temperature

1 3/4

cups

light or dark brown sugar

2

large eggs

2

teaspoons

pure vanilla extract

1

teaspoon

baking soda

1 1/4

teaspoon

fine-grain sea salt

2 3/4

cups

old fashioned rolled oats
Peanut Butter Frosting:
2

tablespoons

unsalted butter

room temperature

3/4

cup

powdered sugar

sifted

1/2

cup

creamy natural peanut butter

*See note below

3

tablespoons

whole milk

1/2

teaspoon

sea salt

or to taste
Instructions
Preheat your oven to 350 degrees F.

In a medium bowl, mix together the all-purpose flour and cocoa powder; set aside.

In a large bowl, cream together the butter and brown sugar for about 1-2 minutes, until light and fluffy. Add the eggs, vanilla extract, baking soda and salt; mix until thoroughly combined. Fold in the oats until completely combined. Next, fold in the flour and cocoa powder mixture and mix until there are no longer any specks of flour.

Using a 2-inch cookie scooper, drop rounds of cookie dough onto a parchment-lined baking sheet, spacing the cookies about 2-inches apart and flattening each cookie slightly. Transfer the baking sheet to the oven and bake for 10-12 minutes, until the cookies' edges are firm but the edges are still soft to the touch. Using a spatula, carefully transfer the cookies to a cooling rack.

While the cookies are cooling, make the peanut butter frosting. Add the room temperature butter, powdered sugar, whole milk and salt to a medium bowl. Using a standup mixer or a good ol' fashion spatula, beat all of the ingredients together until light, fluffy and smooth.

To assemble the sandwiches, scoop a teaspoon or two of peanut butter frosting onto the center of half of the cookies; smooth it out with a knife and place the remaining cookies on top, gently pressing on them to squeeze the filling so it reaches the edges.
Note: I used creamy natural peanut butter with no sugar added; if your peanut butter has sugar, I'd recommend scaling back on the powdered sugar and doing it to taste.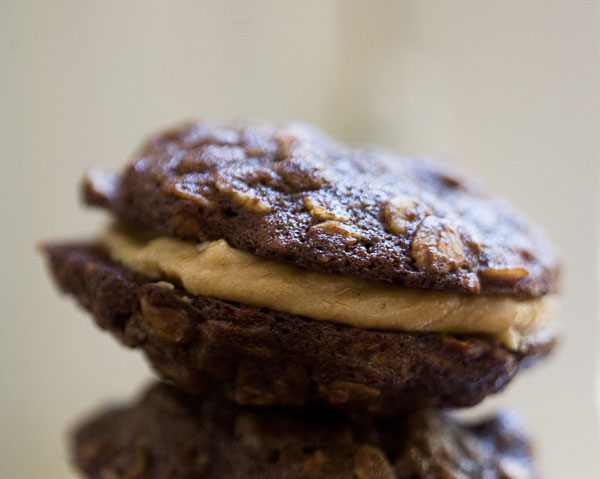 hai.