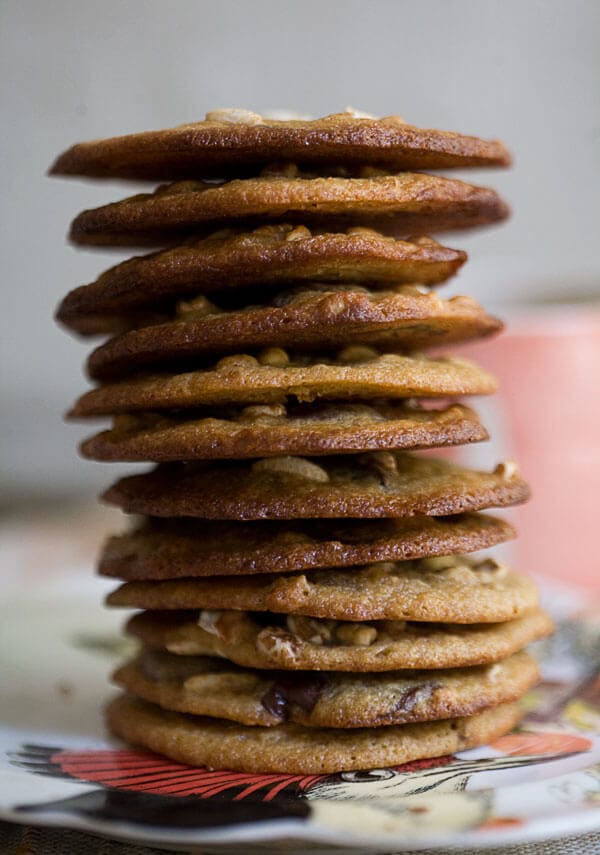 I'm pretty sure I'm the only woman on the planet who avoids Target. Or as I like to say, "tar-zhay." So fancy.
It stresses me out, man. Too many screaming kids, too many options, too much of everything. I mean, when I'm there, I love it. Their beauty goods? Their sock selection? Holy moly, perfection. But I usually just avoid that place because I get distracted, become a little overzealous and then end up feeling vulnerable, which usually leads to me spending way too much money. Also, the parking situation is usually a nightmare. Tar-zhay stress!
This is why I usually head to my neighborhood Rite-Aid/CVS. I live in what people call a "gentrified" area. I sort of hate that word but it makes it so my Rite-Aid adventures are a little on the crazzzie side, in a good and scary sort of way. The biggest perk about going? The Thrifty's ice cream. That ice cream case, always attendant-less, always calls my name as I pass by.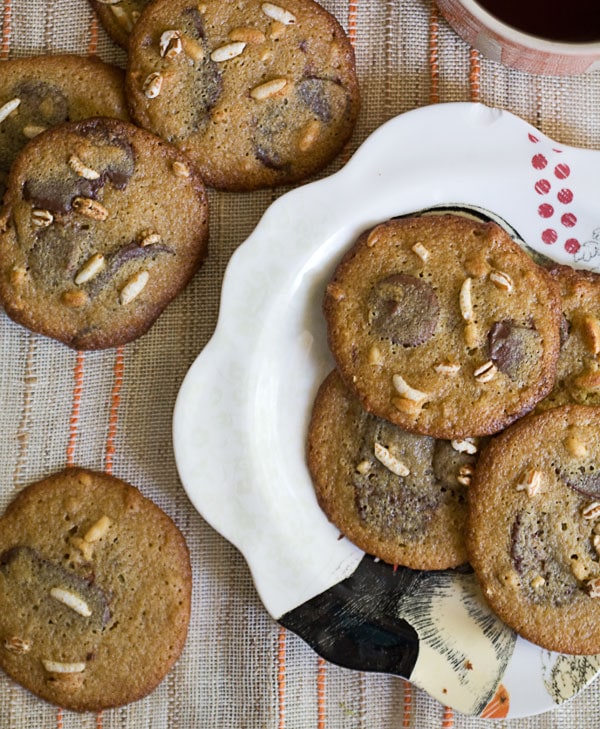 If you've never lived on the west coast, then let me explain: it's basically cheap ice cream. It's drug store ice cream, but I can guarantee that if your parents ever dragged you in there as a kid, and you played your cards right, you figured out a way to finagle an ice cream out of that whole situation. They famously serve their ice cream using a cylinder scoop, they have their own flavors and their ice cream is like a dollar.
My favorite flavor is their chocolate malted crunch. I mean…so good. Even Amelia wanted some.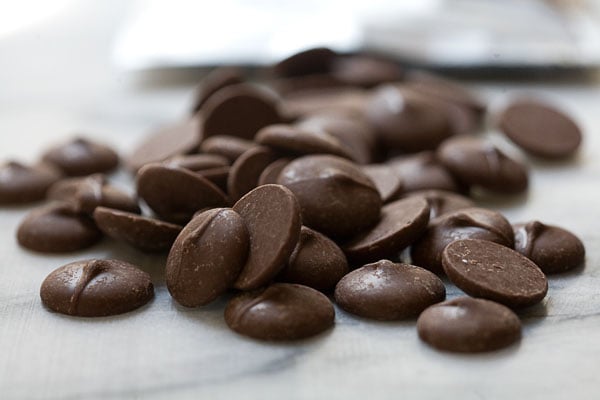 This recipe features some of my favorite chocolate in the whole wide world, Tcho. (If you remember I visited their facilities when I was in San Francisco last year.) Their chocolate is the real deal.
In this cookie, I used milk chocolate discs.
Of course you can use milk chocolate chips. No biggie.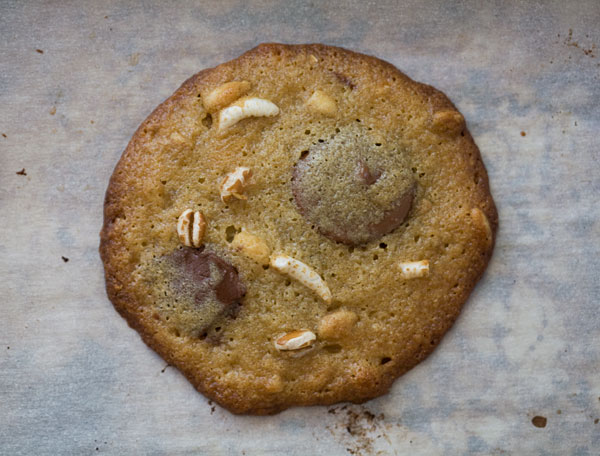 Chocolate chip cookies are usually broken up into three categories: thin and crisp, chewy or soft.
This cookie is thin and chewy. The malt is a subtle flavor but boy do I love it. The crunch is from puffed rice. I used puffed rice cereal from Kashi, but you could also use Rice Krispies.
This cookie is my perfect dream. A couple things to keep in mind: Firstly, these cookies bake up FAST. Like, super fast. Keep an eye on 'em. And when they do come out of the oven they'll be crazy soft, so be sure to let them cool on the baking sheets. I mean, if you do eat them warm, they'll be gooey, soft and super fragile. Not the worst thing in the world…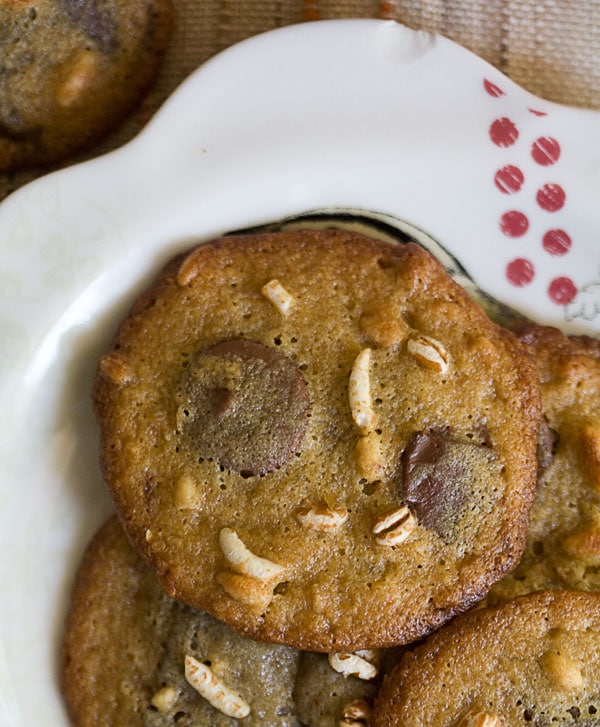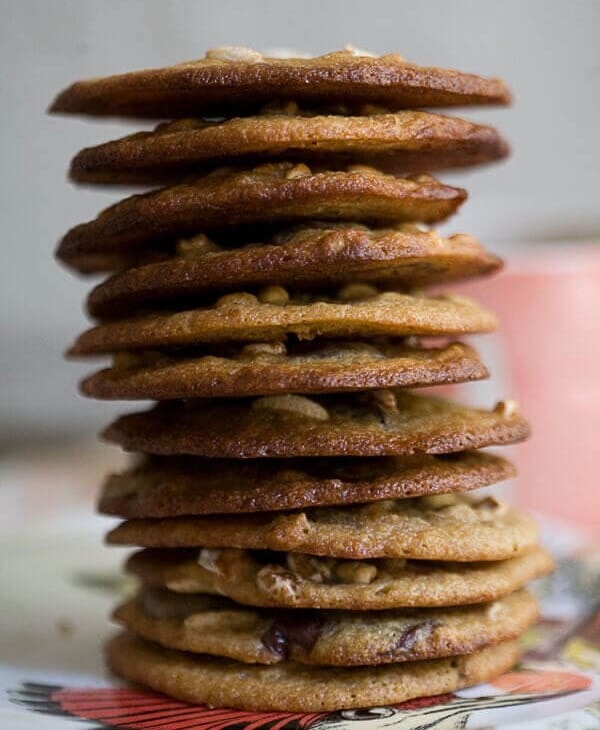 Print Recipe
Chocolate Malted Crunch Cookies
Ingredients
1 1/2

cups

all-purpose flour

3/4

cup

malt milk powder

1/2

teaspoon

baking soda

3/4

teaspoons

fine-grain sea salt

2

sticks

8 ounces unsalted butter, room temperature

1 1/2

cups

light or dark brown sugar

2

large eggs

room temperature

3/4

cup

milk chocolate chips

semi-sweet or dark chocolate would be pretty great too!

1

cup

puffed rice
Instructions
Preheat the oven to 350 degrees F.

In a medium bowl, whisk together the all-purpose flour, malt powder, baking soda and salt.

In a large bowl, cream together the butter and brown sugar until light and fluffy, about 2 to 3 minutes. Add the first egg and beat until combined; add the second egg and beat one more time until incorporated. In two batches, add the flour mixture, mixing just until there are no specks of flour. Fold in the chocolate chips and then fold in the puffed rice.

Using a 2-inch cookie dough scooper, drop rounds of cookie dough onto a parchment-lined baking sheet, spacing the cookies about 2-inches apart. Transfer the baking sheet to the oven and bake for 8-10 minutes, until the cookies' edges are lightly golden brown and the centers are very soft. Warning: they'll be very fragile so be sure to let them cool on the baking sheet. Carefully transfer the cookies to a cooling rack until room temperature. As they cool they'll have more structure, chewiness and less fragility. If you eat them when they're warm, they'll fall apart a bit, but is that the worst thing in the world?