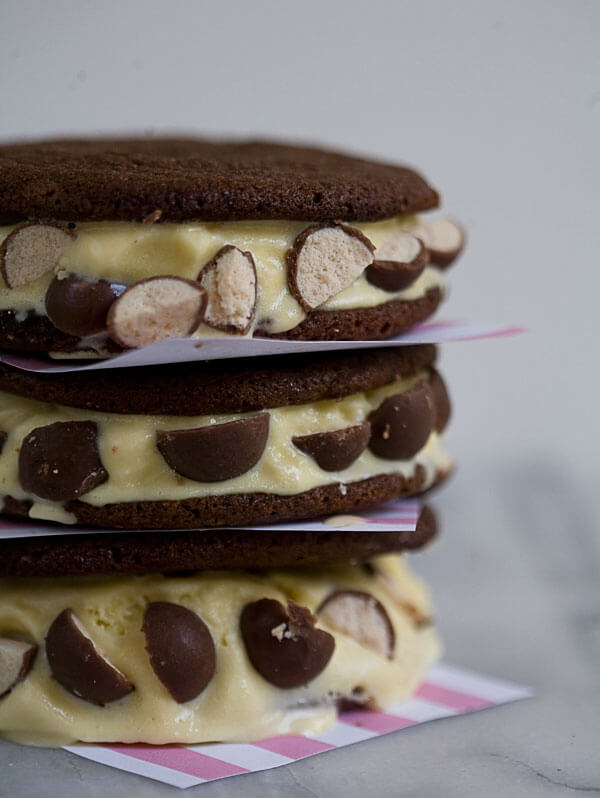 When you're chilling by yourself, being busy, doing house stuff, do you talk to yourself? I grew up with a set of parents who ALWAYS talked to themselves. I remember I'd sneak up on them when they'd be doing whatever it was they were doing; gardening, cleaning out the garage, looking through drawers, and they'd just be full-on having a conversation with themselves. I remember I'd jump out and go "ahhhhh!" and of course I'd always scare them, especially my mom. She's usually curse in Spanish and tell me to go away. I thought they were the weirdest, but then I got older…
A few days ago, when I was doing what I always do, which is make these ice cream sandwiches at home for my internet friends (that's you, by the way) I caught myself having a conversation with.myself. Like, I was talking for the other person too. I was using my voice for my side of the convo and then responding as if there was another person there. And I'm pretty positive this wasn't the first time, it was just the first time I'd caught myself. I felt like I was a cross between Amanda Bynes and my parents.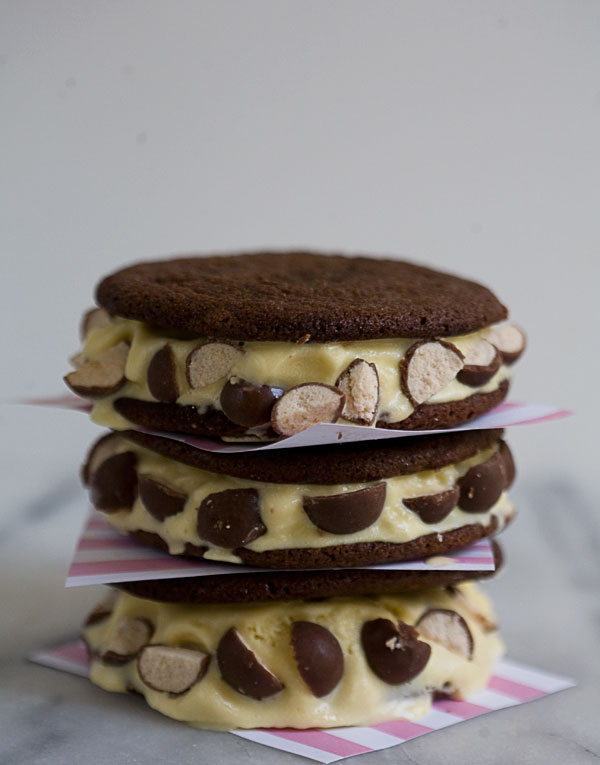 These ice cream sandwiches are from Tessa's new book Cookies & Cream. It's a book full of ice cream sandwiches. These cookies were amazing and can I discuss with you how strongly I feel about the cookie part of an ice cream sandwich.
Have you ever had an ice cream sandwich where the cookie is hard and crispy, and then you bite down on it and the ice cream squirts out of the back and you're like, ummm firstly, that was a gross description, secondly, this is a poorly thought out ice cream sandwich. Not appreciated.
The cookies should be soft so they can give when you bite into it and the ice cream. Does this make sense? Crispy cookies have no place in the ice cream sandwich family. They're not welcome.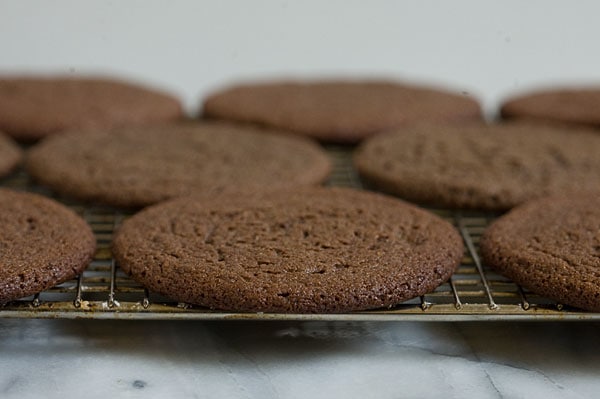 These cookies were soft, chewy, chocolatey and malty! You know how I love my malt (evidence: here and here). And the ice cream is creamy, delicious, and totally perfect. The recipes in this book are really well-written (I read it like a novel) and all the ice cream sandwiches are fun! Really really fun! And Tessa is the cutest. It's a good cookbook for summer, I tell you.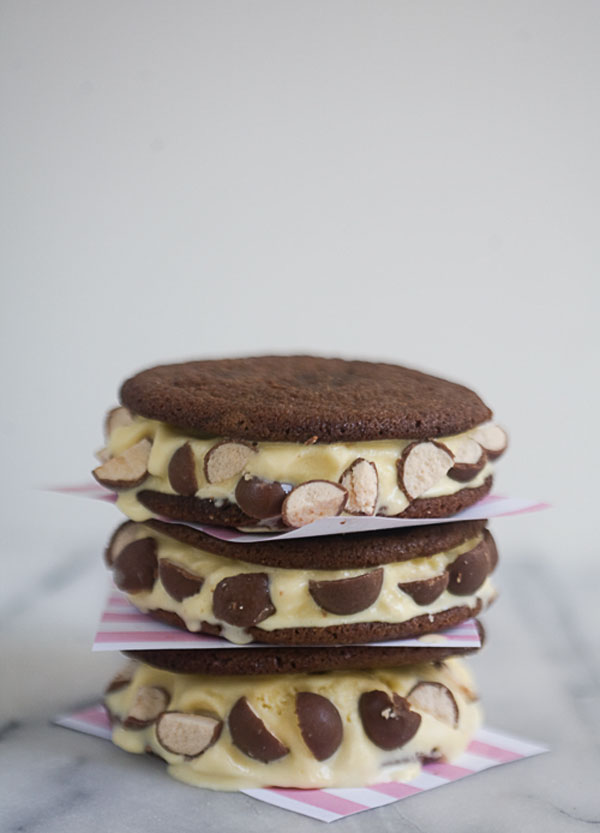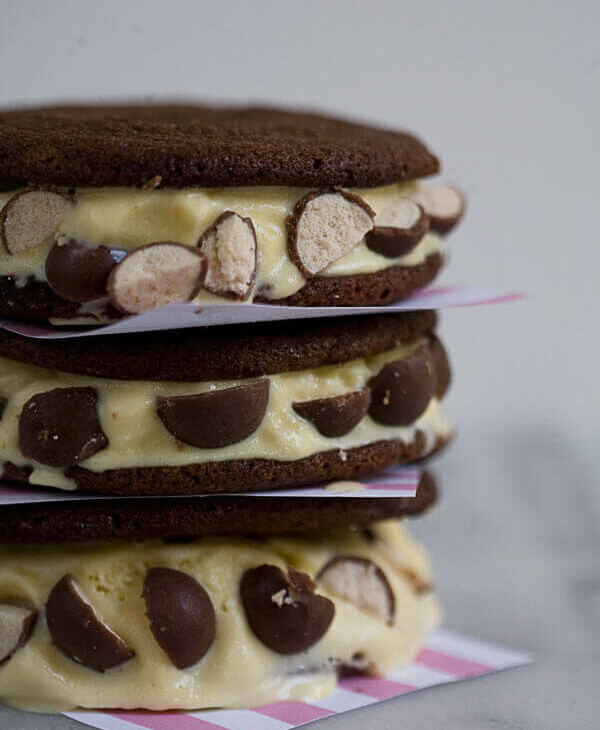 Print Recipe
Chocolate Malt Ice Cream Sandwiches
Ingredients
Ice Cream:
1 1/2

cups

whole milk

1 1/2

cups

heavy cream

3/4

cup

granulated sugar

divided

1/2

cup

plain malted milk powder

1/4

teaspoon

fine sea salt

1

teaspoon

vanilla extract

4

large eggs
Chocolate Malt Cookies
1 3/4

cups

all-purpose flour

1/2

cup

unsweetened Dutch-process cocoa powder

1/2

cup

plain malted milk powder

1

teaspoon

baking soda

1/2

teaspoon

fine sea salt

6

ounces

1 1/2 sticks unsalted butter, at room temperature

1/2

cup

granulated sugar

1/2

cup

packed light brown sugar

1

large egg

1 1/2

teaspoons

vanilla extract

2

tablespoons

sour cream or plain yogurt
Instructions
Ice Cream:
Prepare an ice bath by filling a large bowl with ice cubes and 1 to 2 cups of water. Place a medium bowl fitted with a fine strainer inside the ice bath.

In a medium saucepan, combine the milk, cream, 1/2 cup sugar, milk powder, salt and vanilla. Set over medium heat, stirring occasionally, until the mixture is warm and begins to steam, about 5 minutes.

In a medium bowl, whisk together the egg yolks and the remaining 1/4 cup sugar. Carefully whisk half of the warm milk mixture into the egg yolks, one ladleful at a time, until the egg mixture is warmed. Whisk the egg-milk mixture back into the saucepan. Cook the mixture over medium heat, stirring constantly with a wooden spoon, until the mixture is thick enough to coat the back of the spoon and registers around 175 degrees F on an instant-read thermometer, about 5 to 7 minutes. Be careful not to boil the mixture.

Immediately strain the mixture through the fine strainer into the prepared ice bath. Cool the custard in the ice bath until it reaches room temperature, stirring often. Press plastic wrap against the surface of the custard and refrigerate until chilled, about 4 hours or up to 1 day.

Pour the chilled mixture into an ice cream maker and freeze according to the manufacture's directions. Transfer the ice cream to an airtight container, press plastic wrap against the surface of the ice cream, and freeze until firm and the flavor is ripened, at least 2 hours.
Chocolate Malt Cookies:
Preheat the oven to 350 degrees F. Line large baking sheets with parchment paper or silicon baking mats.

In a medium bowl, sift together the flour, cocoa powder, milk powder, baking soda and salt.

In a large bowl, use an electric mixer to beat the butter and sugars on medium-high speed until well combined and smooth. Beat in the egg, vanilla, and sour cream. On low speed, add the flour mixture and beat until combined.

Roll dough into 2 tablespoon-sized balls and place on the prepared baking sheets. Flatten with the palm of your hand.

Bake for about 10 to 12 minutes, or until the cookies are set. Let cool on a baking sheet for 5 minutes before removing to wire racks to cool completely. Freeze the cookies until frozen, at least 1 hour. Cookies can be stored in airtight containers in the freezer for up to 1 month.
For Decorating:
Crushed malted milk ball candies (about 1 cup), for rolling.

To assemble, place the crushed malted milk ball candied in a shallow dish. Top one cookie with a coop of ice cream. Place another cookie on top of the ice cream and gently press down to form a sandwich. Roll the edges in the crushed malted milk ball candies and repeat for the remaining cookies. Freeze for at least 1 hour before serving.