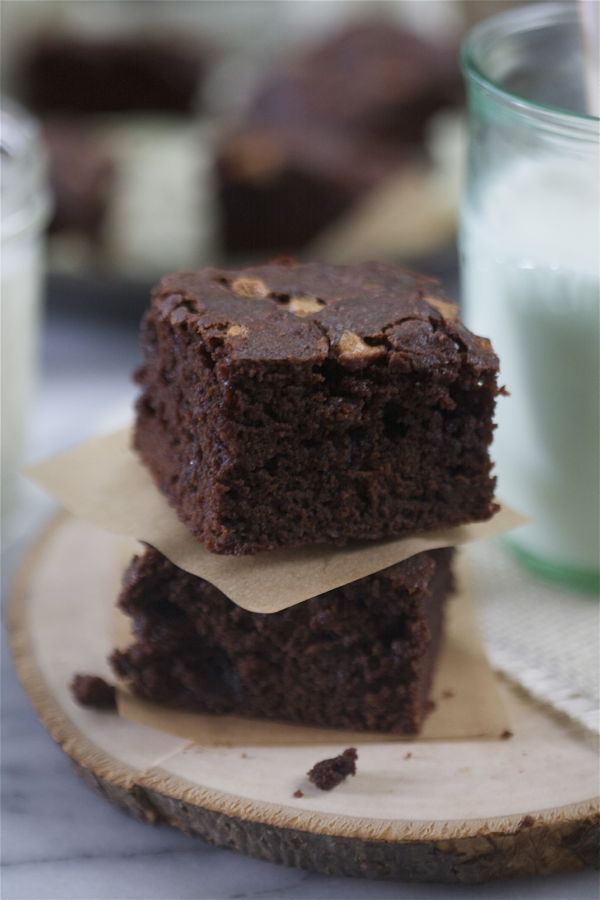 At my old job, I was (not surprisingly) very emotionally invested in the employee birthday situation. I was especially intrigued in one co-worker when he told me he didn't like cake. DIDN'T LIKE CAKE? I'd never met such a person.
So instead of getting a cake, the HR department would buy him one of those super gross (but cute!), gigantic chocolate chip cookies. The problem was that they'd just send a production assistant to pick it up from the closest grocery store rather than sourcing it from a bakery that knew what they were doing. So, I did what any good co-worker would do: I emailed HR with suggestions as to where they can get good pie, good cakes and really great brownies.
They never listened. Also, pretty sure they thought I was soooo weird since it didn't really concern me. And seriously, who was I?!
Just a super nosey girl that loved good brownies, that's all.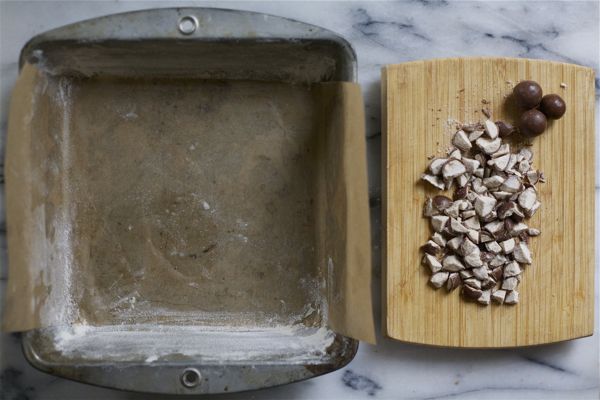 When I was teeny-tiny, I loved drinking Ovaltine. It was the trick my mom used to get me in the mood to sleep.
I was the worst sleeper in the world, so my mom needed a bag of crazy tricks.
Getting me to sleep was an entire process. It started with a warm bath, book reading time, make believe story time and the last sure-to-work trick: a warm glass of Ovaltine.
So basically, I've loved the flavor of chocolate and malt from the start of time.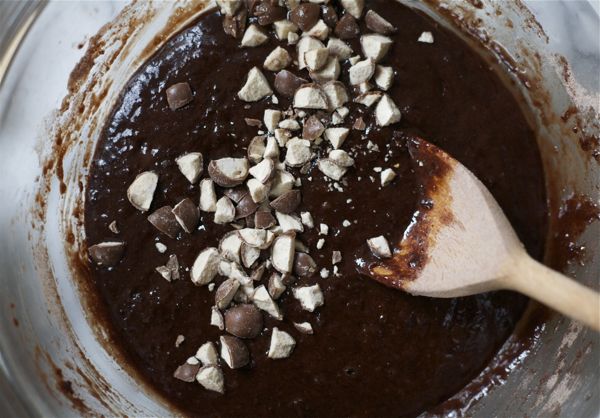 The thing with malt in chocolate is that it kind of isn't profound. It just sort of rounds out the flavor of chocolate and makes it richer, more decadent and, well, it adds a slight malty flavor. How does malt taste? Malt tastes malty.
Ugh. I'm bad at this right now. It's a tough flavor to explain.
But I do have malt facts...oooo! Malt is an evaporated version of malted barley, wheat flour, and whole milk.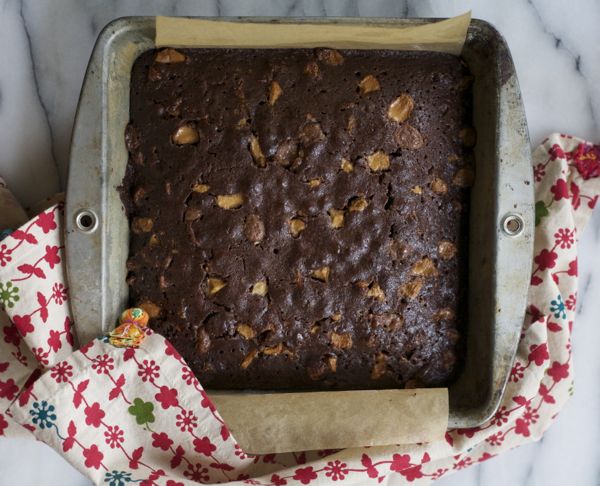 These brownies are cake-like. The baking powder gives them a little lift. Almost like a kitten heel would give a woman. Let me take this moment to say that I have spent much of my life HATING kitten heels but these Valentino ones are pretty dreamy.
I digress...so these brownies are like if a sheet cake and a fudgy brownie had offspring. They're fudgey toward the edges but kind of fluffy and airy in the middle. I adore them. Oh and the Whoppers. Oh gosh.
Whoppers are kind of the best movie theater candy ever! Chocolate covered malt balls? Yes!
So, I did what was right and chopped a bunch up and mixed them in this brownie batter. They added a nice crunch on top while the ones in the inside melted and became one with the brownie center. It was pretty cute.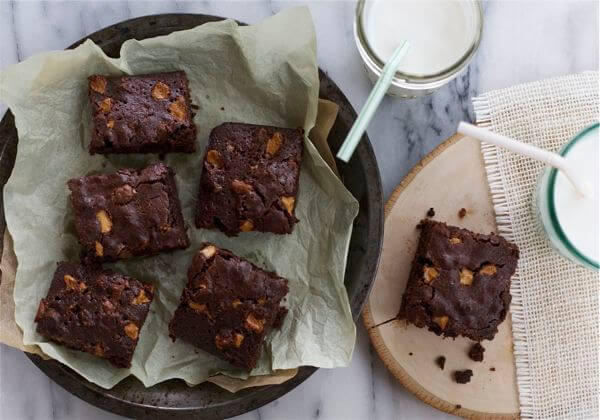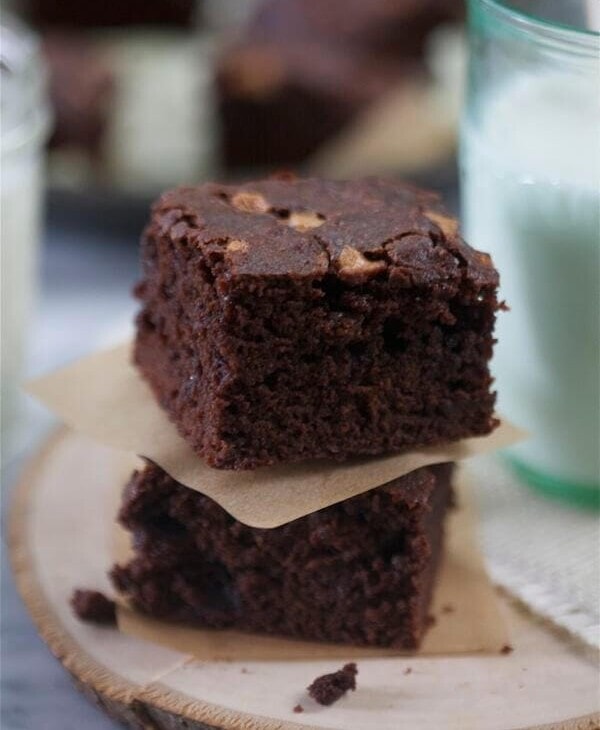 Print Recipe
Malt Chocolate Cake Brownies
Ingredients
¾

cup

chocolate malted milk powder

I used Ovaltine

1

cup

light brown sugar

1

cup

all-purpose flour

½

cup

cocoa powder

¼

teaspoon

salt

¼

teaspoon

baking powder

3

large eggs

2

teaspoon

pure vanilla extract

½

cup

vegetable oil

½

cup

chopped Whoppers

malt balls, plus a handful more for the topping
Instructions
Preheat the oven to 350 degrees F. Line an 8-inch square pan with parchment and grease it lightly with butter. Set aside.

In a medium-sized mixing bowl, whisk together the chocolate malt powder, brown sugar, flour, cocoa powder, salt and baking powder. Set aside. In a separate bowl, beat together the eggs, vanilla and oil.

Mix the wet ingredients into the dry ingredients until no lumps remain. Fold in the chopped Whoppers and pour the batter into the 8-inch square pan, spreading it out evenly. Sprinkle the brownies with the remaining crushed whoppers and transfer the brownies to the oven. Bake them for 30 minutes. You'll know when they're done when a toothpick inserted into the center of the brownies comes out clean. When they're done, transfer them to a rack to cool. Drink with milk, please!
Adapted from King Arthur Flour