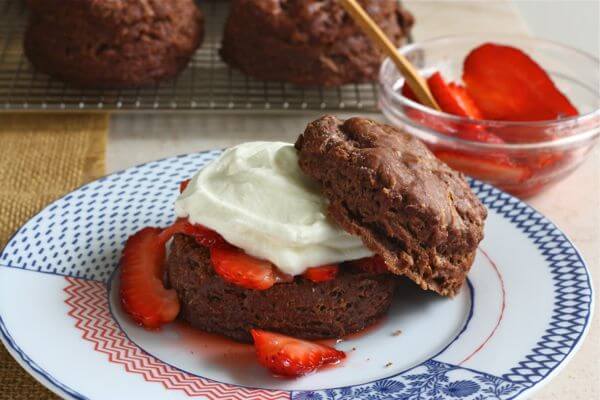 Biscuits are rarely dessert. WHY? They're too delicious not to be dessert, amirite? Of course I am.
I decided to take these unjust matters into my own hands and make biscuits more like chocolate cake, but still biscuits. Do you see what I'm doing here?
When I set out on this journey, I figured I'd just make chocolate biscuits, smother them with butter, say it's breakfast/dessert and call it a day. But then I peeped in the fridge and spotted some near-dying strawberries and whipped cream that was flirting with its expiration date, sooo...it became quite clear that I just needed to make a chocolate rendition of Southern strawberry shortcake.
This is typical of how kitchen awesomeness happens for me: a mishmash of refrigerator stragglers just trying to find a place in this world.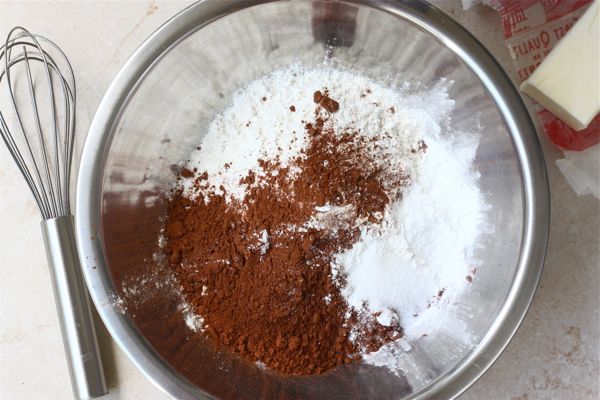 <! These biscuits are loaded with chocolate. First, there's Dutch cocoa powder mixed with all of the other dry ingredients. After it's mixed up, it looks a lot like Ovaltine. Shout-out to Ovaltine for being a staple in my childhood! Do kids still drink Ovaltine? I hope so. P.S. Do you guys drink milk as an adult? I always think it's super weird when I see grown-ups drinking milk. I dunno--it might be just me, but I haven't had a full glass of milk in probably a decade.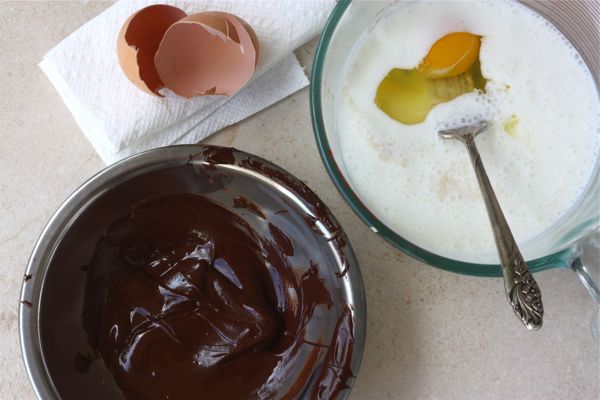 Back to business.
Next, you'll melt some chocolate and when it's cool, you'll mix it in the blender with the buttermilk and egg. It'll look exactly like Ovaltine milk.
Don't drink it--it's deceiving. Buttermilk with raw egg. Not adorable.
(OMG - Why are we using a blender?! Something else to clean up! Yes, I know, I'm sorry. But it won't blend properly by just mixing. The buttermilk will just have small clumps of chocolate throughout. Not what we're going through.)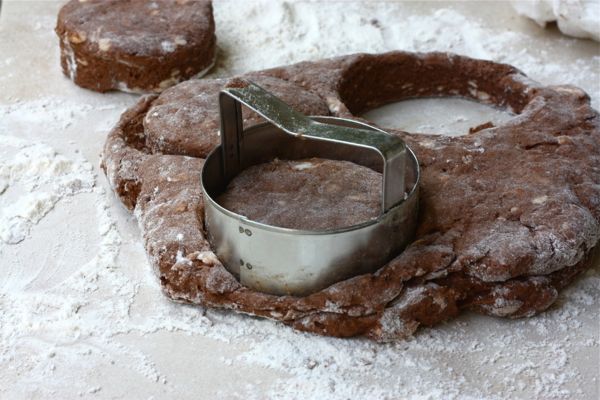 The dry and wet are all mixed up. And then the biscuits take a trip to the oven for about 15 minutes, give or take.
These biscuits are slightly flakey, very moist with a cake-like interior. A cross between a biscuit and a piece of chocolate cake. I'm mad at exactly none of this.
Whip up some whipped cream, slice some strawberries, macerate the heck out of them, and serve. It's totally dessert time, yo!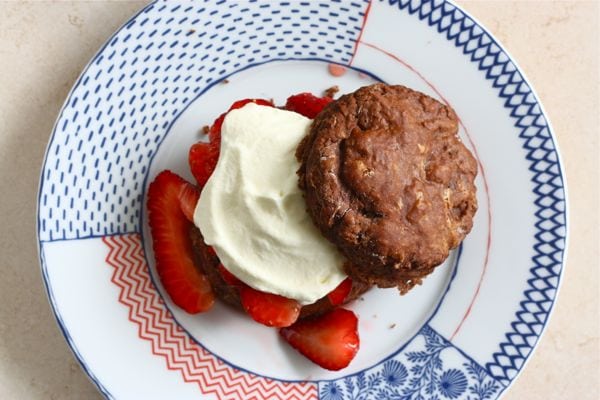 Chocolate Buttermilk Biscuits
2 cups all-purpose flour
4 tablespoons dutch processed cocoa powder
2 tablespoons white granulated sugar
4 teaspoons baking powder
½ teaspoon baking soda
1 teaspoon fine sea salt
6 ounces unsalted butter, cold
3 ounces semi-sweet chocolate, melted and cooled
½ cup buttermilk, plus 3 tablespoons, cold and shaken
1 large egg
1. Preheat oven to 450F.
2. In a large bowl, mix together the all-purpose flour, cocoa powder, sugar, baking powder, baking soda and salt. Using a box grater, grate the butter into the flour mixture. Transfer the bowl to the freezer for 10 minutes. When it's done chilling, break up the butter with your hands until it resembles small peas in the flour mixture.
3. In a blender, add the melted chocolate, buttermilk and egg. Pulse until thoroughly combined, and mixture resembles chocolate milk.
4. Add the buttermilk mixture, all at once, to the flour mixture. Mix until barely combined, lightly kneading the dough in the bowl. Dough will be sticky--that's okay. Sprinkle your kitchen counter with flour and dump the dough onto it. Knead a few times to bring it all together (4 to 5 times). Press or gently roll the dough into a 1-inch thickness. Cut out the biscuits using a biscuit cutter (I used a 4-inch cutter and got 6 biscuits). If you use a 3-inch cutter, you'll end up with 8.) Recombine the scraps and get two more biscuits. Transfer them to a lined baking sheet.
5. If you think you've been moving a little slow (like I was because I was..ahem..taking pictures), stick them in the freezer for 2-3 minutes. This will get the bits of butter nice and cold again. After the biscuits are cold, brush the tops of with egg wash and bake in oven or 15-17 minutes, or until tall and slightly golden brown on top. Serve biscuits warm with macerated* strawberries and whipped cream.
*Tip: To mascerate strawberries, slice up desired amount and transfer to a small bowl. Add a tablespoon of white granulated sugar (per every 5-6 medium-sized strawberries you use), a teaspoon of lemon juice and let the mixture stand for 10-15 minutes.
Yields 6 (4-inch) biscuits