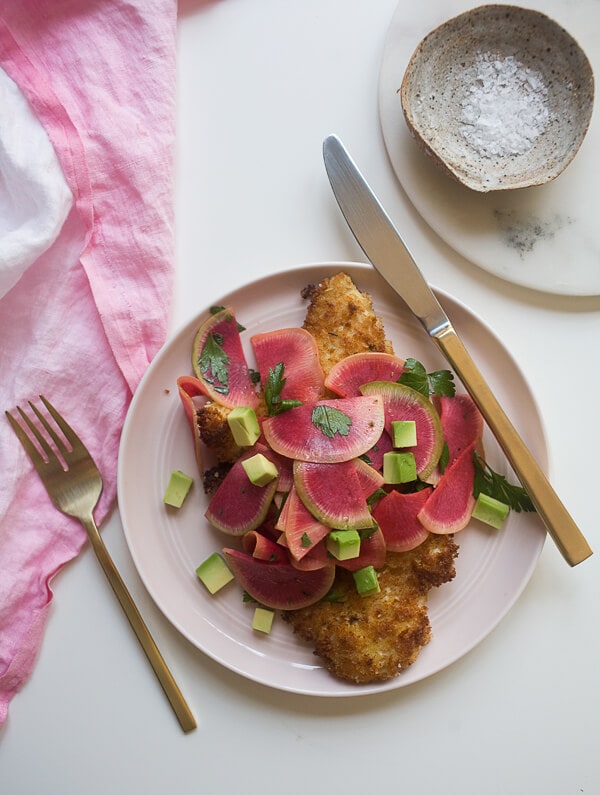 I spent the long holiday doing all sorts of exciting things like making sweet corn custard and binge-watching Cesar Milan, which has made me realize that perhaps I'm not what he calls "pack leader." It's a devastating realization, actually. I'm guessing it feels similarly when your kid tells you to "shut up, mom" in front of other people. I'm not sure what to do with my beast of a child but this week I've vowed to be "calm and assertive"---not my best attributes.
In other news, there's this perfect summer lunch or dinner. And a giveaway! First, let's talk about the recipe.
Chicken Milanese might be one of my favorite quick meals EVER! The chicken is pounded to be super thin and then dipped in light, panko bread crumbs. The chicken is pan-fried in a pretty small amount of oil, resulting in delicious, crispness. The salad that usually accompanies chicken milanese is pretty normal; usually some sort of lettuce. Instead of going the ol' normal route, which I'll admit is also delicious, I wanted to do something a little bit different.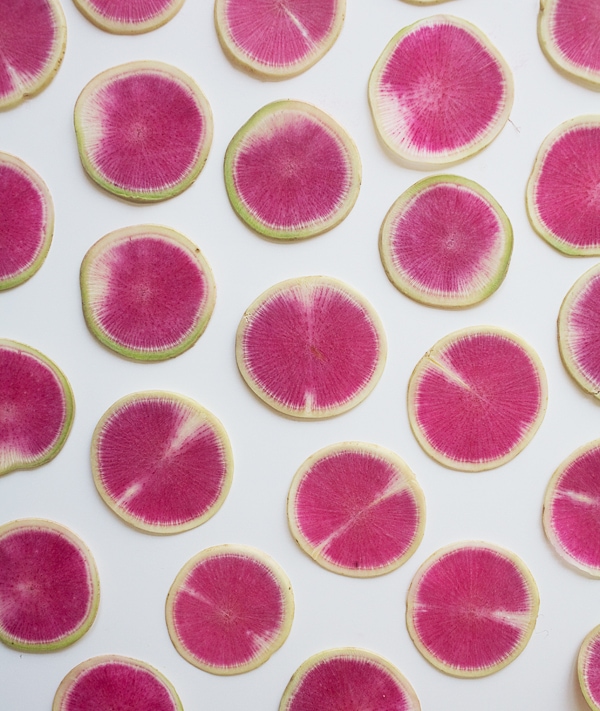 Watermelon radishes are maybe the most beautiful radish in existence. If the season's change, or if you can't find watermelon radishes, feel free to swap them out with another type of radish. Watermelon radishes are mild in flavor--just a little bit spicy, so they're perfect to eat all on their own. I mixed in a bit of flat-leaf parsley and fresh tarragon for added flavor (I love tarragon and chicken together!). The whole salad is tossed in a easy combo of lemon juice, olive oil and salt. Super simple.
It's no secret that I adore Le Creuset products so it was no surprise that I loved this 3 quart sauté pan. The pan is light yet sturdy and conducts and spreads heat evenly resulting in chicken that's perfectly cooked.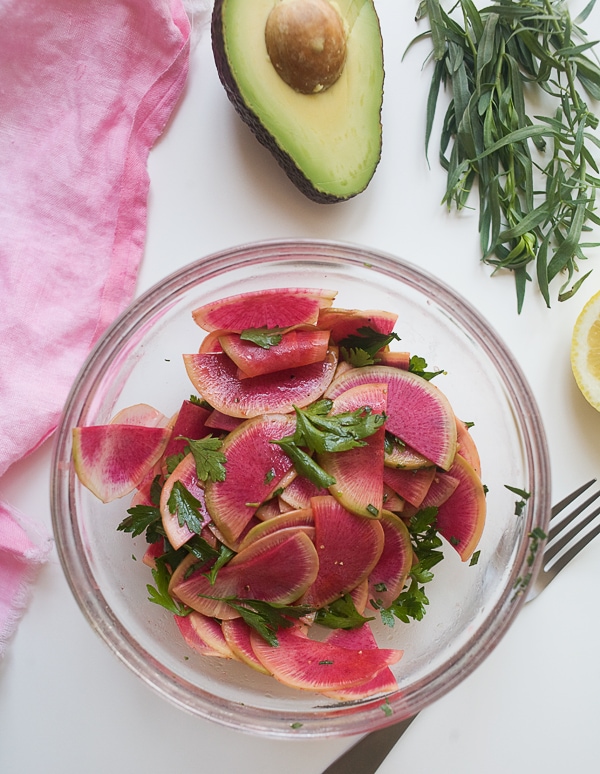 Today we're giving away this 3 quart sauté pan to one winner. All you have to do:
1. Leave a comment below telling me your favorite flavor of Ice Cream (I need inspiration for the upcoming Ice Cream Week that I keep promising)!
One winner will be chosen on Tuesday, July 22nd, 2014. Giveaway is open to U.S. readers only.
This giveaway is now closed. The winner is Steph who said:
"My local ice cream shop made a flavor they called Mango Unchained. It was amazing- sweet from the mangos and spicy from cayenne pepper."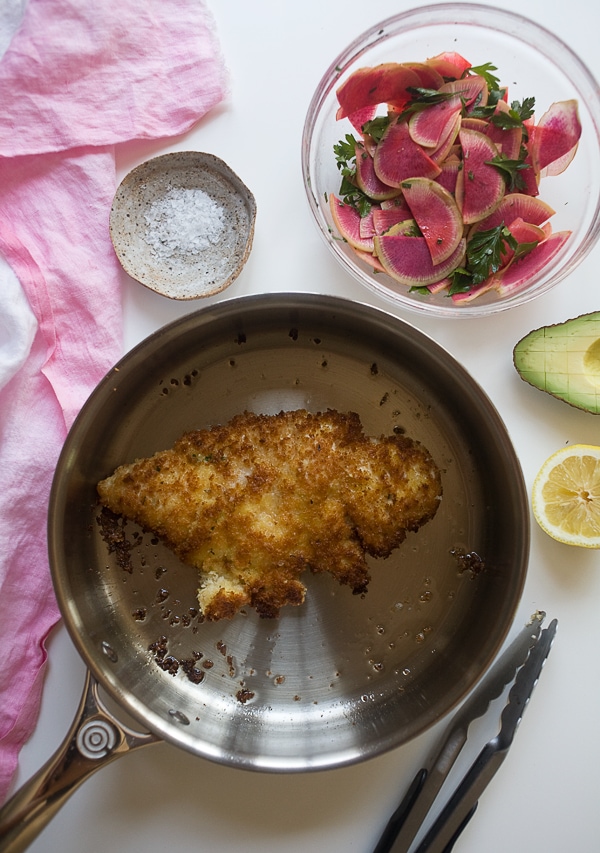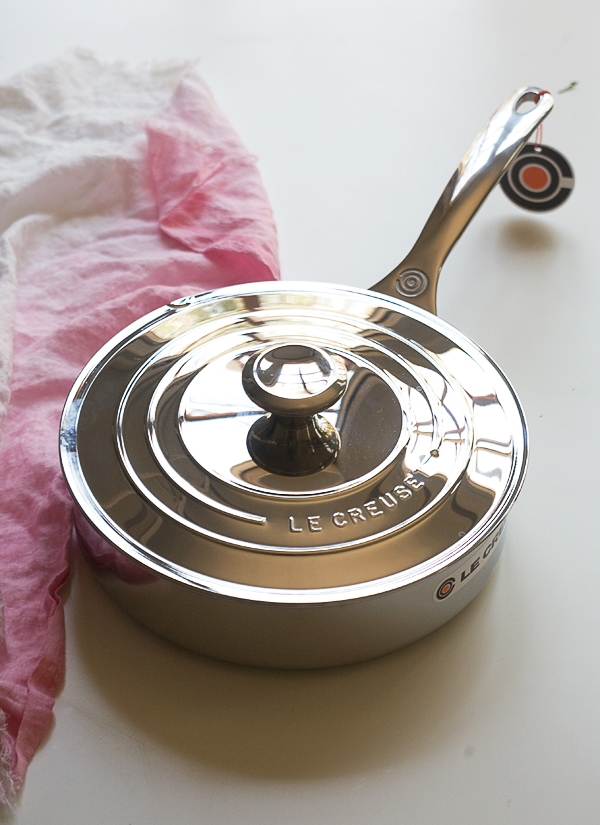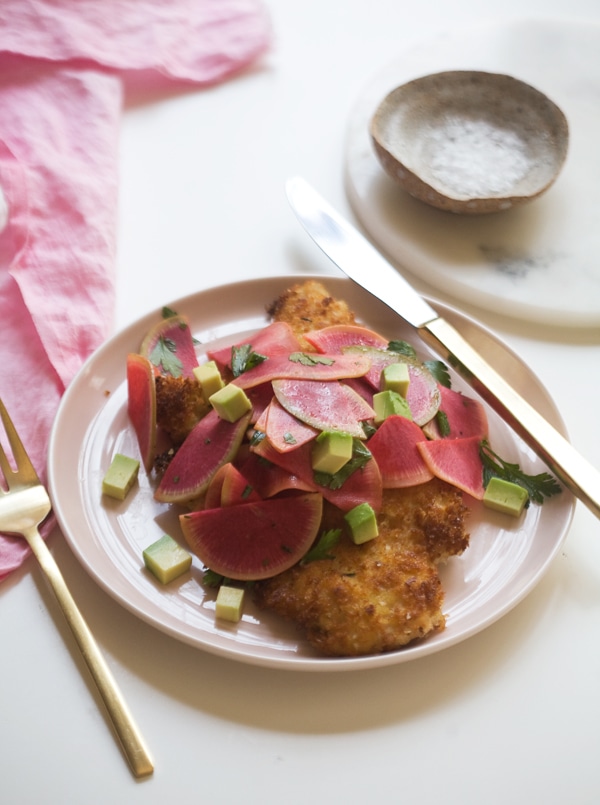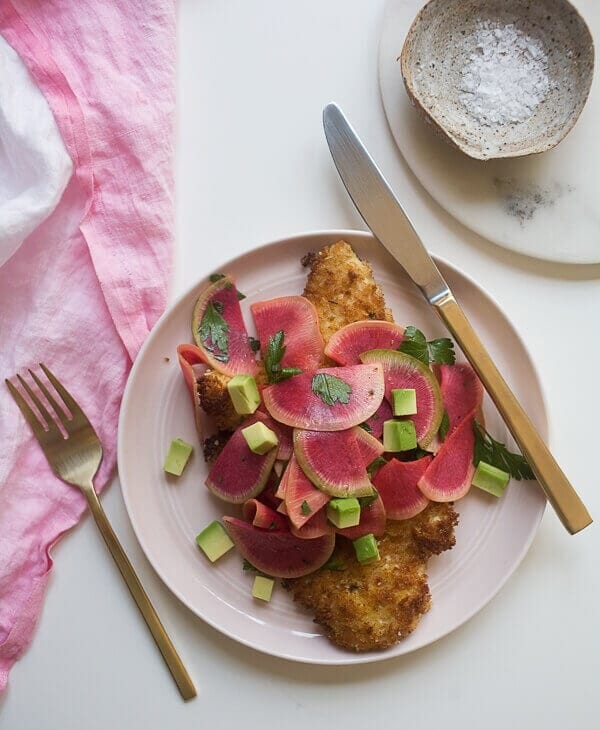 Print Recipe
Chicken Milanese w/ Watermelon Radish and Herb Salad
Ingredients
1 ½

cups

panko bread crumbs

1

teaspoon

dried oregano

Salt

2

large eggs

1

large boneless

skinless chicken breast (about ¾ pound), halved 

2

watermelon radishes

or regular radishes

Handful of Italian parsley

leaves picked 

2

tablespoons

minced fresh tarragon 

2

lemons 
Instructions
In a large, deep-set plate, combine the panko bread crumbs, dried oregano and a teaspoon of salt. In a medium bowl, add the eggs, a pinch of salt and beat. 

To prepare the chicken, place the first piece of halved chicken in between two sheets of plastic wrap. Using a mallet or rolling pin, pound the chicken until it reaches a ¼-inch thickness. Repeat the pounding process with the second half of chicken. Dip the chicken in the beaten egg, allowing the excess to run off, and then immediately coat in the panko bread mixture. Transfer the chicken to a plate and repeat with the second half of chicken. Place the plate in the refrigerator to rest for about ½ hour. 

Meanwhile, let's make the salad. In a medium bowl, combine the juice of two lemons with about 1 tablespoon of olive oil. Using a mandolin, slice the radishes to about a ⅛-inch thickness and then using a knife, slice the rounds in half. Add them to the bowl, along with the Italian parsley leaves and fresh tarragon. Toss with your hands until the radishes are evenly coated. Salt to taste (I added about ½ teaspoon). Set aside. 

To a 3 quart sauté pan, heat a tablespoon of olive oil over medium heat. Add the first piece of chicken and cook on each side for about 3 to 4 minutes, until the panko is golden brown and the chicken feels firm to the touch. Transfer to a bed of paper towels to drain and repeat with the second piece of chicken, being sure to add more olive oil to the pan as needed. 

To assemble the salads, divide the chicken between two plates and top with a few spoonfuls of radish salad. 
This post is sponsored by Le Creuset. Thank you for supporting the sponsors that keep A Cozy Kitchen cozy.