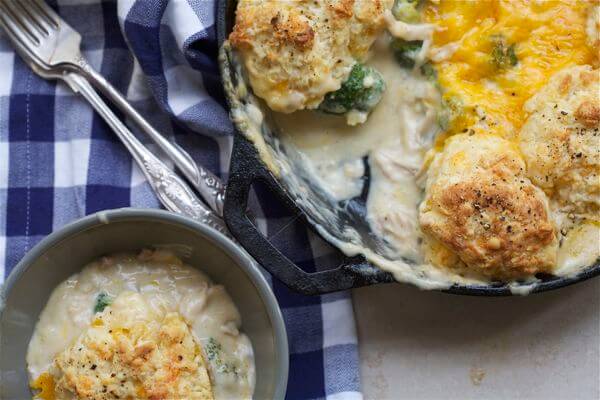 Oh hello. Hai. That giveaway was cool, eh? This cobbler is cooler, I think.
It has a lil' history. Every year when I was a kid, I'd request that my mama make this for me for my birthday dinner. I'm pretty sure it was the only American dish my mom ever cooked and maybe that's one of the main reasons I thought it was so cool.
My mom was given this recipe from a friend of hers who got the recipe from the side of a Campbell's soup can…in the mid-80s. There was nothing weirder and more interesting to me than soup going into a dish with broccoli and cheese. I thought it was the most delicious thing in. the. world. My mom would always serve it like a proper Latin woman – with rice. But today I paired it with some cheddar biscuits. And then called it a cobbler. A savory cobbler!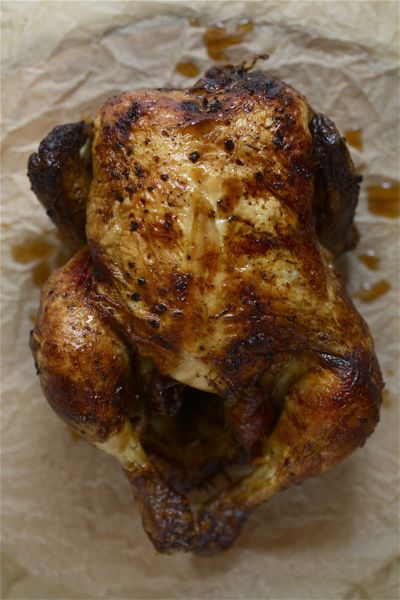 Back in the day, my mom would start this dish by boiling chicken breasts until they were super dry. (Sorry Mama, but it's true!)
Today, I'm really into buying a rotisserie chicken from the super market. If you don't want to do this, it's cool. I'd recommend getting a few chicken thighs and roasting them for 30 minutes before hand.
This rotisserie chicken situation just saves on a little time. We all need more hours in the day.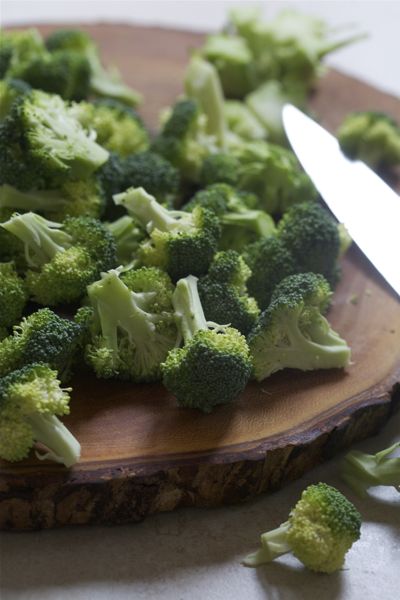 And then you cut up some broccoli. Look at those little cute green trees!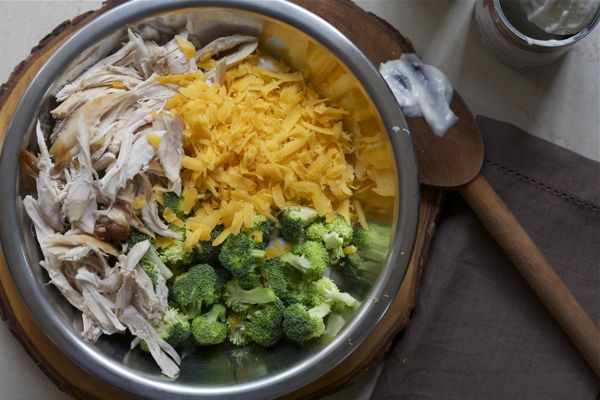 Mix together the cream of mushroom soups with cream of chicken soup.
And don't get weirded out by its gelatinous nature. Just go with it…it'll be alright. Add the cheese, chicken and broccoli. Mix it all together.
Next, you're going to make some biscuits. I figure I'd just skip over the biscuit pics because I just made them. So check out the post, if you need some visual assistance.
These drop biscuits are a little different than the buttermilk ones I made last week. They're slightly less buttery, more peppery and more cheesy. And instead of cutting them out, you just scoop up mounds and drop them on the surface of the casserole filling.
Bake it up for 20 minutes or so and BOOM. DINZ.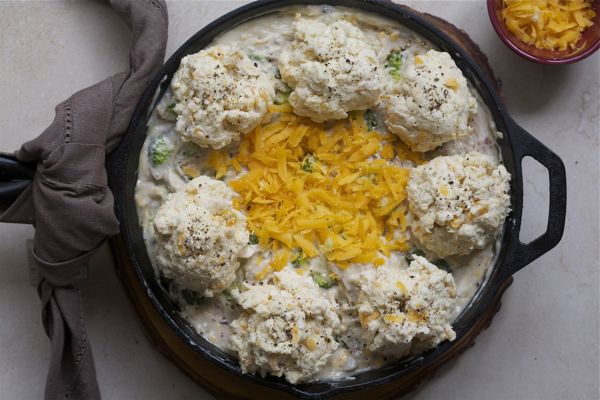 This cobbler is rich and delicious.
It's the kind of meal you want to eat when it's cold outside and you need a dish to cuddle with.
This cobbler will spoon with you. And it'll be awesome and not awkward. Promise.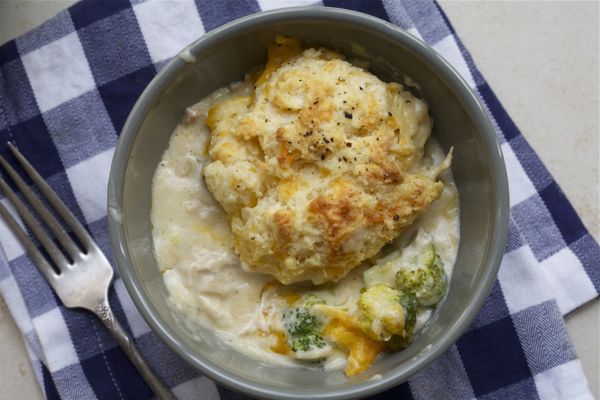 Chicken Broccoli Casserole Cobbler
Filling:
1 can cream of chicken soup (Campbell's – low-sodium)
2 cans cream of mushroom (Campbell's – low-sodium)
3 tablespoons créme frâiche (softened cream cheese would also work)
1/2 store-bought rotisserie chicken, shredded
1/2 head of broccoli, cut into florets
1/2 cup grated sharp cheddar cheese
1/2 teaspoon black pepper
Cheddar Drop Biscuits:
2 cups all-purpose flour
1 tablespoon baking powder
1/4 teaspoon baking soda
1/2 teaspoon salt
1/2 cup butter (1 stick), cold
1 cup grated sharp cheddar cheese, and 1/4 cup more for topping
1/2 cup plus 2 tablespoons buttermilk, cold and shaken
1 large egg, cold
Freshly ground pepper for topping
1. Preheat the oven to 400F.
2. In a large bowl, add the cream of chicken, cream of mushroom and créme frâiche; mix until thoroughly combined. Fold in the shredded chicken, broccoli, cheese, black pepper, and mix. Add the mixture to a 12-inch cast iron. Alternatively you could use a rectangular casserole dish (8×12). Set aside.
3. Add the dry ingredients to a medium bowl: flour, baking powder, baking soda, salt, and mix. Using a box grater, grate the cold butter atop the flour mixture. Transfer the bowl to the freezer for 5 minutes. Meanwhile, measure out the buttermilk and add the egg; beat until combined. Grab the bowl out of the freezer, and gently break up the butter and combine with the flour, using your hands, until it resembles small peas. Next, add the cheese and combine until it's evenly distributed throughout the flour mixture. Add the buttermilk mixture all at once and mix until barely combined; lightly knead the dough until it forms one solid mass.
4. Using two tablespoons, drop 6-8 mounds of dough onto the surface of the chicken and casserole mixture. If you're using a cast iron skillet, you should add cheddar cheese to the center. It's good. Top each biscuit with a few turns of freshly ground pepper. Transfer the entire dish to the oven and bake for 20-25 minutes. You'll know it's ready when the biscuits are lightly golden brown and the center is bubbling. To serve, remove one of the biscuits, exposing the casserole filling. Spoon it out into a bowl and top with a biscuit. Repeat. Yum.
Serves 6